Rachel Parcell, founder of the blog Pink Peonies, has enviable style across the board. Case in point: her breathtaking Fall porch. The classic design became an instant hit on the internet, winning hearts of Pinterest pinners and design-lovers alike. We were so inspired by the look that we had to find out exactly how Rachel did it. Lucky for us, she wasn't shy about sharing how she created her stunning Fall porch as well as how anyone can do something similar in their own home this Fall. Check out her tips ahead.
01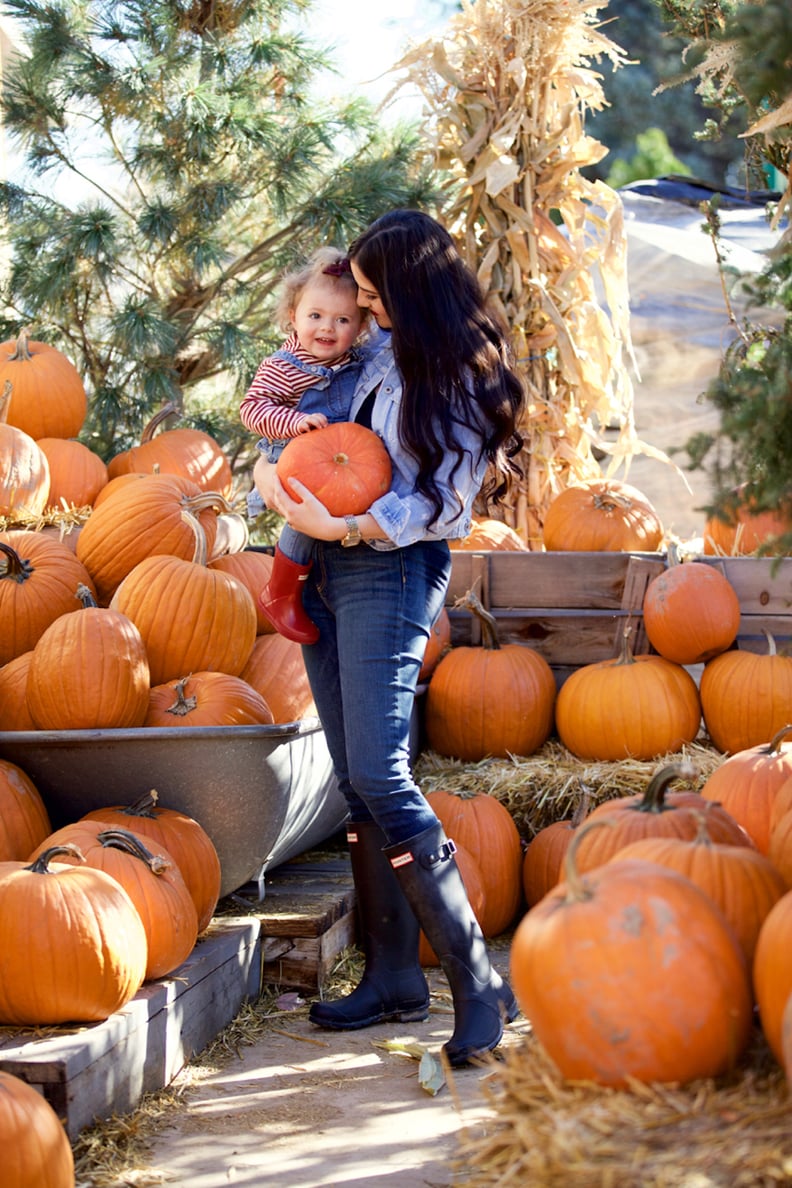 Pick Up Some Pumpkins
"Now you can find so many unique, different shaped, and colored pumpkins. Have fun with them!" Rachel encourages. She's a big fan of heading to the pumpkin patch and making an outing out of it. Then, to create a dynamic seasonal display, she suggests you "try stacking them or lining them up. Whatever fits your style!"
02
Add Potted Mums
"Whenever Fall rolls around, I always look forward to picking up gorgeous, bright mums to put in big pots to add to the pumpkins on my porch! Last year I found these hot pink and yellow ones, and I loved how it added so much color," Rachel says. Believe it or not, she found these purple blossoms at Costco and picked up the planter pots at Home Depot.
03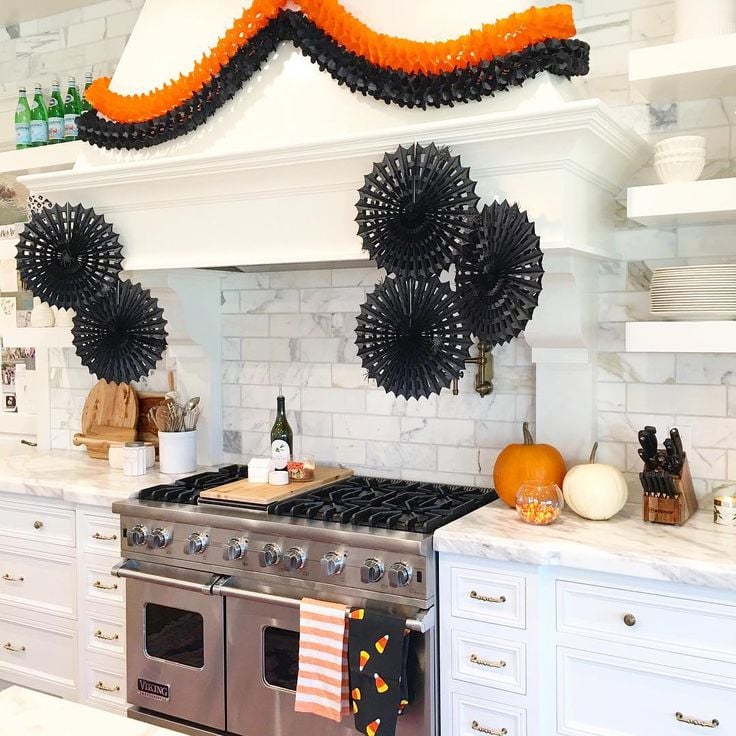 Stick to a Color Palette
Rachel recommends you unify your Fall design by choosing a consistent color scheme. She explains: "Choose a few Fall colors (red, brown, orange, yellow, green) and think of different ways to incorporate them into your entrance. Whether it's a fun wreath, a plant, or some pumpkins, the options are endless." Extend the color scheme into your home to keep the festive (and cohesive) seasonal look going. A lot of decor looks great on your porch, while a few fun pieces make a big impact inside, in a room like the kitchen.
04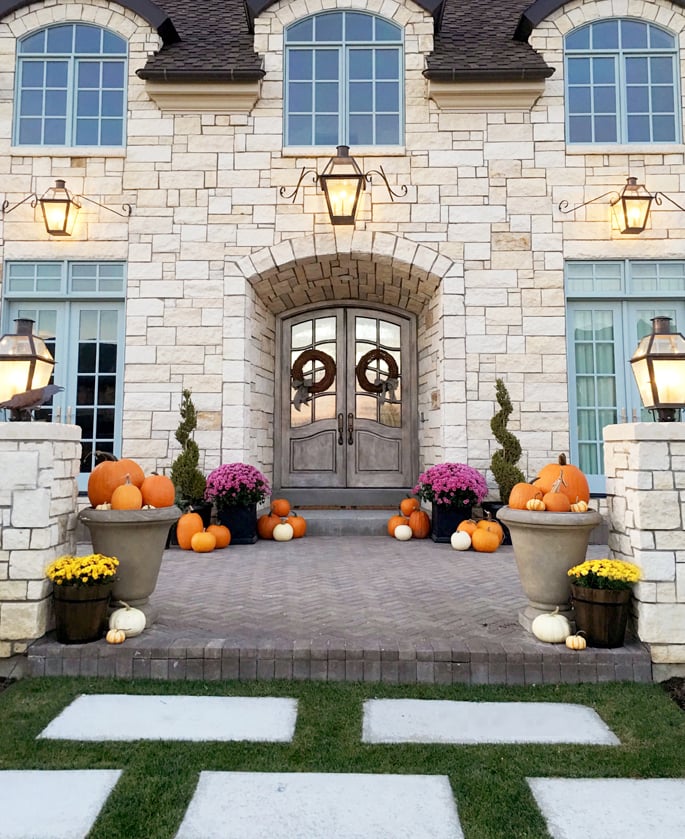 Use What You Already Have
"You don't necessarily have to buy something new; look around and see what you already have," advises Rachel. "If it's a table and chairs from your front porch, try adding a festive throw or pillow. Or find a bucket and stack pumpkins in it." Using an eclectic mix of found items will enhance the display, not to mention save you money.
05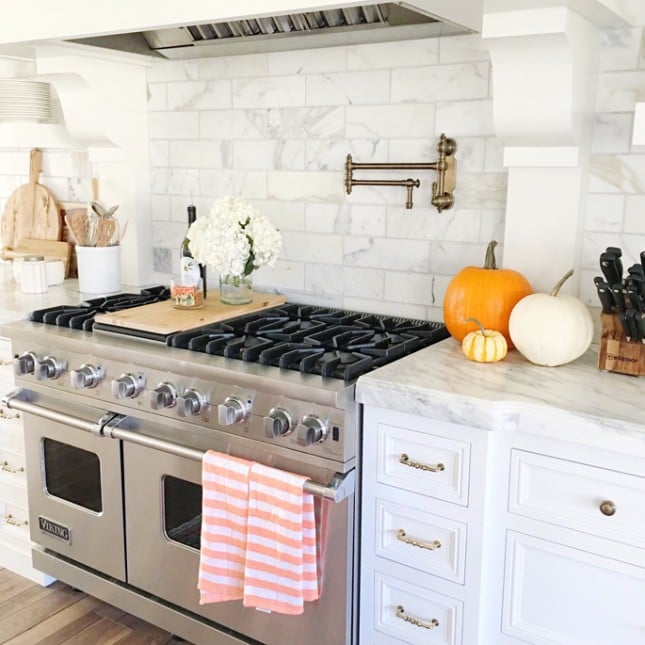 Think Outside the Front Door
While the front door is important when decorating, it isn't all you should be thinking about," reminds Rachel. She says to take advantage of all the space available in front of your home, from the walkway and stairs leading up to the front door to any and every surface area on the front porch or patio.