11 Expert Tips For Finding the Best Hidden Thrift Store Gems​
Kathryn M.
Kathryn M.
Gone are the days of associating thrift stores with weathered paperbacks, old tees, and cheap jewelry. Now, if you go in with enough patience and persistence, chances are you'll leave with a lot more value than what you forked over at the register.
After years of endlessly strolling down the aisles of these secondhand shops in search of hidden treasure, I have come to two conclusions. One: there are few things in this world that can compete with the thrill of the hunt. It is just that exhilarating!
And two: just as with flea markets and Craigslist, there is an art to the game of thrift shopping. While it might seem impossible to find a valuable needle in a haystack of junk, trust me, it can be done, and I'm here to reveal all my secrets to you.
Ahead are 11 tips for scoring the best deals and finding the best gems.
01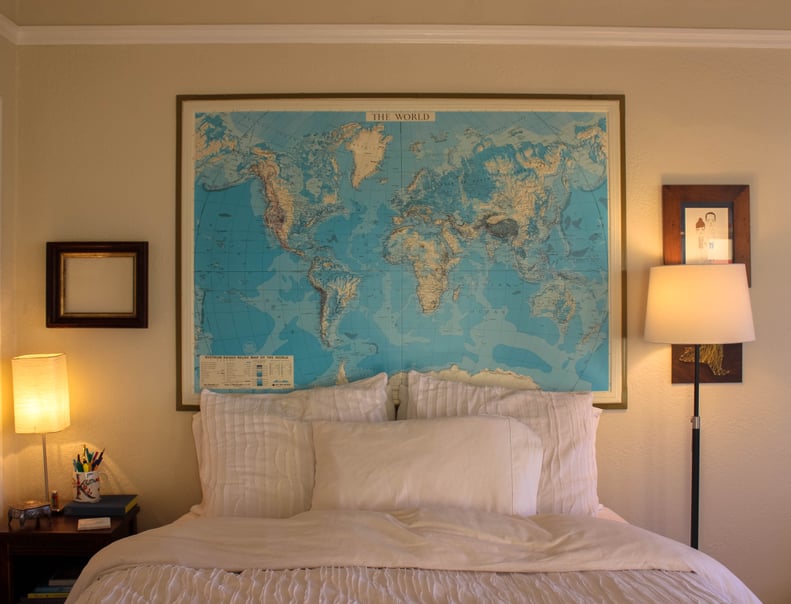 Come prepared with your "thrift kit."
When you're in the mood to do a little thrifting, don't forget to bring your "thrift kit" along for the ride — aka come prepared. The last thing you want is to bring home a piece of furniture and then realize you can't even get it inside.
Therefore, know your dimensions. Write down the size of your trunk (length, width, height, all of it!) and also measure the areas in your house you're going to have to walk through with the item, including your doorway.
Throw a tape measure in your pocket or purse so you'll be able to easily check the size of items you're interested in buying. It's also helpful to store a couple of bungee cords and old towels in your car for transporting any larger pieces.
My husband and I learned this lesson the hard way a while back. We had rented a car for the day and weren't expecting to do any shopping but then stumbled across this giant world map for only $10! Of course we couldn't pass up this kind of deal, so we instantly bought it, only to remember moments later our rental car's trunk was teeny-tiny. Thankfully, after taking off the seats' headrests and bending the map slightly, it fit!
02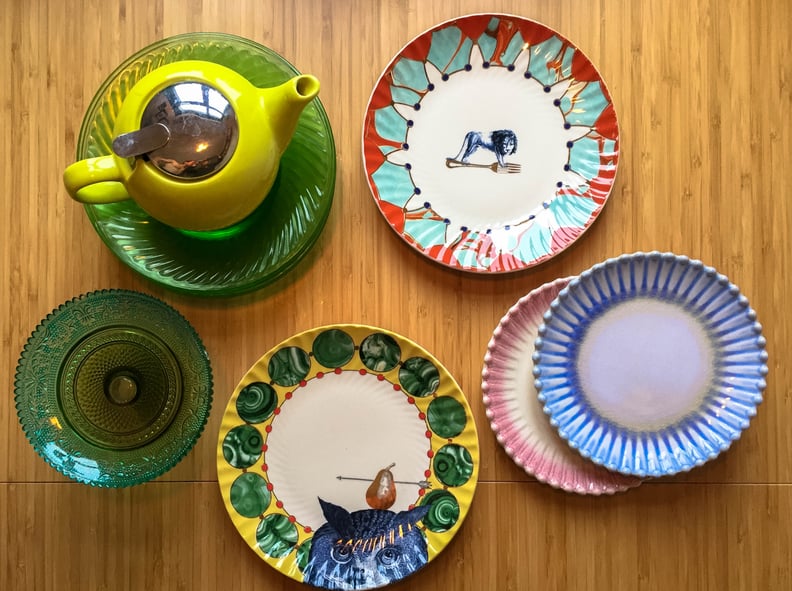 Hit up housewares.
Although the shelves in the housewares section can be a bit overwhelming, take a deep breath and start digging, as this area can be a real treasure chest. See that tea kettle up above? That cutie was a $2 find!
Because dishes and glassware are breakable and require room to be stored away, people are quick to donate these items and usually do so without a second thought. However, some of these pieces can be worth a lot. For instance, while sets of old china can cost thousands of dollars (depending on the brand), you can easily buy an entire set at thrift stores for a mere $20.
03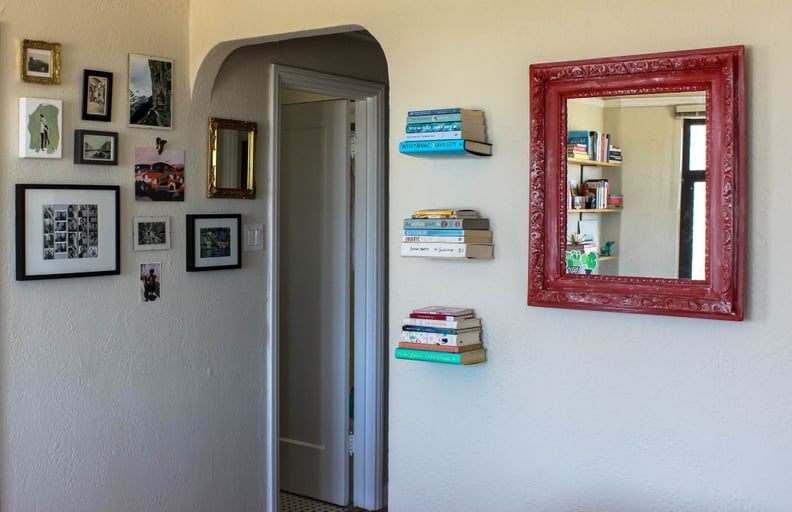 Know what you're looking for.
Whether it's mental or written down, keeping a list of specific items you're looking for is extremely helpful. This way, you can plan your store route accordingly and hit up those sections first. I always have a running list in my Notes app on my phone, which is quick to access if I ever catch wind of random decor inspiration!
04
At the same time, keep an open mind.
Although you might be on the hunt for something specific, it's also important to keep an open mind when tackling thrift stores. Just as with antique shops and flea markets, no two visits will ever be the same. You never exactly know what you're going to find, which makes the hunt that much more exhilarating!
I remember recently heading into a thrift store on a mission to find a new chair. While that particular shop didn't have what I had in mind, I did manage to find a set of antique pineapple bookends. At just a few bucks, I'd say that visit was a success!
05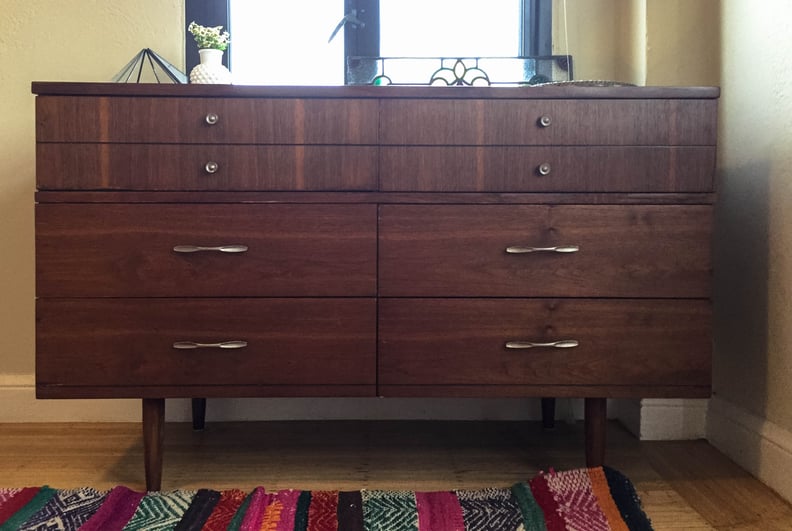 Don't buy something for the sake of buying it.
Let's face it, the thrill of thrifting can become quite addicting when you start to uncover hidden gems. So in order to prevent hoarder-like tendencies, it's important to only buy items you are truly excited about.
If you're not totally in love with an item, or you don't get butterflies just thinking about the piece's potential, set it down and walk away. Just because it might be a fabulous deal doesn't mean the item is a good fit for you. Even if that means walking out of the store empty-handed, that's OK.
It took my husband a couple of months before locating his dresser. But with patience and persistence, he finally found the style he wanted.
06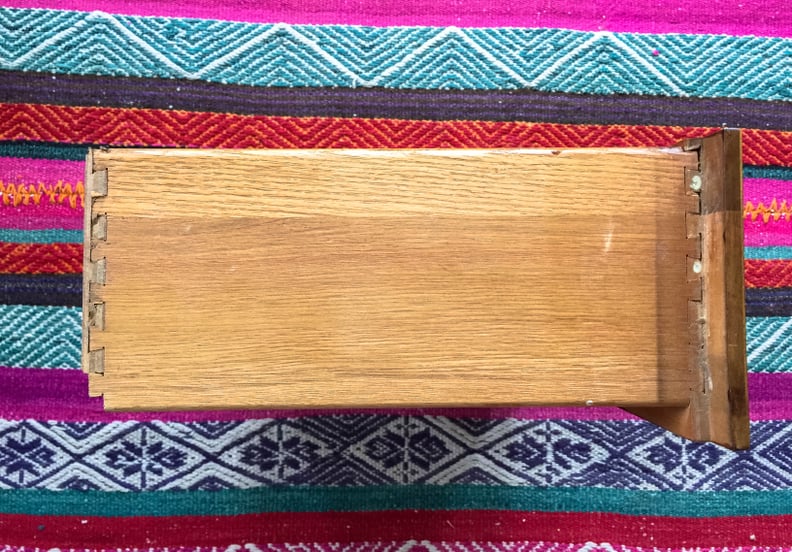 Keep your eyes peeled for quality.
When it comes to furniture, most of the higher-quality pieces have specific distinguishing features. For instance, if you find a dresser with dovetail joints in the drawer, that's a winner! These joints indicate the item was crafted to be pieced together, instead of simply nailed.
Also, remember to check for damage and stability. Uneven legs, sticky drawers, deep scratches — while these things can be fixed, take into consideration how much money (and time!) you want to invest. Will the item require a little elbow grease or a complete refinishing?
And don't forget to conduct a smell test. This sounds odd, but if musky smells waft up when you open cabinets and drawers, you might want to continue on your hunt.
07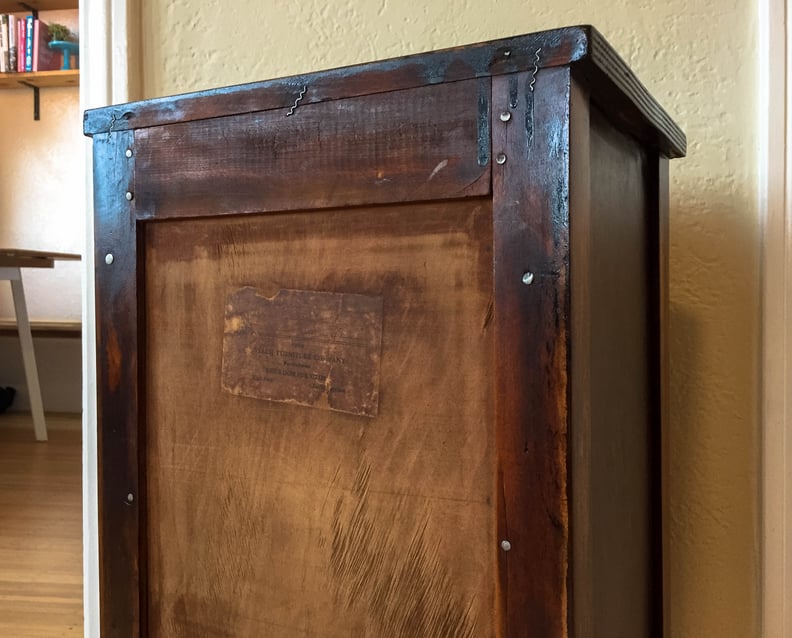 Be on the lookout for the stamp.
Another way to check a piece of furniture's quality is to look for the manufacturer's stamp. For example, my grandmother who loves collecting used to tell me that if I came across furniture with a stamp from a manufacturer located in Highpoint, NC, to always buy it! These stamps can be located on the back, on the bottom, or in drawers, so don't be afraid to flip over the item and search for it.
08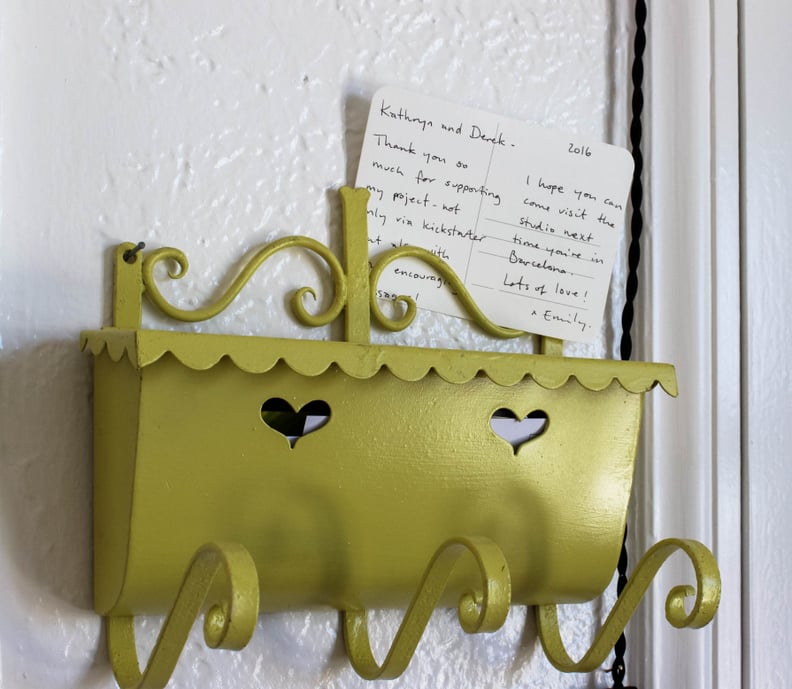 Don't bypass the sale section.
Believe it or not, even thrift stores are constantly having sales. While you might automatically assume the items located in this section are junk, I highly recommend checking it out anyway. Not too long ago, my dad found a nice full-length peacoat for only $1. And I scrounged up the mailbox pictured above for $3. Now it was a bit rusty when I bought it, but after a little scrub and some paint, this thing looks brand new!
In addition, most stores have their own sales on certain days of the week. Whether students receive a discount on Mondays, senior citizens receive a discount on Tuesdays, or the entire store is steeply discounted once a week, call your local store to find out about these markdowns.
09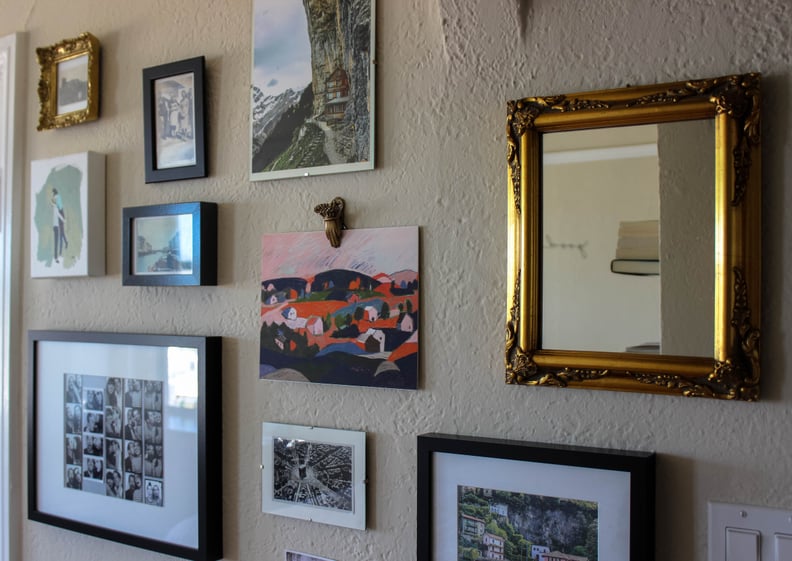 Visit stores often.
Another key to discovering the best thrift store gems is by visiting the stores regularly. When I was trying to decorate our apartment, I would check out the same stores in my area a couple times a week, if I had the time.
Because most of the larger chains will restock their inventory all throughout the day, you don't necessarily need to go at a certain time, meaning you don't need to wake up at the crack of dawn like you do for flea markets!
10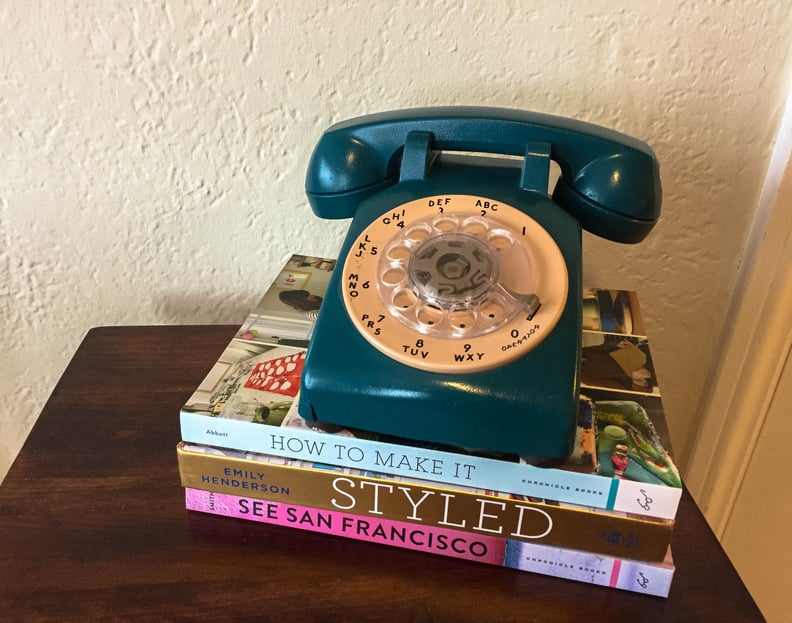 Shop during the week, not the weekend.
Although most people conduct their shopping during the weekend, I recommend stopping by thrift stores earlier in the week, such as on Mondays or Tuesdays. With the majority of yard sales taking place on Saturdays and Sundays, whatever doesn't sell by the end of the weekend usually gets donated.
In addition, the weekends (especially holiday weekends) are when most people decide to clean out their attics, garages, storage areas, etc. All this cleaning out means that thrift stores will likely receive a surge in merchandise.
So whatever you're seeking — home decor, kitchenware, books, clothes — you have a higher chance of finding it during the week.
11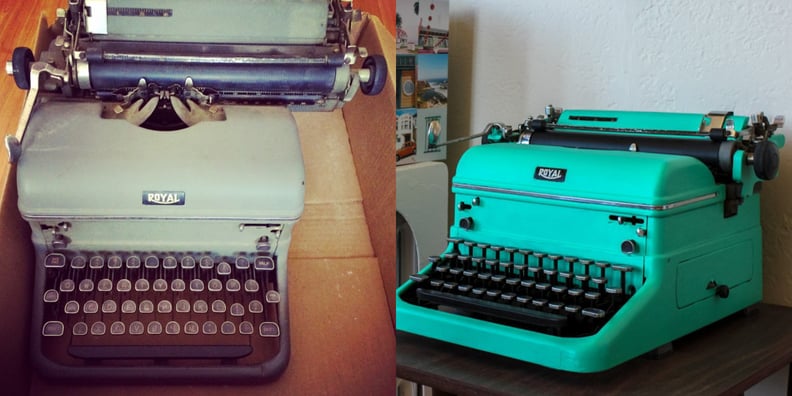 Never, ever hesitate!
Above all, if you see something you like, never, ever hesitate to snatch it up. The chances of it being there when you return (even after just one walk around the store) are slim. Trust me, the good stuff will go fast, so even if you're not sure whether you're going to buy an item, set it in your cart and then decide. You can always put it back later.
Case in point: my vintage typewriter. For the longest time, this item had been on my wish list. After hesitating to buy "the perfect one" I came across in a store, it was gone the very next day. So when I finally spotted the one above — for $40, no less! — I pounced on it fast. Thanks to a few coats of paint (another rule of thumb: never underestimate the power of paint), I'll never let go of this gem!