Make Your Closet the Best Part of the House — Without Breaking the Bank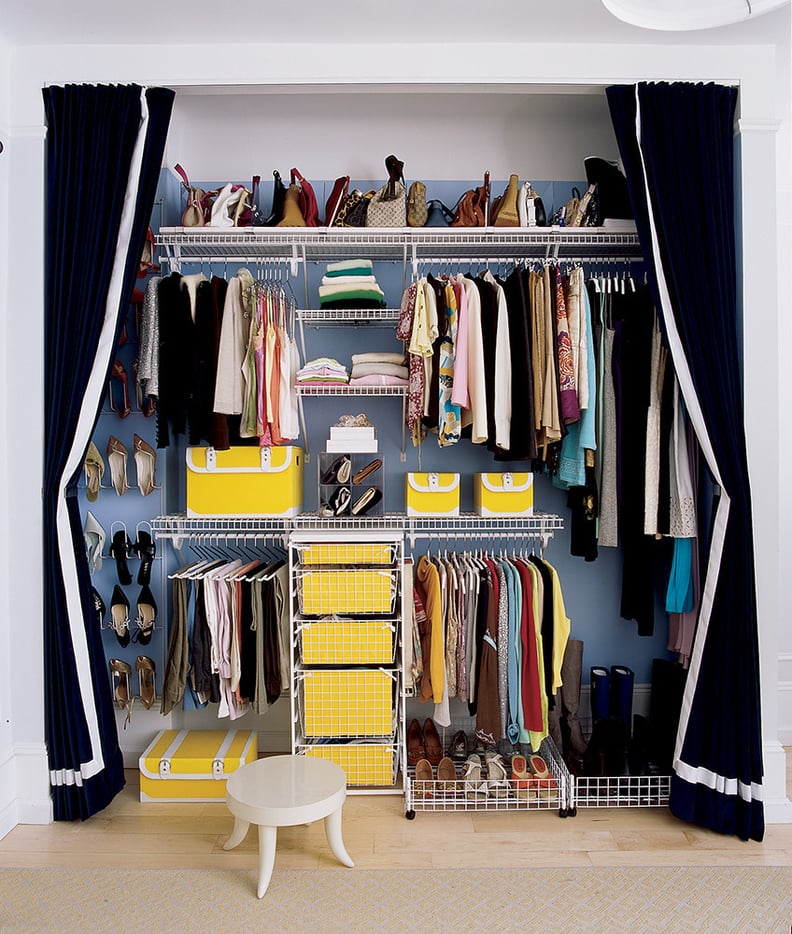 If you're like us, you've decided that this is the year you're going to get your overstuffed closet under control. Congratulations on taking the first step! Now comes the hard part: actually organizing your closet.
We talked to Isabella Guajardo of Bella Organizing for tips on how to sort through the piles of shoes and clothes to create a space that's tidy, functional, and attractive. Isabella is a professional home organizer and interior redesigner who has been creatively organizing homes around the San Francisco Bay Area since 2006.
"Getting organized is a skill that almost anyone can learn with regular commitment," she told us. And, surprisingly, crafting the closet of your dreams doesn't have to cost big bucks. "You don't really need intricate or fancy stuff you pay high prices for." A thoughtful redesign can transform a chaotic, ordinary closet into the orderly closet of your dreams for little to no cost.
We've broken Isabelle's tips down into a 7-step challenge. It's so simple, you can complete first 6 steps in under a week! Read on to get started.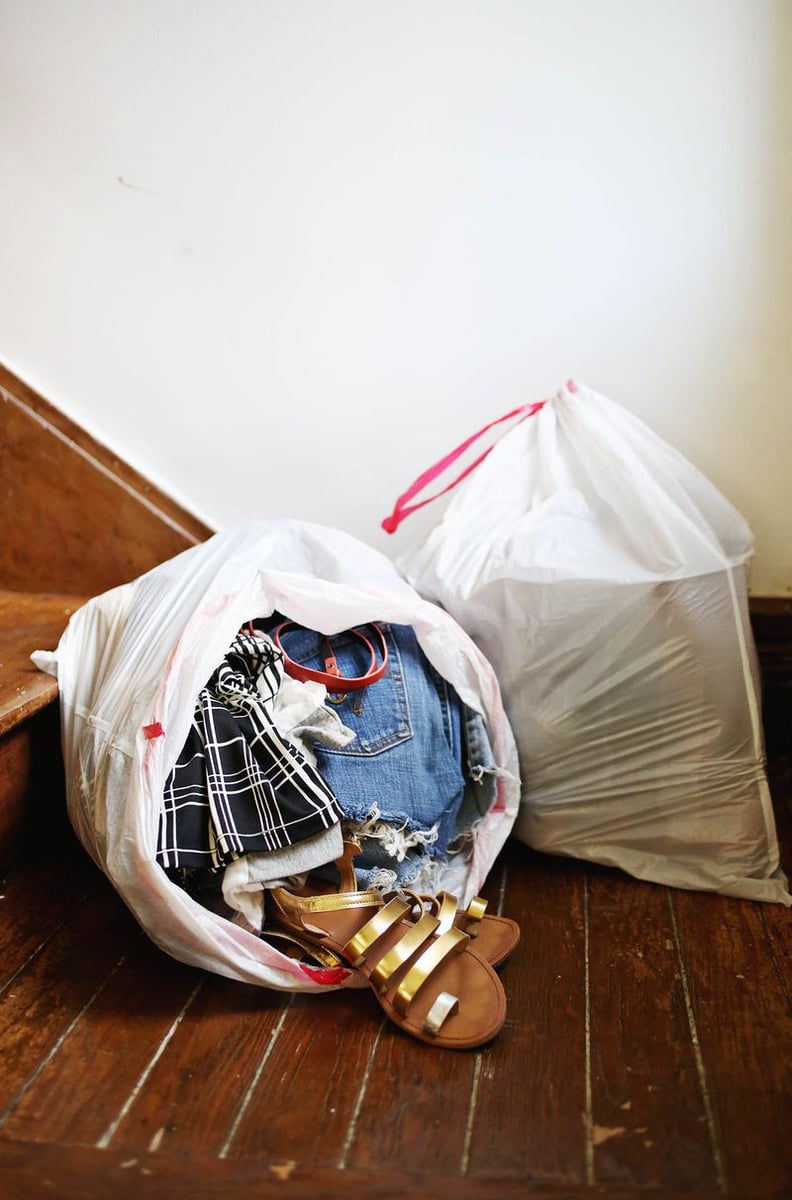 Step 1: Toss Anything You Haven't Worn in a Year
Take a hard look at everything you have, and get rid of anything you haven't worn in the past 12 months. "Winter, Spring, Summer, and Fall; if you didn't wear it for any of those seasons, do you really want or need it?" asks Isabella.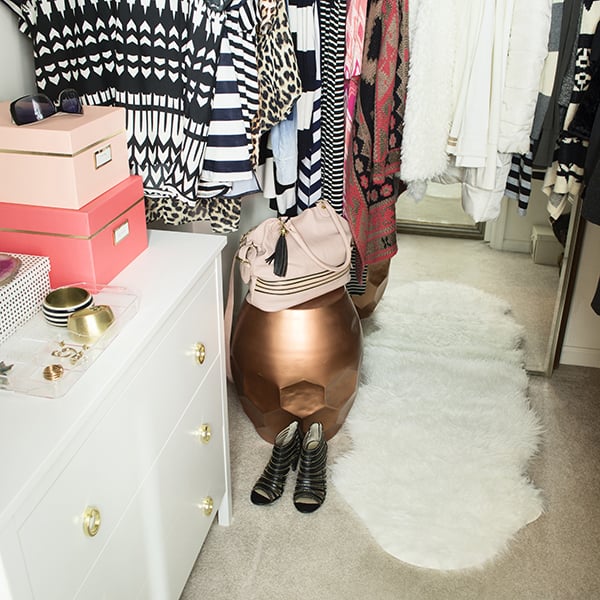 Step 2: Remove Everything That Isn't Clothing, Shoes, or Accessories
"A common mistake made with a wardrobe closet is to store things in it besides clothing, shoes, and related accessories," says Isabella. "Boxes of books, paperwork, and miscellaneous holiday decorations should not be kept in the wardrobe closet." In short, if it's not related to your daily dressing, store it somewhere else!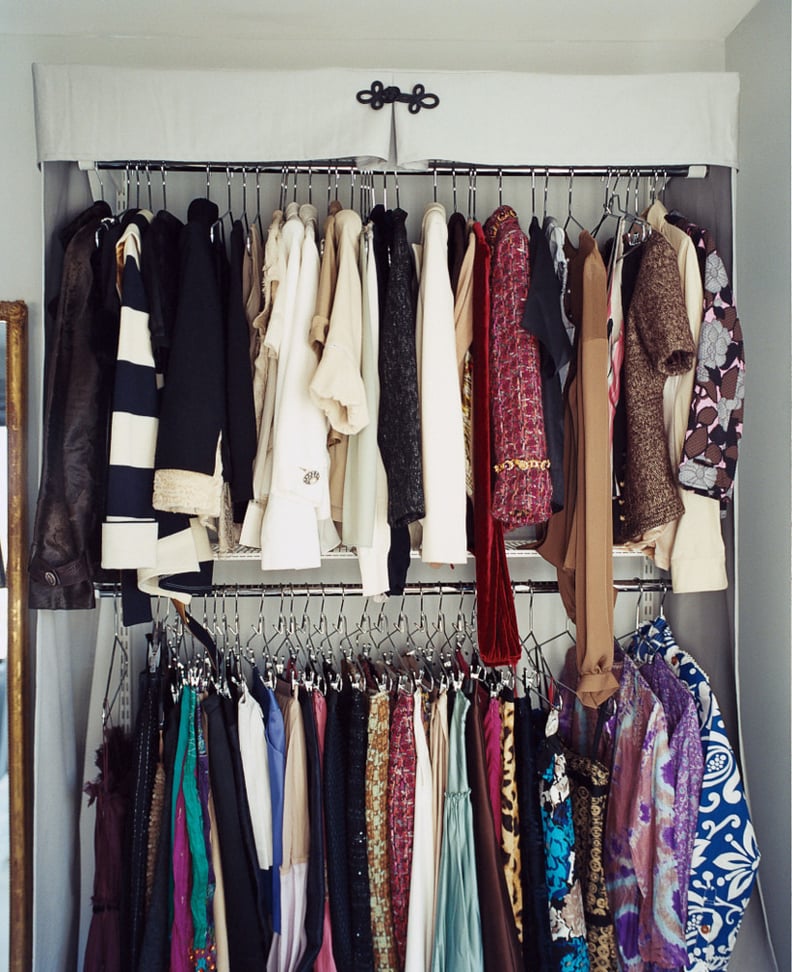 Step 3: Buy Uniform Hangers
Using the same style and color of hangers is "crucial to keeping and maintaining an organized wardrobe closet," explains Isabella. Uniform hangers will make your clothing display clean and polished while turning the focus on the beauty of the clothes. It's the same trick boutiques use! If your closet is dark, go with light-colored hangers to brighten up the space.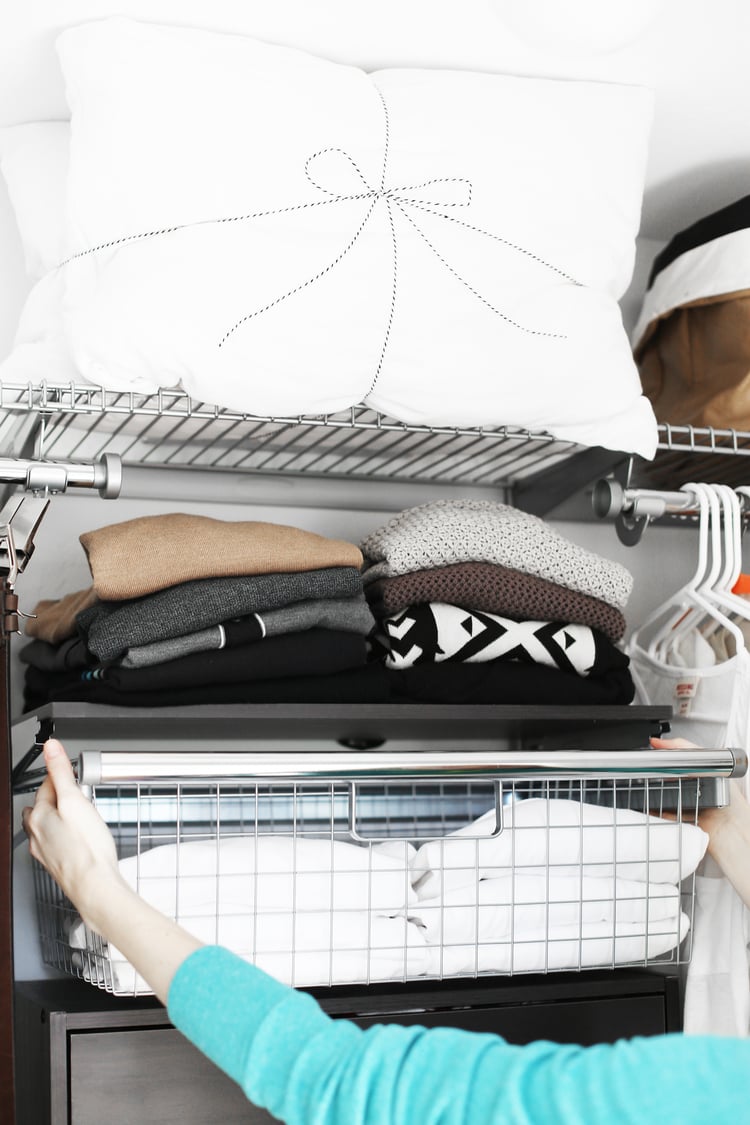 Step 4: Get Adjustable Shelves
"If there's one organizational furniture buy that I would always suggest to someone it's adjustable shelves," says Isabella. They're great for storing everything from shoe collections to folded clothing. If you don't have the budget to buy a new piece of furniture, take a look at how you're using the shelves you currently own. Are there old books you can get rid of or knickknacks you can clear out in order to repurpose shelves for wardrobe storage? If your footwear collection is nice to look at, consider storing it on shelves outside the closet, such as in an entryway, bedroom, or office. Step 5: Pick Everything Up Off the Floor
"Try your best not to put anything [directly] on the floor," advises Isabella. Instead, use large baskets or shelves to organize and store items, such as bulky athletic sneakers.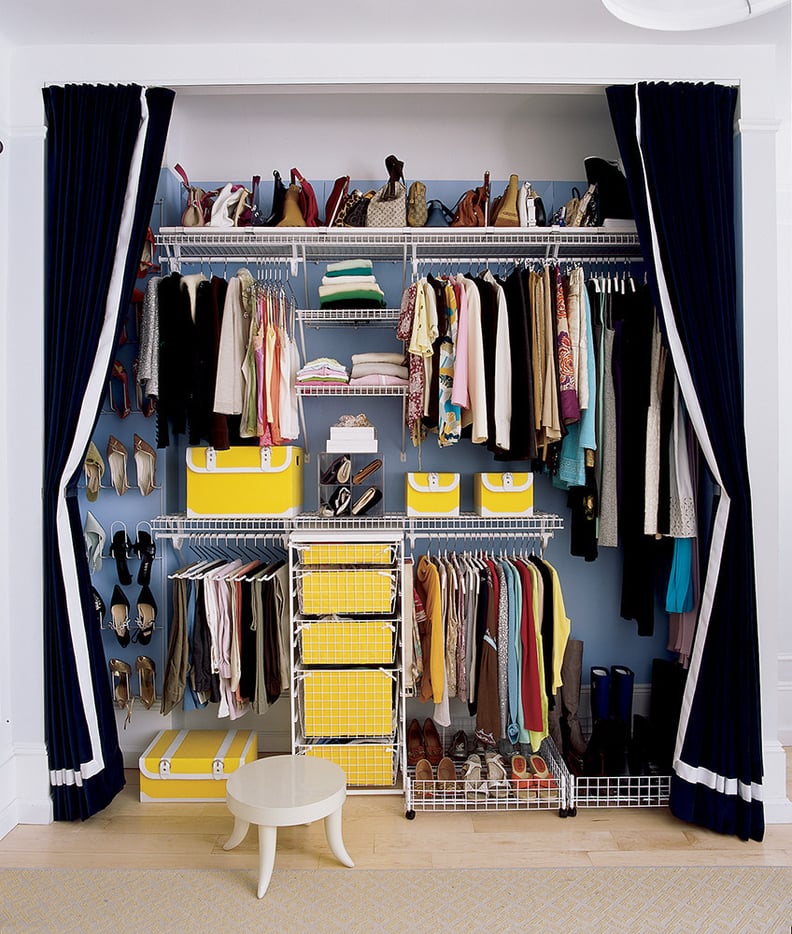 Step 6: Make Purses Easy to Access
"If you're going to buy beautiful purses, remember that you have them. Put them somewhere close by where you're going to see and use them," advises Isabella. Keep purses visible on shelves or inside open baskets at eye level. In general, Isabella says that if you can't see something in your closet, odds are you won't use it.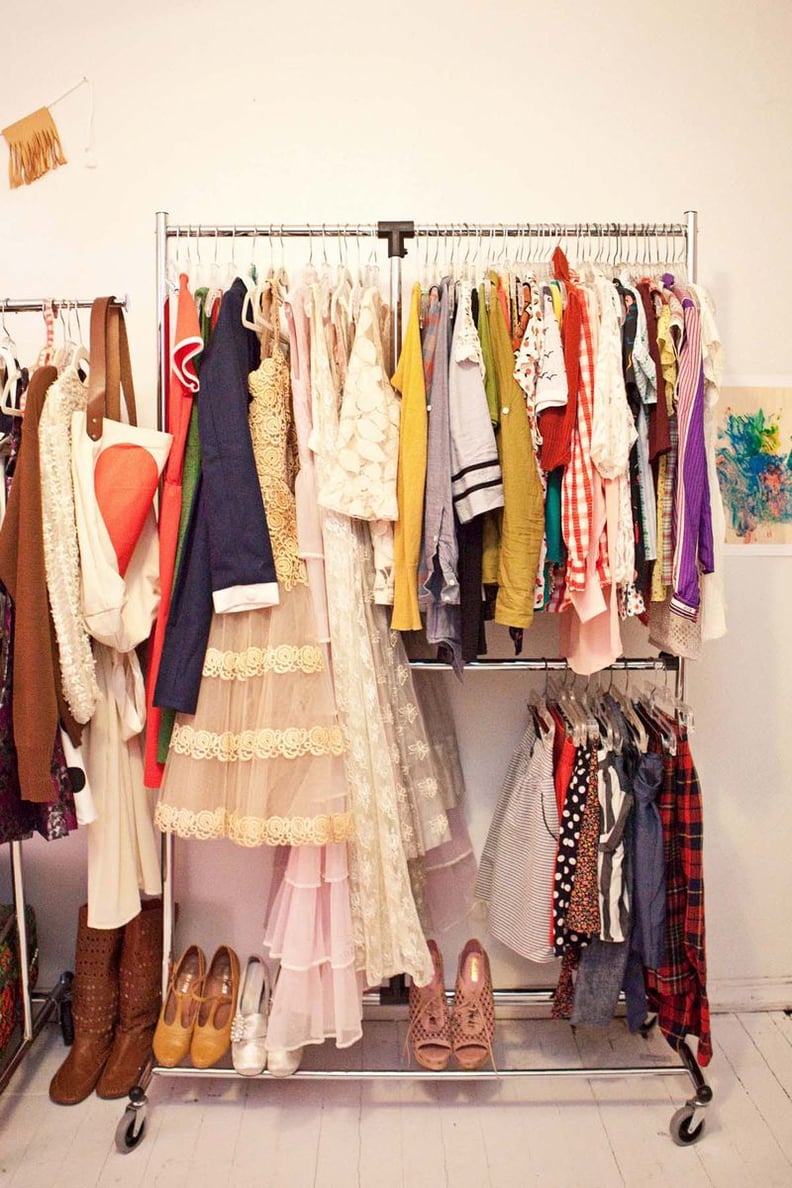 Step 7: Reassess Every 3 to 6 Months to Maintain Longterm Organization
A closet doesn't stay organized without a bit of maintenance. You must regularly reassess your belongings and purge items you're not using. Isabella advises, "Put it on your calendar and do it for even just 30 minutes on a Saturday morning. It keeps the closet from getting cluttered by things you don't really use."