16 Organization Tips to Steal From Joanna Gaines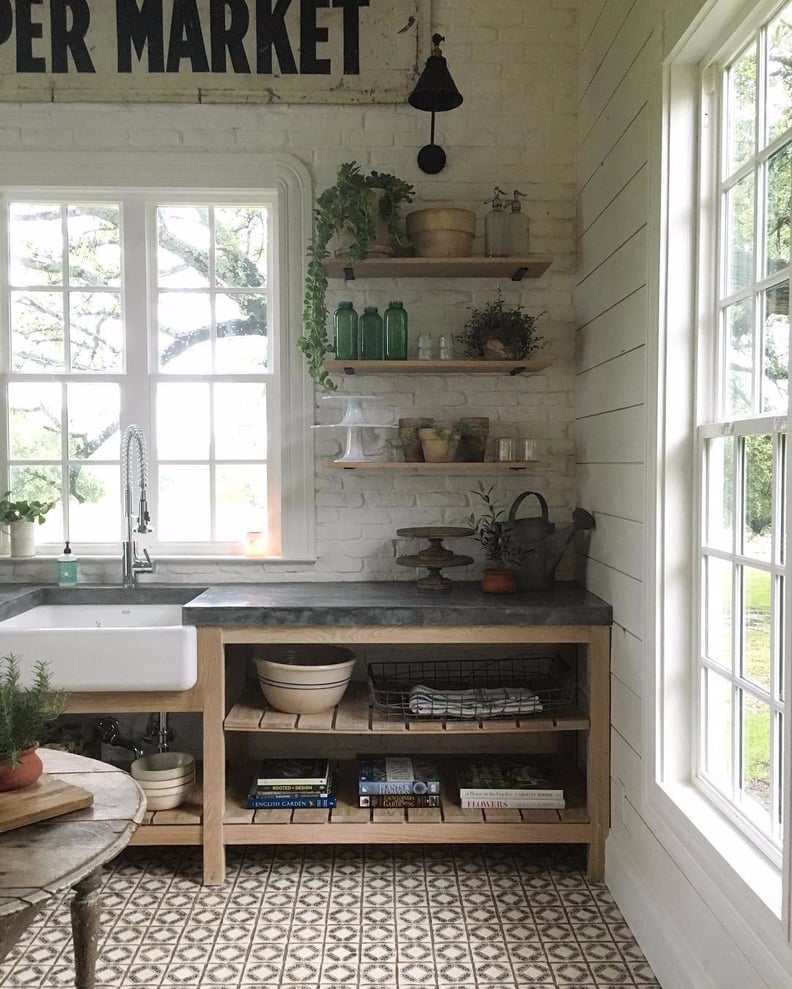 The rustic-chic style of Chip and Joanna Gaines has quickly taken over the decor world, especially when it comes to their unique and innovative approach to home organization. And if you are a solid devotee of Fixer Upper (which we are willing to bet you are), you have probably caught yourself wishing that this famous duo would make a personal house call to your place, too! While that might be a stretch for now, there are still ways to emulate the Gaines's signature organizational style. Read on for 16 of the very best ideas to keep your home in tip-top shape, inspired by Joanna herself!
Hanging Laundry Baskets
Steer clear of any clutter by hanging wire baskets above your laundry machines for plenty of product storage.
Glass Kitchen Canisters
Conveniently store your flour, sugar, coffee, and tea in attractive, easy-to-reach glass canisters.
Wooden Crates
Wooden crates are perfect for storing an array of household items, from blankets to clothing to your gorgeous fresh-cut flowers from the garden.
Galvanized Metal Shelving
Galvanized metal shelving is just the thing to keep your gardening shed tidy, your work files organized, or even to hold those extra DVDs you can't seem to get rid of just yet.
Storage Cubbies
Storage cubbies are the answer to an on-the-go mom's prayers! Having a quick place to store the kid's school supplies, sporting gear, and everything in between will help you to get in and out of the door that much quicker.
Hanging Nightstands
Make the most of smaller spaces with hanging nightstands, an inventive way to keep your glasses, books, and lotions close by.
Open Kitchen Shelving
The latest trend for kitchens is gorgeous open-air shelving, and we can see why! This method helps to keep all of your pretty tableware organized while displaying it at the same time as a decorative accent.
Tabletop Trays
Placing candles, notepads, and even remote controls in tabletop trays creates a more "put-together" vibe in any room in your home.
Built-In Firewood Storage
If you don't have a lot of floor space in your living room, no worries! Storing firewood in built-in cabinet space is a smart way to save on square footage.
Baskets in Varying Shapes
Keeping pillows and other linens in various baskets is a genius way to store your items without creating an eye sore.
Oversize Bookcases
An oversize bookcase is one of the best ways to keep all of your beloved knick-knacks in one place while displaying them to your guests at the same time.
Creative Counter Organization
Be unique with your approach to kitchen storage, and use a vintage weight as a plate and glass holder.
Rustic Toy Bins
Children's toys have a funny way of taking over the living room or bedroom. Put an end to the mess with rustic storage and wire baskets designated just for the kids.
Modern Wall Shelving
Give your room some modern flair while creating more available storage space with a wall shelving unit.
Giant Counter Bowls
Now all of your fruits and veggies will have a home in kitchen counter bowls, both accessible and substantially sized.
Arts and Crafts Baskets
Small baskets with handles will keep all of your art supplies in one place while still remaining portable.