Joanna Gaines and Her Look-Alike Sister Are Serious #Goals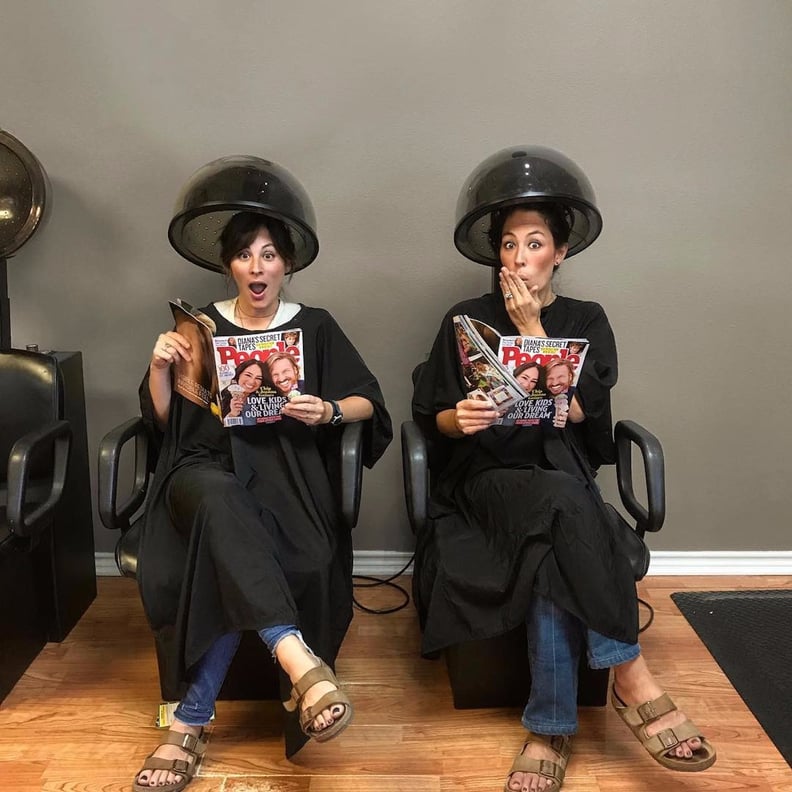 With four adorable kids and a loving (and hilarious) husband, design superstar Joanna Gaines is definitely all about her family. But what you might not realize is that Joanna also has a look-alike sister whom she is always hanging out with . . . and they are certainly never short on the laughs and good times! Don't believe us? Read on as we break down 13 times Joanna Gaines and her sis gave us serious sibling envy.
They Film Together
We all know that filming scenes for Fixer Upper is a huge part of Joanna's life, but this snapshot proves that she doesn't mind sharing the spotlight with her sis for an upcoming episode.
They Goof Off Together
This silly pic shows that sisters who can goof off together clearly stay together. Plus, double the points for the #twinning flannel shirt look!
They Love Magnolia Home Accessories
Obviously Joanna loves her decor line, Magnolia Home, but her little sis is an equally devoted fan — especially when it comes to these farmhouse chic planters.
They Enjoy Treats Together
Joanna and her sis confirm that they love sharing a tasty treat together while their combined nine (yes, nine!) kids enjoy a night in with their husbands.
They Go on Double Dates Together
Not only are Joanna and her sister two peas in a pod, but it looks like their husbands are also fully down for a night out on the town double-date style. (PS: that bowl of food looks majorly delicious!)
They Get Their Hair Done Together
Two things that Joanna and her sister have in common are their seriously gorgeous long locks and a love for a classic pair of Birkenstocks.
They Always Support Each Other
Joanna and her sister are always there to support one another during life's major milestones, like when her sis gave birth to her fifth baby not too long ago.
They Have Late-Night Decorating Parties Together
What good is a built-in best friend if they don't stay up late decorating with you? Thankfully, Joanna's sister seems to love home design just as much as the Fixer Upper guru herself.
They Love to Visit Each Other
While Joanna's sister loves to come visit for the weekend, Joanna does wonder if she just comes for the cupcakes from their favorite bakery.
They Shop For Plants Together
Joanna and her sister show that going shopping for plants doesn't have to be boring. If anything, it is the perfect activity for sisters, plus a big group of friends!
They Make Funny Faces Together
Regardless of her fame, Joanna shows she can still just be herself around her sister. Evidence: this photo of the pair cheesin' hard for a good laugh!
They Are Truly Two of a Kind
Through the good times and the bad, these two show us how truly special the bond of sisterhood can be.
And They Haven't Changed a Bit!
And at the end of the day, this dynamic duo truly gives new meaning to the hashtag #sistergoals. Seriously, how cute!?