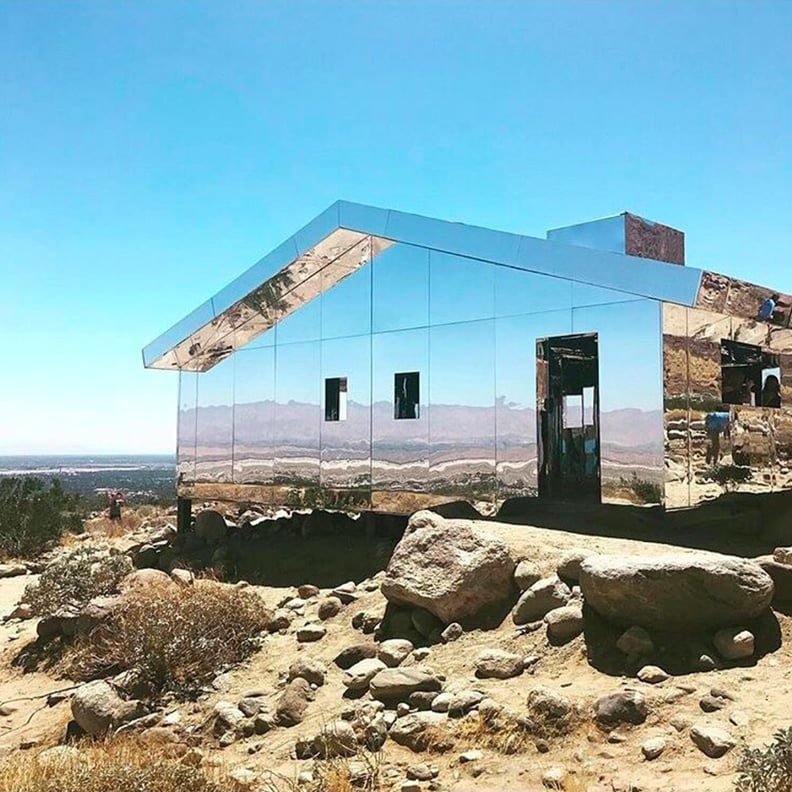 Instagram serves as an endless source for trendy design inspiraton. From hotel lobbies to those millennial pink hot spots, the snapshots in our social feeds oftentimes induce major interior envy. If you're anything like us, you find out about new locations and must-see installations because of geotags, hashtags, and what your friends are "liking" on Instagram. These trendy spots all have one thing in common: they know a thing or two about creating aesthetically pleasing interiors that we love to visit and share pictures of. We rounded up some of the hottest design spots from around the world that Instagrammers are obsessing over right now. Warning: you'll definitely want to book a flight at the end of this list.
Le Refuge
Milan Design Week became more popular than ever on Instagram this year thanks to Parisian designer Marc Ange. His sculptural creation became a must-see piece and for good reason. The combination of those millennial pink hues and oversize palm leaves made this an instant favorite for everyone in attendance. We definitely wouldn't mind being able to see one of these beauties in our own backyard every day.

Le Bon Marché
While Parisian museums, city streets, and cafes are bound to pop up in your social feed, this department store is an Instagram must. As one of the first department stores, it's no surprise that its architectural structure and design elements are so gorgeous. These exposed, criss-crossed escalators are screaming to be photographed.
The Dean Hotel
This Rhode Island hotel has become a destination for people coming from far and wide. The origin of its structure is quite risqué, and they play up those elements throughout the design of the entire interior. From random neon lights lining the hallways to exposed showers in the guest rooms, this hotel knew exactly how to create an Instagramable retreat.
Ojai Rancho Inn
Desert style interiors are having a major moment, and this Ojai-based inn is giving the people exactly what they want. Its neutral interior and furniture choices paired with cacti and terra cotta accents make this space ideal for the ultimate weekend trip. The main lobby, bedrooms, and outdoor space are all Instagram favorites at this sunny spot.
#thatpinkdoor
Palm Springs has been the ultimate place to be for the past few years, and it's only getting better. The mix of midcentury homes and newly designed establishments creates a must-see town for design enthusiasts. Front doors have been a longtime favorite among Instagrammers, so it comes as no surprise that this specific door has turned into a fan favorite.
10 Corso Como
This shopping and dining area in Milan is the perfect stop for any stylish visitor. You can't forget to snap a photo of the plant-filled courtyard during your midday meal. The overgrown flowers and plants hanging from the classic architecture makes this one of the most popular places to head to while spending time in Italy.
Mirage
The series, Desert X, features installments from new artists all over the Coachella Valley. The artist, Doug Aitken, is responsible for this mirror-covered home in the desert. Its backdrop, reflective exterior, and overall design make this an Instagrammer's dream. This spot has no exact address, just coordinates, so if you're feeling adventurous, definitely take the trip to see this gem.
Commissary
This rooftop, greenhouse restaurant in the Line Hotel in LA has become ultrapopular because of its design aesthetic. Its industrial elements paired with an abundance of plants and neutral furniture have made this hot spot a favored location among both locals and tourists. Try to get in right when it opens to ensure a picture with no other people!
The Gallery Sketch
With pink in every corner, velvety accents, and opulent design, this London-based location is a photographer's dream space. From the restaurant to the galleries, this overwhelmingly popular spot is having a major moment among the world's trendiest. While the whole space is worthy of pictures, we are still obsessed with the main dining room's seating options.
Glossier
The showroom of this beauty brand is ever-changing and always done to perfection. This open showroom allows fans of the products to pay a visit and take some cute photos while there. There are always new and stylish installations and design elements that make this spot one that you need to geotag while in NY.
Cafe Réveille
There's a ton to do while visiting San Francisco, but nothing is quite as popular as taking a meal break at Cafe Réveille. The only thing that makes a flatlay Instagram picture of your food even better is a bubblegum pink backdrop. Grab a seat for a quick bite, but don't forget to snap a photo of your meal before you devour it. Millennial pink for the win once again!
The Sill
Everybody seems to be plant obsessed these days. From homes to restaurants and everything in-between, lush greens are stealing the show. An Instagram favorite? The Sill situated right in New York. While you may not be taking all of these stylish cuties home with you, you can pause to document your trip to this treasured shop.
Ace Hotel & Swim Club
Bright colors are abundant at this Palm Springs hotel, and that's why we, and all of its visitors, love it so much. The patterns, vibrant hues, and modern decor make this Ace Hotel location one of the best. The only thing that makes its design even better is its sunny, palm-tree-filled backdrop. Yes, please!
The Hampton Social
This Chicago-based restaurant has a vision that we can definitely get behind. Rosé all day? Don't mind if we do. Everybody loves capturing some positive words to share with their Instagram followers, and this is one of the best. Neon lights nestled in a living wall make this dining space one for the books.
Pergola on the Roof
London is notoriously gray and gloomy, but when there are those random sunny days, this is the place to be. This rooftop location is a gathering spot that warrants some picture-taking. Its simple pastel shades, string lights, and understated furniture make it a design-forward spot that we can't get enough of.
Mansur Gavriel
The only thing more popular than the Mansur Gavriel bucket bag is the brand's New York-based pop-up shop. Everything in this space, from floor to ceiling, is done up in an appropriate shade of millennial pink. They also have an in-house flower shop, which adds colorful pops throughout. Even if you're not planning to make a purchase, this shop should definitely be on your to-do list.
Tipple & Ramble
Ojai is a popular spot, and this hybrid shop is one of the many reasons why. This picnic shop/wine bar has won over many and is the most adorable place to share a few pictures. Go for some shopping and stay for a cheeseboard in this perfect outdoor space.
Hotel Saint Cecilia
Austin is one of the trendiest cities, and this hotel lives up to its big reputation. While the whole place is designed to perfection, the must-have photo is of the outdoor pool. The glamorous patio space checks off all of the essential backyard design elements that we love the most.
Pietro Nolita
Locations with pink interiors are among the most popular places to see and be seen, but this New York-based spot takes the cake. Everything from the exterior to the tiniest of details at this popular destination is done in the brightest shade of pink. You won't want to miss a photo op on the benches outside, but be sure to snap a few shots of the interior as well.
The End Brooklyn
We've been seeing a lot unicorn- and mermaid-inspired items as of late, but this shop is nailing the trend. You can grab coffee, have some juice, or do some shopping at this small Brooklyn stop, but don't forget to document your visit. Choose from their playful menu, and style your drink among their adorable decor setup for some guaranteed Instagram love.