A Chef Makes Steak Dinners For the Queen's Corgis and Other Fascinating Facts About the Lives of Royal Pets
Their owners live in palaces and wear diamonds and priceless heirlooms, but what about the lifestyles of the much-beloved royal pets? It's been said that the queen prefers dogs and horses to humans, and the homes and grooming and eating habits of her many animals prove that they are surely among the most beloved creatures in all the land. Whether it comes to her majesty's Corgis, Camilla's rescue dogs, or William and Kate's English Cocker Spaniel, Lupo, the faithful friends of the royal family are some very pampered pooches indeed. We take a closer look at the fabulous life of royal pets ahead.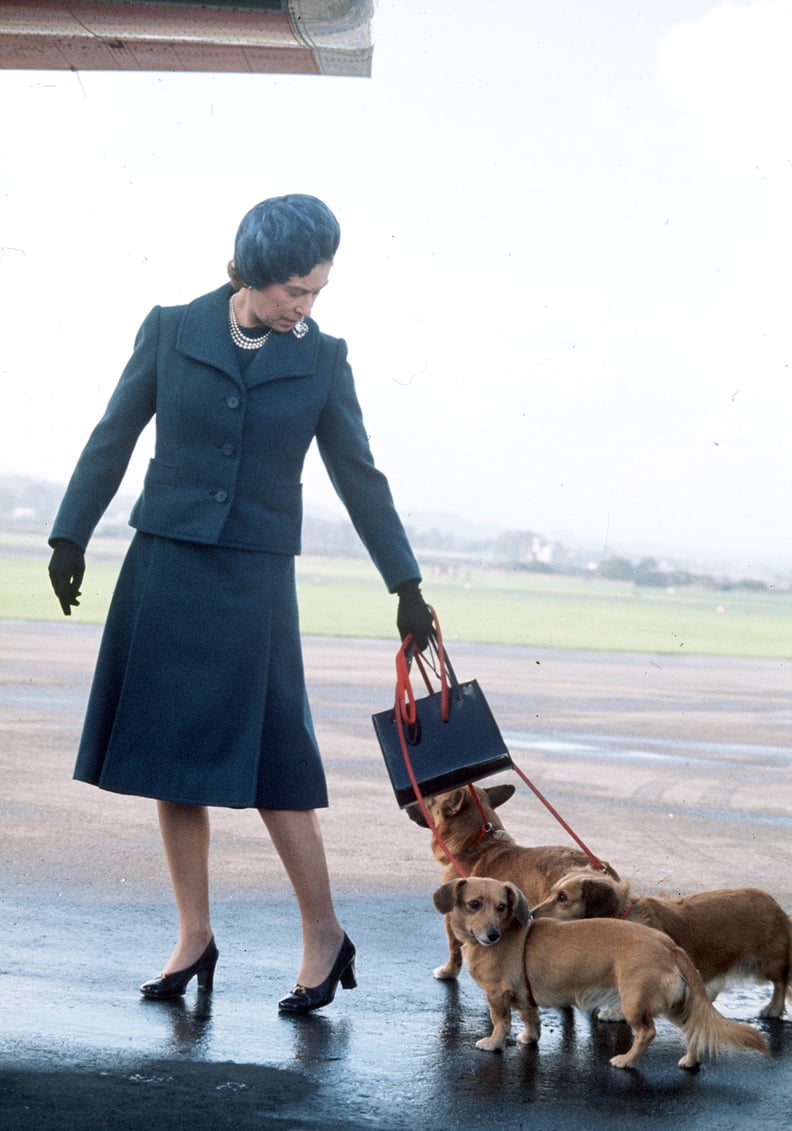 The Queen's Corgis
The queen has kept corgis ever since she was given one of the dogs for her 18th birthday, and a constantly evolving pack has swarmed round her ankles and curled up next to her ever since. Her majesty currently owns two Corgis, Willow and Whisper, and two Dorgis called Candy and Vulcan. (A Dorgi is a Dachshund/Corgi mix, which first came to being when one of Princess Margaret's dogs mated with one of the queen's.)
While the queen is famously frugal — enjoying simple food on a day-to-day basis and keeping her cereal in Tupperware — her dogs are given the red carpet treatment 24/7. Her four furry friends sleep in their own bedroom in wicker baskets that are raised off the ground to avoid any droughts, and during the day, they roam freely around the queen's quarters. They are fed steak, rabbit, and chicken that is prepared in the royal kitchens. Former royal chef Darren McGrady has recalled, "When I worked at the palace, we actually had a royal menu for the dogs. It would be chosen and sent to us in the kitchen every month. . . . The beef would come in, we would cook it, dice it into really fine pieces, and then we did same with the chicken. We'd poach them, and again chop them really, really small to make sure there were no bones so the dogs wouldn't choke."
The dogs eat from battered silverware and porcelain bowls and are fed by the queen herself, who lays down the food in order of the seniority of the dog. Their food is supplemented with herbal and homeopathic remedies to keep them in peak condition.
The final resting place of the queen's beloved pets is at her Norfolk residence, Sandringham, where she has a doggie cemetery.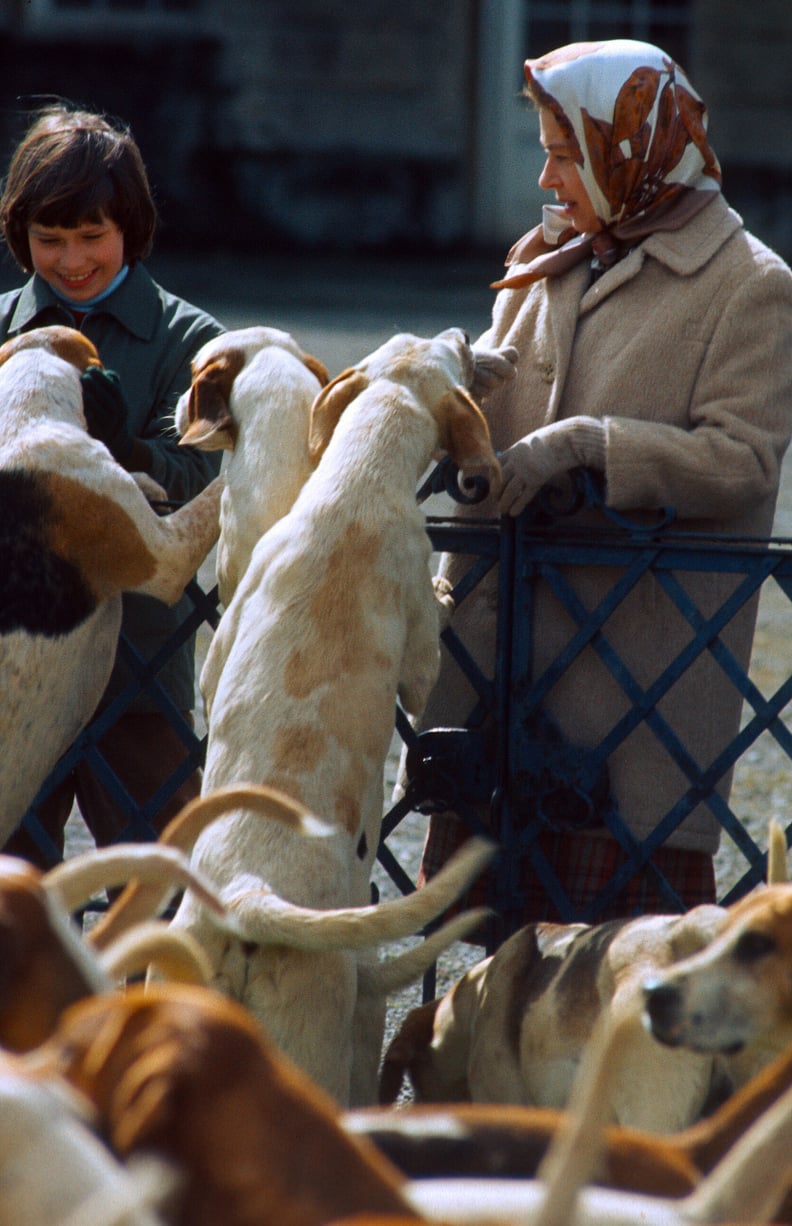 The Queen's Hunting Dogs
Although the queen will always been known for her iconic Corgis, she is dotty about all kinds of dogs. Because she has always been keen on game shooting, she keeps a pack of around 20 Labradors and Cocker Spaniels in her kennels at Sandringham, although they also travel with her to her Scottish residence, Balmoral, when she's on her Summer holidays there from August through October.
The dogs live in wood and mesh metal runs, and because they are working dogs, they are fed and exercised four times a day. The queen names the Cocker Spaniels and Prince Philip names the Labradors, and they have themed sets of names such as hats — Prince Philip has been heard calling out for "Trilby" or "Fedora" before — and Harry Potter references. A royal puppy called Gryffindor = cutest thing ever . . .
Pet food and accessories are provided by three royal warrant holders who have been supplying the queen for at least five years: Armitage, Judge's Choice, and Mars.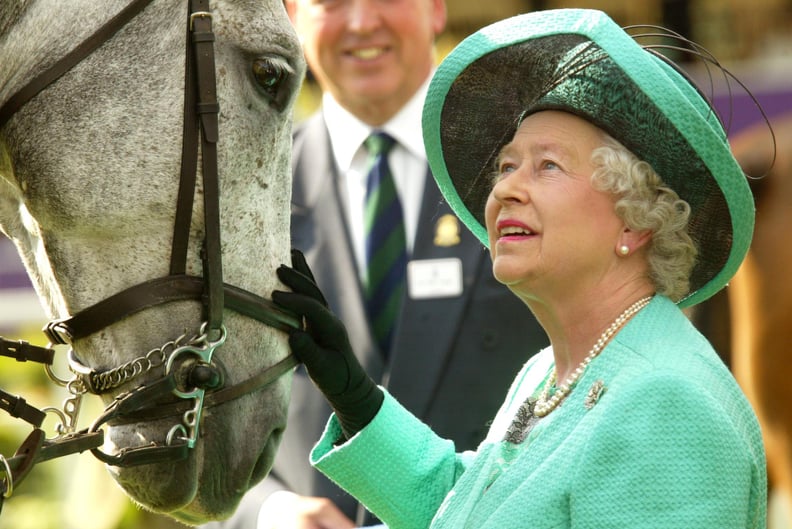 The Queen's Horses
The queen is well-known for her passion for horses, and as well as being a keen rider, she also breeds them and follows the horse racing every day — her favorite newspaper is The Racing Post.
Naturally, the queen owns a vast number of horses, in both a personal and professional capacity, and for ceremonial purposes, her majesty favors either Windsor Greys or Cleveland Bays. The horses get up at 6 a.m. and are exercised, fed, and groomed. Their harnesses are cleaned with Brasso and the saddles are polished with Belvoir Leather Balsam.
They wear a navy-blue cotton jacket with red and white piping, and their hay is strung in blue rope net. Their bedding is provided by royal warrant holders Bedmax and Sundown Products, while Dengie supplies alfalfa-based fiber feeds and Dodson & Horrell specialize in animal nutrition. Vale Brothers produce the royal horse-grooming brushes and accessories.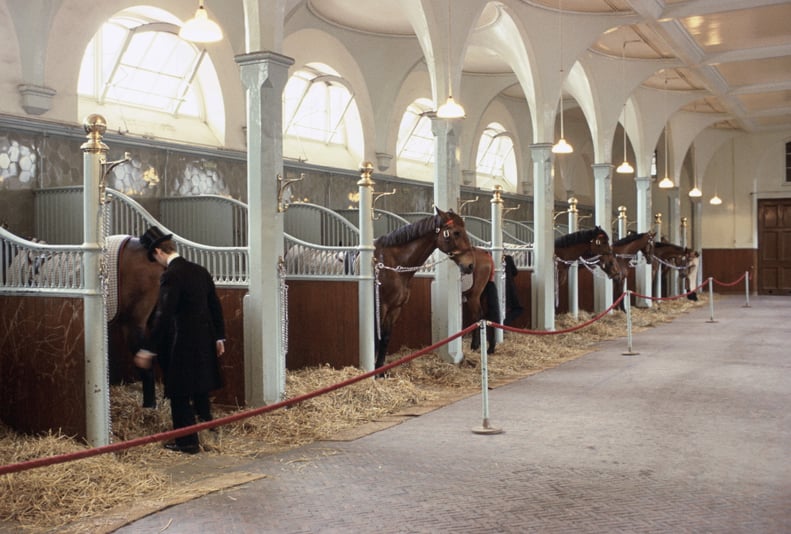 The Royal Stables
The stables at Buckingham Palace are so large that Prince Charles has referred to them as "a village in the fullest sense; a close community of people both live and work there, and it has its own economy, founded upon traditional skills which are still practiced there, as they have been for centuries." The queen learned to ride there when she was 3.
The horses' home is kept neat and shiny as a new pin. The walls are covered in pale green hexagonal tiles, and the floor is made up of smooth geometrical bricks. Buckingham Palace architect John Nash built the Royal Mews for George IV with a classical clock tower and grand Doric columns. Grooms constantly pick up after the horses, and their manure is used in the Buckingham Palace gardens.
Camilla's Rescue Dogs
Camilla adopted Jack Russells Beth and Bluebell from Battersea Dogs and Cats Home and dotes on her little four-legged friends. When the duchess visited upscale greengrocer Fortnum and Mason for an engagement with the queen and Kate, she took home some venison-flavored dog biscuits called Hearty Treats For Happy Hounds.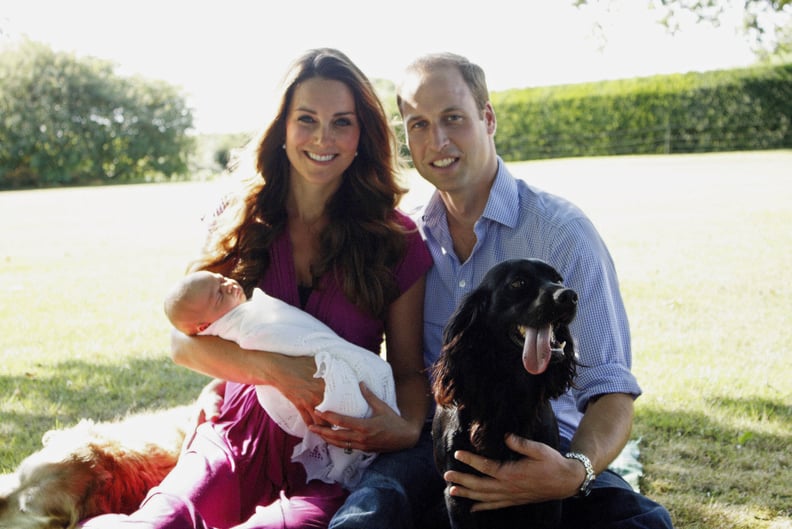 William and Kate's Pup
It seems that Lupo, an English Cocker Spaniel, is another family member to his adoring owners William and Kate. He has appeared in official photographs with Prince George, and it appears he has the run of Anmer Hall and Kensington Palace, as William once said at an engagement, "Lupo is at that stage where he is chewing everything. If you leave him for five minutes, he'll chew up all the furniture. We don't know what to do about it."
Lucky Lupo is also indulged with scraps from the royal table. Not only did he snap up morsels of unwanted food at a charity event Kate took him to, but it was also reported that he was fed leftovers from the table at William and Kate's staff Christmas lunch. It seems that Lupo isn't trusted around the queen's Corgis, though, as he hasn't yet been invited to her majesty's Christmas lunch at Sandringham.