An Editor Review of the Sabai Essential Sectional Sofa
I Tested Out the TikTok-Famous Sabai Essential Sectional Sofa
As POPSUGAR editors, we independently select and write about stuff we love and think you'll like too. If you buy a product we have recommended, we may receive affiliate commission, which in turn supports our work.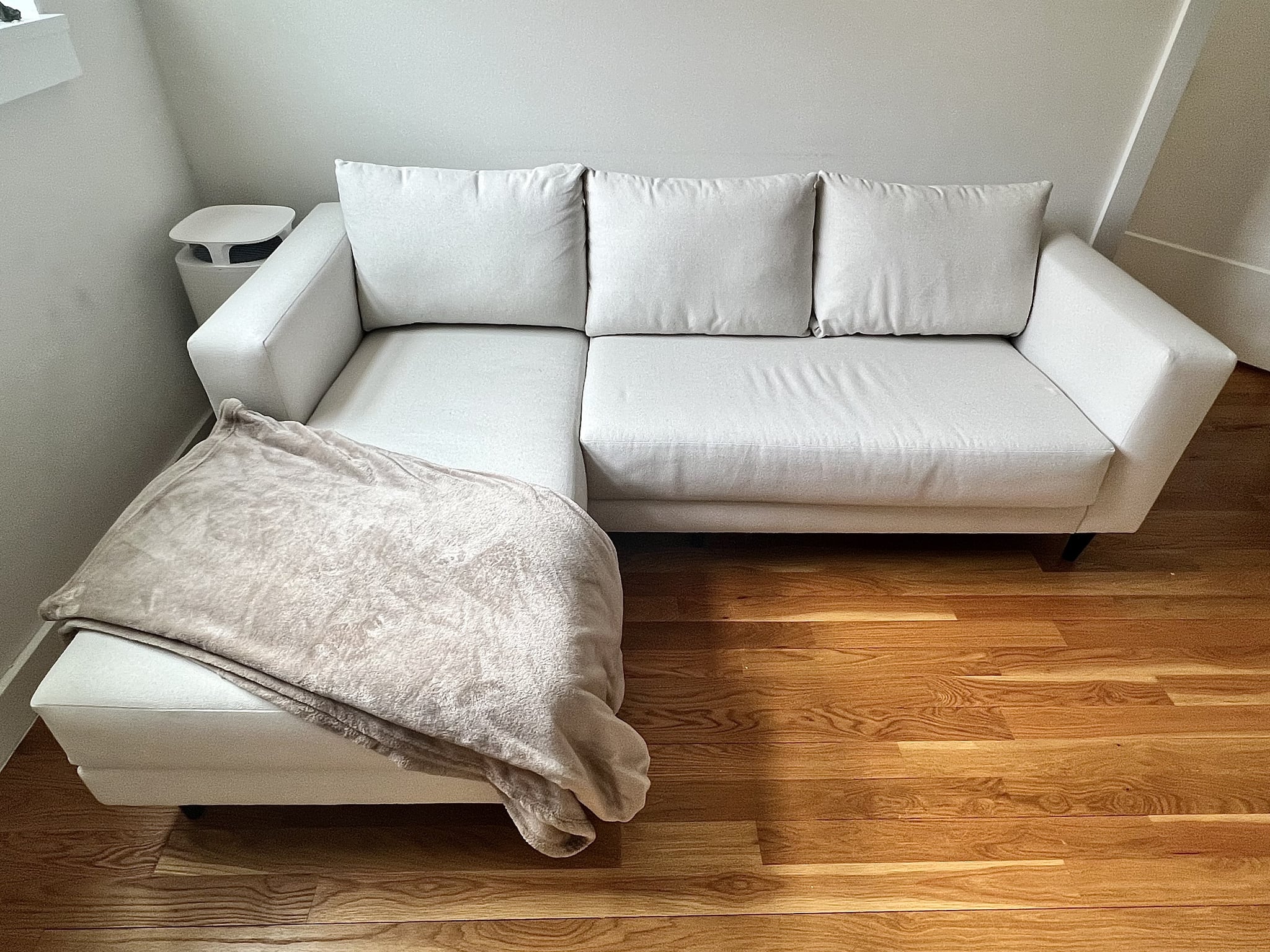 When I moved into my apartment and needed living-room furniture, I opted for the cheapest option available: my parents' old couch. The worn-down leather sofa could seat three, and it got the job done — until guests came over, that is. That experience provided a reality check that I needed to level up my living room and purchase a comfortable, high-quality sofa.
I wanted something spacious enough to seat friends and sprawl out with my roommate but compact enough to fit in my apartment. After seeing a few reviews of Sabai's Essential Sectional ($1,845) go viral on TikTok, I knew I had to try it out for myself. What really sold me on Sabai is how the brand prioritizes sustainability, from materials and manufacturing to ensuring the longevity of each piece and preventing waste.
What I Like About the Sabai Essential Sectional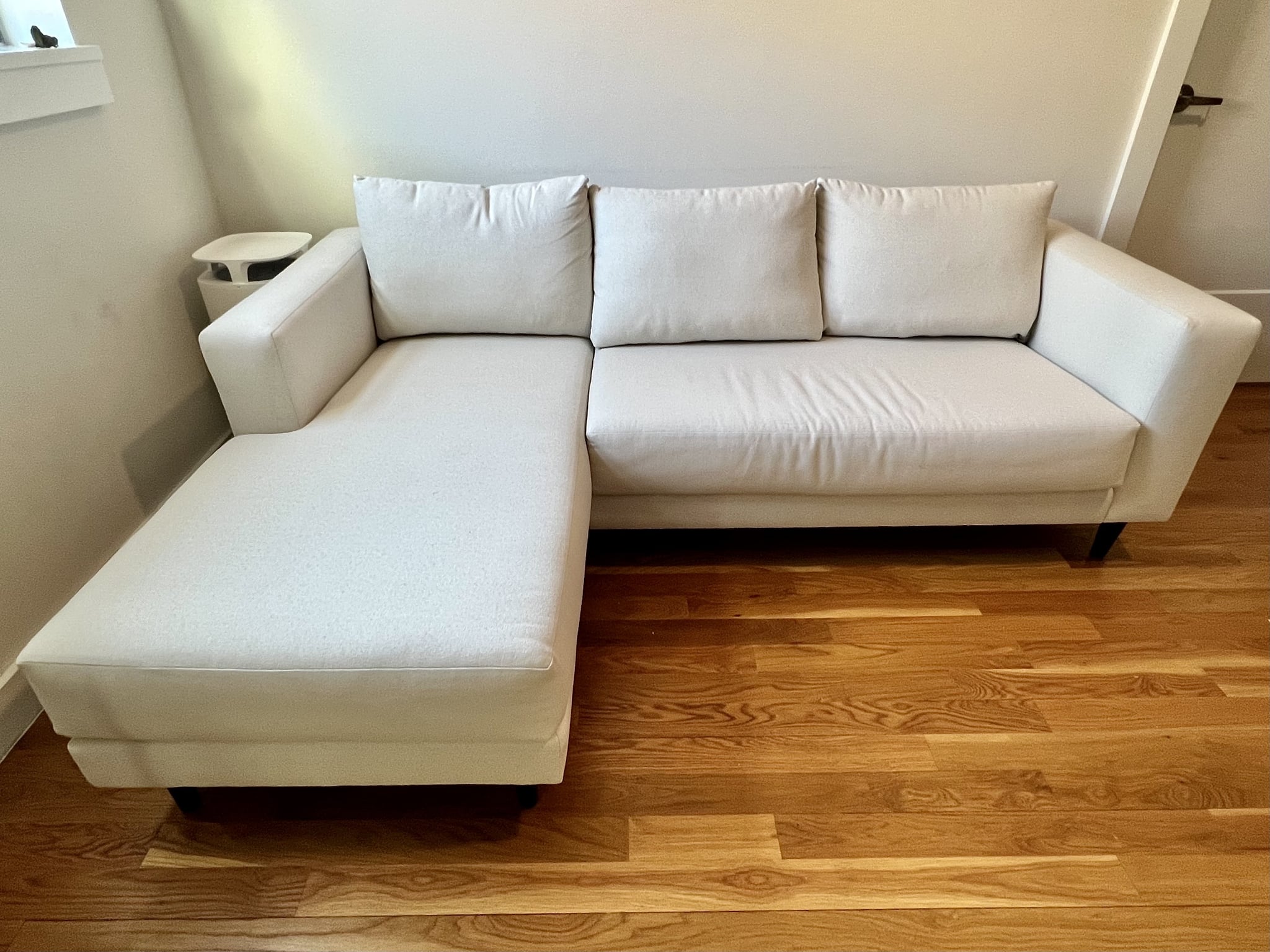 The Sabai Essential Sectional has all the hallmarks of a luxury sofa without the pricey markup. For starters, the sectional has a polished and timeless design that can adapt to revolving trends and spaces. The silhouette has clean lines for a modern touch and rounded edges for a softer, less harsh feel. Whether your space has a rustic and boho, midcentury-modern, or contemporary and geometric aesthetic, this sofa can seamlessly fit right in. Just select the fabric type, color, and legs to match your vibe. I opted for something classic that I know will go with most design choices: the upcycled poly fabric in Oat with dark-brown legs.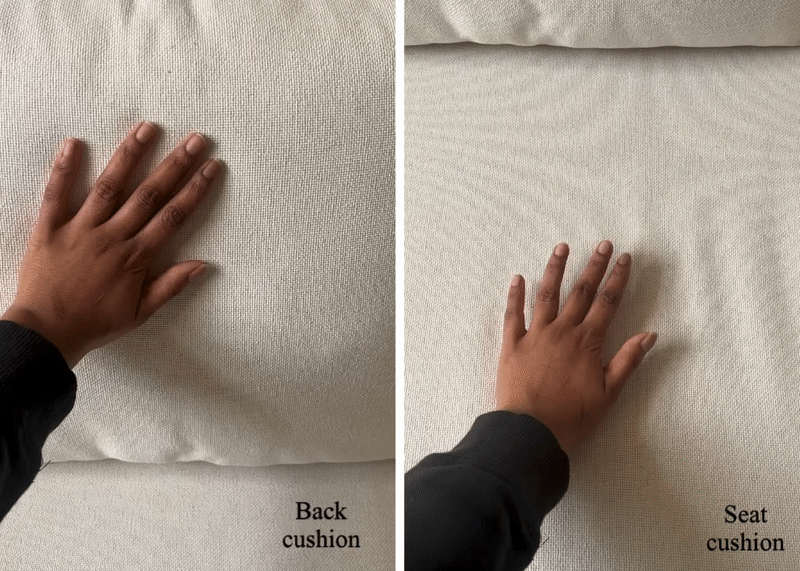 What impressed me the most about the Essential Sectional is how it feels. The seat cushions are supportive and firm like a mattress, and the back cushions hug your upper body. As someone who deals with back issues and neck pain, I was shocked by how much support this sectional provides for my spine and posture, no matter how I sit. Whether I sit up straight, tuck my legs underneath, or lounge on the chaise, I feel supported without the need for extra pillows. The sectional can comfortably seat three to four people, and even five if you squeeze.
What's Worth Noting About the Sabai Essential Sectional
The Sabai Essential Sectional does not come fully assembled, but piecing it together yourself is pretty easy. Instead of receiving a set of assembly instructions upon delivery, the instruction manual is sent to you via email to avoid paper waste. The brand's site has a video on how to fix it as well as an FAQ section that has the step-by-step instruction manual that was sent to your email. I highly recommend asking a friend or whoever you live with to help you put it together because some pieces may be too large to carry and place properly by yourself. Before you start assembling, figure out which side you want the chaise extension on, so you don't have to keep undoing and redoing certain steps.
If you're in the market for a cloud-like couch, this might not be the best option for you. This sectional has a firmer base, so it's supportive of your spine and posture, but won't give you that sunk-in feeling. Also, if you have pets or are prone to shedding hair yourself, you will find strands of hair stuck to the fabric all the time, especially if you go with the upcycled poly material. It's an easy fix though — just vacuum it off or use a lint roller.
To care for the couch, the brand recommends using gentle household cleaning products and dabbing stains or excess moisture away. The seat and cushion covers are machine washable on a delicate cycle with cold water and can be air dried. It's best to avoid using heat. The brand's site has a whole page dedicated to cleaning and care, including a recipe for a gentle bleach solution.
Who the Sabai Essential Sectional Is Best For
The Sabai Essential Sectional is great for anyone seeking a sectional that provides back and neck support without feeling too firm. My roommate is 6 feet tall, and she appreciates how the seat depth and chaise extension accommodate her height. Although it's not the cheapest sectional on the market, it's one of the more affordable options for those who want something sustainably made with a luxurious feel and look. It's apartment-friendly as well, making it ideal for those in smaller spaces.
Is the Sabai Essential Sectional Worth the Splurge?
If you use your living or family room often, you know how important it is to have a couch that looks and feels good. You will use it almost every day, so it's worth investing in something that will last a long time and be the cornerstone of your living space. Sabai's Essential Sectional is the perfect fit for my apartment living room, offering my roommate and me ample space to cuddle up with a few throw blankets and enjoy some TV time.
The cherry on top? Sabai's Repair Don't Replace program lets you easily buy replacement parts just in case something goes wrong. Accidentally spilled something on a cover, and the stain won't go away? You can buy an extra in the same fabric and color for just $30. This program also offers expansion kits that let you convert an apartment-friendly sofa that seats two to three into a massive sectional that can seat up to seven. This sectional is a dream in my apartment living room, and when I move into a house one day, there's no doubt it's coming with me.
Additional Details
You can choose between three leg options (natural light wood, dark wood, or black metal) and two different fabrics (recycled velvet or upcycled poly).
Upcylced poly is made with 100 percent olefin, with a soft and textured feel and durable stain- and scratch-resistant wear. This material comes in five colors: oat (cream), moon (gray), midnight (navy), farrow (tan), and shadow (dark gray).
Recycled velvet is made with 100 percent recycled water bottles. It has a soft, low-pile feel with a durable stain- and scratch-resistant wear. It comes in five colors: indigo (dark blue), moss (emerald dark green), mustard yellow, seafoam (light green), dusty rose.
The Essential Sectional is 85 inches wide, 32 inches tall, and 34 inches deep. The chaise extension is 61 inches long.
Where is the Sabai Essential Sectional Available?
Sabai's Essential Sectional is available on the brand's site.
Rating:

Image Source: POPSUGAR Photography / Anvita Reddy