25 Small Apartment Decor Ideas That Will Make You Cherish Your Little Space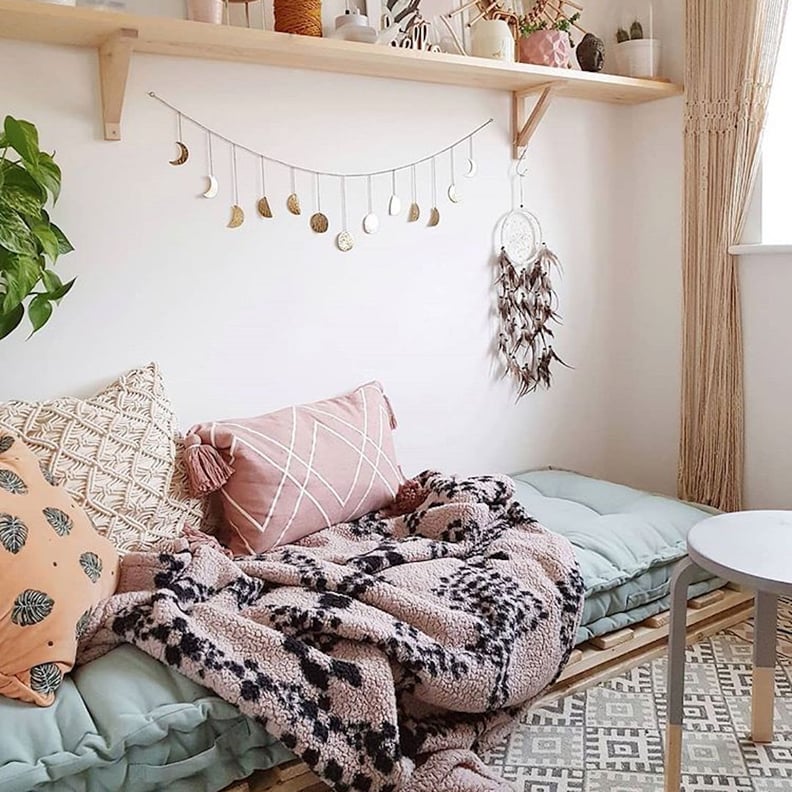 Living in a small space shouldn't limit your ideas when it comes to decorating. Sometimes it can be hard to envision what the finished outcome will look like in your petite space compared to the spacious pads you see on TV and in magazines (Monica and Rachel's apartment on Friends was so unrealistic). Which is why we say, head to Instagram instead! With an avalanche of beautiful decor uploaded countless times a day for every type of home, you have endless ideas right at your fingertips (and, in case you haven't heard, small spaces are definitely in right now).
We've selected some of our favorites that show you all the tips, tricks, and hacks for making the most of your smaller space. Maybe that's painting your walls a pale color to give the illusion of a wider open area or taking advantage of unused space and filling it with useful storage. Whatever you're looking for, these ideas will hopefully be just the inspiration you're looking for.
01
Use Room Dividers to Create Different Spaces in 1 Room
02
Get a Bed Frame With Built-in Storage
03
Get Rid of Your TV and Use a Projector Instead
04
Have a Small Breakfast Bar in Your Kitchen Rather Than a Table
05
Paint Your Walls White or a Pastel Shade to Make the Room Look Bigger
06
Use Voile Fabric to Conceal Areas
07
Keep the Floor White to Help Make the Room Appear More Spacious
08
Add Floating Shelves in Your Kitchen For Extra Storage
09
Have Storage Built Into Your Seating Area or Reading Nook
10
Add a Clothing Rail or Rack in an Unused Space to Give You Even More Room to Hang Your Wardrobe
11
Turn Your Walls Into Bookshelves
12
Use Plants to Bring the Outdoors Inside
13
Use Large Mirrors to Open Up the Room
14
Rather Than Bunk Beds, Try This Space-Saving Alternative
15
Have Your Office Area Double as Your TV Station
16
Go For a Corner Sofa to Make Room For Other Furniture
17
Try Wooden Ladders as a Storage Option in Small Bathrooms
18
Make a Window the Focal Point of the Room to Make It Feel Bright
19
Use Color in Unexpected Ways to Draw Attention Away From the Size of a Room, Like a Full Pink Bathroom
20
Use Sliding Doors Rather Than Swing Doors to Help Give More Space
21
If You Don't Have Enough Room For a Sofa, Try Benches or Cushions Instead
22
Have a Small Balcony? Create Your Very Own Outdoor Garden Oasis
23
Get a Sofa That Can Also Fold Into a Bed
24
Hang Hats and Bags on Your Walls to Save Space and Add a Bit of Decor
25
Baskets Make Pretty Storage Containers
26