The 1 Thing Most First-Time Homeowners Don't Think About When Buying Appliances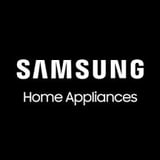 We've partnered with Samsung Home Appliances to help you reimagine your home to suit your needs, from more efficient appliances to the kitchen of your dreams.
There's no foolproof way to prepare for home ownership: you just have to jump in head first and figure it out as you go along. And it seems like first-time home buyers have a litany of decisions to make, from which paint color to choose to which home appliances to buy.
Decision fatigue makes it all too easy to just pick whatever's most convenient — but that's not always the best solution. When it comes to home appliances, there's one big factor that many homeowners overlook: smart features.
It's not just a cool gimmick, either. Whether you're on a work call in the bedroom or temporarily away from home, the ability to control your range, washer, or fridge from your smartphone offers so much peace of mind. Can't remember whether you shut off the oven before you left the house? Just double-check it on your phone. Smart features can be seriously useful — just check out these five Samsung appliances to see exactly what we mean.