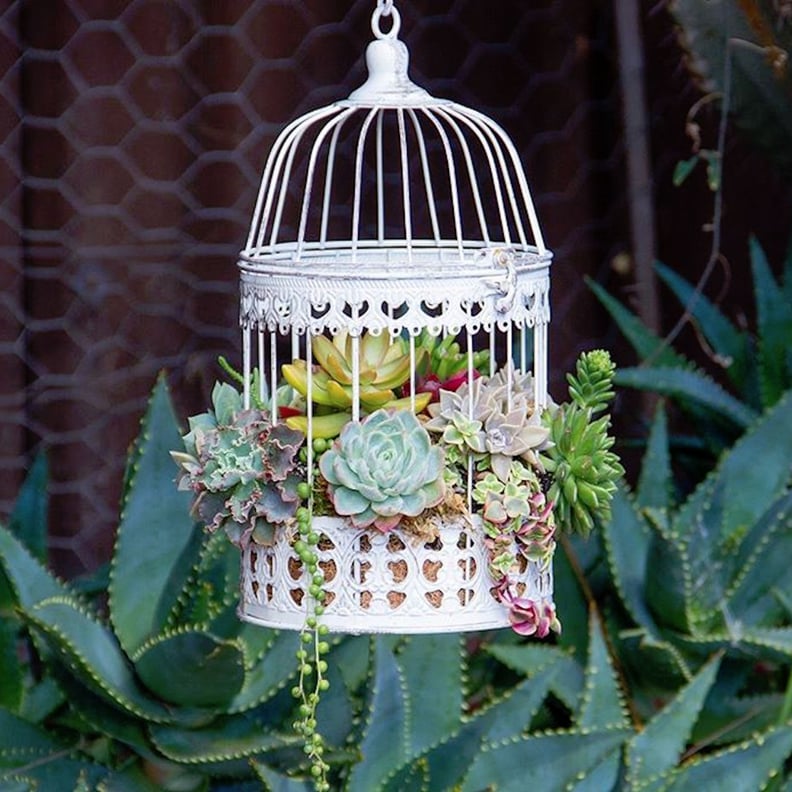 If you've scrolled through Instagram any time over the past few years, chances are you've stumbled upon a photo of succulents (or probably like, 27 photos, to be more accurate). Since the picture-worthy plants arrived on the decor scene, they've shown no signs of slowing down their worldwide dominance, and we fully support the unceasing trend. There are plenty of cute ways to decorate your home or garden with these low-maintenance plants, but by far the most charming option of them all has to be succulent birdcages. Practically bursting (or should we say blooming) at the seams with color, they have a quaint vibe that we're so into.
Making these cute garden accessories on your own is supereasy. Craftberry Bush blogger Lucy suggests lining the bottom of your cage with paper or cardboard before adding a layer of sand and sheet moss on top. Then remove each of your succulents from their respective pots and place their roots in the moss, gently squeezing some pieces through the cage's wire slots. After that, add some potting soil to cover the roots, throw in a bit more moss to the empty slots to prevent soil spillage, and voila! You've just DIY-ed the succulent birdcage of your dreams.
We've noticed these delightful arrangements popping up all over Pinterest and Instagram and for good reason — they're so darn adorable! If you're looking for a new way to fuel your undying succulent obsession, these babies are definitely the answer. Ahead, get some inspiration from the best ones we've seen so far before you make your own at home.