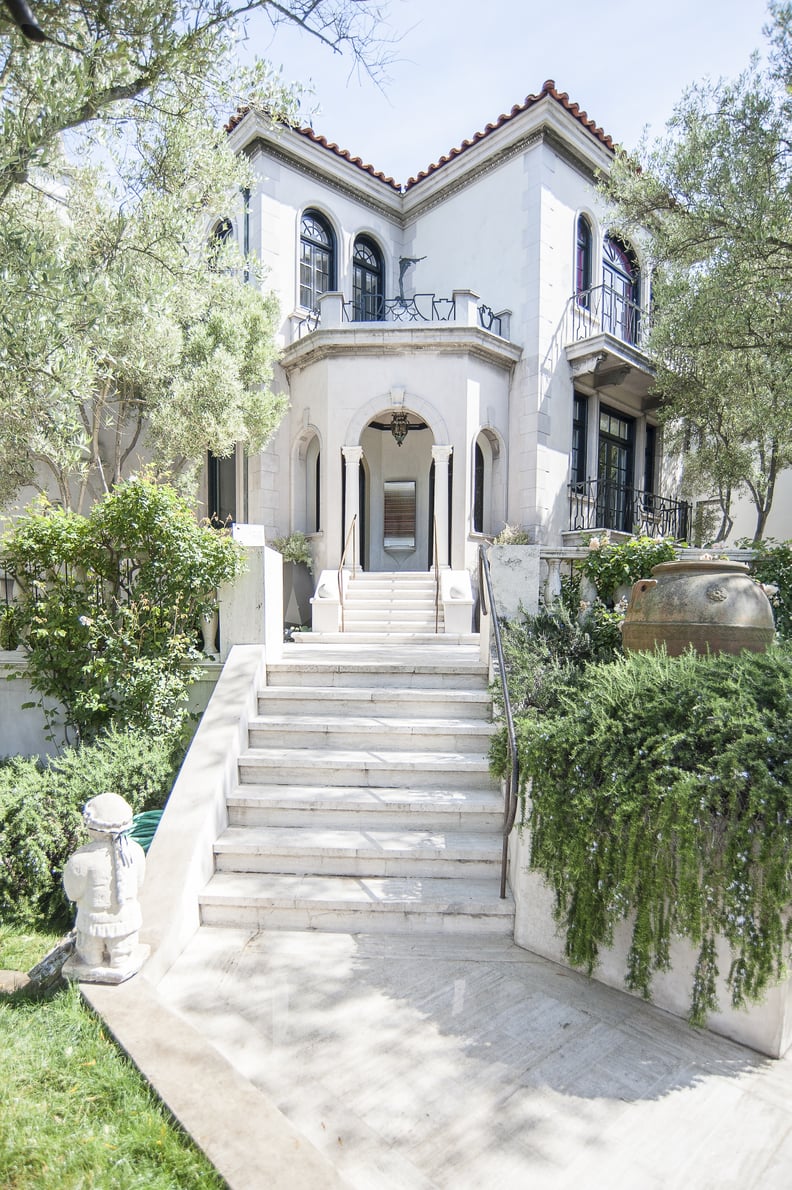 POPSUGAR Photography | Julia Sperling
POPSUGAR Photography | Julia Sperling
May is national moving month, so we teamed up with HGTV star and Liberty Mutual Insurance rep Chip Wade to bring you some expert moving tips so you can transition homes with ease. Keep reading to see what he has to say.

Moving into a new home is a major life change. You're tasked with packing up everything you own, which is most likely years' worth of stuff, into boxes and bins to then be placed into a home unfamiliar to you. While it's an exciting time, it's also bound to be stressful, so I've put together these dos and don'ts to help you worry less and ensure a smooth, safe move.

Do Label Boxes With the Room They're Going To
Label the boxes as you're packing them away so you and movers (if you're using them) are aware of what is in each box. I like to label boxes by the rooms they will be going to in the next house, this way, if you are using movers, they aren't placing glassware that belongs in the kitchen in your new bedroom. Sometimes using clear bins over boxes is another way to alleviate confusion and give you peace of mind as you're able to see through the bins to help you better determine where they are going.
Don't Pack Anything Away Until It's Accounted For
Before placing anything into a box, it's best to take a step back and make a list of all of your precious belongings first so you know exactly what you have. In a recent survey, Liberty Mutual found that nearly half of Americans reported that they've had property lost or damaged, yet two thirds are taking no action to ensure that they are documenting their valuable before a move. I strongly believe in documenting all of your prized possessions before moving and didn't realize how easy it was until I used Liberty Mutual's free Home Gallery App, which allows you to take a room-by-room inventory and notes about when items were purchased and their value.
Do Set Up a Designated Packing Space
To avoid clutter, I like to set up a designated "work zone" in rooms in my house where I'll be packing. In these zones, I place either tables or chairs to use as countertops. Packing on an elevation is important. Your chances of backache go down exponentially when picking up from a surface higher than the ground floor.
Don't Overlook Electronics
You don't remember how time consuming setting up your television is until you have to start from scratch. Have a friend take photos of the way electronics are set up in your current home and label the cords before you pick them up. This will save you time and stress when you go to hook everything up in your new home.
Do Prepare For Moving Day
If you're opting out of hiring professional movers, it's important to be prepared for anything. I recommend collecting a "moving kit" to keep with you on the big day and include everything from basic tools, cleaning materials and toilet paper, bottled water and snacks, key electronics accessories and basic toiletries for total preparedness. If you are using professional movers, share a floor plan of your new home with them. This eliminates any confusing directions and is helpful for them to see as your boxes will already be labeled with their pre-designated rooms.
Don't Get Overwhelmed
It is completely natural to feel worried about making the move, however there are ways to prepare emotionally so you can worry less the actual move-in day. Instead of stressing the entire day, set aside a time to worry beforehand. Pick a designated worry time (about 30 minutes) on the days leading up to the move. Taking this time away from the whirlwind of planning and packing will help alleviate some of the stress you're feeling. You may even be surprised after taking time to breathe the next time may come and go without you having to use it.
Do Protect Yourself
Unfortunately, moving can cause physical strain and with a third of people particularly concerned about hurting their back, it's important you're lifting the boxes correctly. Keep any material being lifted between shoulder and knuckle height. This is the most efficient range for lifting and lowering. Also, as a rule of thumb, never lift anything that is too heavy to pick up comfortably. You'll be much happier later in life when stories about your move-in day are filled with smiles instead of physical injury reminders!
Don't Buy Unnecessary Packing Supplies
Carefully evaluate the items that you're planning on placing into boxes or bins before purchasing packing supplies as it's easy to over-estimate the number of boxes you need. Boxes, bubble wrap and wrapping paper are among the wider list of items you'll need in order to protect your belongings during the move.
Do It Yourself When You Can
Hiring professionals is not the only option when it comes to enlisting people for help. Call your friends and family! I know that tasking others to pack up things that aren't theirs can get tricky, but it's easier to do if you assign them specific chores.
Don't Move Into a Dirty Home
The last thing you want to arrive to on moving day is a dust filled home. It is not the responsibility of the person who moved out of your new house to clean it before leaving, and I highly suggest hiring your own cleaning crew to ensure it's scrubbed down to truly have your new home look and feel as fresh as possible. Take a walk through your new place with a pen and pad of paper before bringing in the cleaning professionals. You want to assess your new surroundings before the cleaning crew does in the case you find any needed fixes or issues. This is the simplest way to avoid more stress on move-in day and you'll be relieved to move into a spotless home.
Do Protect Your Investment
Moving is a great time to re-evaluate your insurance coverage- something that many people often forget to do. It's a good idea to check in with your insurance representative to see if your policy needs to be adjusted. For renters, you may not have considered insurance before, but now that you've understood how much your possessions are worth, you'll find that renters insurance can be an affordable option to protect your possessions. For homeowners, taking stock of what you own will help you talk to your insurance rep on whether you have the right level of coverage whether it's personal property or even an added level of liability protection such as an umbrella policy.
Don't Forget to Enjoy Your New Space
Whether you chose to move because your family is growing and you needed more space or you chose to downsize and start renting an apartment in the city, moving is a big deal. Don't forget to take the time and really take in your new space. Look at all of the new nooks and crannies your new place has to offer. Maybe you have room to hang up paintings you've always wanted to or your new place has more natural light than your old home that you'd like to place house plants under. You might be pleasantly surprised at the new opportunities you find. Bringing in more positivity and less worry into your new home from the start will allow you to begin your new journey on a less stressful and refreshing note.