Gina Rodriguez's Body-Positive Quotes From People Interview
These Inspiring Gina Rodriguez Quotes Will Inspire You to Love Your Body — Unconditionally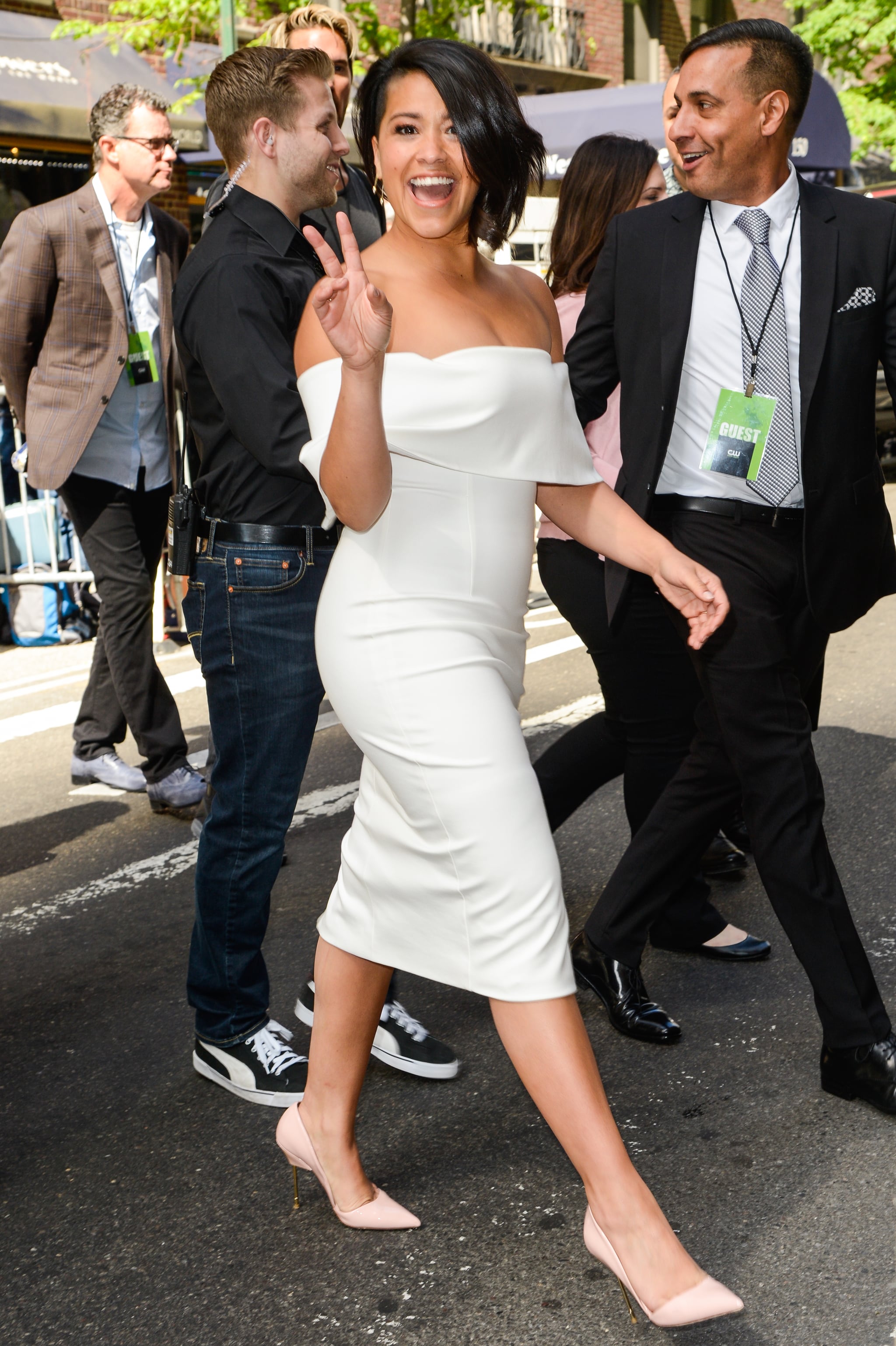 If there's one celebrity who deserves to be your role model, let it be Gina Rodriguez. The Jane the Virgin star, who just wrapped filming Annihilation in London, continues to be completely candid about her Hollywood evolution — and the health obstacles that nearly derailed her acting dreams.
Gina first opened up to Women's Health about her battle with Hashimoto's, a thyroid disorder, when she covered the magazine's May 2016 issue, saying: "I know the definition of 'health' is staying true to what's going to make me live the longest when it comes to Hashimoto's." Now, in an interview with People, she's revealing even more about her journey to body acceptance, regardless of any perceived limitations the entertainment industry tries to call out. Keep reading for a peek at Gina's seriously inspirational quotes, and then take a scroll through her most wow-worthy looks this year.
On the exhausting symptoms of Hashimoto's: "It was difficult for me to stay in the comfortable zone of my weight. I was very tired. My fatigue was through the roof. When everyone else was cold, I was sweating bullets."
On her curves: "I was like, 'OK I want to be an actor. I want to be a leading lady.' But now I am being told there is no way I can because they are way skinnier, which was very destructive to me because I felt like I was getting curvy."
On working to change Hollywood's unrealistic expectations: "For many years I had a daily conversation with myself about how I was going to help make that change. Because there is no way in this world things are only allotted to certain people because of their figure. There is no way that should be possible. There is no way that's fair. There is no way that kind of limitation is going to help those that don't fit into that box."
On managing her destructive thoughts: "'Oh you look fat. Oh God the pimple! Oh my God that skin. Oh my God no one is going to love me.' Who is that voice? I started to realize that little demon that was inside of me, and I was going to find my unicorn and I was going to let them have a conversation because that unicorn was the one that was like, 'No, no, no. It's just a freaking pimple. It's just five pimples. They will go away eventually. It's okay. Look at that smile though. Alright, so you're curvier today. Yeah let's work those curves.'"
On her advice for other women: "Recognize the voice that comes in but wants to tear down the beautiful amazing human being that you are. You know what? You are the most beautiful human being on this planet. Compared to no one. You hear what I'm saying? You are the most beautiful you. You are the best version of yourself. And when that demon comes in and says your thighs are thick, you say, 'You know what demon? Yes they are and I am going to work them. I am going to rock the sh*t out of my thick thighs and I am rocking this whole damn city with my thick thighs loving them.'"