Latin New Year's Traditions
15 New Year's Eve Traditions That Might Guarantee Good Luck in 2018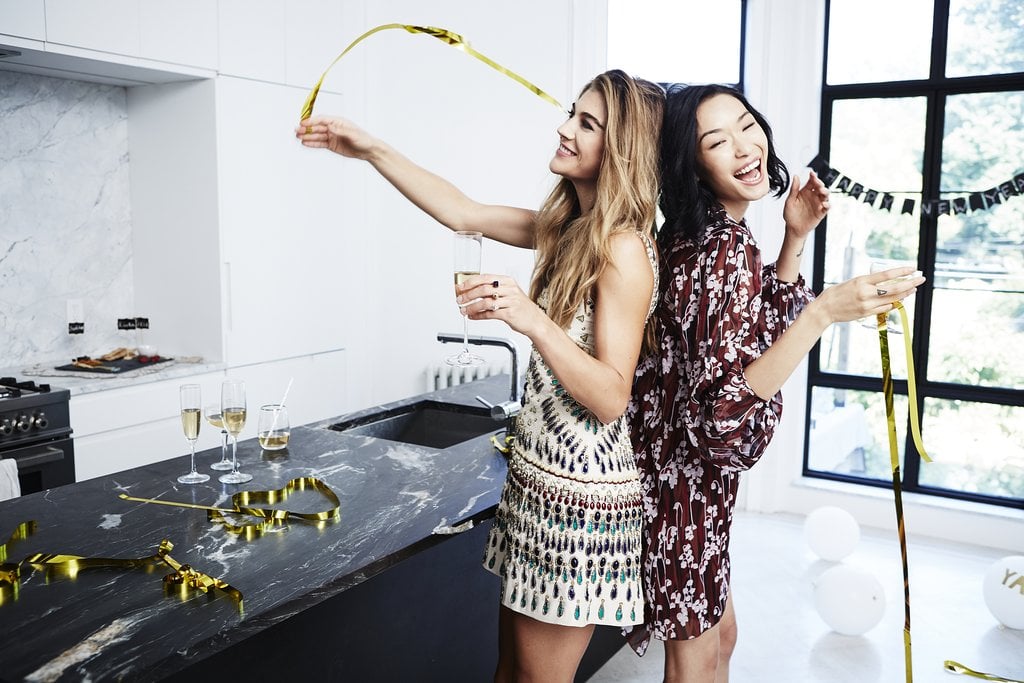 Growing up Latina means that eating grapes at midnight on New Year's is as much of a tradition as watching the ball drop in NYC's Times Square. The details behind that ritual and many more good luck tricks practiced on that night may vary based on your background, but no matter where you're from, all of these seemingly weird activities have one thing in common — making sure you have the most positive year ever.
Here are some traditions you might want to rush into when the clock strikes midnight and announces the beginning of 2017 — you know, just in case! Bonus points if you somehow manage to do all of them at the same time — and if you do, please tell us how you did it.
1. Eat 12 grapes
Let's start with the tradition of all traditions: eating 12 grapes at midnight. Each grape gives you a chance to make a wish, and even if you don't believe all of them will come true, the eating contest is a staple that turns into a fun game to see who can finish their grapes faster and in under a minute.
2. Put money in your shoe
The easiest tradition for the whole family to take part in, even the smallest kids, is to fold a bill inside your shoe and keep it in there through midnight. Variations also include holding the money in your hand or in your pocket, and all supposedly guarantee wealth in the next 12 months.
3. Take a suitcase around the block
One of my favorite memories from being a kid is seeing my cousins and aunts walk around the block with a suitcase on New Year's Eve. Call it a coincidence, but the years they did that were always the years they traveled most, which is the goal of the tradition. I'm a believer!
4. Sip Champagne
OK, almost everyone does this, but toasting with family and friends to the New Year is a must in a Latin household. You better believe the bubbly will be poured at least 10 minutes ahead of midnight with everyone holding a glass in one hand and their grapes in the other.
5. Start the year off on your right foot
Literally. Receive Jan. 1 standing on . . . well, just your right foot, or your year will just not go that great.
6. Color-coordinate your underwear
This tradition is basically a combination of a mood ring and a cootie catcher — a color will determine your fate. Red is set to bring you good luck in love, and yellow is meant to sprinkle luck and prosperity throughout your whole year.
7. Wear your underwear inside out
Once you've settled on what color underwear you want to wear, make sure to wear it inside out, and then swap it back in the first few minutes of the New Year. The desired outcome here is to have plenty of clothes throughout the New Year.
8. Keep a bucket of water handy
A big part of the New Year is starting January with only positive vibes. To do this, many Latin families clean their house from top to bottom. You're taking this tradition to the next level if you also decide to throw a bucket of water out the door (or window).
9. Don't clean your home too much
Yes, you can do some spot cleaning and make sure everything is in order for the night of festivities, but sweeping is out of the question. You don't want to sweep away any good fortune.
10. Burn "año viejos"
When I explain this tradition to some of my friends, they don't understand why a doll is created just to be burnt at midnight, but like most traditions, this is in hopes that whatever/whoever did us wrong in 2015 stays in 2015. In Latin America, you can see these dolls burning in the street. In the US, you might want to create a miniature version and safely do this at home.
11. Choose your outfit wisely
Whether your tradition is to wear all white or wear a completely new outfit from head to toe on New Year's Eve, either will make sure that luck is on your side in 2016.
12. Make a New Year wish list
You might not write a wish list for Santa, but you're definitely writing one for the New Year. You want to make sure you have your list written out, so that you can read it to yourself at midnight.
13. Keep a handful of lentils
This tradition can be done in various ways: one option is to cook the lentils and eat them at any point on the Dec. 31. The second option is to put them in a baggie and hold them in your hand — or put them in your pocket. Either way, this gesture calls for a year of prosperity.
14. Put your candles to good use
Light candles on New Year's Eve as a way to make next year one you can really enjoy. Color is important here as well — red is for love, yellow will help with finances, and green brings good health. If you have kids in your family, have them blow out the candles as a way to ensure they work.
15. Sit and stand . . . then sit again and again
If you're looking to have someone put a ring on your finger in the New Year, sit and stand three times to up your chances of marriage.
Image Source:
ShopStyle Photography
Product Credit: Alice and Olivia Dress, M2Malettier Bag, Noir Jewelry Ring, Eddie Borgo Earrings, Gianvito Rossi Heels, Giamba Dress, Stella McCartney Bag, Eddi Borgo Earrings, Nicholas Kirkwood Heels