Join Maluma, J Balvin, and More in Celebrating Our Essential Farmworkers at Altísimo Live! Virtual Festival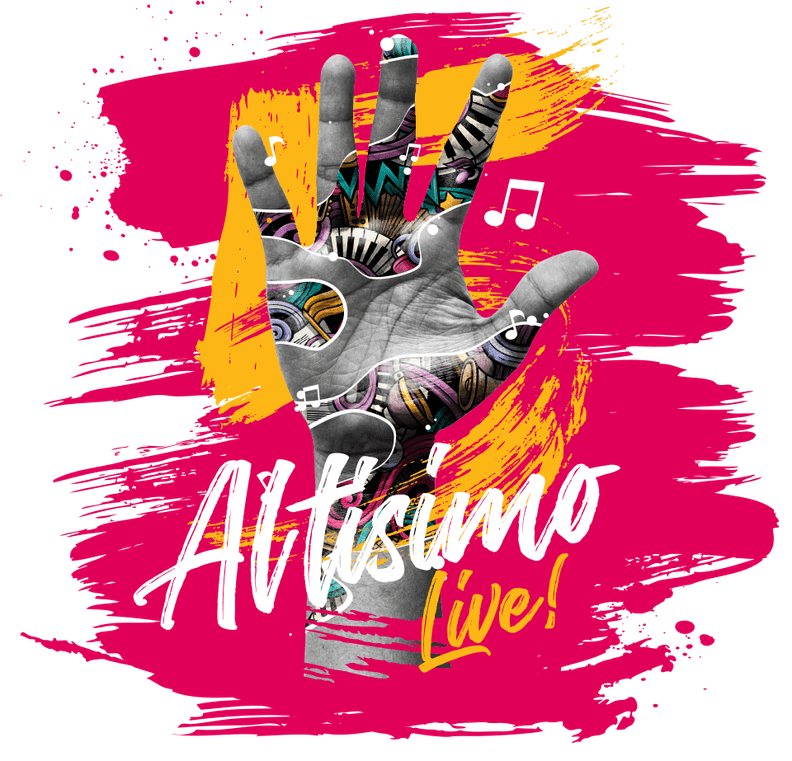 Altísimo Live!
Altísimo Live!
Farmworkers are essential — and during this pandemic, they're also at risk. Most of them are undocumented immigrants who are trying to understand how to navigate the novel coronavirus (COVID-19) outbreak while staying safe and providing for their families.
Many of these unsung heroes continuing to work closely to each other in the fields and packing facilities so the rest of us can have food on our table are Latinx/Hispanic, and a lot of them have spent decades in the US and even have American children.
Come May 5, the tables will turn and we'll highlight the incredible bravery and strength of these people, part of our Latinx community, thanks to the Altísimo Live! Pop Culture and Music Festival. This is a live stream benefit inspired by Live Aid and supported by P&G, that will aim to raise $3 million for the Farmworkers Pandemic Relief Fund, created by Justice for Migrant Women and Hispanics in Philanthropy (HIP).
Altísimo Live! officially kicks off on @AltisimoLive's Facebook, YouTube, Twitter, Periscope, and Twitch accounts simultaneously on Tuesday, May 5, at 10 a.m. PT/1 p.m. ET with an interactive livestream tailgating experience that will include entertainers, comedians, chefs, social media influencers, and other surprise personalities.
At 5 p.m. PT/ 8 p.m. ET, the festival transforms into a series of continuous musical performances and interactive Q&As and experiences with the artists. Audiences at home will also have several options throughout the day to get involved live on the show with opportunities to not only win prizes but also be featured on the show in a variety of creative ways.
Throughout the day, the festival will highlight stories from the laborers, as well as messages of gratitude and appreciation from notable Americans, with an overall goal of driving combined action to support the farmworkers.
Altísimo Live! is being co-hosted by actor, producer, director, and activist Eva Longoria and iHeartLatino Chairman and Chief Creative Officer Enrique Santos. Other celebrity co-hosts throughout the livestream benefit festival will include J Balvin, Kate Del Castillo, Rosario Dawson, and Alejandro Sanz.
Even though the online benefit is free, the festival features a call to action for viewers to give cinco this cinco (#CincoOnCinco), with a $5 or more donation online or via text by texting CINCO to 91999. You can also pledge whatever amount you can ahead of or during the festival at farmworkers.hipgive.org to help meet the fund's goal.
In a show of solidarity, the high-profile global generosity movement Giving Tuesday announced that Altísimo Live! is one of the special causes they have designated for donors on Cinco de Mayo this year.
Notable celebrities and personalities you can expect include Maluma, Marc Anthony, Luis Fonsi, Anitta, Maná, Los Tigres del Norte, Sofia Vergara, Juanes, Howie D of Backstreet Boys, Luis Guzmán, and Tito Puente, Jr.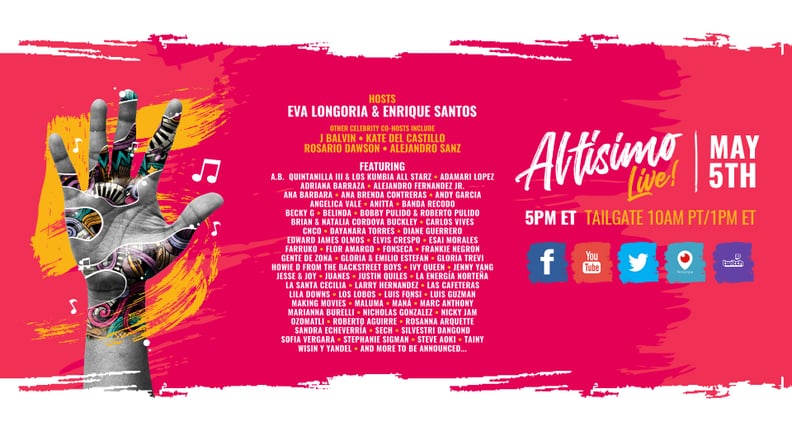 Banda Recodo, Becky G, Belinda, A.B. Quintanilla III y Los Kumbia Allstarz, Adamari Lopez, Andy Garcia, Angelica Vale, Fonseca, Farruko, Gente de Zona, Gloria and Emilio Estefan, Gloria Trevi, Ivy Queen, and Jesse & Joy are also joining the festival's lineup.
Also taking part of this event are CNCO, Justin Quiles, Nicky Jam, Silvestre Dangond, Tainy, Wisin y Yandel, Carlos Vives, and the list goes on. So, make sure you tune in this Cinco de Mayo and donate if you can to support our farmworkers who are in the trenches of this pandemic, risking their lives so that we can enjoy fresh food on our table.