Bad Bunny's New "Un Verano Sin Ti" Is a Testament to the Evolvement of Latin Music
There are not enough words in either the English or Spanish language to express the magic that is Bad Bunny's latest album "Un Verano Sin Ti." We all had high expectations for the highly anticipated fourth solo album, which was released on Friday, May 6, and was accompanied by the music video for one of the album's tracks titled "Moscow Mule." But while we may have already been expecting the best, Benito has a way of still blowing our minds with his creative genius. If you haven't listened to the album, be prepared to have it on loop for days — I know I will.
One of the things that sets Bad Bunny apart from some of the other reggaeton artists of today is his ability to experiment with other genres and sounds. His albums "X 100 Pre" and "Oasis" spoke to his signature Latin-trap style. While his 2020 album "YHLQMDLG" still fell under the reggaeton/Latin trap category, it was a lot more innovative than anything we've heard before it. Later that year, he surprised us with "Las Que No Iban a Salir," inspired by the pandemic's lockdowns. Every track on that album is different. It was the first album he did that really displayed his musical range. "El Último Tour Del Mundo" was fire and the third album he dropped in one year. That was impressive in and of itself. Then came his collaboration with singer-songwriter Tommy Torres on the "El Playlist de Anoche" album, which left many of us shook and caught off-guard. The songs on this track were mostly romantic pop ballads, further proving that Bad Bunny literally thrives on working outside of his comfort zone.
It had become clear at this point that Bad Bunny was planning on always keeping us on our toes. Now we were just expecting it. Even so, "Un Verano Sin Ti" exceeded my expectations, and it looks like I'm not alone in that feeling, because quite a few people have already taken to Twitter and Instagram to express their excitement. The album kicks off with "Moscow Mule," which features a beautiful blend of rhythms that's a little more typical of what we expect to hear from him. But then there's "Después De La Playa," which features dance-worthy merengue típico sounds. As innovative as the Puerto Rican artist is, I can't say I expected all that. But what I do expect is for this to become a summer hit — for sure. "Me Porto Bonito" featuring Plan B's Chencho Corleone gives off serious dembow vibes. "Titi Me Preguntó" is another highly danceable track, but the next few ones feel somewhat consistent until we get to "Yo No Soy Celoso," which features more acoustic jazz sounds. Then there's "Neverita," which has elements of house music, reggaeton, and Latin trap. "Party" features Rauw Alejandro and is a reggaeton party hit. "Ensénsame a Bailar" definitely sounds like merengue at times — I'm anticipating this becoming a hit with Dominicans. And just when I thought the album really couldn't possibly get any better, I heard "Ojitos Lindos," featuring Bomba Estéreo. The collaborations don't end there. There's a track with Buscabulla titled "Andrea" and "Otro Atardecer" with The Marias.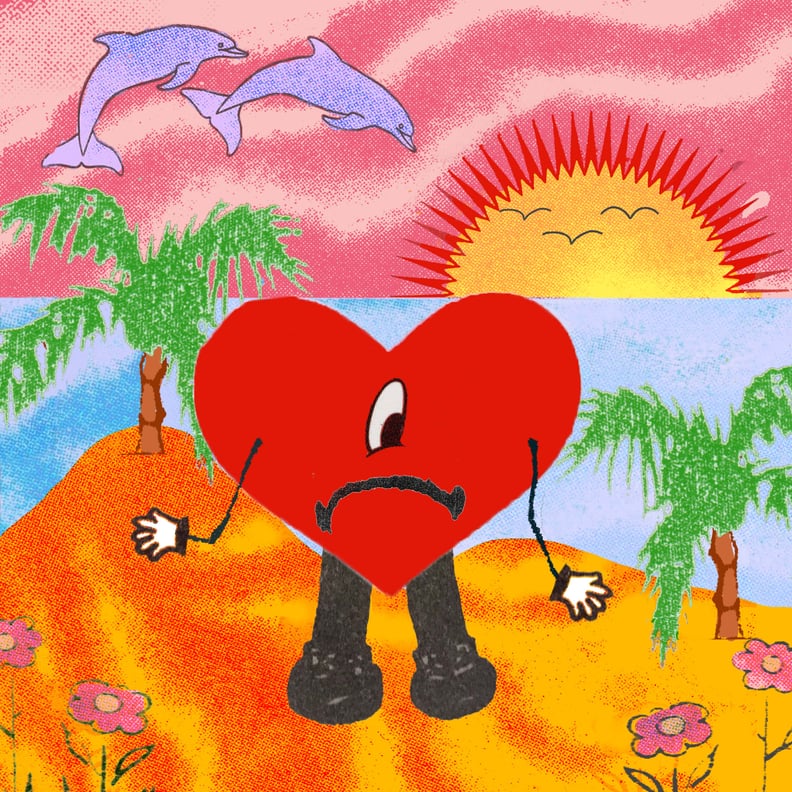 Not only is "Un Verano Sin Ti" a gift to all Bad Bunny fans and lovers, but it also really speaks to where we are at when it comes to Latin music. Artists like Bad Bunny who refuse to follow the rules often placed on Latin artists in the music industry have proven there isn't one way to do Latin music. You can be a Latin trap/reggaeton artist and come out with a dembow track or an acoustic pop ballad. The sky's the limit, and what an exciting time it is to be a Latin artist today. I'm here for it.