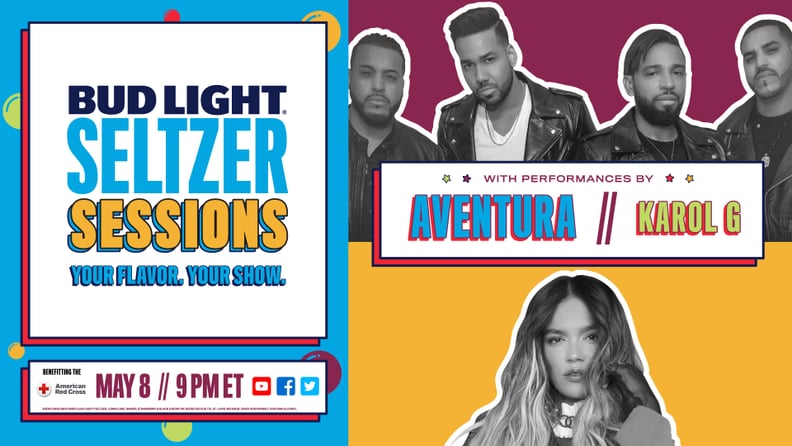 Bud Light
Bud Light
If you, like myself, were left with las ganas to see Romeo Santos back with Aventura live during their reunion tour, Bud Light is making your dream come true. To make things even more fun, the surprise we didn't know we needed will join them: Karol G.
The Bud Light Seltzer Sessions, a weekly digital music-event series that'll take place throughout May, will feature performances from iconic artists that you can enjoy from the comfort of your home. Aventura, the Kings of Bachata, will kick off the series this Friday, May 8, at 9:00 p.m. ET, joined by Karol G.
Each show in the series will stream on Bud Light's YouTube channel and benefit the American Red Cross in their ongoing relief efforts amid the coronavirus pandemic.
"Thank you Bud Light Seltzer and American Red Cross for the initiative to bring some of our music to our fans and the general public, hoping it will be an oasis within these times that we are living, and wishing that our fans are healthy and safe with their loved ones," Aventura said in a press release. "God willing, we'll see you in February 2021!"
Meanwhile, Karol G said she was excited that her at-home performance will help support the American Red Cross.
"I hope you all are staying safe and healthy out there and looking out for one another," she added in the press release. "This Friday, get ready to swap out those quarantine sweatpants with your favorite weekend looks and prepare to sing, dance and party with me digitally!"
Say no more, it's a date. I'll be getting in my feelings with Romeo and Aventura, and singing "Tusa" (along with Karol's countless hits) at the top of my lungs this Friday.