Camila Alves: "I Had to Take a Pause and Really Figure Out What Camila Wanted to Do"
Camila Alves shares lifestyle tips with new mothers and women and is the cofounder of Yummy Spoonfuls, a frozen organic baby food company available at Target.
I'm from Brazil, where I was born and raised until I was about 15 years old. Mine was a very simple, middle-class family. My father's side are all farmers, born and raised. My mom is from a small town as well, but she's an artist: an interior designer, sculptor, painter, fashion designer. She's one of those people who can do anything and everything, and she's always ahead of her time. You can kind of get an idea of the upbringing that I had, between a very ahead-of-her-time artist mother and a very conservative farm-raised father.
I visited the US when I was 15 years old, and my aunt lived here at the time. She used to be a model, so she dressed me up and took me around to a few agencies, and one of them said, "Yes, we want to work with you." When I came back home and told my friends, "Hey, a modeling agency in the United States wants to work with me," no one believed me. It was kind of a joke in the school because I was really skinny. I was the kind of kid who would wear two layers under her jeans so I would look like I had some extra meat on my bones. So nobody believed me, which didn't bother me that much — I love proving people wrong.
And I did. I came back to the United States with the goal of working as a model with that agency, but we had some hiccups in the beginning and it took a while to get things going. Coming from a simple family, I couldn't just call my dad and say, "Send me money to pay my bills." So I had to figure out a way to work; the only problem was that I didn't really speak any English. When I first moved to the States, all I knew how to say was "Hi, how are you? My name is Camila. Sorry, I don't speak any English" and "How much is this?" That's it.
I started cleaning houses because I didn't need to know much English to do so; I could pass by trying to communicate a little in Spanish and Portuguese. In Brazil, you grow up with people working in your house if you're middle class, and we had someone who worked with us, taking care of the house, our clothes, our meals, and all of that. But my dad always said, "It doesn't matter if you are a queen. You still need to know how to take care of your house." So growing up we always had responsibilities and learned how to take care of things. Therefore, I knew how to take care of a home; that was second nature to me.
"I was cleaning homes in California during the day, and at nighttime I would go to an English class at a high school."
I was cleaning homes in California during the day, and at nighttime I would go to an English class at a high school, which is a great thing because it's pretty much a free class. You're there learning English with people who can't even read or write in their native language, so it's pretty interesting and impressive. I didn't have a car, so I would ride my 8-year-old cousin's bike to class.
As I started to learn more English, I looked for different kinds of odd jobs while waiting for the modeling thing to pick up. I was an assistant at Latin dance class, worked at a store, and then I started working at a few different restaurants as a waitress and as a hostess. I remember I was ready to quit the restaurant jobs because my English was so bad, but one of the owners said, "You're not quitting. If Ruben can do it, you can do it." That simple moment was a very important one for me in America, because it really opened up my eyes. I thought, "If everyone else around me can do it, what is stopping me?"
I accepted the challenge, and while it wasn't easy, it was a really good learning experience for me and an experience I really started to benefit from and do well in. I was able to break the barriers and really make the best out of the experience. Not long after, I moved my mother to LA, and we lived with my aunt for a time.
Back then, I had a long-term boyfriend who was in a band, and they were going on tour. He said to me, "You're starting to do your modeling stuff here in LA, and we're going to be in New York. Why don't you come visit us when we're there and go meet some modeling agencies?"
I remember going there and taking those meetings, going to the castings and the open calls, and everybody saying no. I had one last appointment, and I was just crying in the streets of New York because I thought, this is it, the final straw. I came here to the United States, I left everything I knew, everybody I knew, everything that was familiar to me for this modeling career, and it's not gonna happen. I sat on the street and prayed, and I went to the last appointment at Major Models. They said, "Yes, we want to work with you." I will never forget that moment.
I came back to LA, kept working, and saved more money to move to New York. Right after my mom and I had moved into our own apartment in Los Angeles (we still hadn't even unpacked) the New York agency called and said, "You gotta come now." I was 19 at the time, which means I was starting my modeling career pretty late in that industry. After a few months in New York, I still hadn't booked one job.
If you know anything about the modeling industry, all you're doing is going to castings, 20, 25, 30 meetings a day. You're walking around the city with your portfolio — your book, we call it — and people are just looking at the photos and at you, and it's just straight-up yes or no and that's it. I was doing that for months and months, and I couldn't book anything.
"It was wintertime, I didn't have boots, I didn't have a coat. I couldn't afford anything."
So I finally went to the owner of the agency and I said, "I need to go back to LA because I don't have enough money to keep supporting myself. I need to go back to my old job, save some money, and then I can come back." It was wintertime, I didn't have boots, I didn't have a coat. I couldn't afford anything Winter-appropriate for New York. I remember it like it was yesterday — she looked at me and said, "You're not going anywhere; you're staying here. We believe in you. Here's a cash advance. Go get yourself some Winter clothes."
I left and again, I prayed that something was going to change and kept going to my appointments until . . . I finally got a job. It was one of those jobs where you get on a bus and there's 10 other models, and you go to this really beautiful, big location and they take all these photos, but they don't tell you whether they are going to use you or not. You only get paid if they use your image. But it was very exciting; it was a big photographer, it was a big company.
A month later, I get a call from a friend of mine saying, "Hey, come meet me at Times Square." I was laughing because I was walking back from the dollar store, the only place I could go get groceries at that time. I was like, "I can't meet you there. It's cold, it's nighttime, and I've got groceries in my hand." And he goes, "You don't know about this? You're in Times Square. There are photos in Times Square." I went back to the model apartment — at the time I was living in one with maybe 10 other girls — and I said, "Girls, come with me. I heard I'm there!" and none of the girls that I had been living with for months would get off the couch and come with me. So I went by myself, and there I was on a billboard in Times Square. It was a surreal experience, but it was also weird because I had nobody next to me to celebrate with, so I asked a stranger to take a photo of me standing in front of the billboard. People started recognizing me, and it became a celebration between me and strangers. It was a unique moment for me, and it was after that when things slowly started to pick up.
I started traveling all over the world; I lived pretty much out of my suitcase for many years. I had a place in New York but never really stayed there. I lived in Milan, Paris, Israel, Athens. I spent time in North Africa, Beijing, China. The beauty, though, is that I got to explore all the places I worked in. Like Milan: even though I didn't have much money then, I would save enough and take train rides to different parts of Italy, so I would really get to learn about the people and experience how they lived. I did that with pretty much every place I've been to. I was living in Tel Aviv for some time, and I ended up going all the way to the Dead Sea. I remember being in the Dead Sea floating in the saltwater and loving every minute of it sitting on the side of the small roads in Jerusalem watching the different religions cross each other without hate. By they time I was in my early 20s, I not only had visited so many countries I would have never dreamed of visiting, I got to live in many of them for months at a time!
I ended up coming to LA to spend some time with my mom, and we started a business together, a handbag line called Muxo. My mom is so creative, and we decided to start the brand to really put her talent to use in the States as she did plenty of that in Brazil. We bought the machines, some equipment, and we were making handbags pretty much in the apartment where we were living. I was going between New York and LA a lot, and when the machines would break, I was the only one that could fix them, and I was having to fix them a lot! My mom said, "You know what, this may be a sign. Let's just do it all by hand." We made some bags by hand, started selling them to friends, and I also started carrying them on my trips. Every airport I was in, people would ask me about my bags and place orders. I took them to New York and met with different magazines, and an editor who loved the bags connected us to a website that purchased a big order, and that's kind of how we got started. I remember coming back home and being like, "OK, we have this huge order, and I don't know how we're going to make them, but we'll figure it out." My mom and I would literally load up the car and go to a school parking lot at nighttime because we couldn't be hammering the bags and the metal at nighttime in the apartment complex. We would be working in the car all night to fill the orders.
"I had to take a pause and really figure out what Camila wanted to do."
The business grew, and we started selling at different department stores and on QVC for quite some time, so we had two different lines of handbags. In the midst of that, I met my now-husband in LA. We started dating and decided to start a family. We kinda went backwards, because we had kids and then decided to get married. Matthew and I started our foundation, the Just Keep Livin Foundation, and we've been making a difference in kids' lives for quite some time now. It's something that never gets old, because those kids actually inspire us and make us better. But by the time I had our third child, Livingston, I started to realize I just couldn't be in so many places at one time. I had to take a pause and really figure out what Camila wanted to do.
I decided to part ways with the handbag business (my mom has continued to do amazing work) and ask myself, "What do I love to do?" I really love doing anything that is related to lifestyle. I'm cooking, I'm doing all of the kids' activities and school stuff, I'm coming up with all kinds of creative ideas. I am that person who wakes up at 5 in the morning to drive an hour to the flower market to buy flowers. And I get so much joy from doing those things that I said, "That's what I want to do." Slowly, I started sharing my decorating ideas, kids' projects, anything that could help women in any way possible on my website, social media channels, and television shows.
Being a woman is hard enough; I think it's important that we learn from each other. I believe that women lack a community these days, so that's why I started the website Women of Today to go out there and just share what I have learned. It never came from a place of "Hey, I know all the answers," because I do not know all the answers. It comes from the simple idea of "This is what I have learned." Can you share with me what you've learned? And then I can learn, too.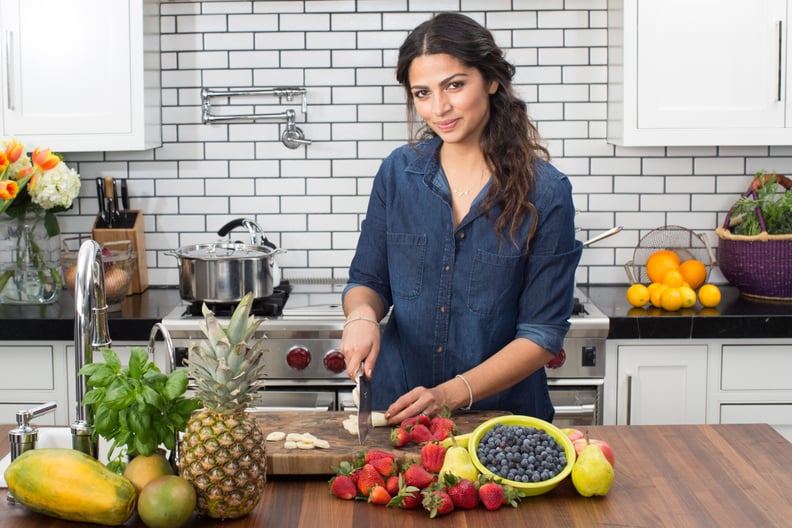 I created a great relationship with The Rachael Ray Show — I love the people there — and the Today show (a very special place) and I started doing TV — The Chew, The Talk, The View — I wasn't trying to promote anything or sell anything. I was just doing it because I truly enjoyed it. I then started working with Target as an ambassador and I also started doing a show with Al Roker's production company called Camila's Code, live on Facebook, and it really fell into place. I also just finished a show with the Food Network called Kids BBQ Championship.
With my third child, Livingston, there was a moment when he was a baby and we were living in a trailer in Calgary, Alberta, Canada, (Matthew was on location for a movie) and I remember it being 3 a.m. and I was cooking all these purees and vegetables. I had bowls of purees all over the kitchen, trying to figure out what the right amount of nutrition was, and when I finished a recipe I would freeze the puree to keep it fresh. I just got so frustrated because the baby was about to wake up for the next feed and I was still up cooking and cleaning and not getting any sleep. I'm wondering, "Why is this so hard? Why is it so hard to go to a store and open the freezer door and find the best food for your baby and for your child?"
"I started my journey of following my other passion, which is changing the way kids are eating in this country."
That night I stopped everything, got online, and to my surprise I realized no one had done this yet on a mass scale. So I started my journey of following my other passion, which is changing the way kids are eating in this country. I had a business for more than 10 years in the fashion industry with my mom, but I didn't know anything about the food industry. On my journey to create the business, a friend introduced me to Agatha Achindu and said, "She's doing something similar to what you're thinking. You should meet her and there may be a good thing there." We sat at a table across from each other, and right then we knew that we were both coming from the right place of doing the right thing for the right reasons. We shook hands and decided to get in this journey together.
Agatha had been doing Yummy Spoonfuls for over nine years before we met, selling in her region and on Amazon. The idea was to grow the business slowly and really learn. But we realized halfway through that the mission is way bigger than we are. We wanted to be able to make it accessible to everybody and not make it so expensive that people can't afford it. I'd been working with Target at that time as a lifestyle and mommy ambassador, so I was very familiar with what the brand was focusing on in terms of wellness. I was able to show to them this amazing thing that Agatha had created and our concept of how the company was going to grow.
Now, here we are: Yummy Spoonfuls. We're working every day to make the best baby and kids' food available for as many parents as we can. We have 31 different flavors, and we're in the freezer section at around 1,500 Target stores nationwide! No purees, no juice concentrate, no preservatives, no additives. Period. I think I've come a long way!
POPSUGAR Latina is all about inclusion! Though Sept. 15 to Oct. 15 is known as Hispanic Heritage Month, we are celebrating all Latinas in this project.