As POPSUGAR editors, we independently select and write about stuff we love and think you'll like too. If you buy a product we have recommended, we may receive affiliate commission, which in turn supports our work.
As someone who grew up with a Leo mother, I learned the importance of carrying and presenting myself well. I was taught that the holidays are the time for us to show up and show out and that the way we are perceived is important. Because is it really the holidays if your tía isn't in the living room in a full-length gown?
With Christmastime coming up, it's time for us to start thinking of what we'll wear, but this time of year also comes with a bit of anxiety about comments not only about our fashion but also about our bodies. I used to dread comments about my weight, hair, makeup, and clothes when it was time to go see family during the holidays. I didn't want to attract any extra attention because I honestly never knew if it would be good attention or the kind of attention that would send me to the bathroom crying — it was really a toss up.
I've always had a personal style that I think would be described as eclectic, and over the years, it's really been all over the place. In high school, I was definitely that girl in a jean skirt, black platform sandals, and layered tank tops (very much the early 2000s beachy California aesthetic). That paved the way for my college indie sleaze/scene phase that came complete with polka-dot blouses, animal-print everything, chunky necklaces, V-neck American Apparel tees, black leggings, and slouchy Robin Hood boots. I even had snake-bite piercings!
After that, I would definitely have been labeled a hipster or "chipster" (chicano hipster) as the scene years subsided into skinny jeans, blouses, leather booties, and jean jackets with lots of pins and buttons. My grad school years were much more sophisticated; flowy baby-doll tops, neutral purses, boots, and skinny jeans were just my thing at that point.
But someone always had something to say. Whether it was poking fun or liking my style, I felt like I was on display, and, well, I was. Whether it was my cousins here or my relatives in Chile responding to the many Facebook posts my Mom would upload, someone always had to say something and I felt like I had to appease and/or prepare for the critiques.
However, today I'm definitely rocking the trends that I didn't have the guts or self-esteem to wear back then. I think a lot of people are. This generation of Latinas are 100 percent over being shamed for looking, acting, or dressing in a way that makes us feel good. It's cool to be able to see how unapologetic people are with their style and how it's more socially acceptable to just do what you want without permission or approval. The 2020s are definitely a mix of so many aesthetics and so many time periods, so why not just do what you like?
I'm old enough to wear whatever I want and accessorize however I want. With that in mind, here are six outfits that I would rock unapologetically en la sala this holiday season.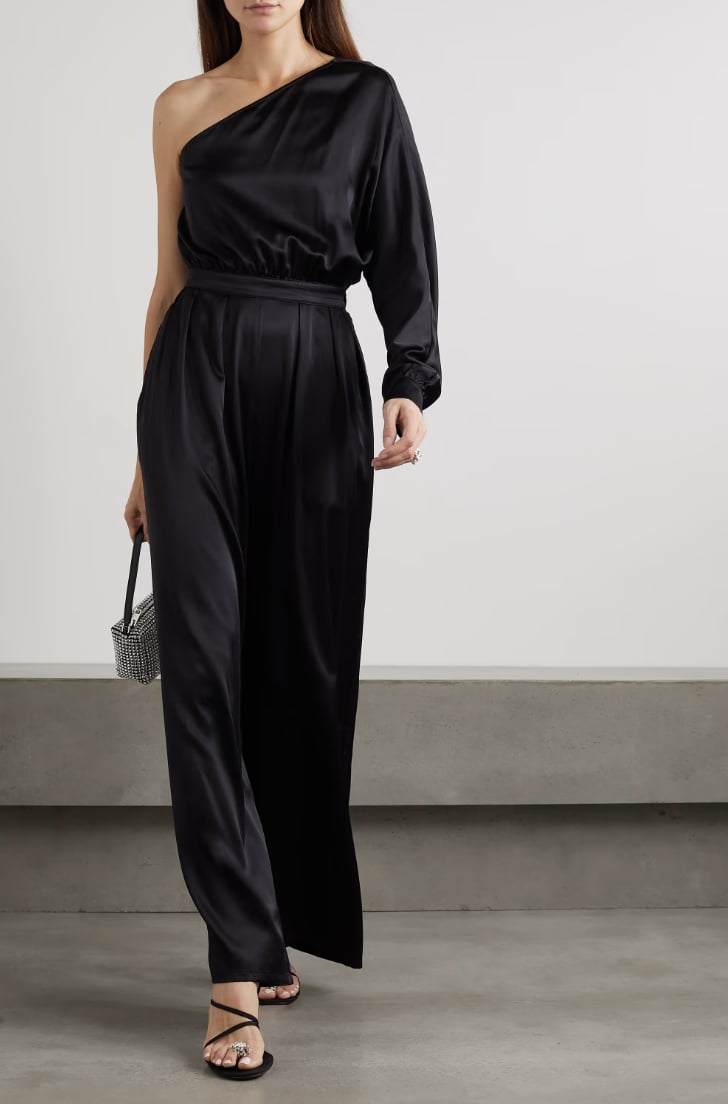 Rivet Utility Flirt One-Sleeve Silk-Blend Satin Jumpsuit
This jumpsuit ($550) is giving elegance, it's giving "I'll have my people call your people, we'll do lunch, kiss kiss." This is something I would definitely feel powerful in — it's an outfit that says I'm not a regular tía, I'm a cool tía. And it looks like it could be flowy enough to accommodate my panza after two servings of pastel de choclo.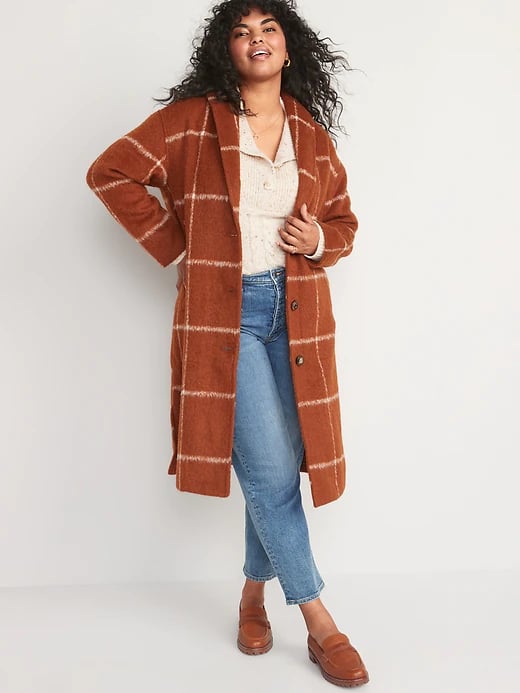 Old Navy Relaxed Plaid Soft-Brushed Overcoat
I love a plaid oversize coat for fall and winter, and this coat ($85) from Old Navy is a classic shape. The sienna-brown color is super cute and definitely taking over this season. You could pair this with so many different outfits and look like a celeb walking around NYC.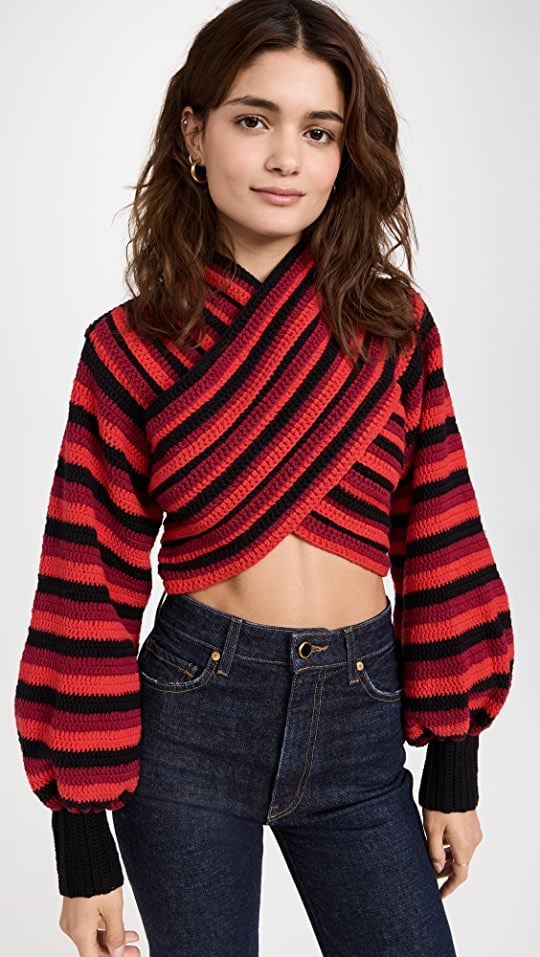 Elexiay Amelia Sweater
I'd wear this top ($500) with faux-leather pants and call it a day, and I would win most fashionable even though it's not a competition (just kidding, it is).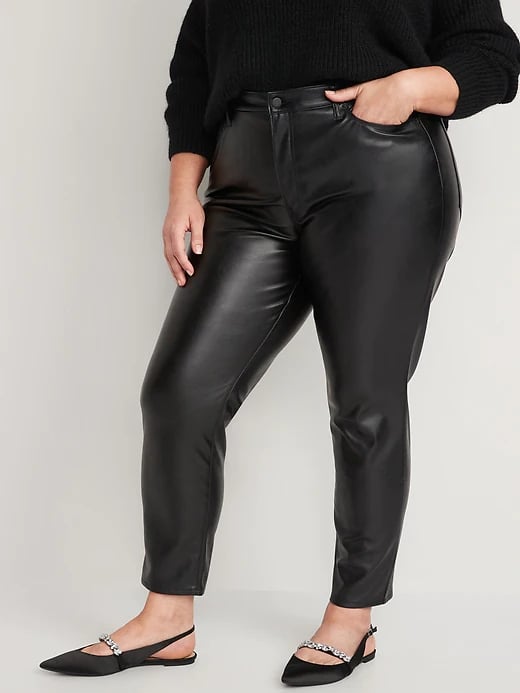 Old Navy High-Waisted O.G. Straight Faux-Leather Ankle Pants
Leather pants are totally back in, I 100 percent had blue faux-leather pants in middle school, and you couldn't tell me a single thing about fashion because I was it. I'm loving this trend, and I totally plan to wear these leather pants ($55) with a cute knit or fuzzy crop top.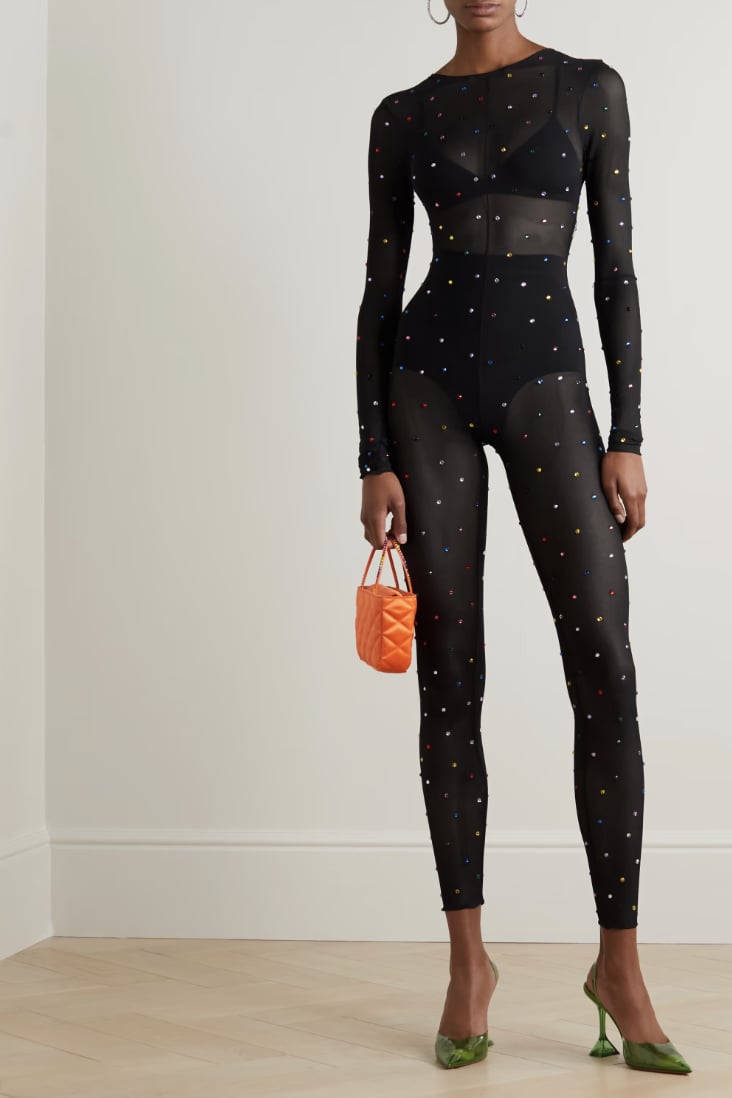 Oséree Gem Open-Back Embellished Stretch-Tulle Jumpsuit
In a sheer embellished bodysuit ($660), you would rule the sala — no one would ever be able to question your fashion choices again because this is a look! You'll make every single tía angry, but it'll be worth it. Paired with a statement shoe and even worn under a long skirt, this is just so fashionable and cute. My younger self would be pinching herself.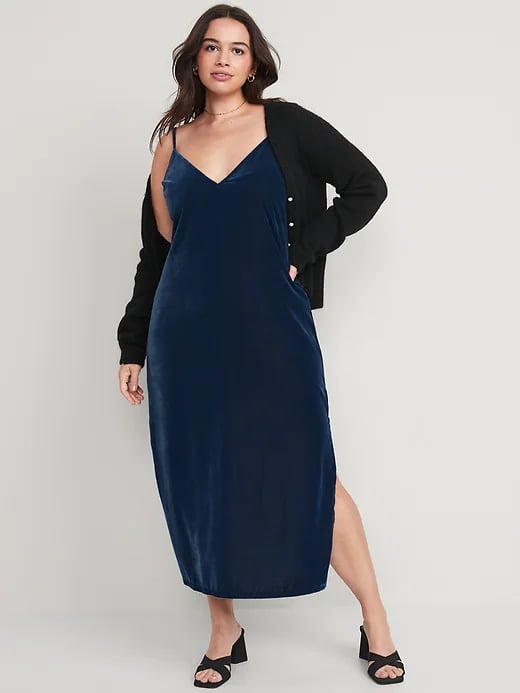 Old Navy Velvet Midi Slip Dress
Slip dresses are something I wish I could have worn in the '90s when it was popular, but I was too young and my mom would never. I have no excuse to not wear it this time around, and I'd definitely pair this velvet slip dress ($50) with some metallic strappy heels or even some Dr. Martens.