Gloria Trevi, Karol G Diosa de la Noche Tour Review
Goddesses Gloria Trevi and Karol G Unite For a Must-See Tour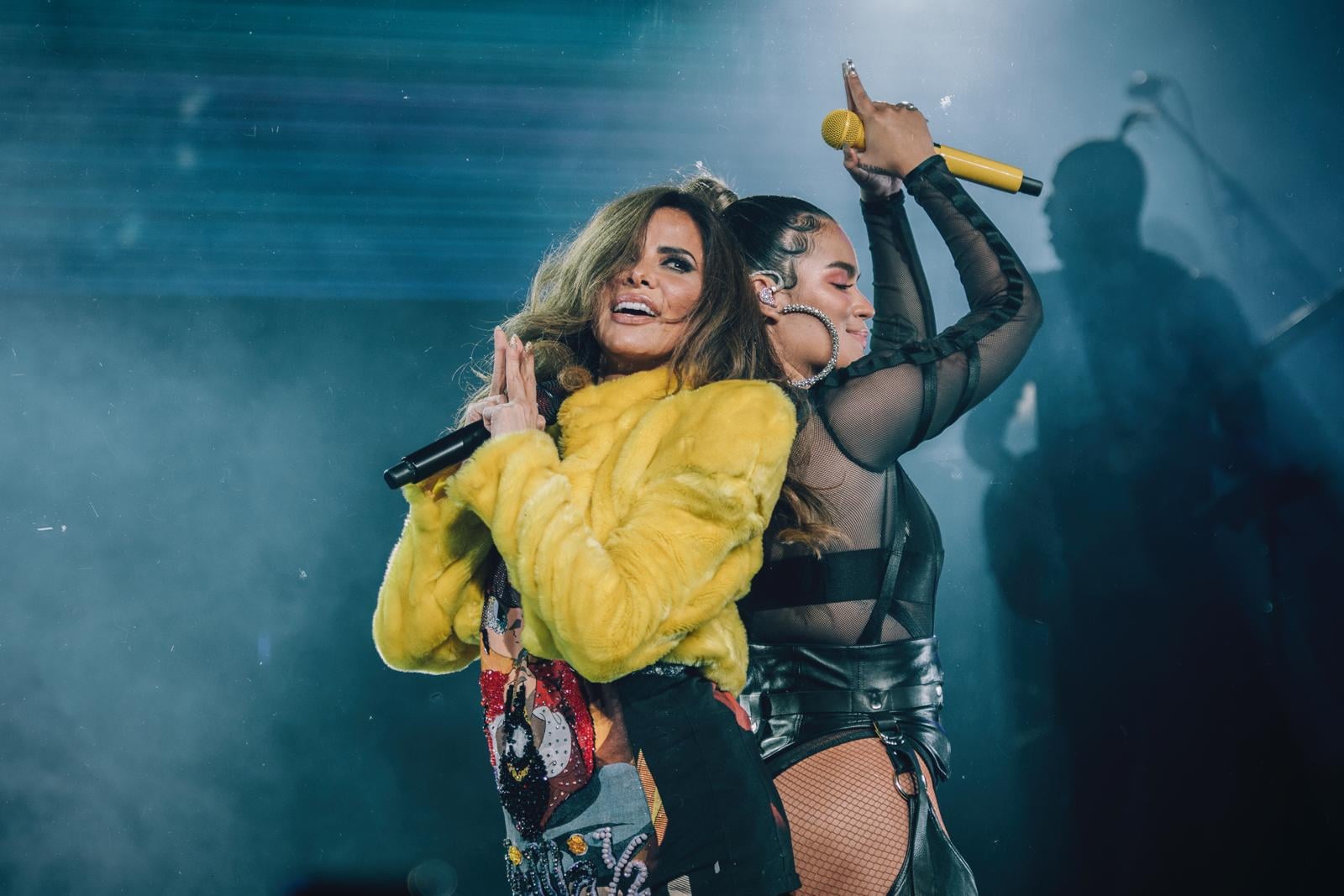 It's no surprise that Gloria Trevi has created a household name for herself in Latin America. She is the perfect example of a Phoenix rising from the ashes after that much talked about scandal 15 years ago. Today, the Mexican pop rock singer is celebrating her latest album, her voice, her style, and her liberation during her Diosa De La Noche Tour, alongside Latin urban star Karol G. I had the opportunity to attend their NYC show at Radio City Music Hall, and let's just say I was glad I wore comfortable shoes because I was dancing through the whole show!
Kicking off the incredible night was urbano darling Karol G. Wearing pink leather and a long, high ponytail, the singer belted out songs from her sophomore album, Ocean, like "Pineapple," "Mi Cama," and "Punto G." A key moment for the Colombiana was when she covered two songs from Tejano singer Selena including "Como La Flor" and my favorite, "Si Una Vez." The audience felt her energy throughout and she sounded just as great live as she does recorded.
Making her grand entrance in a captivating, sparkly gold dress, Gloria Trevi almost touched the ceiling as she opened her set with "Diosa de la Noche," the title track from her latest album, which was released in May of this year. She followed with her '90s hit, "Con Los Ojos Cerrados," driving the crowd crazy as they sang the song back to her. Next up, the track "Gloria" catapulted the singer to jump and pirouette across the stage with one of her male dancers. Trevi knows what the audience wants, and she doesn't disappoint.
One of the highlights of the night was when the singer, clad in an all-black outfit, paid tribute to Mexican singer José José, who had passed away earlier that morning. In an impromptu "In Memoriam" segment, she dedicated her own rendition of the classic "Como Yo Te Amo" to the late singer, and later in the show asked her fans for one minute of applause in his honor.
Rounding out the night were performances of "Ábranse Perras," the ballad "No Querías Lastimarme," and her most recent single "Hijoepu*#" with Karol G, which prompted the Colombian singer to return to the stage. After the song was over, the duo held hands while Trevi spoke to the crowd in Spanish: "The message that we're trying to send is that Latinx are united!" With her literal head banger, "Pelo Suelto," Trevi shook her hair from the song's start to finish. I remember dancing as a kid to this song while my hair looked like a lion's mane. True story.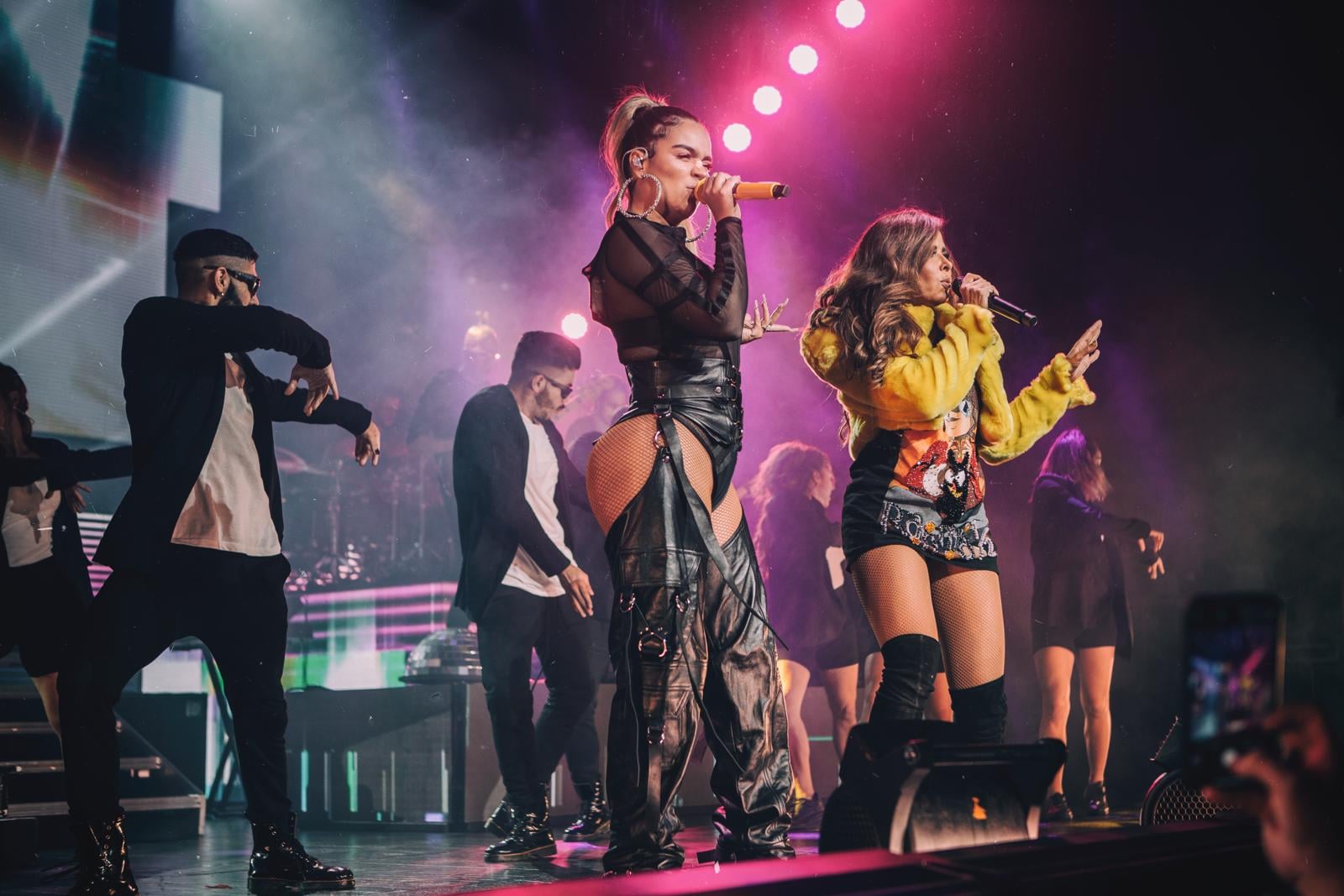 There was no better way to conclude the fun night than with the song "Todos Me Miran," which translates to "Everyone Looks at Me." Trevi was a sight to see as she ascended to the very top of the stage like she did at the beginning of the show. Suddenly, the curtains of New York City's Radio City Music Hall closed. Every single person was fixated. Trevi is a force to be reckoned with and the most fascinating thing about her show is how unique she really is. While she's been dubbed "The Mexican Madonna," she does her own thing and there's no one else like her, and that's probably what makes this tour that much more special.
If you want to catch the show — which you should — they still have plenty of dates in many cities. Check them out ahead:
Friday, Oct. 04 – Miami at the AmericanAirlines Arena
Saturday, Oct. 05 – Atlanta at the Infinite Energy Center
Thursday, Oct. 10 – Houston at the Smart Financial Centre
Friday, Oct. 11 – San Antonio at the Freeman Coliseum
Saturday, Oct. 12 – Laredo, TX, at Sames Auto Arena
Thursday, Oct. 17 – Salt Lake City at the Maverik Center
Saturday, Oct. 19 – Seattle, WA at ShoWare Center
Sunday, Oct. 20 – Portland, OR, at the Theater of the Clouds at Moda Center
Friday, Oct. 25 – El Paso, TX, at UTEP Don Haskins Center
Saturday, Oct. 26 – Phoenix, AZ, at Comerica Theatre
Friday, Nov. 01 – Hidalgo, TX, at the State Farm Hidalgo Arena
Saturday, Nov. 02 – Dallas at The Pavilion at Toyota Music Factory
Friday, Nov. 08 – San Jose, CA, at the SAP Center at San Jose
Saturday, Nov. 09 – Los Angeles at The Forum
Sunday, Nov. 10 – San Diego at Viejas Arena