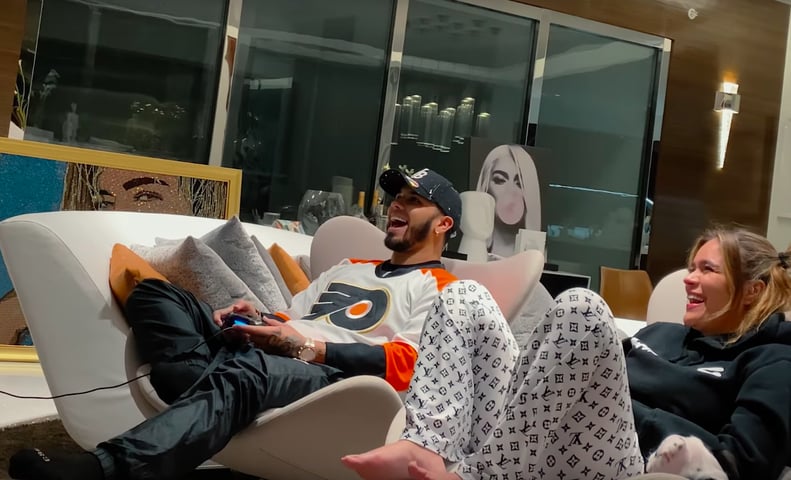 YouTube | Karol G
YouTube | Karol G
Sometimes when we feel like our lives have been turned upside-down, the most natural thing to do is to return to the habits that make us feel comfortable. This manifests in many different ways, but in Anuel AA and Karol G's case, it's making music. The Latin power couple has been social distancing in their apartment, and taking this time to get creative.
On her part, Karol tapped Anuel to write and record her first single of the year titled "Follow," complete with a music video they both directed and produced in their home, showing the couple's daily life during this time — once again giving fans an exclusive window into their relationship.
"While at home under quarantine, we couldn't stop making music," Karol G said in a press release. "We wanted to create a song that was cool and fresh for our fans with a video that shows how we are overcoming the reality that we are all going through. We are thinking of all of our fans out there and hope you're staying safe and healthy during this time."
"Follow" comes after Karol G's smash hit "Tusa" with Nicki Minaj, which debuted at number one on the Billboard Hot Latin Songs chart, making it the first all-female collaboration to do so. "Follow" continues to have the "Tusa" effect and became an instant international success, debuting as the most viewed video on YouTube worldwide.
The song is the third collaboration between Anuel AA and Karol G, after their highly acclaimed songs, "Culpables" and "Secreto."
Meanwhile, Anuel AA has also been working on a more personal track, his new single "3 de Abril," which he released today, April 3. It commemorates the fourth anniversary of his arrest for gun possession charges. The song is the most vulnerable we've seen Anuel yet. While he's known for his extravagant personality on camera, his personal life has always been surrounded by mystery.
With "3 de Abril" Anuel finally tells his side of the story, from his difficult adolescence and all the things that led him on the wrong path, to how he managed to survive the rough times, to his wake-up call to reform his life and stay focused on his passion.
Produced by Yampi and Ovy on the Drums, this song is Anuel's promise to his fans to go back to his original sound, lyrics, and underground style that made him the Spanish trap pioneer.