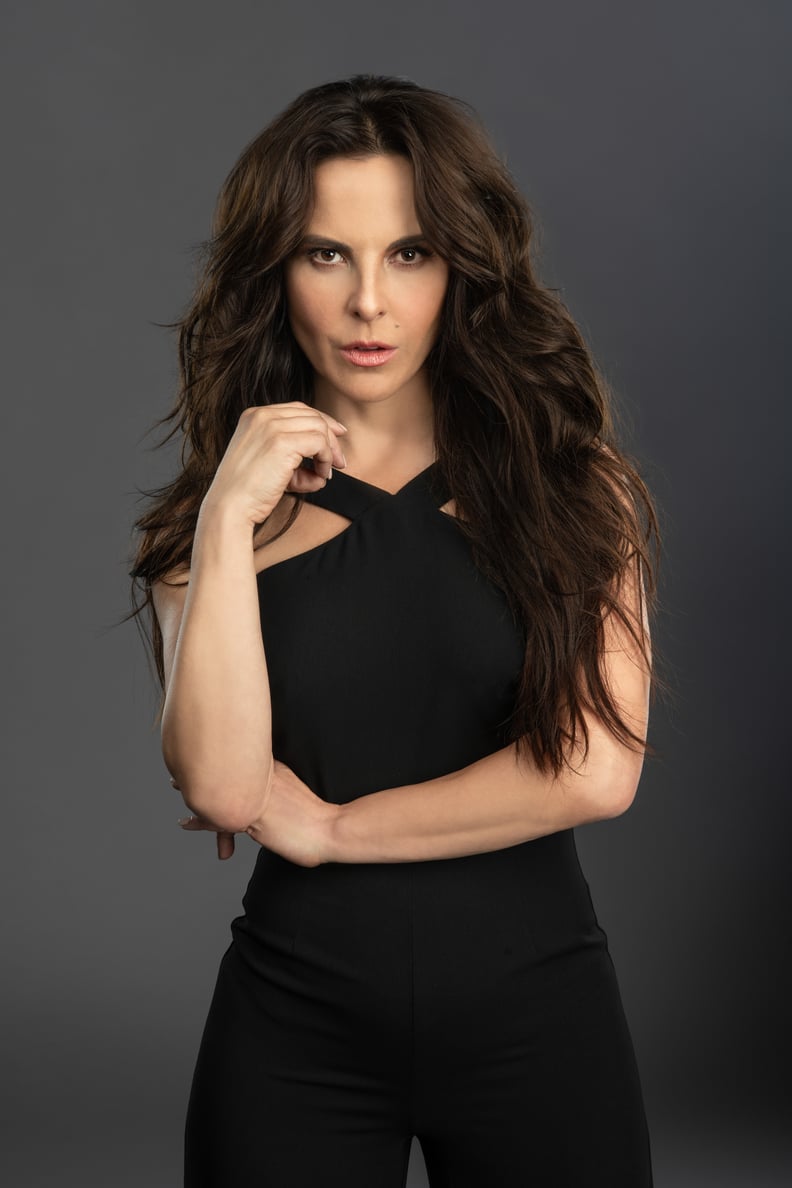 Telemundo
Telemundo
The wait is finally over, and Teresa Mendoza is back on Monday, April 22, at 10 p.m. ET/9 p.m. CT. La Reina del Sur returns to our screens on Telemundo and Netflix for a highly anticipated second season after eight years in the making. Shot on location in eight countries, this season takes place eight years after Teresa first disappeared into the US Federal Witness Protection Program after bringing down Mexican presidential candidate Epifanio Vargas.
She leads a quiet, anonymous life in Italy as Maria Dantes, peacefully raising her daughter, Sofia, played by Isabella Sierra, in the Tuscan village of Massa Marittima. But Teresa's past comes back to haunt her once again, and this time around it threatens her daughter's life, which forces her to go back to her old antics and reclaim her throne as La Reina del Sur, the most powerful drug trafficker in the South of Spain.
POPSUGAR caught up with Kate del Castillo, who gives life to this thrilling antihero everyone loves to root for, and we got a glimpse of what we can expect from Teresa Mendoza in this new season, from her love life to her daughter.
POPSUGAR: How does it feel to play Teresa Mendoza again after eight years?
Kate del Castillo: It's so amazing because it's one of the roles that I love the most in my life and my career. To be able to do it again after so many years has been a real pleasure and so much fun, and the reaction of the audience has been amazing!
PS: What new challenges did you find as an actress when you took this character again?
KC: There was so much anticipation that I just wanted to be at the level people expected me to be. I loved going back to Teresa, find her in me, and revive all the beautiful things that she had, like the Mexican slang that people loved so much about the first season, and finding her essence once again.
PS: How about Teresa? What new challenges is she going to find in this new season?
KC: Now she's a mother, she's a much more mature Teresa Mendoza. In the first season she does so many things for her friends; she's fearless. Now imagine what she's capable of doing to get her daughter back after she's taken from her. She's grown and she's unstoppable.
PS: One of the things that Teresa mentioned in the first season was that she was put in the path she was forced to follow, she never chose it for herself. Does she get to choose the path she takes this time around?
KC: No. When you're in that business it's hard to get away from it. It doesn't matter how much time goes by or how much you want out. She did some things and she knows her past is going to come back at some point in her life, and that's why she's training her daughter to be prepared for that moment. It's how the season starts off this time around. She knows what she has to do.
There are some other challenges coming and her old enemies are already up to her, telling her what to do and why they took her kid. She's probably going to have to go back to being La Reina del Sur again after she spent eight years having a normal, regular life.
PS: What has changed in Teresa in these past years?
KC: She's still the same Mexican, drunk, bad spoken, flawed heroine. But she's still living a lie. She's still living in a world that she never asked for. She became the best of her time in a man's world, but she didn't want to do it, she didn't want to be there. She's a victim throughout the whole series and I think that's why people love her. She's a victim and she's flawed, although she never victimizes herself. She's a survivor.
Still, she thinks like a man but she loves like a woman, and she's a protector, she's real, and she humanizes her role as an antihero. That's the part that I love the most. And obviously all the slang, and all the things that made her so her in the first season. Now you'll see a different Teresa Mendoza with a different point of view. In the first season she's running for her life, and now she's running to get the bad guy.
PS: You mentioned that Teresa thinks like a man and loves like a woman, and that's something that "El Ruso" would say about her in the first season. I personally thought that El Ruso and Teresa were meant to be — until we realized at the end of the first season that he was married and had a child. Out of all the men in Teresa's life, who do you think was the best one for her?
KC: Definitely Oleg "El Ruso" would've been the perfect one for her. I think that she was really happy with El Gallego, and she says it at the end of the first season: "I was happy, but I just didn't know it then." And sometimes life is like that. We don't realize we're really happy because we're always wanting something else or wishing for someone else. And that's what happened to her. I think her most amazing, happiest moments were when she was with El Gallego. El Güero was a different kind of love. She was very young, but later with El Gallego, it was different. But to be honest, all her men were awful.
PS: I wasn't a fan of El Gallego. I think that was such a toxic relationship for her, even though she was happy. But as an outsider, I wanted her to get out of there. She had to learn, though, she had to go through that.
KC: Oh, absolutely, and I think now what's different is that the love of her life is her daughter. She's not worried about men, although there will be something going on in this second season with a guy, but she's focused. She's totally focused on getting her daughter back and that's her real love.
PS: What similarities and differences do you, Kate, have with Teresa Mendoza?
KC: Well, the natural, obvious things, like we're both Mexican, we both like tequila, we both curse a lot, so all those things! But we also have extreme love for our country and, of course, there was an analogy there, a parallelism, that she couldn't go back to Mexico at the same time that I couldn't. We've both been through a lot, and I think that we both go through difficult phases and try to come back and rise like a phoenix, stronger. I think I give her a lot of me, and I think I've learned a lot from her.
PS: What are the characters you wished had survived the first season?
KC: Definitely my friend Fátima who died terribly, and of course Patricia O'Farrell. I wish she wasn't dead because she was an amazing character. Her love for Teresa was beyond anybody else's, and we were a nice couple of business women. She shared with me a lot of things since she was so well-educated and classy, and she learned a lot of the savvy street knowledge that I had. It was a good balance.
PS: I wished El Pote had survived . . .
KC: Oh my God! El Pote, of course! Above everybody else!
PS: What's the one thing you most admire about Teresa, and what would change about her?
KC: She's a very tragic character, but she always comes back stronger. She doesn't lose the capability of loving and protecting people. And I love that about her, because she always puts her life on the line to save somebody else. That's really beautiful of her, because she also knows that a lot of people have died because of her, people that she loved.
She also loves her Mexico and she just wants to make it right, especially now in this season that she has her daughter. She wants to get out of this business, but you know in life you make plans, and sometimes God has another thing in store for you. She's always surviving. Life always brings her to this fine line of doing the good thing or the bad thing, but if she does the good thing, she or someone she loves will die, so that's the edge of the whole story and that's her life, and she knows she's cursed in that way.
And what would I change? I would like her to be colder. She still falls in love and gets hurt so much, and I wish she was a little bit tougher with her private life as she is with business. I'm telling you because I lived through her, and I know she's going to suffer a lot, this is a character I love, so I also want the best for her.