It can take some women well into their 30s to unlearn lifelong lessons of subservience and demand what they desire in the bedroom, but 26-year-old Cazzu is already making music that prioritizes her sexuality. The Argentine singer-rapper's airy voice is often heard alongside reggaetoneros in songs where they stunt their sexual prowess – yet her verses are routinely the edgiest of all.
"Como yo, ninguna, yo le gano a todas / Ven cómeme toda," ("Like me, there isn't another, I beat all of them / Come eat all of me"), she sings in the 2018 hit "Toda (Remix)," which helped catapult her to international fame. The ascending sensual voice in el movimiento credits her ability to openly express her carnal cravings through song to the growing force of women in Latin trap and reggaetón.
"We now feel more comfortable and liberated to say what we want to say in our music. I feel like I'm not always trying to talk about how to be a woman, but just making music, simply making art," Cazzu, born Julieta Cazzuchelli, tells POPSUGAR during a phone call from her home music studio in Buenos Aires.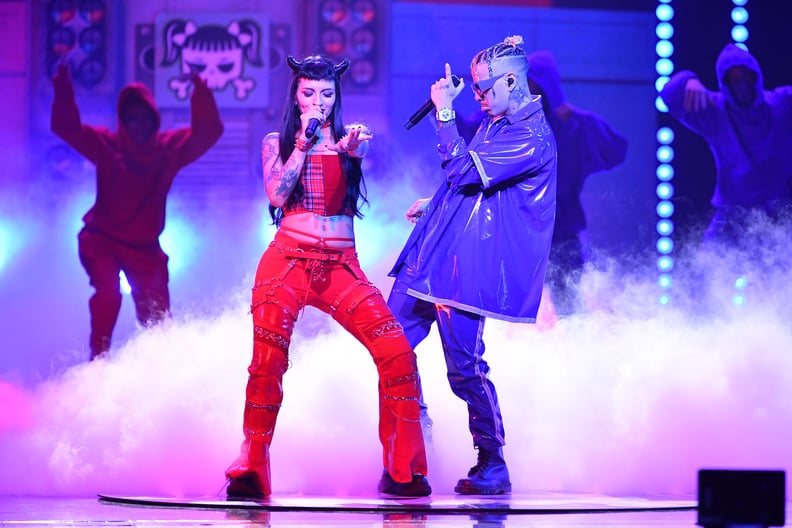 While women have always had a role in reggaetón, up until recently, it was largely limited to dancers and back-up singers. In the days of paris de marquesina of the late '90s and early '00s, women's tantalizing moans and twists authenticated the male artists' claims of corporeal mastery.
Although legendary rapera Ivy Queen fiercely challenged her contemporaries' overt objectification and misogynistic lyrics, she was long the only woman given a mainstream platform to do so, to such an extent that the early contributions of fellow female rappers like Puerto Rico's Lisa M and the Dominican Republic's Demphra are habitually forgotten. She wasn't the only woman in the game, but in a male-dominated genre, Ivy, the undeniable reina del reggaetón, was the only one who was allowed to shine.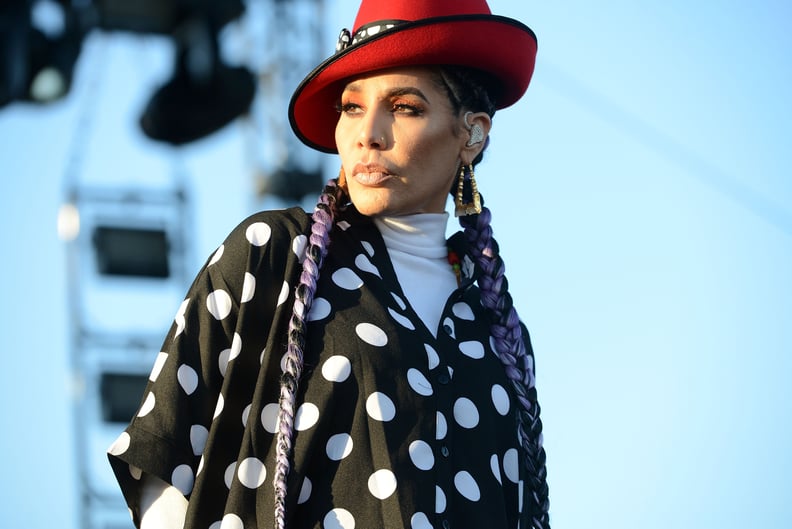 During the genre's second coming, there are several female faces. Singers like Natti Natasha, Karol G, Anitta, and Becky G have not only infiltrated the old boys' club, but they are among reggaetón and trap en Español's most dominant voices.
Last year, Colombiana Karol G and Dominican-born Natti Natasha became the first women in more than four years to be nominated for Best New Artist at the 2019 Latin Billboard awards. During the Premio Lo Nuestro award show that same year, Natti had more nominations than any other artist, male or female, and she nabbed four awards, two of them alongside California-based Chicana Becky G for their joint hit "Sin Pijama."
Together, the women [...] are taking up space. They are present. They are bold. They are sexually explicit. They are powerful. They are united.
Together, the women, who have bangers throughout Billboard's Hot Latin charts, are taking up space. They are present. They are bold. They are sexually explicit. They are powerful. They are united. Yet, they are also just four women.
"There's more than before, but there's still not enough. Look at the men. Count them. You can't. But you can count the girls on one hand," Catalyna, an emerging Orlando, Fla.-based singer signed to reggaetón heavyweight Yandel's Y Entertainment, tells POPSUGAR from her recording studio. "But there are a lot of girls out there. I see them. We just haven't blown yet."
The folky soul-voiced Puerto Rico-born songstress is among the newer generation of talented and energetic female artists sizzling in el movimiento's underground that have yet to detonate into the mainstream. They are singers and rappers inspired by the genre's tra-tra originators and empowered by the solidarity of current pop matriarchs.
They are blending boom-bap reggaetón beats with slowed-down trap sounds, R&B runs, pop appeal, and punk-rock aesthetics. They hail from the genre's birthplace in the Caribbean as well as Colombia, Chile, Argentina, Peru, and the multitudes of Latinx-populated cities in the US.
They make music for the mamis que mandan, for the self-assured girls who don't "change for no d*ck," for the boss ladies who hustle to pay their own rent, for the autonomous shorties who have their "cuerpos y almas desnudas," and for the independent women who'd rather be shaking their ass than waiting at home for cheating lovers to act right. But they each offer something fresh and distinct to the genre.
"Hearing amazing music and talent from several women gives you variety. With only four, you're getting the same sound over and over. Even if it's good, that's not enough," says the Dominican-born and New York-raised Jenn Morel from her home in Los Angeles.
The blistering dancer-rapera is inspired by the OGs: Ivy, Daddy Yankee, and El General. Their influence is conspicuous in her hard delivery of lightning-fast rhymes. "Preferiste jugar, ahora me va a conocer / Yo me voy con mi combo a fuego / Nadie no' va a parar, aquí vamo' a amanecer / Que se prenda este sandungueo" ("You preferred to play, now you're going to know me / I am going with my combo on fire / No one is going to stop, we're going till dawn / Let this party light up"), she raps in her April bop "No Quiero Novio" featuring fellow soaring acts Mariah and Elisama.
As Jenn reintroduces the old-school gruff to a genre she says has gotten "un poquito suave" ("a little soft"), others are embracing the gentler stylings, blending unhurried rhythms with R&B lush. Paloma Mami is the proprietress of the soul and reggaetón musical crossroad. The New York City-born, 20-year-old Chilena effortlessly places her buttery rifts over slowed-down, pan-Caribbean rhythms, delivering Spanglish hits that incite confidence in their millennial and Gen Z femme listeners.
"Mi cuerpo es un arte / Nadie lo toca, soy como la Mona Lisa" ("My body is art / No one touches it, I'm like the Mona Lisa"), she sings in "No Te Enamores," her first single under Sony Music Entertainment. In 2018, she became the first Chilean artist to snag a deal with the record label.
"Having multiple females in the game is inspiring. You have different points of views you can connect with. We haven't had that," the entrancing singer, born Paloma Rocío Castillo, tells POPSUGAR from her hotel room in Miami, adding that she wants to bring elegance to a genre that's more often associated with vulgarity.
Meanwhile, Cazzu thrives in the obscene. When she's not bragging about having a "doctorate in sex," she's rapping about drugs and violence. But, as a woman, she says her foul-mouthed musical storytelling isn't expected, welcomed, or even believed most of the time.
"It's weird that a girl is talking about drugs. But to be a woman doesn't take away the possibility of living a bad, dangerous, or ugly life," she says. "It's my dream and expectation that women can be free from conditions. I want us to be free to make music that we want to make, sound how we want to sound, and dress how we want to dress without being prosecuted or seen as fake."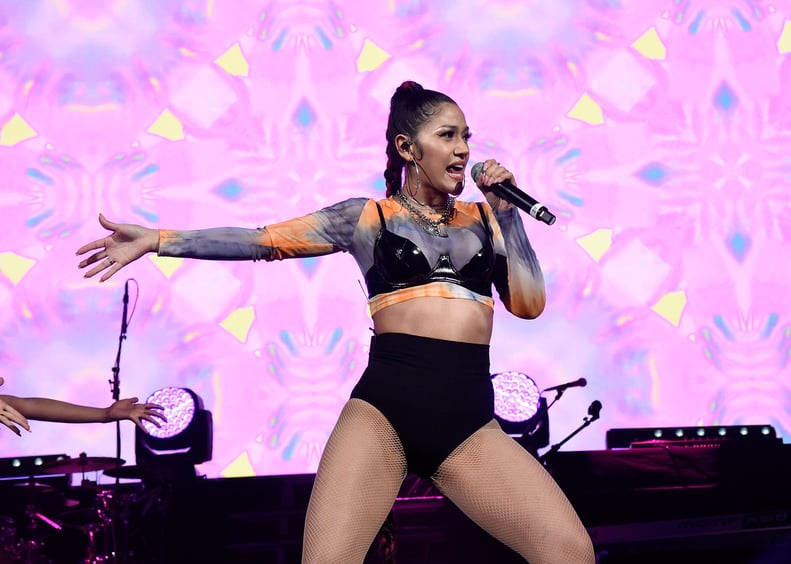 Like her, a wave of young artists are on the come up in rap en Español. In Colombia, Farina's hard-hitting, accelerated flow helped pave the way for the South American country's musical explosion that birthed the global careers of Karol G, J Balvin and Maluma. But her talent, steadily gaining recognition after she was signed by Sony Music US Latin in 2018, hasn't crossed borders like her contemporaries – yet.
It's my dream and expectation that women can be free from conditions.
In the US, a handful of bilingual rappers are also flirting with Latin trap. Some, like Harlem-based Dominican-Cuban hitmaker Melii, naturally tosses Spanish bars into her mostly-English bangers like "Nena" and "HML." Others, like Miami-born Puerto Rican-Cuban hazy trapera Mariah spits chiefly in Spanish, occasionally sprinkling slow-pounding rhymes in her second tongue.
For Peruana Anna Mvze, who has been making "Latina heat" in Washington DC, for several years, flowing uniformly between both languages has become a hallmark. "Soy la mas dura, ella es feca. She might be cute, but her attitude fea," she raps in her single "Sí o No."
As el movimiento reemerges on the international stage, women's names are as prominent as many of the genre's leading male performers. But their force has yet to be realized, or even fully imagined. While men are entering the scene almost daily and landing collaborations with major talents like Daddy Yankee and Bad Bunny just as quickly, the feminine voices in the mainstream remain barely a quintet. For the hungry young ladies next up, that's not enough. Their thunderous arrival, they say, is long overdue.
"Women deserve the same. It's wack that it's always been the guys moving. It's about time. It's past time. After all, who run the world? Girls," Paloma Mami says.