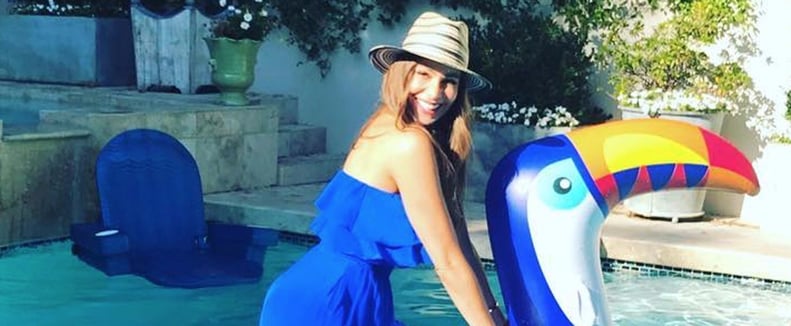 Every editorial product is independently selected by our editors. If you buy something through our links, we may earn commission.
Modern Family's Sofia Vergara was giving out serious chill vibes this Fourth of July. The 44-year-old Colombian actress posted a slew of photos of her Independence Day party — she loves a good themed soiree — celebrating with her family and supersexy husband, Joe Manganiello.
While the burgers (cooked by Joe) looked mouthwatering, and the pool was fully decked with fun floats (including her infamous bull), it was what Sofia wore that kept us swiping through her Instagram feed. The cotton, cobalt blue, ruffled, strapless, high-low maxi dress Sofia sported perfectly matched her blue toucan float, but also looked comfy enough to wear while busy hosting an outdoor BBQ in hot weather. Keep reading to see more photos of her look, including a photo of Joe beaming at her.
Sofia Vergara Paired Her Blue Dress With a Star Hat
The Strapless Silhouette Featured Ruffles on the Top
It Also Had an Asymmetrical Hemline