5 Steps to Packing the Perfect Carry-On Suitcase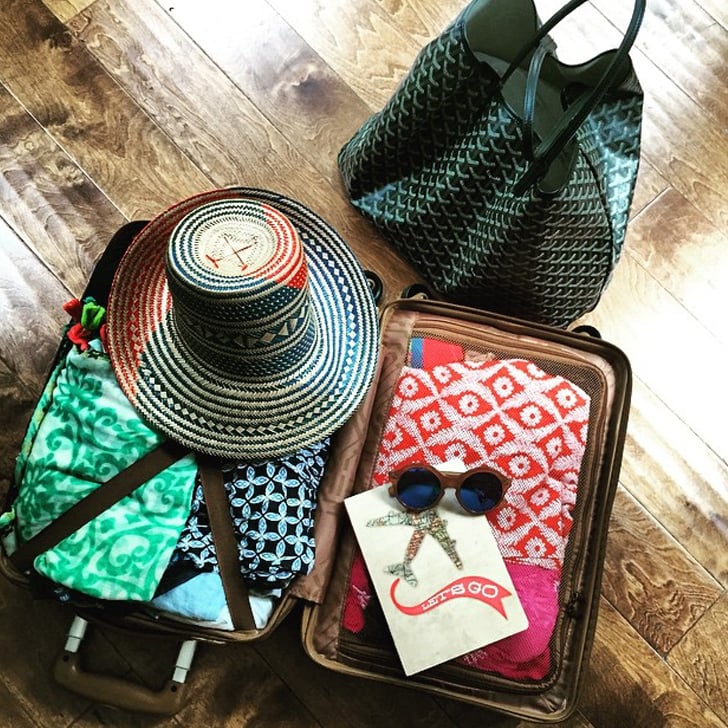 Stylist Irma Martinez, who has worked with celebrities like Thalia, Sofia Vergara, Daisy Fuentes, and Eva Longoria, shares her most useful fashion secrets with POPSUGAR Latina.
As a businesswoman, I travel quite often. And with years of experience hopping on and off planes, I've mastered the art of carry-on packing for one main reason: airlines have lost my luggage on more than one occasion, leading me to learn — the hard way, unfortunately — that the last thing I want is to arrive at my destination with nothing to wear, then waste the first few days there fighting with an airline trying to get it back.
After a few of those unpleasant experiences, whether I'm traveling for a meeting, a vacation, or a personal matter, I always travel only with a carry-on. My suitcase will never get lost again, and there's the added benefit of never having to wait by crowded baggage carousels! Don't get me wrong. It's a challenge for sure, but I'm sharing my tips here so you can be an expert packer, too. You won't have to sacrifice style, I promise!
01
Start With This Packing List
When packing, I ask myself: Where am I traveling to? How long am I going to be there? With whom am I going? (It's different to travel with family and friends than for business, for example.) Then, I start picking pieces by colors and fabrics, starting with black for Fall and Winter and white for Spring and Summer.
I suggest starting with bottoms first; three or four pairs should be enough for up to a week of travel. They should be solids so it's easy to wear each piece a few times and with any top you pack. Speaking about tops, find six or seven that can be mixed and matched with the selected bottoms. This really helps to make various outfits without having to pack extra. Make sure to sprinkle a few pieces with bright colors or with a fun design to give your outfits a pop.
Materials are important too, so pay attention to them. For Spring, the best fabrics are cotton and linen, but linen does require ironing, and that's something I don't want to be doing on my vacation. Cotton really does occupy the least amount of space in your carry-on.
02
Know That You Will Get Creative
It's important to plan your outfits ahead of time. I find that skirts are the best for hot weather, because you can pair them with t-shirts for a day look and a silk top or blouse for nights — I always pack two or three. A pair of jean shorts that I can wear several times with each of my tops is also a must pack.
For daytime, a pair of neutral-colored sandals goes with everything, and a pair of comfortable tennis shoes is important for long tourist tours. For nighttime, a little cotton black dress or one of the skirts with a silky top works for a nice dinner out with family or friends. A pair of black or neutral stilettos should be enough to get you through a week-long trip.
But aside from regular outfits, you should get creative. My all-time favorite and what I bring the most of in every trip is a long scarf that I wear in every way possible: as a blanket/sweater on the air-conditioned plane, as a sarong for the beach, as a dress with heels at night, as a cover-up while visiting temples and churches that require coverage for entrance. I'm also into bodysuits. I love them and totally rely on them! They fit in the smallest corner of your carry-on, even in your purse or inside your shoes. I wear them with my jeans and a necklace for a night of drinks with friends, or with a pair of jean shorts during the day.
And, don't forget about a light cardigan. It comes a long way during Spring vacation. Remember weather always changes and some nights could be cooler than others. It's always good to be prepared.
03
Complete Your Look With Accessories
To make every outfit unique and complete, finish the packing process by adding your favorite accessories: scarves, necklaces, bracelets, earrings, bandanas, a cool pair of shades, handbags, and clutches.
04
Wear the Bulkiest Pieces on the Plane
If it's bulky, no need to pack it! Just put it right on you! It's helpful to wear the pieces that are heaviest and take up the most room while traveling. This saves luggage space while also allowing you to bring that one piece you can't leave behind, no matter the size or weight.
I usually wear my jeans, a white button-down, and one of my scarves for the airplane. The good thing about these pieces is that you are going to wear them a few times during your trip. The white button-down is my all-time-favorite piece to have in my closet and on vacation. I wear mine many times during my travels: on the plane, with my pleated skirt for a lunch date, with my jean shorts for a day of shopping, to the beach with my sarong, etc. I wear the jeans with a t-shirt during the day or to a nightclub with a sparkly or silk top, too.
05
Follow This Packing Technique to Make It All Fit
Start with your shoes (I recommend keeping them in shoe bags to protect them from scratching). Then, make sure everything you pack is well folded or rolled up to minimize wrinkles and take up less space. I like to fold everything flat for easy finding, but I roll the tank tops and shirts to fill corners.
Start with the heavy fabrics first, and end with the most delicate pieces on top. Use toiletry bags or ziplock bags to pack your bathroom essentials to keep them from spilling on other items — some airports still require transparent bags and only let you bring a certain amount of liquid per person. Make sure you are aware of the regulations for each location when traveling with liquids to prevent security from taking them.