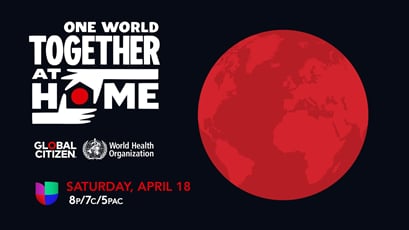 Univision
Univision
Univision announced that it's joining Global Citizen and the World Health Organization (WHO) to broadcast the star-studded concert One World: Together at Home this Saturday, April 18, at 8 p.m. ET/7 p.m. CT/ 5 p.m. PT. The live coast-to-coast broadcast will have a simultaneous Spanish-language translation and will include special commentary by TV personalities Alejandra Espinoza and Raúl de Molina throughout the event.
One World: Together at Home is a historic, first-of-its-kind global broadcast event that will show unity among all people who are affected by the novel coronavirus (COVID-19) pandemic. It will also celebrate and support the healthcare workers doing life-saving work on the front lines, featuring their stories; the commitments philanthropists have made; what governments and corporations are doing to support and equip healthcare workers around the world with masks, gown, and vital equipment; and how local charities are providing food, shelter, and healthcare to those who need it most.
I think I can speak for most young Latinx who are social distancing at home with their parents when I say thank you. With Univision broadcasting this massive event in Spanish, it takes off some of the pressure of translating in real time, providing stress-free entertainment for everyone in the household. Not to mention, Alejandra and Raúl have incredible chemistry on screen, and will probably make this an unforgettable broadcast.
The global event, curated in collaboration with Lady Gaga and hosted by Jimmy Fallon, Jimmy Kimmel, and Stephen Colbert, will feature appearances by celebrities from the arts, comedy, music, and sports industries, including the Latinx Camila Cabello, J Balvin, Jennifer Lopez, Anitta, Becky G, Jessie Reyez, Juanes, Luis Fonsi, Natti Natasha, Sebastián Yatra, and Maluma.
Among other confirmed celebrities are Alicia Keys, Andrea Bocelli, Awkwafina, Billie Eilish, Burna Boy, Celine Dion, Chris Martin, David and Victoria Beckham, Elton John, Finneas, John Legend, Kacey Musgraves, Keith Urban, Kerry Washington, Lizzo, Lupita Nyong'o, Oprah Winfrey, Paul McCartney, Pharrell Williams, Sam Smith, Shawn Mendes, Stevie Wonder, Taylor Swift, Usher, and more.