How to Stock the Bar at Your Wedding
While the bar is one of the most important aspects of every wedding, arranging the menu and hiring bar tenders can be an extremely hefty task! Check out these great tips from Bridal Guide on how to setup the bar at your wedding with ease, and provide your guests with an unforgettable experience.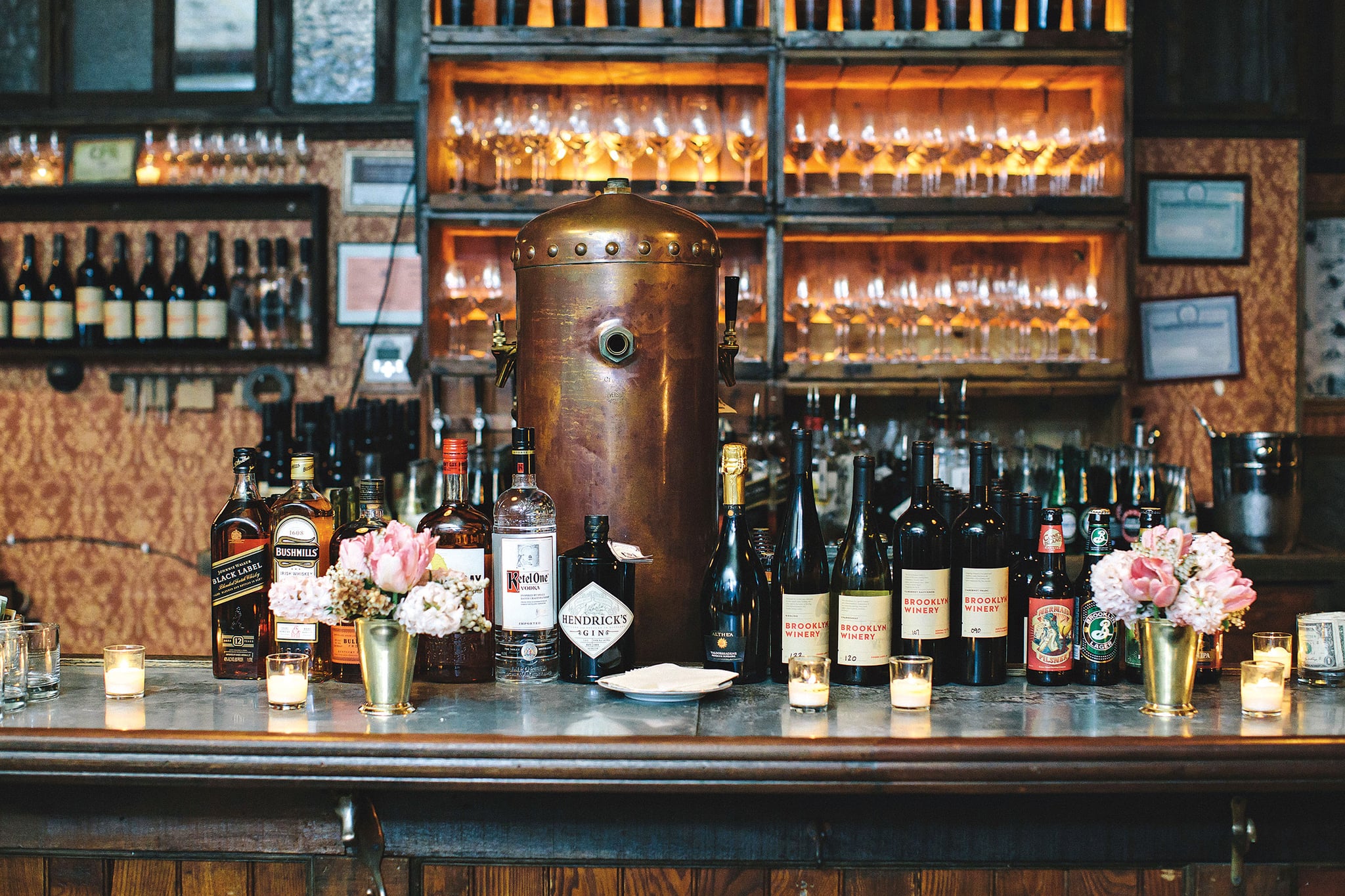 Source: Brooklyn Winery
Consider the bar: it's a gathering spot, a place to mingle, a design focal point — and on the big day, it's essential to get it right. "Your bar will be one of the the most important elements of the reception, visited throughout the evening," says Laura Ritchie, founder of Events in the City in Washington DC. "People are loving their cocktails these days," says Harriette Rose Katz, founder and president of Gourmet Advisory Services in New York City, "and they love to congregate around the bar."
To that end, discover all you need to know about setting up the bar, from selecting its overall design to choosing what libations (and how much) to serve:
Bar Basics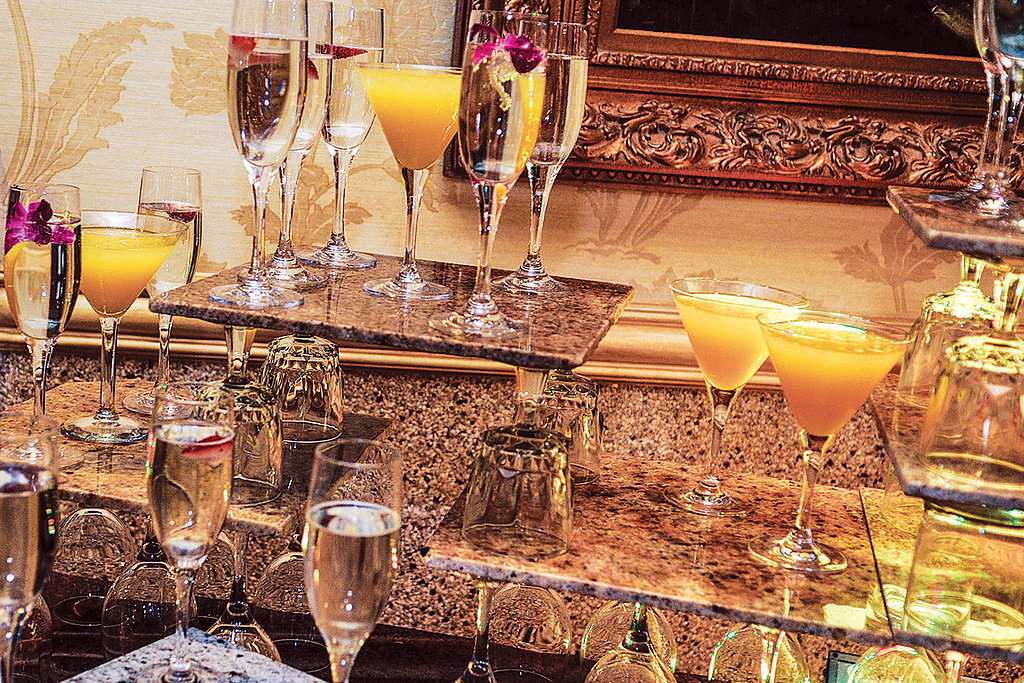 Source: Dean Michaels Studios
Avoid wait time. No one wants to stand in a long line to get to the bar. Keep your guests happy by creating several well-staffed bars and drink stations, indoors and outside, positioning them for good traffic flow so guests can always get their drinks quickly and easily.
Make sure you have enough . . . alcohol and bartenders, that is. Jono Moratis, director of beverage service at The Glazier Group for Westminster Hotel Weddings, suggests this formula: at an open bar (including signature drinks), 1 bartender for every 50 guests; for a beer-and-wine-only bar, 1 bartender for every 75 guests. "We also use bussers to supply new glasses and to clear away used glasses — 1 busser for every 50 guests. For multiple bars, we suggest 1 busser per bar."
Prepare for each guest to enjoy two to three drinks during the cocktail hour, plus one drink each additional hour of the festivities, says Clinton Rodgers, director of quality and guest experience at the Beverly Hilton in Beverly Hills.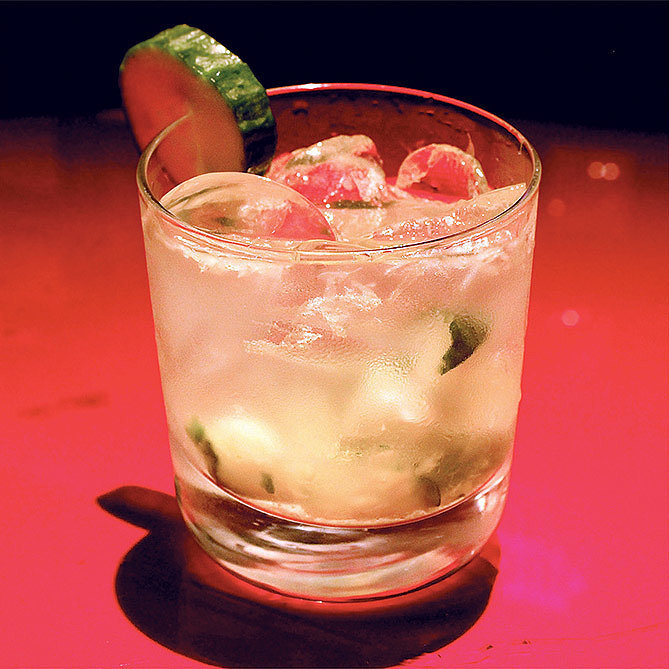 Source: Westminster Hotel Weddings
Know the numbers. One 750-milliliter bottle of wine yields five to six glasses; a standard bottle of Champagne yields five to eight glasses, and you'll get approximately 18 to 20 cocktails from a one-liter liquor bottle.
Add in some extra quantities. "Many people only finish 2/3 of their drink since they may leave it on the table to go dance, or forget where they put it when they get pulled into a conversation," Rodgers says. Waitstaff may also clear unfinished drinks from tables to keep surfaces tidier (advise them not to do so unless they ask the guest first. This will also help to save money!). So make your estimates, and then acquire a bit more than you need. It's always better to have too much than too little.
Fabulous Bar Decor
Create oversize signage, such as a calligraphed chalkboard listing of all the drinks on offer.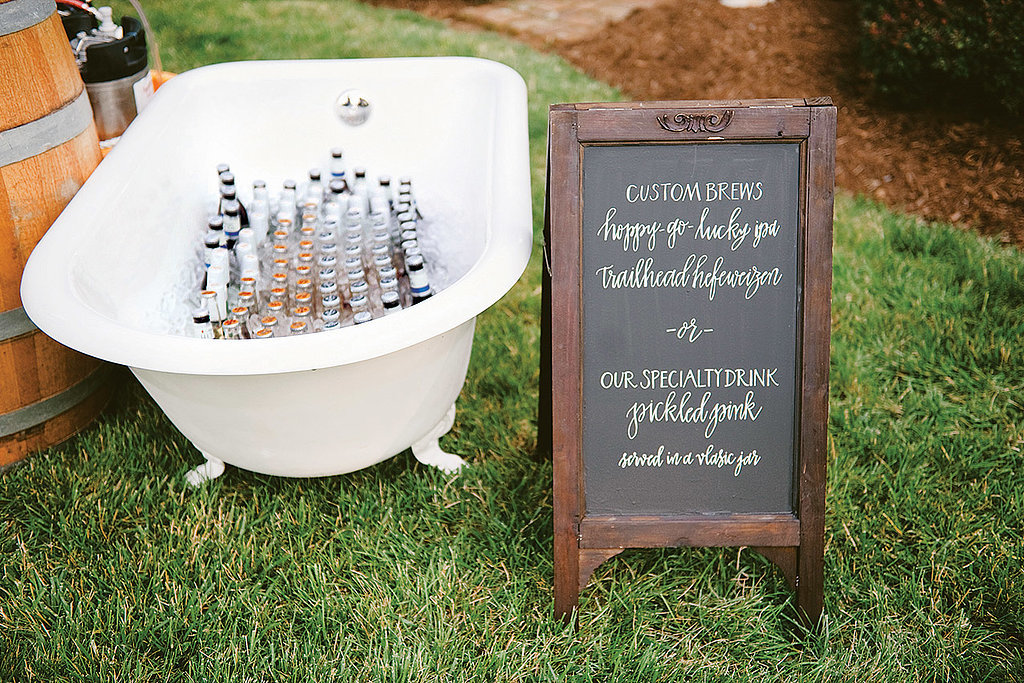 Source: Shauna Ploeger, Photography Du Jour
Great lighting, such as uplighting behind the bar, illuminated shelves to make those gorgeous bottles glow, a chandelier, and perhaps even the bar itself glowing purple, pink, or amber for a high-drama effect.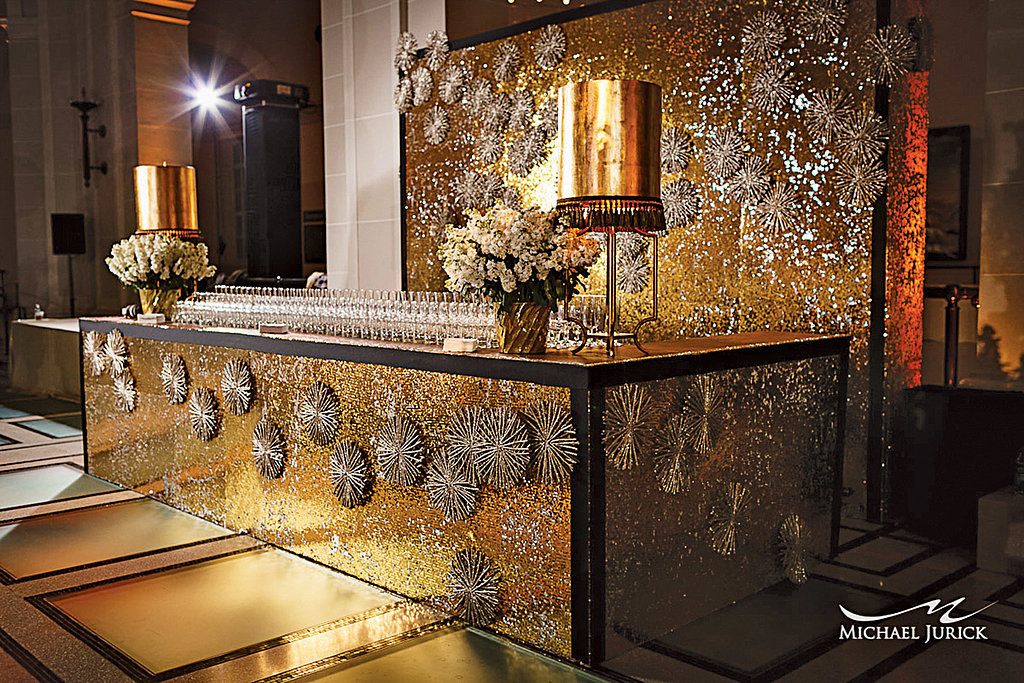 Source: Harriette Rose Katz/Advisory Services
Tall florals set at one end of the bar (leaving plenty of clear space for your mixologists to work their magic).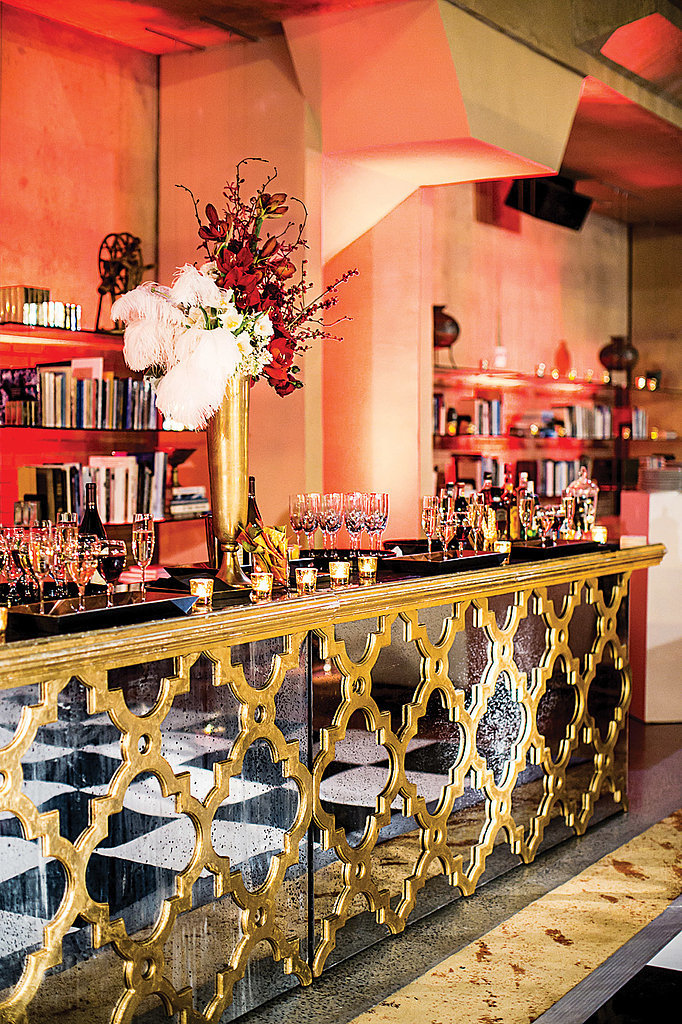 Source: K Thompson Photography
Personalized coasters and napkins, not limited to your names and wedding date, but perhaps sharing a meaningful quote or a fun motif drawn from your theme.
Signage decals on the floor, leading up to the bar, coordinated with your decor and wedding theme.
Five Cocktail Classics to Consider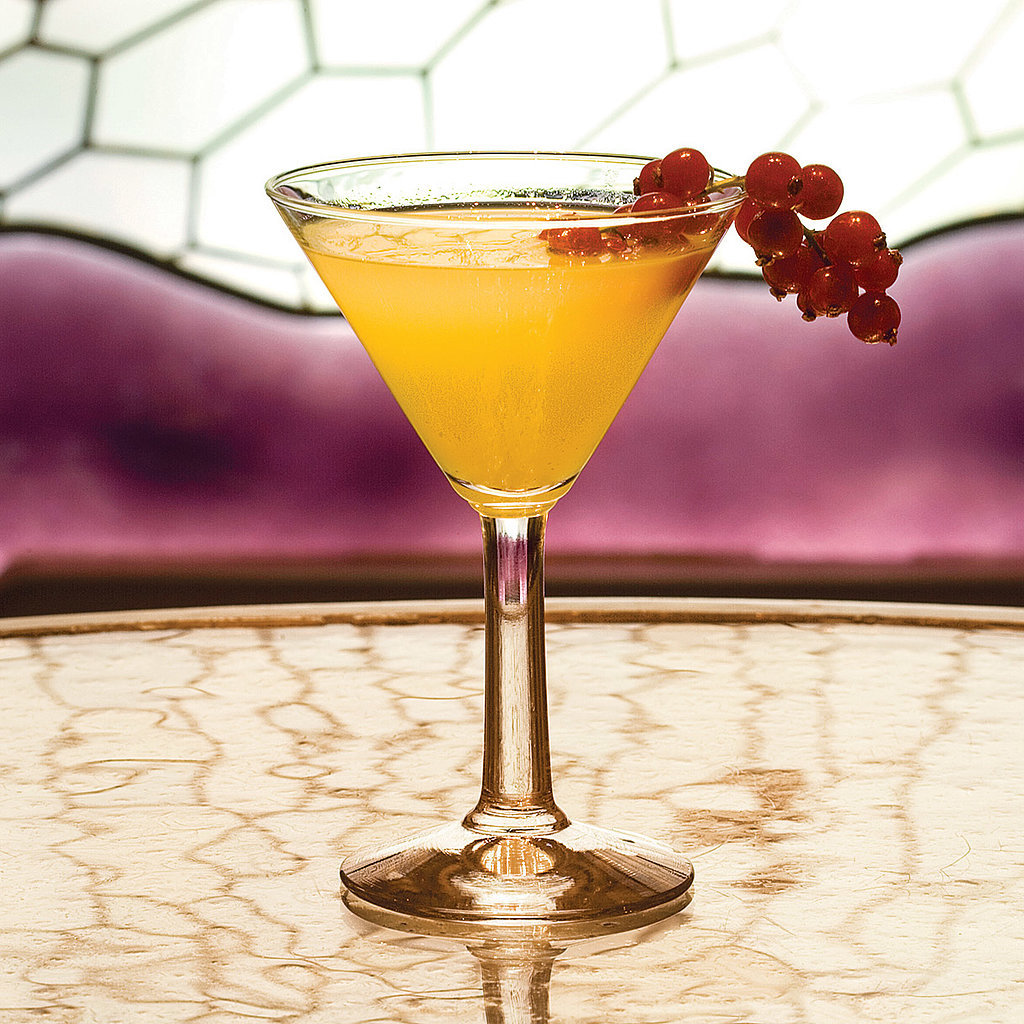 Source: Ladurée
Classic cocktails are always popular, adding a Mad Men-inspired feel to your wedding. Moratis suggests:
1. Old Fashioned: Bourbon, rye, or whiskey, bitters, simple syrup or sugar cube, orange slice, maraschino cherry.
2. White Russian: Vodka, coffee liqueur, cream.
3. French 75: Gin, Champagne, lemon.
4. Gibson: Gin, dry Vermouth, cocktail onion.
5. French Martini "composed of pineapple juice, Chambord, and vodka," recommends Katz.
Five Of-the-Moment Cocktails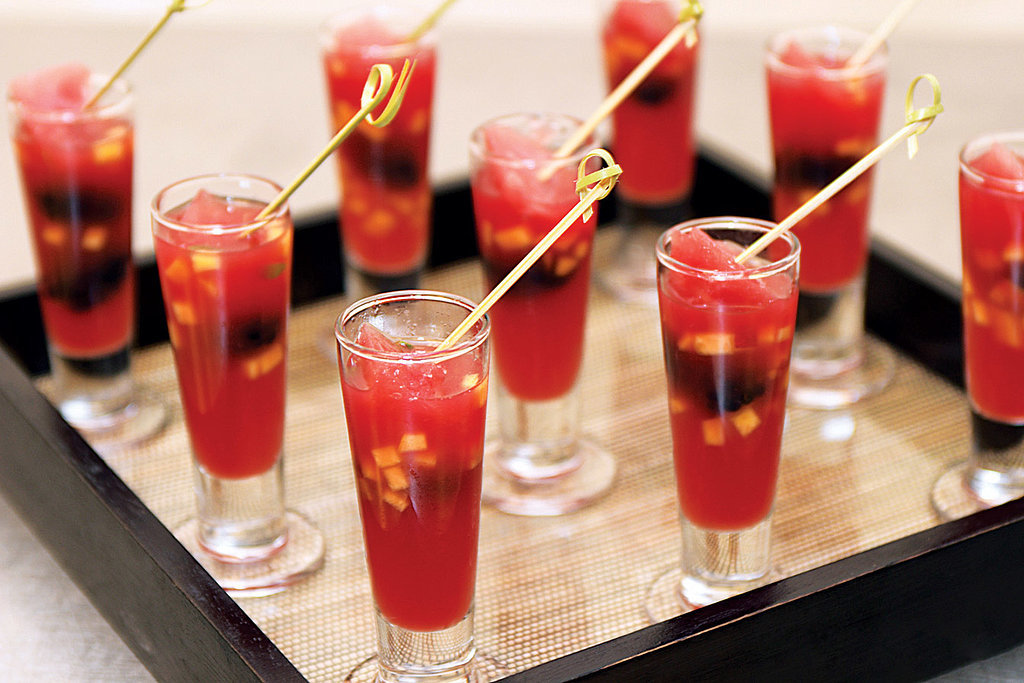 Source: Westminster Hotel Weddings
1. Sangria. Moratis says, "Sangria has become very popular, either in white or red."
2. Sparkling cocktails. Popular options include Kir Royale, Bellinis, and sparkling wines infused with fresh garden flavors such as pear or thyme.
3. Signature punch. "Make a splash with an array of garnishes like flowers frozen in ice," suggests Jessie Card, Cruzan Rum master mixologist.
4. Ginger and honey-infused cocktails. Katz says, "People are drawn to the healing qualities attributed to these ingredients."
5. Ginger beer is also on the upswing. Diane Kolanovic-Solaja, owner of Dee Kay Events, in Tennant, NJ, suggests "a Dark and Stormy (ginger beer, dark rum, and lime) or a Moscow Mule (ginger beer and vodka)."
Wine Wisdom
Kevin Zraly, wine educator and author of Kevin Zraly's Windows on the World Complete Wine Course, proclaims we are in a "golden age for winemaking," which lets you source terrific bottles of wine without spending a fortune. "Always have a good, good wine on the table — there are many available for $20 and under."
Zraly suggests a sparkling wine like Prosecco from Italy, "which is a hot wine right now and a crowd-pleaser," a Spanish cava, or a California bubbly like Chandon. "Sauvignon Blanc is a light, crisp wine, and New Zealand varieties are also popular at weddings now," says Zraly. "You can find great inexpensive Pinot Noirs coming from California and Oregon and even better values from Argentina, using a Malbec grape." Pair your wines to your food, says Zraly, going from lighter wines (like a Riesling or a Pinot Noir) to accompany, respectively, a white fish or poultry to heavier choices (like Chardonnay and Cabernet Sauvignon) with tuna steak or sirloin.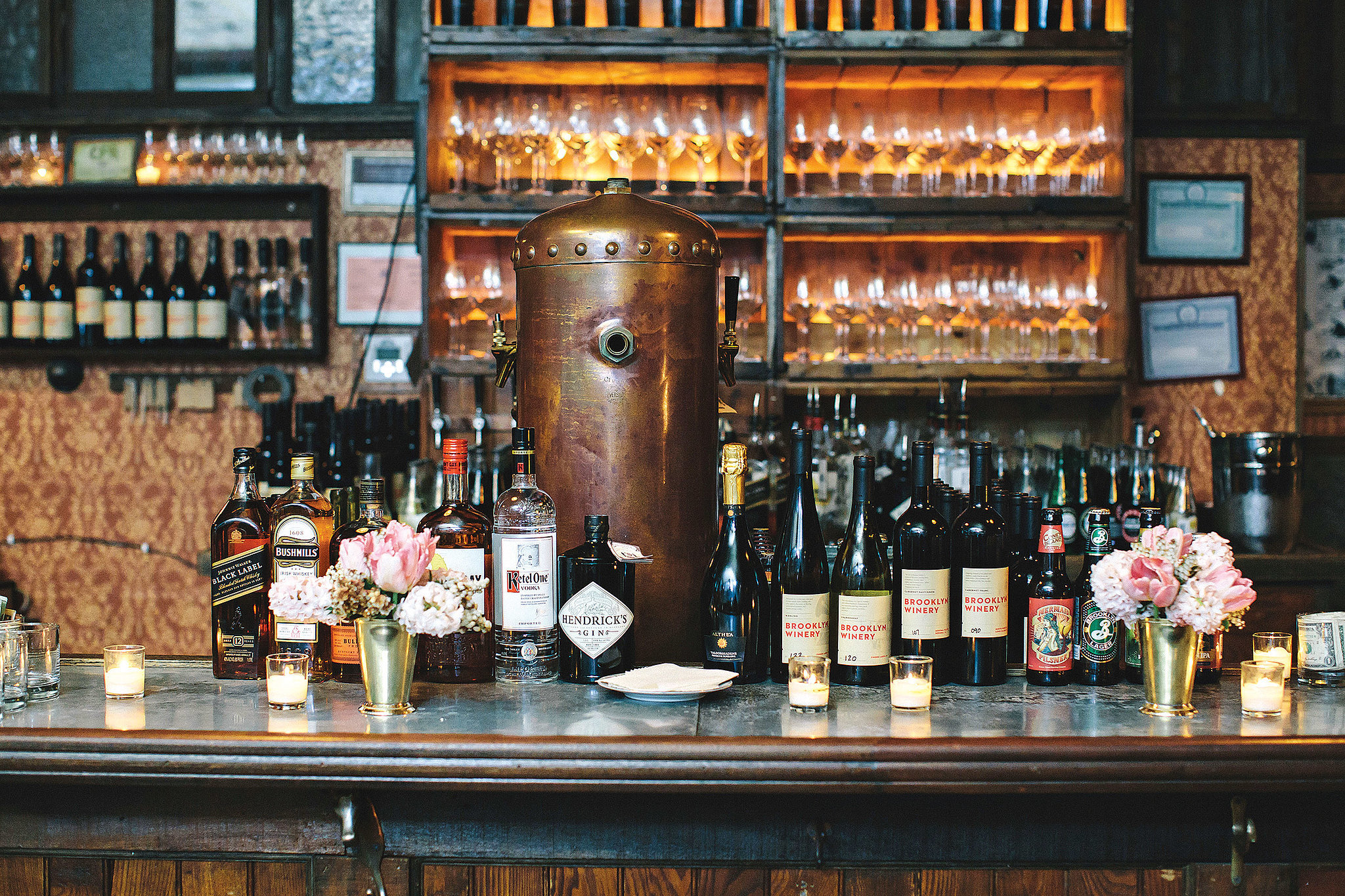 Source: Brooklyn Winery
Adds Zraly: "Make sure your venue offers the proper refrigeration for wines. Most wines are served much too warm, which affects the taste. A lighter style of red wine needs to be chilled a bit." And Champagne should be served extremely cold. "When guests arrive to prepoured Champagne on a tray, that bubbly is often not as cold as it should be," Zraly says.
Budget-Friendly Ideas
Consider offering specialty cocktails in smaller glasses, says Annie Lee, wedding planner and owner of Daughter of Design in NYC, "because people often take a few sample sips and then end up switching to their regular drink of choice."
"Not having a crazy variety at the bar also keeps guests focused and your alcohol purchases straightforward," says Ritchie. "No one wants to read a menu of 15 different cocktails."
"Keep it simple with five liquors, jazzing them up with interesting flavors like mango juice, pomegranate juice, and other flavors," says Ritchie.
Source: Moss & Isaac
Speak with your caterer about providing your own alcohol, which can be a great way to save if you can arrange to transport the liquor to your venue. Be sure to ask about any corkage fees that may be applied, should you go this route, as they can be stiff (up to about $10 per bottle). Fees can be negotiated and even waived, so this is a key question to ask.
Select locally made beer and/or wine, working with vineyards and breweries to avoid the markups found at retail outlets.
"Don't leave your liquor choices up to the hotel or restaurant," says Zraly. "They will often choose the beverage types with the biggest markups. Find someone who knows a lot about liquors and wines and have them help you make selections or source your beverages."
Consider forgoing Champagne. Guests will toast you with whatever drinks they have in hand at their tables.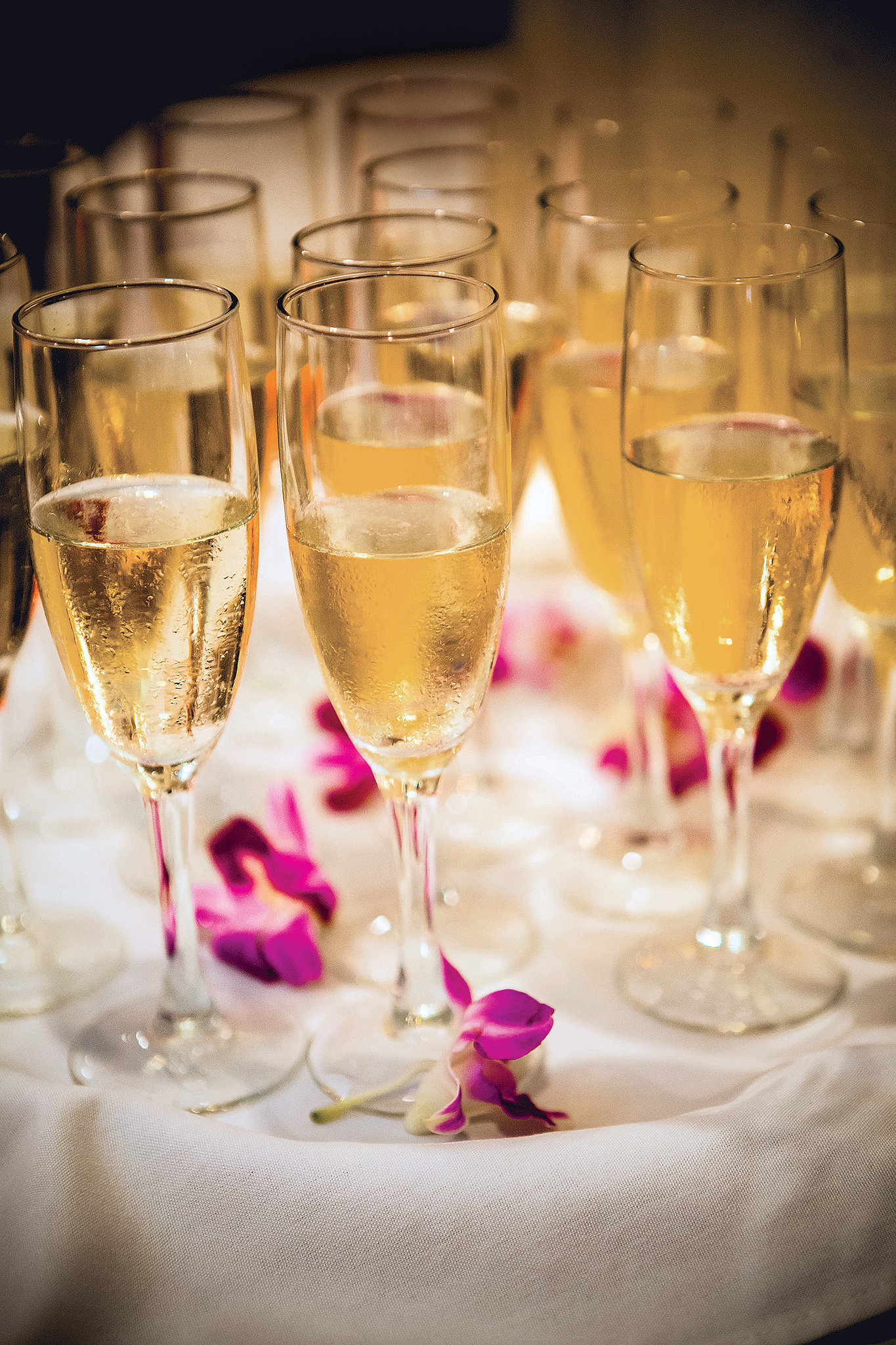 Source: Dean Michaels Studios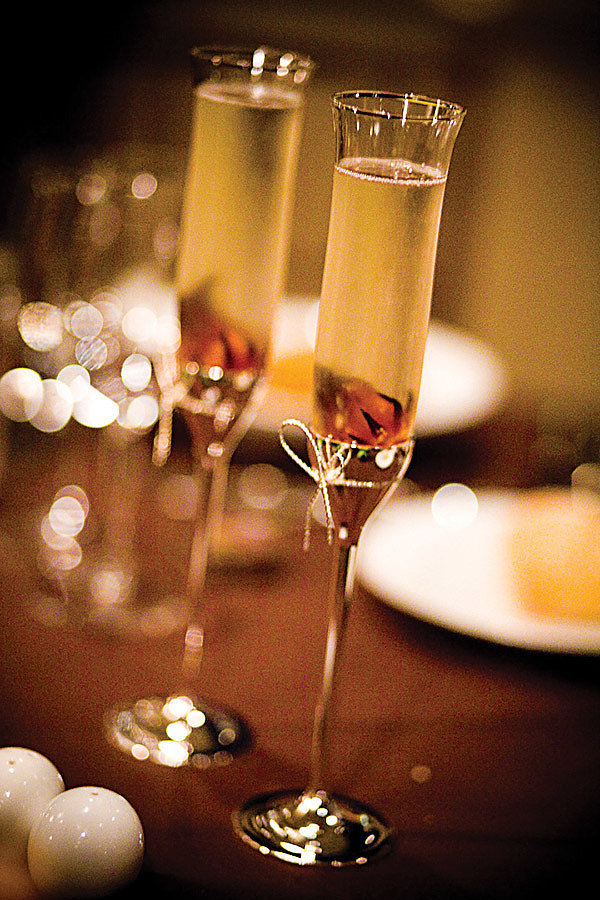 Source: Daughters of Design
Limit the opening of bottles. "If waiters have free rein, they're just going to pour and pour," says Zraly. "Lay down the law about bottles only being opened as needed."
What You'll Need For 100 Guests:
10 bottles of vodka
6 bottles each of gin and rum
4 bottles of Scotch
2 bottles each of whiskey, bourbon, tequila, and triple sec
2 bottles of Vermouth
Have on hand: 2 cases of beer, 2 to 3 cases (36 to 48 bottles) of white wine, and 4 to 5 cases (24 to 36 bottles) of red wine.
Three cases (36 bottles) of Champagne should be enough.
Also, be sure to arrange to have plenty of soft drinks and water (sparkling and flat) on hand.
— Sharon Naylor
Check out more great articles from Bridal Guide: