Source: POPSUGAR Photography / Emily Faulstich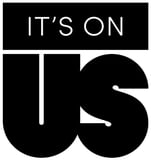 We've partnered with It's On Us to empower you to change the conversation around sexual violence.
Sexual violence is one of those topics that can make us feel incredibly uncomfortable to talk about. Even just researching it can bring up a range of emotions that are better left untouched, like fear, weakness, uncertainty, and isolation. But as something that affects one in five women in the US, it's important to recognize that we as a society can and should be a part of the solution. One small way to start? By simply talking about it. Because sexual assault can come with a stigma, it's easy to avoid discussing it altogether. But by staying quiet, we're contributing to the the problem. By shifting the conversation away from blame and reframing it around education and empowerment, we can create a safe environment for survivors.
If someone you know has been affected — regardless of how — it's important to engage them in a supportive conversation and encourage them to open up. "Not talking about it can be incredibly damaging, both for the survivor, and for your friendship," said Rebecca Kaplan, director of It's On Us, a project of Civic Nation (a 501c3). Civic Nation is a non-profit organization that addresses the nation's most pressing challenges through social awareness. Kaplan works to spread the word on campaigns like It's On Us, which empowers communities to end sexual violence. She's also had first-hand experience navigating the tricky conversation when her best friend was assaulted in college. "I didn't handle it right," she said. "I was 18 and we weren't having these sorts of conversations back then. I was poorly prepared, and I still feel like I failed as a friend."
To help you approach the tough conversation correctly, we've enlisted her to share her insights and provide tools for anyone going through a similar situation.
Do your research — understand what consent means
Before talking to your friend, make sure you've educated yourself on the facts — what constitutes sexual assault, what the repercussions may be, or what the legal landscape looks like. Then, take a look at available resources and services. "Be responsible and understand what the options are beforehand," Kaplan advised. Not Alone is a good comprehensive resource, while RAINN provides immediate relief in the form of a sexual assault hotline. "Sometimes in these conversations, your friend may not fully recognize that the situation was not consensual, so take a look at resources that define consent. It's On Us has a great consent guide. Having that understanding in your back pocket is really helpful."
Wait for your friend to come to you
Sexual assault is an issue that's incredibly traumatic, and the important thing to remember is that everybody handles trauma differently. "Never push it," Kaplan said. "If the person wants to come forward, he or she will do so in his or her own time. It's okay to have a preliminary conversation to put out feelers, but certainly wait for them to come to you."
Ask the right questions
Survivors are often victimized and subjected to intense scrutiny, and it's important that you avoid both in the conversation. "We all have a tendency to want to piece together the story for ourselves, but that's not necessarily helpful for your friend who's trying to tell you how they're feeling," Kaplan said. According to her, the first things you should say are:

I believe you.
I support you.
You're not alone.
Then, ask questions that are thoughtful, rather than intrusive. "They should really be questions that are not about the situation itself because that can be traumatic all over again," she said. Try inquiring things like:

How are you feeling?
Are you okay?
What can I do for you?
Avoid questions that are victim-blaming:

How much did you drink?
Where were you?
Why were you alone with him/her?
During the conversation, take on your normal, friendly tone, and maintain a supportive nature. "Just be yourself — your friend will know if you're acting differently," Kaplan noted.

Know when to look for outside help
If you feel that you're not making any progress in the conversation, it may be time to step back and reevaluate. Yes, that's hard to do when you know something has happened, but at the same time, it's not productive to push your friend too far. Kaplan said that the best thing you can do in this situation is to offer support from outside entities. "See if they want to talk to the help center or the police — often times, survivors don't want to speak directly to people who know them very well because it's scary and vulnerable."
Go beyond the conversation
Just because the conversation has finished, doesn't mean it's over. Check in with your friend afterwards, and provide support every step of the process if they want you to be there. "Offering to go with them when they talk to a Title IX coordinator, offering to go to the hospital for a rape kit — these are all important ways to support your friend just by being there," Kaplan said.
And if you feel really empowered, join the movement and pledge to end sexual assault. Every voice counts.