Resolution by J.S. Cooper Excerpt
Will Bianca and Jakob Solve the Mystery of This Sexy Love Affair?
Resolution is the third and final book in the Swept Away series, which follows the strong and beautiful heroine Bianca London and the secretive and handsome Jakob Bradley as they find themselves waking up on a deserted island after they've been kidnapped.
Bianca and Jakob are on a mission to figure out how they are connected as they battle their immediate sexual attraction and tension in this tale full of love, lust, secrets, and lies.
For more on this sultry novel, visit XOXO After Dark!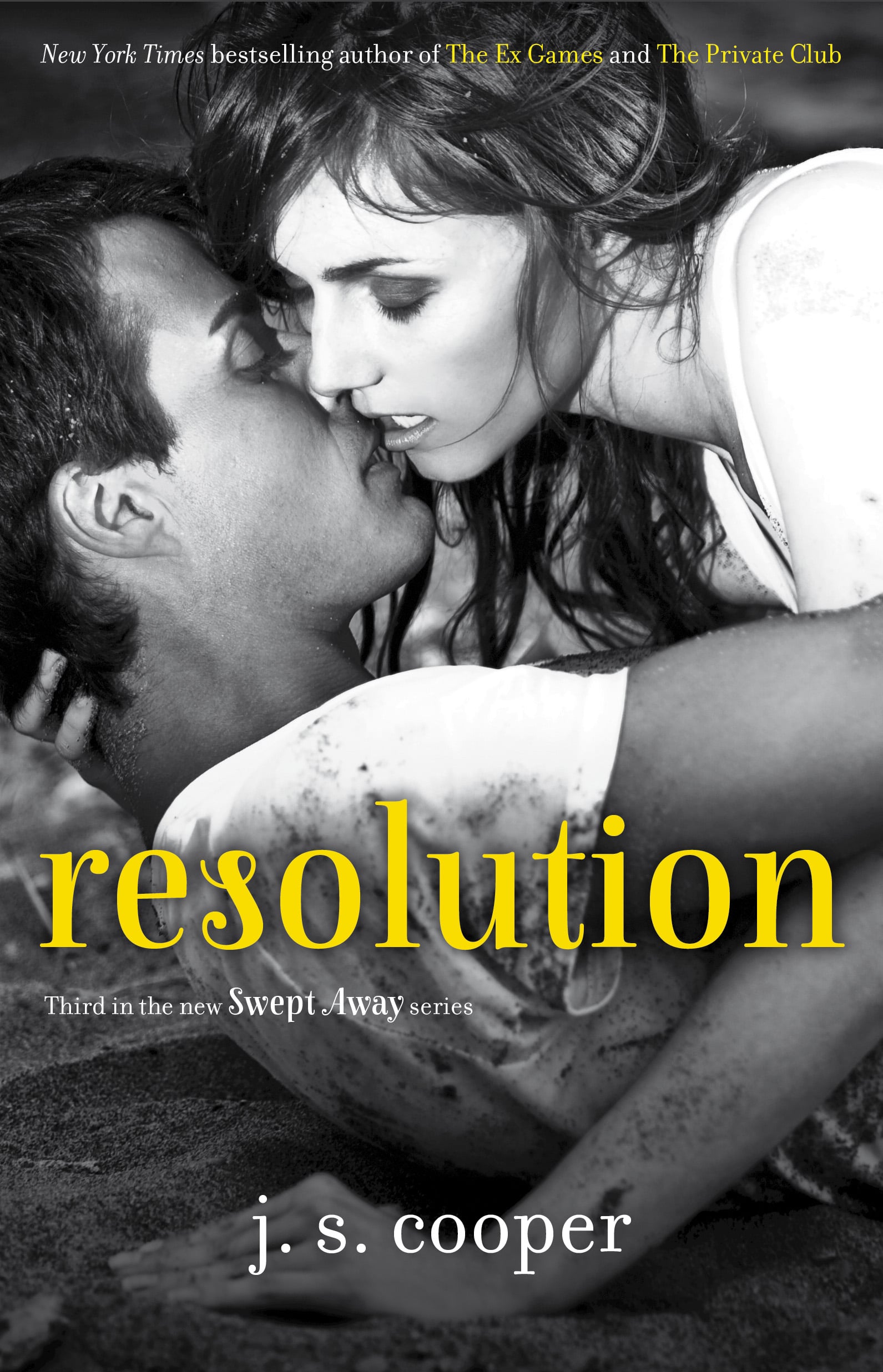 PG Excerpt:
Jakob and I stood in the family bathroom, just staring at each other. I could hear the different flight announcements through the speakers, and I wondered where Penny was. I wondered what she would do when she saw us. Would she try to run? Or call security and have us arrested?
"Take a deep breath, Bianca, and talk out your worries," Jakob said as he rubbed my shoulder. I looked up in surprise and watched as a wide smile crossed his face. "You didn't think I would forget, did you?" He smiled at me tenderly.
"But I told you that so long ago. We'd barely met. I didn't think you were paying attention to my ramblings about my dad."
"I remember everything you've ever said." He stroked the side of my face. "When will you understand how special you are to me?"
"But I wasn't special to you then."
"You've always been special to me."
"When you first met me?"
"Bianca, I knew you were special the first time I saw you." His voice lowered. "I knew you were special when you played your game with David, and I knew you were more than a pretty face when you spoke to me at that coffee shop that day. I was out of my mind for sitting at the table with you, but I just wanted to be near you. Not just across the room. I wanted to be with you. I wanted you to engage with me."
"I made a fool of myself," I groaned as I remembered that first meeting.
"I thought you were cute."
"I was a bumbling fool." I shook my head. "But you were so handsome. I remember seeing your face under your cap, and I remember my heart racing as I gazed into your gorgeous blue eyes," I said, and blushed as I remembered wanting to make some sort of impression on Jakob that day.
"I guess no matter what happens, we've both still won." Jakob's tone became more serious.
"What do you mean?"
"I mean no matter what we may or may not find out, we still have each other."
"You think we're going to find out something bad?"
"I'm smart enough to know that this whole mystery goes a lot deeper than we think it does. We both got involved because we wanted to honor our mothers and find out what happened to them, but the deeper we go, the more I'm beginning to realize that this isn't about them." Jakob pulled me toward him, and he stared at my face for a few seconds before continuing. "I think that whatever happened to them was because they were a part of this group with our dads. Whatever those men had going was the real problem here."
"I'm scared to hear what Penny has to say." I took a deep breath. "What if something really horrible went down?"
"If my father is really still alive, then I'm sure he didn't disappear for fun." Jakob closed his eyes. "We just have to be prepared for whatever happens. We have to stick together."
"I love you, Jakob. I'm not going anywhere." I grabbed his hand and brought it to my heart. "You're in here, Jakob. You're in my heart, and nothing is going to change that."
R-Rated Excerpt:
"Don't start something you're not going to finish," he grunted against my lips.
"Who says I'm not going to finish?" I kissed him hard, and I felt his tongue entering my mouth, forceful and minty. His tongue played with mine, and I sucked on it eagerly, momentarily forgetting my nerves at what Blake was going to tell me.
"Oh, you're going to finish."
"Oh, you're certain of that?"
"Yes." He nodded, and his hands reached down and up under my shirt. His fingers dug into my skin as they made their way up to my breasts. "I am pretty certain of that." He grinned at me as his fingers reached my nipples, and he ran the palms of his hands across them before pinching them softly.
"Oh, Jakob." I moaned as he pulled my T-shirt off and threw it to the ground. He leaned down and took my right nipple in his mouth and sucked on it gently before grabbing me around the waist and pulling me into him. My breasts crushed against his chest, and he leaned down and kissed me again. We stood there just kissing, and I could feel the stirrings of desire as his c*ck rubbed against my belly.
"On your knees," he said as he pulled away from me.
"What?" I looked at him in surprise, and he pointed to the floor.
"On your knees," he said again. This time his voice was stronger and more authoritative.
"On my knees?"
"Now." He stared at me, and I watched as his lip twitched slightly. "You were in charge a few minutes ago, and now it's my turn."
"I didn't know we were taking turns." I smirked.
"On your knees." He leaned over and pinched my right nipple, and I squealed slightly as my panties grew wet. I licked my lips slowly and sank to my knees. My breath caught as I stared up into his bright blue eyes.
"What now?"
"Make me come," he said, and leaned back against the sink, his hard c*ck flopping around in front of me.
"Make you come?" I swallowed hard at the tone in his voice. I never knew a voice could turn me on so much.
"And swallow." He grabbed my hair and tilted my head up. "I don't want to have to shower again."
"Or what?" I said lightly as my tongue darted out of my mouth and licked the length of his shaft. Jakob's breath caught and he pulled my hair harder.
"Do you want to find out?" he asked huskily. Instead of answering, I got to work, taking the tip of him into my mouth and sucking gently, enjoying the clean taste of him. I felt powerful as he hardened even more, and I took him as deep as I could without gagging. I wasn't sure how some women were able to swallow a man's whole c*ck, especially someone of Jakob's size. He wasn't enormous, but he had certainly been blessed. I shifted my legs as I felt myself growing wetter. I wanted him again. Inside me: deep, hard, loving, and dominating. I wanted to feel the length of his sex as his body ground on top of mine. I started moving my mouth back and forth on him even faster. Jakob pulled my hair, and the pain turned me on even more. I was still bobbing my head up and down when the sound of my phone ringing finally hit my brain.
Get Resolution, and check out more great content on XOXO After Dark: