Size Matters by Stephanie Haefner Book Excerpt
Will There Be Chance at Love For This Lingerie Shop Owner and Her Sexy Neighborhood Cop?
Despite being the co-owner of a sexy lingerie shop, Bryn's love life has been anything but sexy and exciting since her husband died while serving in the military. Now, she's ready to get back into the dating game. But there's only one man on her mind: Eli, the sexy neighborhood cop with his own baggage and an impressive weapon he certainly knows how to use. Will these two have what it takes to overcome their pasts and let new love overcome in Size Matters? For more on this sultry novel, visit XOXO After Dark!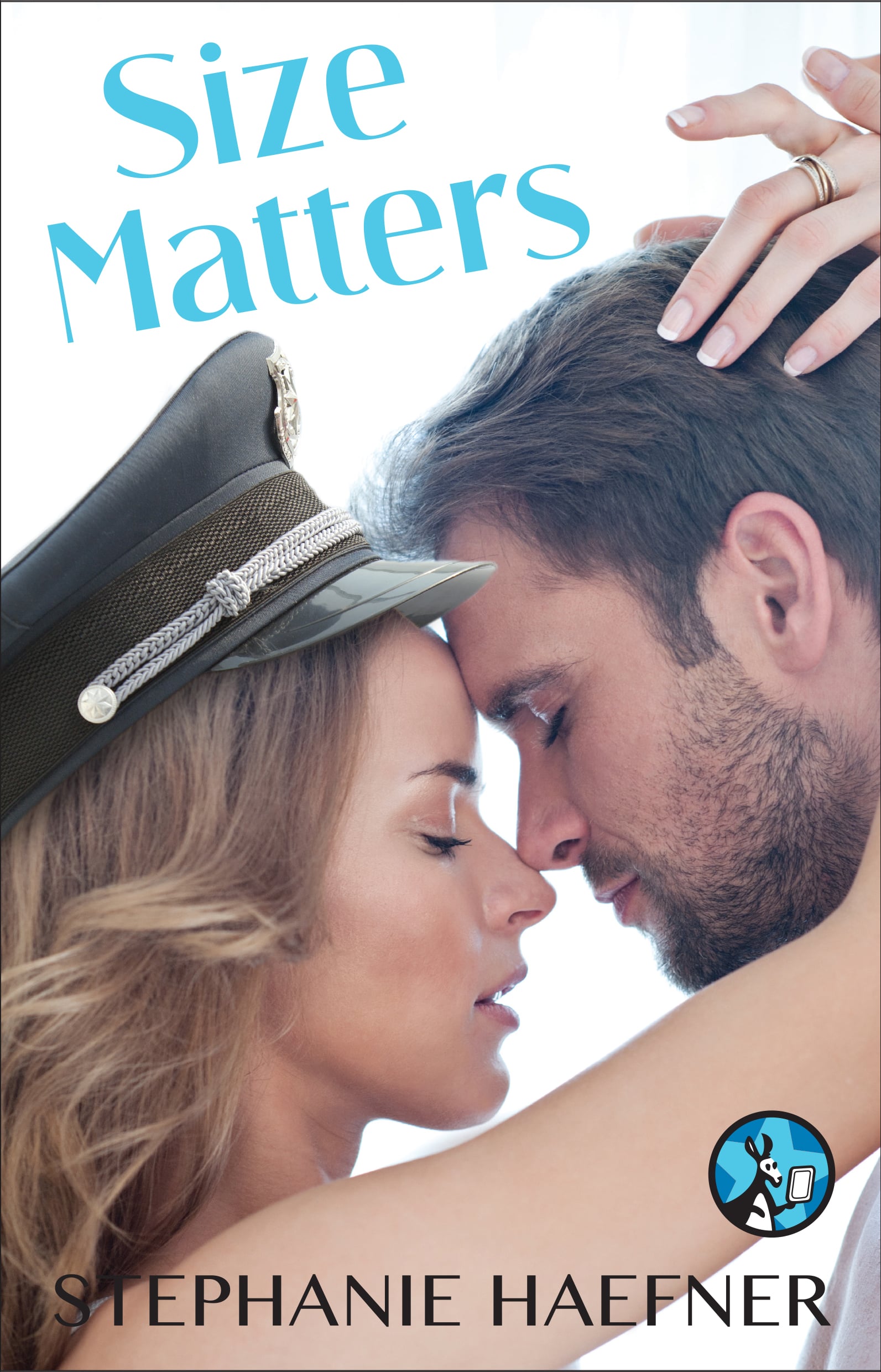 PG-13 Excerpt
Bryn put the finishing touches on her makeup and went to flip through her closet for the third time. Nothing jumped out at her. Maybe she needed to go shopping and get some date clothes. It had been an eternity since she needed something sexy for a night on the town. And she wanted to look sexy for Eli.
When they'd first started seeing each other, it was purely friendship. He was easy to talk to and it didn't take long for her to open up to him about things she only talked to Mia about. How lost she'd been after Johnny's death, how scared she was to be a single parent. She was terrified of screwing up her kids. He helped her realize she was stronger than she thought and offered to help in any way he could.
And of course, his flirting felt nice, too. At first she felt guilty for liking it. What would Johnny think? She knew Eli wanted more, but respected her need to go slow. She wasn't sure she was ready to date seriously, but after that first sweet kiss on her front porch, she knew she was falling fast for this guy.
She settled on an emerald dress that showed off her cleavage. It was old, but had only been worn a couple of times. At least it was a silhouette that never went out of style. Some jewelry and a squirt of body spray and she was ready.
Eli was right on time, and when she opened the door, he leaned in to peck her cheek, instantly warming at his touch. "You look gorgeous."
And hot damn, did he look amazing, too. Black pants and a button-down shirt, rolled at the sleeves, but still tucked in and neat. The perfect combination of dressy and casual. And sexy as hell.
Had she ever noticed before how blue his eyes were? Or how adorable he was when he smiled?
She shook herself out of the hotness fog. "Thanks. I just need to grab my purse."
They climbed into his SUV and she just could not stop looking at him. Even the way his hair was styled was sexy. Messy, yet tame. And that sly little smile, surrounded by a light shadow of stubble, made her hornier with every glimpse.
A glass of wine later, Bryn didn't care what the hell kind of food the waiter laid in front of her. She was too busy watching Eli, the candle on the table illuminating his features. Why hadn't she realized before just how freaking sexy he was? The smile did it for her. A crooked little devilish grin where just the left side rose. And that laugh, too. So. Damn. Sexy.
He reached across the table and took her hand in his, the jolt of electricity traveling straight to her core. Check, please?
Bryn forced herself to eat the pasta dish she'd ordered. It was good, but so not what she was craving. She wanted Eli, naked, pressing into her, hands, lips, and tongue on her body, until she was dizzy with orgasmic rush.
"Would you like to see the dessert menu?" the waiter asked.
"No," Bryn said at the same time Eli said, "Yes."
She met his gaze trying to cover her goofy grin. His eyebrow raised and he knew exactly what was on her mind.
He turned back to the waiter. "I think we're all set. Just the check, please."
X-Rated Excerpt
He leaned into her, gaze locked on hers, and stopped just before he got to her lips. "You look amazingly beautiful right now."
She didn't utter a word, but the widening of her smile said everything. Bryn closed the gap between them, bringing her lips the last few inches to his. Thank you, mother of everything holy! He loved kissing her. Those soft, plump lips, the way she slid her tongue in and out of his mouth. Playful, yet gentle and ladylike. But he'd definitely like to take her somewhere they could get a little less formal and a lot more wild.
"Wanna go somewhere a more private?" he asked between nibbles of her luscious lips.
"I don't know." She pulled away from him. "The kids and all . . ."
Was that really it, or was it something more? "Parents have sex all the time. Well, I didn't in my marriage, but most parents manage to have sex on a routine basis with kids in the house." He ran his fingers through her wind-tousled hair and rested at the nape of her neck, planting another kiss.
"We probably shouldn't even be doing this." She pulled away again and downed the rest of her wine, setting the empty glass on the coffee table.
Eli set his down, too, then took her hand in his. "Is this about the kids, or something else?"
"Um . . . the kids."
He wasn't convinced. "Okay. Maybe another night then."
But he didn't move. Instead he put his hand back on her bent leg, the slight spread of her thighs an invitation he couldn't resist, and moved even higher than he had before, sliding his fingers inside the hem of her little shorts. She didn't push him away.
The thought of how close his fingers were to her center made his d*ck twitch. All he had to do was move another inch and he'd be able to feel if she was wet or not. Just do it. Eyes locked on hers, he moved his hand even further, rubbing the back of his two fingers against her bikini bottoms. And damn, they were soaked right through.
Bryn's eyes closed for a moment, jaw clenching, and she took a deep breath. Her hand squeezed his. She was holding back. She did want him after all.
Eli leaned in and kissed her neck, lips moving upward toward her ear. "Let's go check on the kids."
All she managed was a murmured "Mmm-hmm" as she stood and kept his hand in hers. She led him to the den, an animated movie still playing on the flat screen, but every last set of little eyes was closed.
He brushed his lips across her neck. "See, they're all down for the count."
Bryn broke away from him. Sh*t. What excuse would she come up with now? She walked to the TV and picked up the remote, the screen going black. And when she turned back to him, her eyes held something different. Something naughty.
"Come on," she said, and grabbed his hand once again, leading him to her bedroom.
Closing the door behind them, she locked it, then pulled her shirt over her head. She was still in her black bikini—the one he'd so badly wanted to rip off her all day. He stepped to her, but knew he had to control himself. This was not the time to go crazy. Instead of yanking the fabric from her skin like he so wanted to, he pushed aside one cup, covering her nipple with his mouth. And this time she let the moan escape her lips. Let go, baby. Let me pleasure you.
Get Size Matters here, and check out more great content on XOXO After Dark:
11 Hot Books For Those Who Love a Man in Uniform
Excerpt From Karin Tabke's Hot Cop Box Set