What It's Like at an All-Female Sex Party
I Got a Taste of an All-Female Play Party and It Was Everything I Imagined, in the Best Way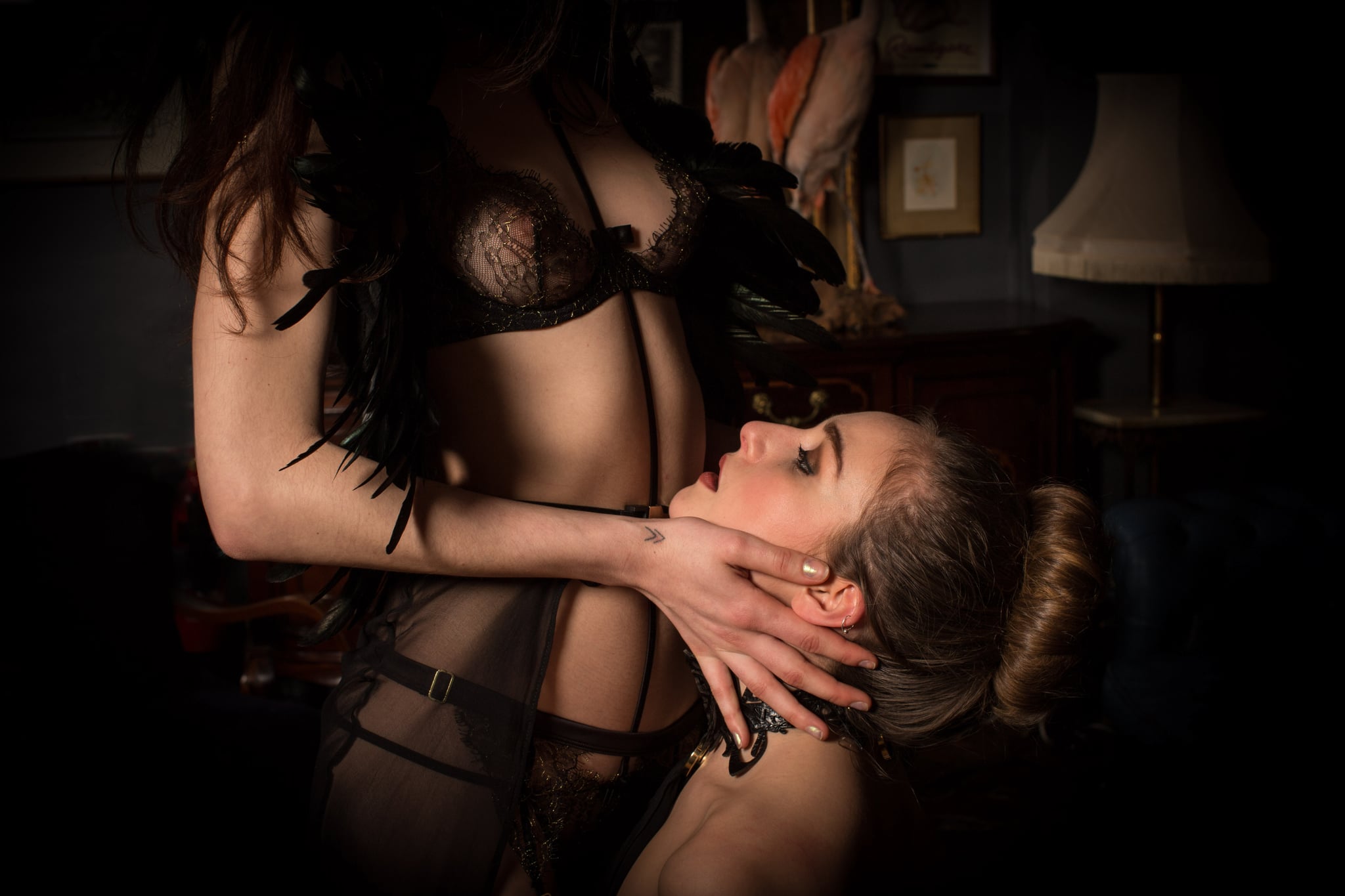 The guarded side entrance to a lounge I've been to a few times prior opened to its more intimate section that I had never appreciated before. Instead of blaring house music and a swarm of bodies, the space was only filled with a dozen gorgeous women dressed to the evening's theme: night temptress. My editor and I were greeted with a smiling welcome and a glass of sparkling wine, and we spoke with the founder of Skirt Club, Geneviève LeJeune. Sitting at the end of the bar in a black lace bodysuit and fitted black pants, Geneviève began to tell us why she started this females-only play party (which also doubles as a professional networking club).
Before launching Skirt Club in 2014 in London, Geneviève felt certain pressures as a bisexual woman. Her boyfriend at the time expected her to be comfortable with frequent threesomes and sex clubs where women are viewed more like prey and playthings than equal participants. Skirt Club was then born as a safe place built on trust, community, and empowerment — and free of inhibitions.
"Women should be in charge of their own sexual desires."
"Female sexuality is fluid — society is turning a page in modern-girl thinking of what 'sexual attraction' can mean. Skirt Club encourages that freedom of expression," she said.
Skirt Club is grounded in modern feminism and the promotion of confidence. No men are allowed. In the last year, Geneviève has chosen to only interview with female journalists because some male writers reduced Skirt Club down to a sensationalized orgy, stripping away the very empowering ideals it was founded on. "Men write stories about sex, and women about female empowerment, sexual awakening, and intellectual stimulation," she said. "In other words — real content."
Skirt Club appeals primarily, but not exclusively, to bisexual and "bicurious" women who want to explore their sexuality, sometimes for the very first time. But many members are actually in heterosexual relationships and come to these gatherings for various reasons, like wanting to reawaken their sex lives, or just because they are seeking a safe and fun time. "It most certainly gives them a sense of liberation and total control of their sexual desires," Geneviève said. "Plus, it's new territory and forces them to break out of their shell. Learning to flirt with a woman is a whole new skill set that can set your heart and nerves on fire."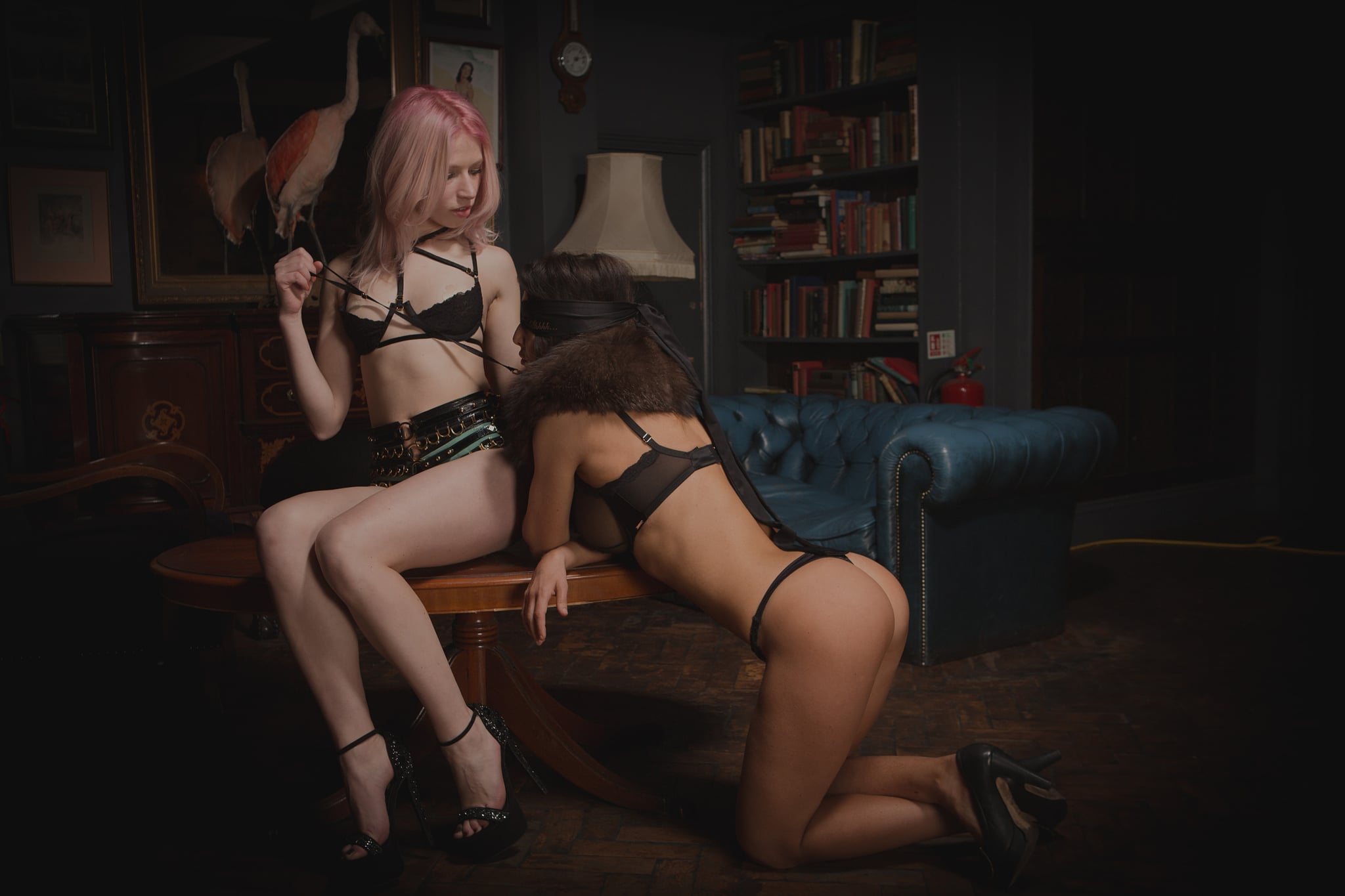 To become a club member, all applicants must complete an online form, as well as upload a photo of themselves. The only restrictions are age (21 to 49) and, well, men. According to Geneviève, the process is selective but fair and largely dependent on whether she is career-minded. Skirt Club's motto is, "Confidence in the bedroom leads to confidence in the boardroom," after all. Though membership is completely free, admission to its parties (about four to five a year in each city) are a hefty price of $150-plus, which covers the cost of renting out the venue (usually a luxe penthouse or loft), unlimited drinks, and other fees.
Its impressive roster of 5,000 global members — over half of whom reside in London — are spread throughout New York, Los Angeles, Miami, Sydney, and Berlin. We were only attending the launch party in San Francisco, where membership is already at 400. And because we were attending what they call a "Mini Skirt" party, or a teaser, I was only able to get a taste of what can be expected at an actual gathering, since no sex was allowed at the teaser party. But to give you an idea of what goes down, the official party fliers are signed off saying, "Away from the prying eyes of men, Skirt Club parties are designed to facilitate one night of consensual experimentation — no consequences, no questions, no expectations."
As more beautiful women filled out the space, my editor and I mingled with some other members. The one thing we noticed instantly was the diverse range of attendees.

Among us were fellow journalists, club performers, techies, and women of different sexualities, races, and body types.
It was by far the hottest assemblage I had ever been a part of. There was absolutely no cattiness, and each person would return your smile. Everyone looked so at ease, speaking as though they had already known each other, even though it was the inaugural party in our city. And for the first time in a club, I was unafraid to leave my purse and my drink unattended.
One woman we chatted with gave us some pro tips based on her experience at the Skirt Club events in New York. She recommended that we sit across from, instead of next to, our crushes for a better chance of landing on them in spin the bottle, which we later played. And she warned us that if we took a tequila body shot, the rule is that you have to get up on the bar next. Good to know.
After a quick scan, there were about 60 women around us by the time our entertainment for the evening was to kick us off. A scantily clad burlesque dancer performed for us in the main room, and this was the one exception when catcalling was fully encouraged. Geneviève followed the performance with a brief talk about Skirt Club, and after introducing the sex educator who was about to speak, she told us all to "explore on your terms."
Allison Moon, educator and author of Girl Sex 101, dove into an informative lesson featuring hair-pulling and spanking demonstrations and an intro to "p*ssy hugs," or rubbing your pelvic floor muscles, taught with a plush vulva. Like this evening, full Skirt Club parties always include entertainment and a guest speaker. A couple of Geneviève's favorites include a dominatrix who "persuaded 60 women to start spanking each other in a professional manner. The emphasis was on accuracy — well, at first . . . " and a tantra speaker who taught the seven types of orgasm, which "forced women to focus on themselves for once."
After some sex ed, we were all given dare cards to break the ice. Mine instructed me to brush the thigh of the girl next to me. And then we went back to our middle school roots for an innocent game of spin the bottle, where things really started taking off. Each of the three sections of the lounge were occupied by circles of now-well-acquainted friends. As the evening progressed, so did the intimacy.

There was discussion of careers as much as there was group spanking and making out on the dance floor.
Guests started to couple off, but I was still only witnessing the tamest of debauchery.
The premise of community and support in your journey of exploration is not at all a facade. The women were playful but respectful. Encouraging but never pressuring. When asked about a particularly memorable part of an event, Geneviève recalled a party in Miami.
"I have always been most touched by the story of a member who'd had a mastectomy and didn't want to take her bikini top off in the pool," she shared. "All the other ladies were splashing around frivolously, but this one was shy. When she explained her reasons, we convinced her to unleash, and each of us took turns to kiss her breasts better. I guess you could call it a healing ritual, but we gave her a lot of love, and the shyness was long forgotten."
If this was just a preview of what's to come, I'm looking forward to discovering what Skirt Club is all about.