What Is Thunder From Down Under Like?
Thunder From Down Under Was NOT What I Expected — in the Best Possible Way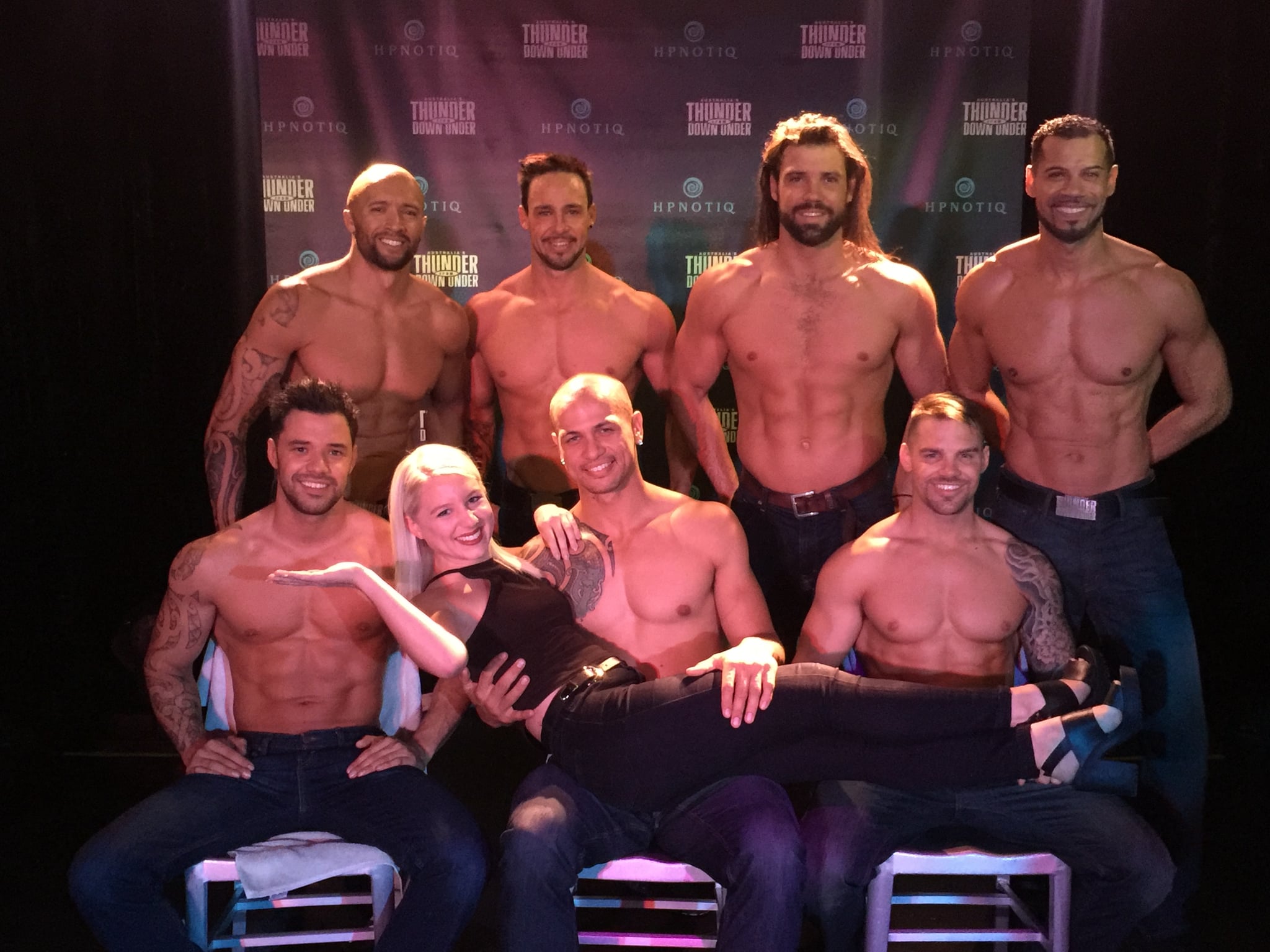 Hanging over the rock-hard shoulder of a chiseled shirtless male revue performer, I had a lot of thoughts and feelings as I was carried on to the stage. While my legs flailed in the air and I fretted internally about whether my belt was digging uncomfortably into the muscled back of the Aussie Tarzan look-alike, the room of bachelorettes, best friends, mothers, daughters, and, yes, grandmothers went by in an upside-down blur.
Thought one: will I or will I not slide gracelessly off this very attractive man's massive and very sweaty body and eat the floor of the dark show room while 100+ screaming women watched? Thought two: this is not what I thought was going to happen when I signed up for this. Thought three: I'm SUPER glad I signed up for this.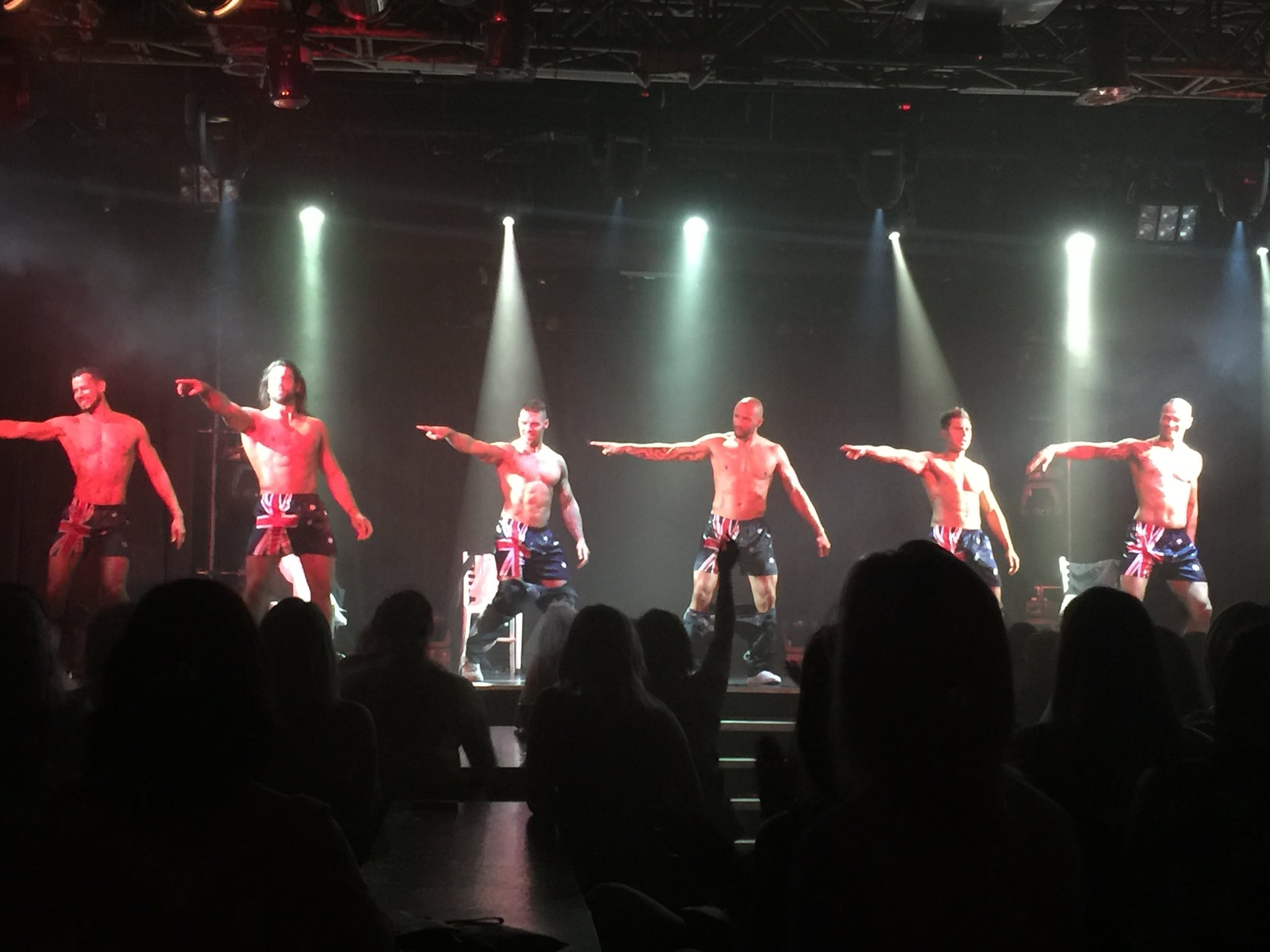 Hopefully you've been blessed enough already to know about Thunder From Down Under and their famous annual eye candy calendar. The all-Australian male revue (fancy way of saying a group of performers that are only sometimes fully clothed) travels internationally but is based in Las Vegas at the ironically family-friendly Excalibur Hotel. I attended the show with visions of Magic Mike dancing in my head, and while Thunder From Down Under has been around way longer than the movie franchise, it was not all that different — and as a not-so-secret fan of the films, I mean that in the best possible way.
On the one hand, Thunder From Down Under was exactly what I expected it to be — over-the-top, hilarious, interactive, and at times cheeky bordering on a little bit silly. But the show that featured almost 30 nearly naked men thrusting wildly to the rhythm of songs like "Save a Horse (Ride a Cowboy)" and, yes, "My Pony" had an element of something — instead of the predictable and obvious — that completely took me by surprise. The atmosphere felt . . . kind of empowering to women. Yes, you read that correctly. It was uplifting and all about women's fantasies, desires, and what they wanted to see in a show like this one. Which is probably why there are (thank god) no actual d*cks shown at all during the performance — the tease is better than than actual goods themselves.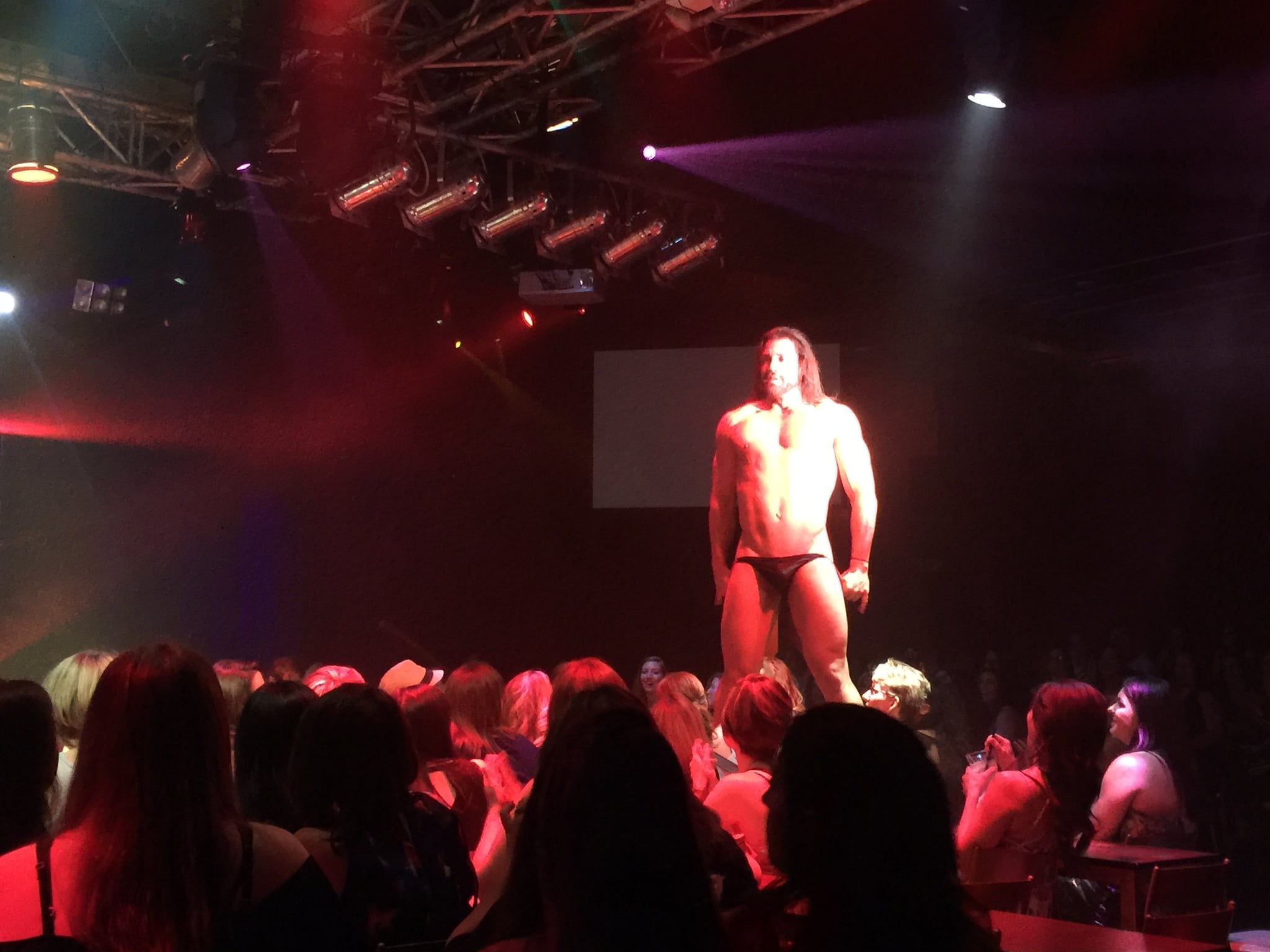 My preconceived notions of "adult shows" and stripping of any kind tend to be based on what I've seen in movies and TV shows, where women are depicted as objects waiting for dollar bills to be stuck in places dollar bills aren't typically stuck. I never really imagined shows like these as something that could be fun and light (and don't get me wrong — still very sexy), and I certainly wouldn't have guessed that they could be so positive.
But while Tarzan finished up my lap dance and my hands bumped along the ridges of his abs as he guided them down, down, down, I heard something from the crowd. "Get it, girl!" one woman yelled. "You go, girl" another added. "You're amazing!" I was greeted with fervent high fives as I returned on wobbly legs to my booth and realized there was a resounding support not only for the ridiculously attractive men gracing the stage, but for me — the woman who'd just been lavished with attention by said ridiculously attractive men.
As the show continued and various performers pulled a beautifully diverse array of women on stage for similar exhibitions, the encouragement, the cheers, the whoops, the laughs, and the smiles continued. There was an odd sort of solidarity for the sisterhood of women who found themselves in a safe space where they could enjoy and take part in what has traditionally been a form of entertainment tailored to men.
But this show, my ladies, is for us. It's inclusive and as tasteful as any show involving the choreographed removal of clothing can be. There are different types of dance, music, and, most importantly, men for everyone in the crowd. Groups of bachelorette parties can be found sitting alongside women with black "divorced" sashes proudly celebrating both occasions, and rather than an atmosphere of unnecessary raunchiness or gratuitous in-your-face sex, it's one of good, not-so-clean fun.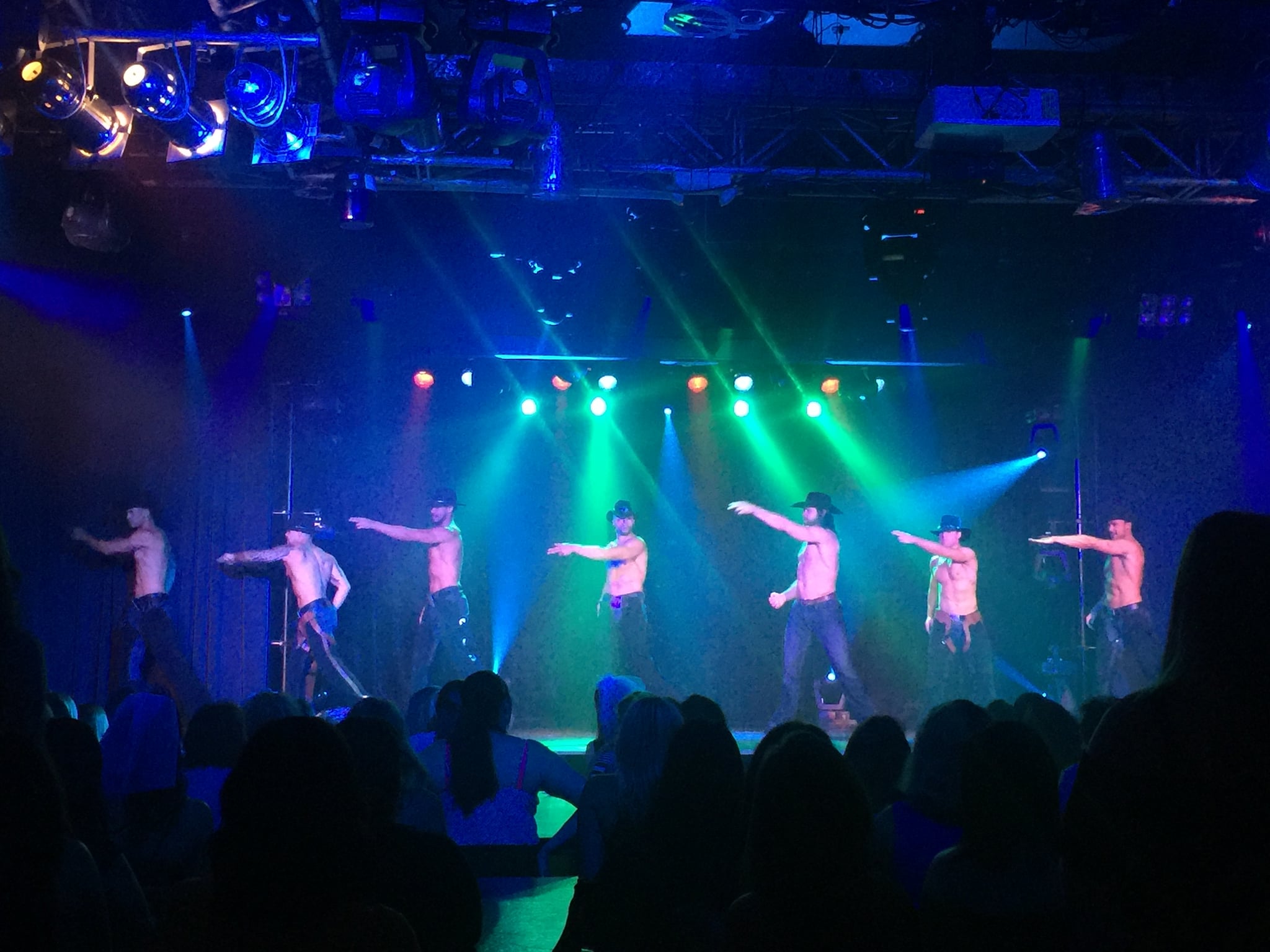 What's even better is that the male performers are actually enjoying what they do. They like each other, and they like what they do — and it shows. Their grins aren't plastered on for the sake of making an extra buck (tips are not allowed). After talking with a few of the guys backstage after the show (casual, I know), it was clear that they were here for the same reason the women watching the show were: to have fun. The guys even stay after the show to take photos and give out autographs to fans.
When I finally returned to my body/reality after the show, I was left with an overall appreciation for two important things: a. the male body at its absolute finest and b. the women around me who appreciated the male body at its absolute finest just as much as I did.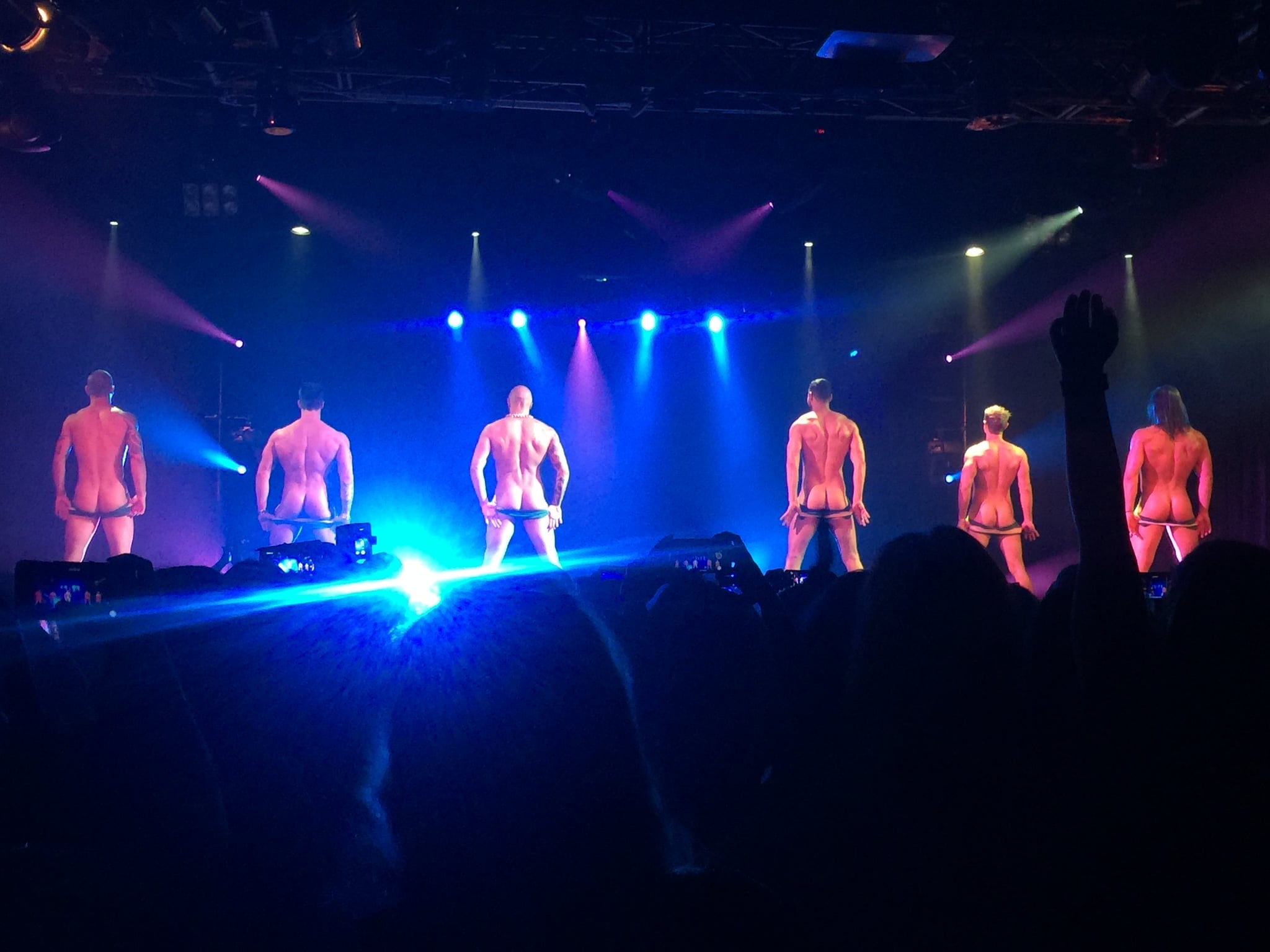 Image Source: POPSUGAR Photography / Hilary White