Woman With Cystic Fibrosis Has Her Dream Wedding
This Woman Found Out Her Days Are Numbered and Married the Love of Her Life While She Can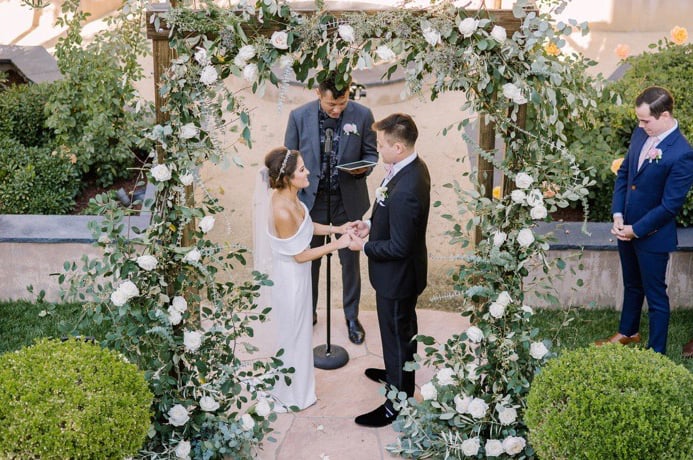 If you found out your days were numbered, what would you do with your remaining time? Caleigh Haber decided there was no better moment to marry the love of her life, Bryan Takayama. The 27-year-old has cystic fibrosis, a life-threatening genetic disease that affects the lungs, digestive system, and other organs and has already undergone a double lung transplant with hopeful results. Instead, her body rejected the new organs, and she's currently in need of a second transplant — a procedure that has been denied to Caleigh because of the rare chance of her surviving it.
Though regular hospital visits have been a normal part of Caleigh's life over the past nine years, it wasn't until her visit on Oct. 20 when she really had to begin thinking about optimizing her future. Instead of throwing their engagement party on Oct. 28 as planned, the couple jumped on the opportunity to expedite their dream wedding and tied the knot seven days later, with the help of donations.
"Our wedding day was even more spectacular than I imagined," Caleigh told POPSUGAR. "It was incredible to see my online community join to help us celebrate our love with friends and family. With a timeline of being married in six days, I prepared myself to rid of my OCD habits and know not everything will go 100 percent as planned. But it was absolutely perfect! We wouldn't have been able to make our dream wedding happen without every person who donated their time and services! We are so blessed! The night was filled with overwhelming love and gratefulness!"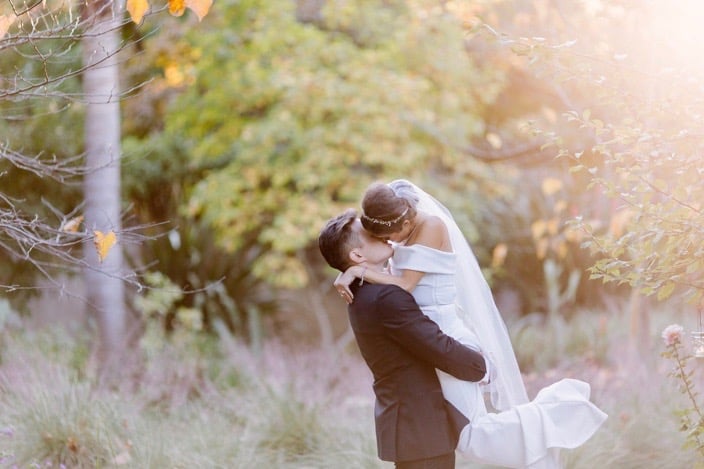 Bryan, 25, met Caleigh a year ago and has been by her side helping her through the weight loss, breathing difficulties, and now, kidney failure. Now as husband and wife, the two are defining "in sickness and in health" as they choose to make the most of their time together. Caleigh refuses to allow her latest diagnosis and the fact that she may not see her 28th birthday prevent her from living life her way.
"While health is usually a second priority in most relationships after fun, romantic, intimacy, and adventure, it is always number one in ours," Caleigh told us. "We understand that health, and therefore life, can change in any single moment. We can go out on a date to dinner and come home and within a few be in the emergency room. Our life is unpredictable, but the struggles enable us to bond as we lean on one another for support, hope, and positivity."
In addition to Caleigh documenting her journey on social media (fight2breathe), Caleigh's friend and bridesmaid, Tiffany Au, created a GoFundMe page to help pay for the couple's 10-day honeymoon in Hawaii. At the time of writing, nearly $26,000 has already been raised of their $35,000 goal. On their trip, Caleigh will require 24/7 on-call care, which won't be covered by state insurance. Donations will go toward treatments and blood work during their stay in Hawaii and any remaining funds will support the rest of her medical costs, as well as those of others suffering from cystic fibrosis.
In the case that other hospitals also deny Caleigh the life-saving lung transplant, she says their next move would most likely be to relocate to Hawaii and make the most of their time together there. Though the couple have yet to set their honeymoon date, they hope to go in the new year if Caleigh's health permits.
"I went to Hawaii two years ago to celebrate the success of my first double lung transplant and the islands brought out the best qualities in myself and family," Caleigh said. "I cannot wait to share the island lifestyle with my husband!"