10 Expert Tips For Your Bridal Boudoir Session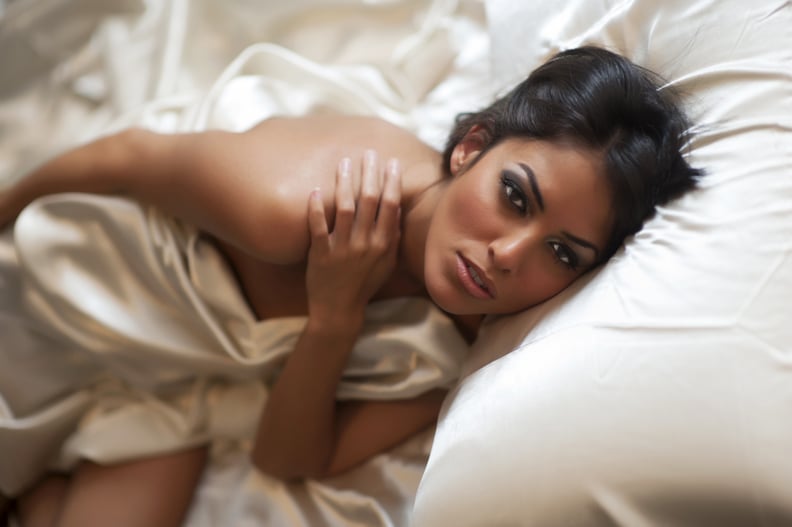 Get your spouse-to-be excited with a hot photo session for their eyes only. Boudoir photos make the sexiest wedding gift anyone could ask for, and with so much attention on the bride, the groom deserves a lil love. Not sure about stripping in front of a camera? We've got you covered. Photographer Cherie Steinberg of The Boudoir Cafe is offering some of her expert tips for taking provocative pics your love is sure to appreciate. Here are her top 10 tips for a bridal boudoir session:
1. Research Your Photographer
"I can't stress how important it is to research your photographer before making a decision," Cherie says. "Read their website, social media profiles, and customer reviews to make sure they are professional photographers with a vision similar to your own. Look at the photographs on their website and see if the photographer is directing their clients or just snapping pictures. Any good photographer will have a team, a studio, and a hair and makeup person. I always have numerous conversations with each client before a shoot to make sure they are prepared and comfortable. Your photographer should do the same!"
2. Research Your Style
"Know what you like!" Cherie stresses. "Are you more of a Dita Von Teese or a Gisele Bündchen type of girl? Before the shoot, pull photographs from magazines and the web that you love and send them to your photographer. It could be a person, an outfit, a pose, or even special lighting that you love. Make sure your photographer sees it before the shoot so they are prepared to give you the look you want."
3. Know Your Groom
"The idea is to knock his socks (or pants) off, right? Know what turns him on so you can become his fantasy in your photographs." Cherie adds, "Some guys are into costumes, others prefer a more classic look. Show him what he wants to see!"
4. New Wardrobe
It's all about the element of surprise, notes Cherie. She says, "I love when a girl shows up to the studio with a new piece of clothing she is excited to wear! Chances are, if she feels amazing in it and thinks she looks good, her groom will, too. Ditch the old stuff and play with the element of surprise and fantasy with bras, panties, garters, etc. your groom has not seen before."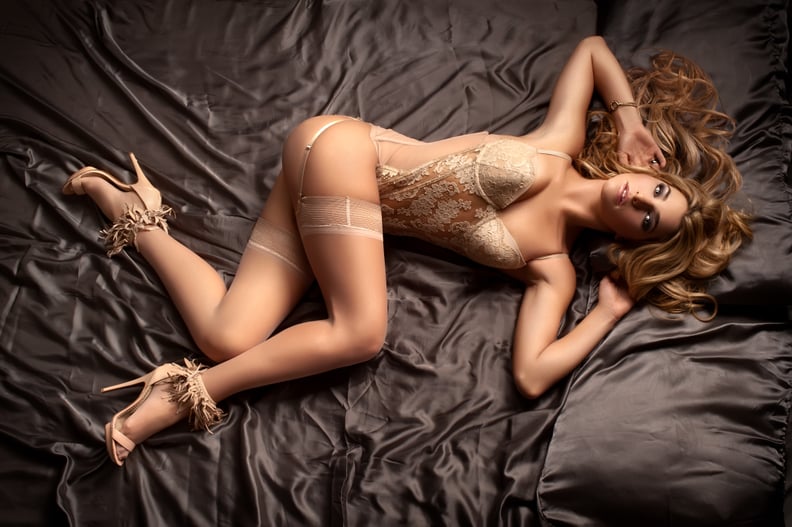 5. Think Sexy
"Before the photo shoot, practice looking sexy in the mirror," Cherie advises. "Find your best angles, features, and looks. During photo shoots, I like to tell my clients to think about their groom and seducing him on their wedding night!"
6. Hair and Makeup
Don't forget the beauty prep, Cherie adds. "Just like on your wedding day, you want to look your absolute best in your photographs," she says. "As I mentioned before, a good photographer should have a professional hair and makeup team to prepare you in their studio. It will cost a bit more, but it's worth it!"
7. Keep It Fun
Remember to enjoy the moment. Cherie says, "When we have boudoir shoots it is a party . . . and it should be! Everyone is having fun. I encourage my clients to bring their favorite playlists, fun props, and of course, we provide the wine!"
8. Show Your Best Side
"Make sure your outfits and poses showcase your best features," Cherie explains. "I provide each client with very detailed information and tips for their shoot, including their day-of preparation for getting ready. Make sure your photographer does the same to make sure you are fully prepared. This will make you feel more comfortable and ensure you show your best side in your photographs."
9. Be Adventurous
"Take risks! You will only regret the risks you don't take," Cherie notes. "Go places your groom would not expect you to go. It is important to always feel safe, but taking it just a tad beyond your comfort zone will surprise you and your groom. It is your photographer's job to push you, but also ensure that you feel safe and comfortable at all times."
10. Be Confident in Yourself
And Cherie's most important tip: "It's all about YOU! Your sexiness, your beauty, your femininity. Celebrate it and have a blast in the process!"
For even more big day advice, check out her ebook The Art of a Wedding that's jam-packed with wedding photography insight.