Country Star Brett Eldredge Is Fine as Hell, Hilarious, in Love With His Dog, and SINGLE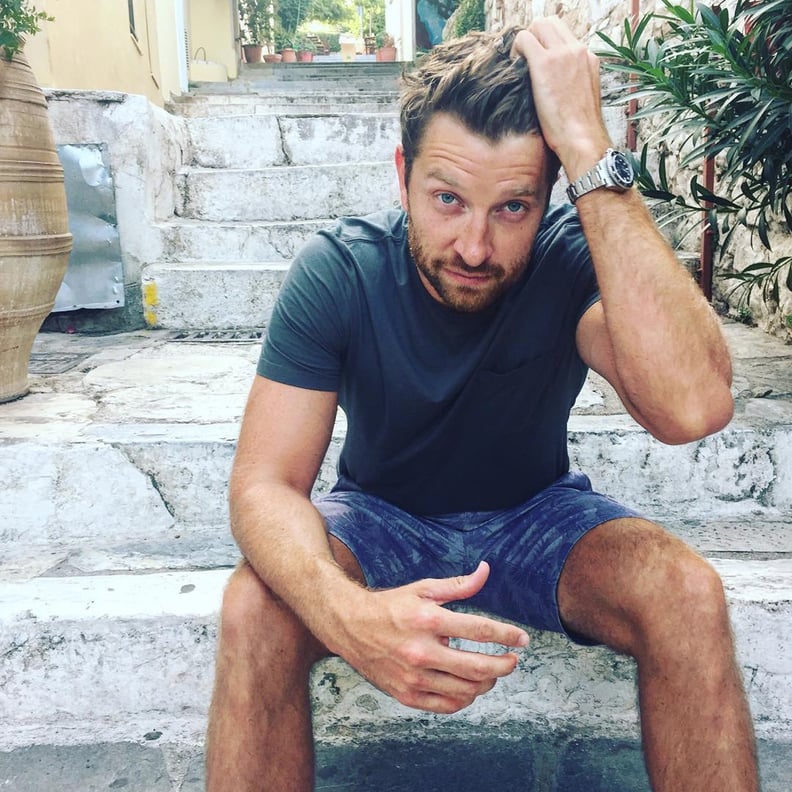 Are you ready to meet your new country boyfriend? With his third studio album out Aug. 4 (available for preorder here!), 31-year-old singer-songwriter Brett Eldredge is no newbie, but his star is rising, and fast. When we say he's "one to watch," we mean that quite literally. He's got the looks department down with those come-hither baby blues, a sculpted body (we don't hate his beach pics), a bit of scruff, and an easy smile, but scroll through his Instagram (or Twitter or Snapchat) and it's easy to see why he has such a loyal social following — it's the sweet photos with his mom; hilarious videos of his ridiculous shenanigans; adorable photos and videos of him cuddling his dog, Edgar; and home videos of him serenading the camera (aka "bedhead jams") that prove he's the total package.
I spoke with Brett about his new album, what he's looking for in a girlfriend, his complicated relationship with social media, and, of course, the love of his life — Edgar. Keep reading for the interview, and we dare you not to crush hard for this budding heartthrob.
POPSUGAR: Your self-titled third album is coming out Aug. 4. What's the one thing that you hope fans will take away from this new album?
Brett Eldredge: I hope that they see that I dug a little deeper on this album and that I opened up a lot more with my thoughts on love and relationships, the battle of trying to find love and falling out of love, and just the honesty of this album.
PS: Is there a lesson that you learned in the process of working on this album that you could share with anyone who also might be dealing with heartbreak?
BE: The last song on the album is called "Cast Away," and it's about how we overthink love and always run from it until we find out that we get so far away from it that we can't live without it or we need it to move forward in life. There's always that want for love. There's always that want to run, too. It's like being stuck in between, and how do you find that happy place? We're all stuck there just trying to find love. It's just how you find it and when you find it. If you have the want to find it, eventually, I believe in my heart that it will come around.
Maybe I'm not in love at the moment, but I am writing songs [that express] what it will feel like when I do find that. I hope that people who have already found love or need to be hopeful in finding it can hear that and be like, "Oh [yeah, I can relate]." Because that's my favorite thing about music, is relating in a way that's like, "Man. I'm not the only one out here that's feeling like they're stranded on an island, finding stuff, looking around like, 'I guess this is how it's always going to be.'"
PS: Are there any songs where you snuck in a mention of your dog, Edgar?
BE: Yeah [laughing]. I had written a lot of the record by the time [I got him], but he's in a little piece of everything because he makes me smile every day. I've never really owned a dog fully myself, so just the simple, unconditional love you can get from a pup will brighten your day. Not like you're going to write the most magical song because you saw your dog, but every little thing that can turn your day around is a good thing. So I feel like Edgar's in a lot of these songs.
PS: If you were to write a song about Edgar, what would it be called?
BE: "How Are You So Much Like Me?" [Laughing] He's got the same personality as me. It's crazy.
PS: So you recently hit a million followers on Instagram, congrats! As an active social user, what do you love most about this new era of social media?
BE: I love taking people for a ride. I always imagined what it would've been like to see some of the stars you grew up listening to and idolizing, if you could look through the lens of their everyday life: checking out what they do when they wake up, how they live, what they do. What kind of random stuff do they do at the gym, when they go to the movies, when they're hanging out with their dogs. Well, now you can show that.
Sometimes I'm like, "Well, maybe it throws back the curtain too much and shows too much," but at the same time, I'm like, "I'm an open a book as it is on a lot of that kind of stuff." To my fans, I am more open than I would be in a conversation. I'm really able to be myself on social media, and I'm thankful that my parents don't think I'm too crazy for doing this [laughing].
PS: What's your least favorite thing about social media?
BE: My fans are expecting to see me on there all the time. When I take a day or two off, they're like, "Oh, where did you go? I haven't seen you [in a week]. We need to see you." So I started telling them there'll be some days where I'm just not on there, because I just need a day off, or I can't sing "bedhead jams" today because I've got to save my voice. I used to do "bedhead jams" every day, but it would take so much creative energy to create these things. Then I have to do six hours of interviews. So now I do them like a couple times a week instead of every day. You learn the ways of doing it while still giving your fans what they want and wanting to get out there and sing your songs, promote your songs, and just promote the love of music, and also live your everyday life. Finding that balance is a big thing, and I think I've really found that in the past year.
PS: It's also pretty clear you've got a lot of adoring female fans on your Instagram. How do you feel about this level of heartthrob status that you've reached?
BE: It's so funny to me. I'll read the comments sometimes and I'll just laugh because I make fun of myself all the time. Seeing everybody [say things like], "Oh, he can do nothing wrong," or whatever. It's like, "Are you kidding me [laughing]?" I do stuff wrong all day long. If they like me for me, then I love that. If it's heartthrob-worthy, then I guess I'll just keep being me. That's all I know how to do. But it does make me laugh sometimes. A lot of times.
PS: What are the qualities that you look for in a partner?
BE: It's weird because my persona with the public is very high energy, and I am like that, but I'm shy at times, too, because I have to go recharge. When I have my time to go on a date or look for that person, it's like I'm out hiking with my pup or something. For me, it's somebody that's adventurous. Somebody that's very spontaneous, that is not afraid to just roll with life. I'm not always the best planner, but I can have one hell of a spontaneous time with my approach.
PS: If you could collaborate with any noncountry artist, who would you choose?
BE: Oh, man. I really like John Mayer. I've just always loved John Mayer. I love that he kind of mixes his soulful, very bluesy side with the pop side, with the vocal side. He's kind of a mesh of a lot of music that I love. He's always been a major musical influence for me, so I've always thought that he would be a fun one to get some of that bluesy, soulful side out that I've been inspired by because of his music.
PS: Do you have a go-to karaoke song?
BE: "No Diggity," no doubt, all day long [laughing]. Blackstreet.
PS: Do you ever get nervous before performing? And if so, do you have a method for relaxing?
BE: I [used to] go meditate right before the show, and then I figured out the best way to get out of your head and into your life. Get out of thinking about, "Oh, there's 3,000 people out there, and you got to be perfect in front of them. You got to sing every note right, and you got to move every part of the stage right." It's like, "Just go have fun." So I started having a preshow dance party [laughing] with the whole band. We'll dance to the most ridiculous songs possible before a show. Once you've made fun of yourself and danced the worst dances you can possibly think of, you're loosened up, you're ready for a show, and you don't really think about all the things you were thinking about before.
PS: What are the three things you can't live without?
BE: Let's see. Well, my dog for sure, Edgar. I would say the outdoors — hiking, fishing — and I would say the beach, islands, anything beach-related.
PS: What's one thing you would never turn down?
BE: What's one thing I would never turn down? Mm-hmm. A yacht [laughing].
PS: Boxers or briefs?
BE: Boxers.
PS: Would you ever live with a cat?
BE: No [laughter]. I'm allergic to cats, so I would have a lot of trouble. I'd have to get an injection. It depends how sweet the girl was and how much I loved her, and it would have to be a really special girl because I would have to get injections for allergies every day or something.
PS: Do you have a guilty pleasure?
BE: Fro yo.
PS: What's your biggest quirk?
BE: Oh, man. I'm trying to think . . . spontaneous goofy dances [laughing].