The Golden Girls Solve the Mystery of the Missing Cheesecake in a New Version of Clue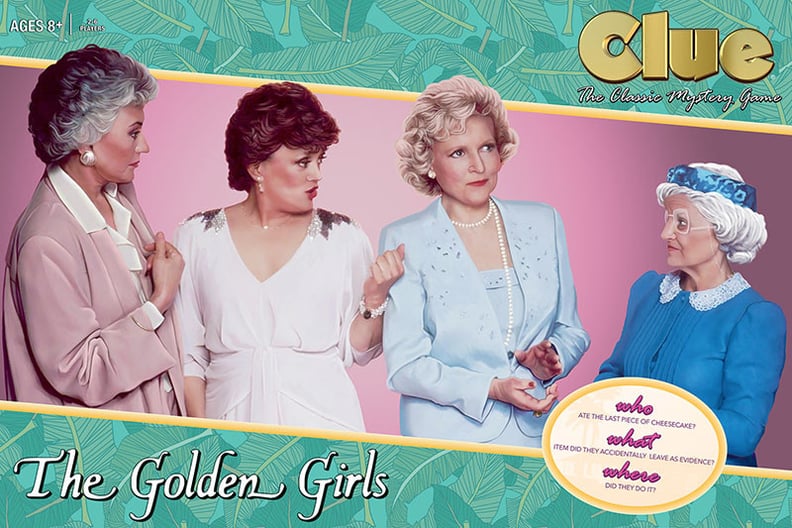 Grab your girl squad and a box of wine, we've got your weekend plans covered. USAopoly, the company behind all the pop-culture-themed board games you could dream up, is releasing a Golden Girls edition of Clue, and you can bet your ass we'll be buying it. With a description like this — "players attempt to solve the crime of WHO ate the last piece cheesecake, WHAT they left at the scene of the crime, and WHICH room they did it in" — how could you not?
There's no official release date yet, but take a peek at the game inspired by our favorite feisty over-50 foursome now and try to contain your excitement.
The Game Setup
The game includes:
Custom Illustrated Game Board
6 Suspect Personality Cards With Custom Gameplay
6 Custom Metal Tokens
Rumor Cards Featuring 6 Suspects, 6 Weapons, and 9 Locations
6 Custom Movers
Distraction Cards
Custom Scoring Pad (Clue Sheet and Envelope)
Instructions
The Tokens
These tokens put the standard Clue tokens to shame. The set includes the essentials for a fun Friday night: hairspray, robe, purse, lipstick, comfy chair, and fuzzy house heels.

The Pieces
Choose between Dorothy, Rose, Blanche, Sophia, and two mystery men.