It's Official: Hard Launching Your Relationship Is Back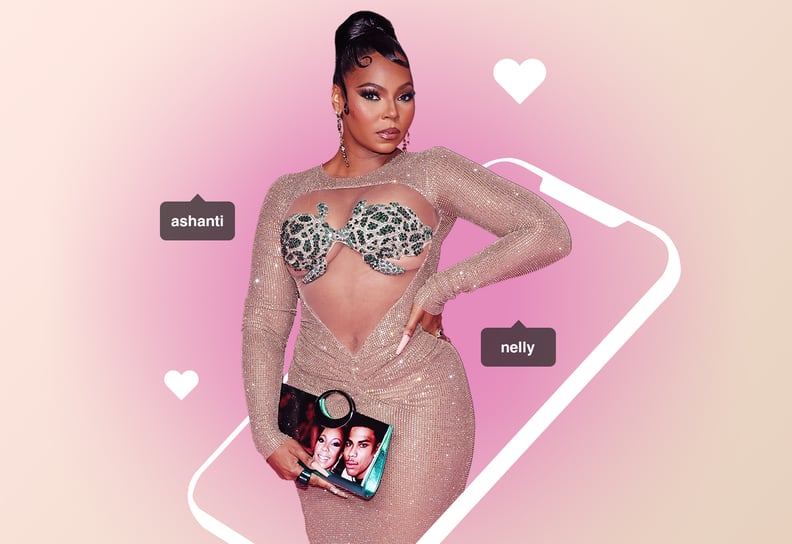 Celebrity Image: Getty | Jamie McCarthy
Photo Illustration: Becky Jiras
Celebrity Image: Getty | Jamie McCarthy
Photo Illustration: Becky Jiras
In the age of social media, announcing your relationship to the world is a BFD — and really, there are only two ways of doing it. You can post a sly Instagram Story at dinner with your partner's hand only partially in view, or you can wear a purse with your new partner's face on it. There is no in-between.
In other words, you can "soft launch" your relationship, which is what happens when someone subtly hints that they're off the market. Or, you can do the opposite, and "hard launch" the relationship by making it explicitly and painfully obvious you're taken.
Although soft launching has been the trendier thing to do as of late — maybe because TikTokers have been embracing the "private but not secret" kind of love — people are, surprisingly, starting to go for the hard launch. Especially celebrities.
At the VMAs on Sept. 12, Ashanti confirmed that she and former flame Nelly have rekindled their romance by holding a clutch with an old picture of them together on it.
"Say what you want, but these grand gestures of love are actually kind of iconic."
This isn't the only instance of a celebrity couple hard launching their relationship this year. Remember when Eric André announced his relationship with Emily Ratajowski by posting an NSFW photo of them on Valentine's Day? And when Naomi Watts hard launched her nuptials on Instagram without any prior confirmation she had even been dating anyone?
Say what you want, but these grand gestures of love are actually kind of iconic.
Sure, hard launching comes with a risk, because if the relationship doesn't work out, you may feel embarrassed by the grand gesture and have to put up with "what happened?" DMs. Some people might also consider hard launching a bit showy, while others even argue that relationships are healthier when they're not posted on social media at all.
But the thing about a hard launch is that it positively affirms your partner and the relationship you have with them. (Someone tell Bad Bunny this, pls.)
Compared to cryptic soft launching, a hard launch makes it clear: I am in a relationship with this person. You're not hiding your partner; you're showing off your relationship and the love you have for this person with zero doubt and ambiguity. It confidently says, "Yes, here's my partner, that I love enough to share" vs. "Here's a random hand, but you're going to have to Insta stalk to find out who it is." In an era where the "fizzling" dating trend has become the new normal, there's something kind of beautiful in that honesty.
As to why the "hard launch" is picking up steam? Who knows. It could be that people are beginning to feel more confident in their relationships now that they're meeting people off the dating apps; they don't feel as disposable as a right or left swipe, so they're more willing to go all-in on a relationship versus being unsure about sharing the news. It could also just be that a hard launch seems much more like a hard launch when you're already being private about your relationship and selective about what you post on social media. Either way, it's clear that the hard launch is here to stay.
And truthfully, whether you're pro hard launch or prefer the subtleness of a soft launch, the choice is up to you. You may not have the opportunity to wear a purse with your new partner's face on it at the next award show, but simply tagging your new partner in a photo could be the next best thing.