Every Harry Potter Fan Needs to See The Magical Details of This Themed Bridal Shower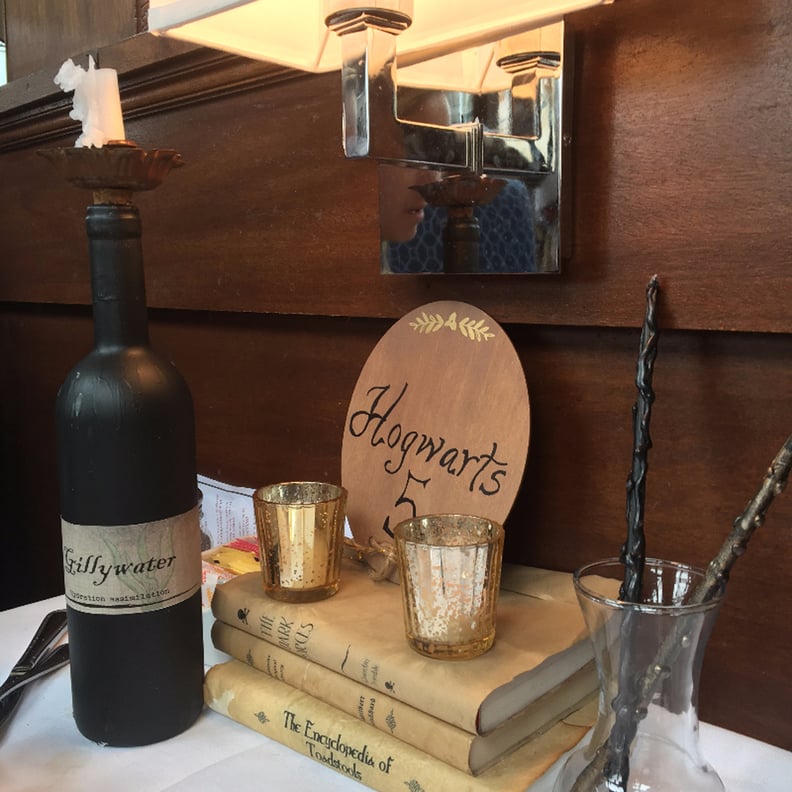 POPSUGAR Photography | Becky Kirsch
POPSUGAR Photography | Becky Kirsch
Colleen has been enchanted with the wizarding world since she first picked up Harry Potter and The Sorcerer's Stone at 8 years old, so when it came time to plan her bridal shower, her mom and sisters knew exactly where to look for inspiration. Her mom, Donna, started prepping, planning, and spending a lot of time on Pinterest months in advance, to make sure all the details were perfect. The result was a shower that was almost like a trip to Hogwarts, complete with butterbeer, potions, and more.
The details are impeccable: nearly everything was handmade by Colleen's friends and family, including invitations with the official Hogwarts wax seal and dozens of hand-crafted wands. Each table had its own theme — Hogwarts, Ravenclaw, Potions, and the like, and came complete with its own set of accessories, adornments, and edible golden snitches. The bride has a huge sweet tooth, so a candy bar was set up to pay homage to Honeydukes, chocolate frogs, and the most incredible Harry Potter cake you've ever seen.
The theme was kept secret, and guests were wearing Harry Potter pipe-cleaner "glasses" when Colleen arrived. Naturally, the theme made the milestone all the more memorable for Colleen, who said, "I walked into the restaurant to the Harry Potter theme song playing and 70 women smiling at me and wearing Harry Potter glasses. It's something I will never forget and will always cherish."
The best part? Colleen's family was able to convince her fiancé, Dan, to dress up as Harry Potter for the big reveal, even though he doesn't exactly share Colleen's devotion to all things Hogwarts. Now that's true love.
— Additional reporting by Haley Lyndes