How to Navigate Joint Pet Parenting Post Break-Up
How to Navigate Who Gets Custody of the Pet In a Breakup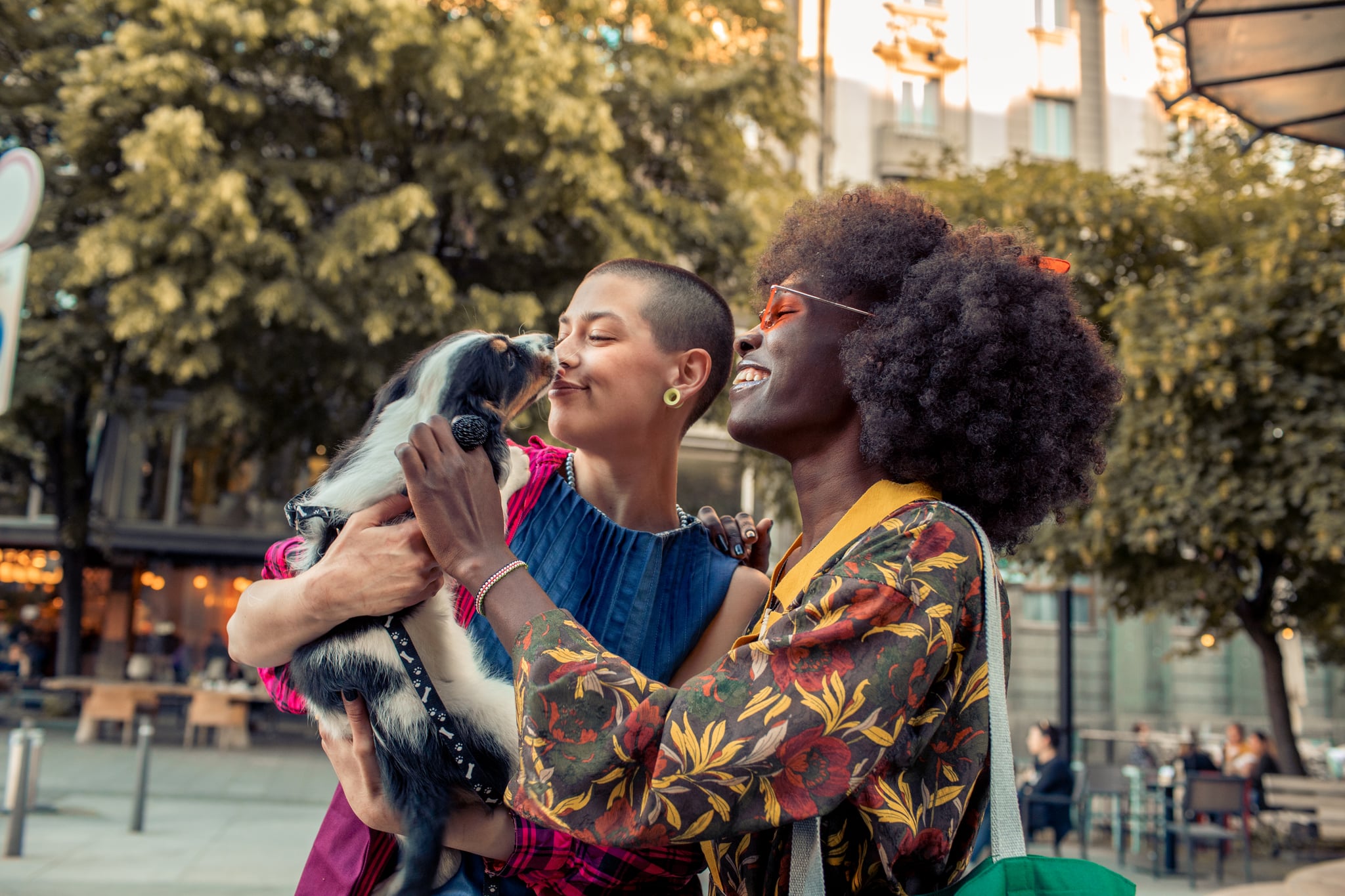 Marnie and her husband loved their dog, Dempsey, like a child, particularly because they had difficulty trying to conceive — "He was our baby." The first thing they did after separating was sit down at the nearby sushi restaurant in Los Angeles for lunch to figure out dog custody: dates, financial responsibilities, training, messaging, and diet.
"It wasn't always easy seeing each other, and it broke my heart not to have Dempsey with me when he was with my ex, especially since we continued to live in the same building," Marnie shares. "What made our coparenting successful was putting our differences aside and our pup's needs first."
Over the years, Marnie began to look forward to meeting up with her ex to check-in. "We started opening up to each other again and forged a new relationship built out of love, respect, and friendship," she says. "This may not be the path for everyone, but pets are miraculous healers, and this was another way our dog gave us a way back into each other's lives." Eventually when Marnie's ex decided to move out of the country, Dempsey stayed with her. "When he visits the States, he spends time with us," Marnie says. "I imagine that must be difficult, but his love for Dempsey is clear."
Marnie isn't the only one navigating joint pet parenting after a breakup. According to family law attorney Stephen Cawelti, pet custody battles are on the rise. For example, in January former "Dancing With the Stars" pro Cheryl Burke finally won full custody of her dog Ysabella after being stuck in an ongoing legal battle with her now ex-husband. Burke captioned a post on Instagram with "Officially a FULL TIME dog mom" in celebration.
In recent years, some states — including Alaska, California, and Illinois — have passed bills that consider the "well-being" of pets in divorce cases where joint custody schedules are assigned to suit the pet's best interest. So despite what "Legally Blonde" taught us, there's a bit more to the custody process than yelling "I'm taking the dog, dumbass!" (unless you're Jennifer Coolidge, of course).
Breakups can be stressful enough without factoring in pet parenting. So POPSUGAR spoke with experts on how to navigate the tricky situation so that everyone — including your fur baby — feels safe and cared for.
How to Share Custody of a Pet
When deciding on a plan for pet custody, the first thing to consider is the pet. "Each dog has a unique personality and it is the responsibility of their owners to understand what lifestyle they will thrive in," Corina Witkowski, professional dog trainer and animal behaviorist, says. "Putting an anxious homebody through the stress of constant change isn't going to be healthy or enjoyable for them; however, the exciting lifestyle of bopping around from parent to parent and place to place might be super enjoyable and enriching for a stress-free social butterfly."
If the two parents can collaboratively choose an option that works best for their pet, the outcome will be a healthy coparenting experience. Unfortunately, in some toxic relationships, pets can wind up being pawns for abuse. "In domestic violence cases, a perpetrator may attempt to take the dog as a form of control, forcing the survivor to interact with them," Ariel Landrum, a licensed marriage and family therapist, says. If it has to be taken to court, a judge will review several factors including which spouse paid for the pet and its day-to-day care, which spouse spends the most time with the pet, and if the pet provides emotional support.
How to Prepare For Being Separated From Your Pet
Having to sever or change a pet relationship is difficult, Landrum warns. "We must expect to grieve and consider routines that don't involve our beloved pet," she says. Some pet parents attempt to "move on" by getting another pet, while others with shared visitation may want to increase visitation in the beginning and slowly taper to a more sustainable schedule over time.
Landrum has experienced this transition herself, sharing custody of her half-husky, half-Australian shepherd, Blu, for almost five years. "My ex and I ended our relationship amicably, which helped immensely in the shared custody of Blu," she says. "We collaboratively worked together on solutions." But still, it was hard. Know that some people may not agree with your decision to coparent your pet — and that's OK. "The biggest struggle was getting family, friends, and our new partners to understand the arrangement," she says. But eventually, they came around. "Once everyone saw our love for our dog, they stopped projecting that the arrangement was an excuse to stay connected to one another."
How to Make the Transition Easier on Your Pet
The key is to start with the least amount of change as possible, like keeping up with their typical routine around walks and food, even if the pet has changed locations. "Have patience with them and understand that you might experience some challenges," Witkowski says. "It is not unusual for a dog under stress to show new behavioral issues. If you or your pet are struggling, take a look at the big picture and evaluate if the lifestyle you chose for it is the right one."

If the pet is moving households, they need comfort objects that smell like their old home and their other owner. "This could be toys, blankets, laundry of dirty clothes strewn about the house," Landrum says. "Creating a sense of structure and normalcy will make the experience more predictable for the pet, making it easier to transition." Some pet parents may need to discuss getting medication for anxiety with a vet or investing in items like calming spray or a thunder jacket.
Also, pet parents should monitor their fur baby's mood to determine if joint custody and its frequent back and forth is too much for the pet to handle. "Look for things like lethargy or a regression of their training (e.g., accidents in the house, shoes chewed up, etc)," says Bergen Pierson, LSW, licensed psychotherapist with a certificate in Human-Animal-Environment Interactions in Social Work. "Like human children, each pet's resilience level will be different. If this regression persists after the first few weeks, reconsider the arrangement. In those situations, I recommend that one parent have full custody with regular (and scheduled) visitation rights for the other."
Essentially, routine and predictability is crucial. "Healthy boundaries are important not just for the couple post-break up, but also for the pet," Pierson says.

Image Source: Marko Geber / Getty