LELO's New Vibrator Is Powerful, Compact, and Discreet Enough For Your Carry-On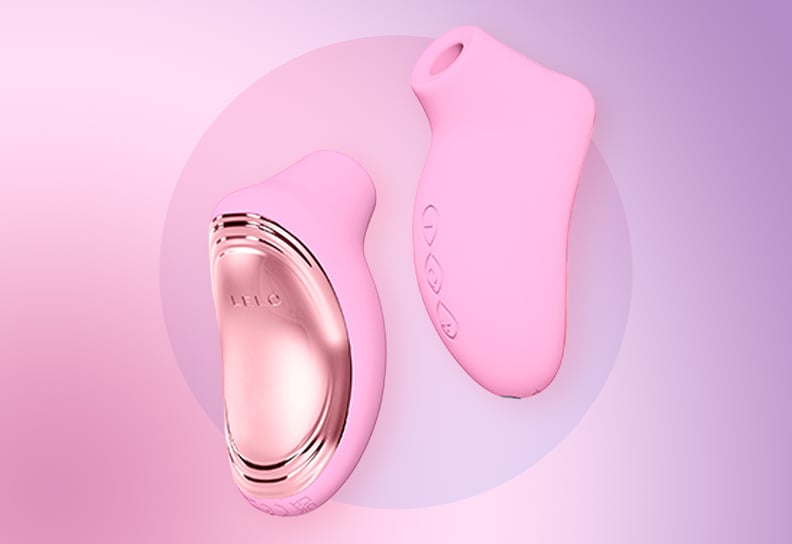 Product Image: Lelo
Photo Illustration: Aly Lim
Product Image: Lelo
Photo Illustration: Aly Lim
As POPSUGAR editors, we independently select and write about stuff we love and think you'll like too. If you buy a product we have recommended, we may receive affiliate commission, which in turn supports our work.
For me and many other folks with vulvas, having a travel-friendly sex toy is a must. After all, we've got needs whether we're at home or on vacation. As a sex and relationships writer, I've made it my personal mission to find the perfect sex toy for every trip through TSA, and I think I've finally found it. Enter: the LELO SONA 2 Travel ($99).
If you know me, you know that I've always been a huge fan of LELO. Even before I began my sexual writing journey, I recommended the luxury toy brand to all of my vulva-having friends. So when I found out they were adapting my most loved toy into a travel version, I was more than ready to put it to the test in the bedroom — and most importantly, in the airport.
For context, I'm someone who travels all the time. I'm in an LDR with my fiancé and a bit of a digital nomad, so I'm on a plane at least twice a month. Most recently, I decided to pop the SONA 2 Travel in my small carry-on bag on my latest trip to California to visit family and bring it through TSA.
While I'm not new to taking sex toys through security, I found that I did feel a new sense of ease traveling with this vibe. It's compact, but it also locks — a key travel-friendly feature — so I felt reassured it wouldn't start buzzing around in my luggage.
During my brief stint through TSA pre-check, I did leave a water bottle in my bag, so when I got through to the other side of the security machines, the security agent opened my bag up. But they didn't say anything about the toy. After all, it was in a small satin bag that LELO provided, making it in inconspicuous. I didn't find that I had anxiety about it, unlike when I traveled with bigger toys, and it felt natural and easy to carry in my bag. No one would ever notice. In my opinion, that's exactly what makes a perfect travel toy.
What I Love About the LELO SONA 2 Travel
I'm a long-time fan of the original LELO SONA Cruise ($99), a clit-sucking vibrator that is meant to feel like a sucking sensation, and the LELO SONA 2 Travel proved to be just as powerful. It's like a mini Cruise, with the same oval shape that is easy to grip and a suction that fits snugly to your body. I personally love that it feels like a smaller, easier-to-travel-with version of what I already know and love. They don't have to reinvent the wheel for it to be great.
"It feels like a smaller, easier-to-travel-with version of what I already know and love"
I also really love that it has the same 12 modes of vibration and patterns: a long vibration, a pulsing, a gradual increase, faster pulsing, steady pressure, and more. Any vulva-haver who uses it can make it their own, finding something that will help them reach climax and discover new ways to experience pleasure.
Last but not least, how compact this sex toy is truly makes it a fave. It's actually a mini, and I think its size is so adorable. Unlike the Cruise, the SONA 2 Travel fits right in the palm of your hand and fits anywhere: a suitcase, a carry-on, or even in a small purse. It's truly versatile and discreet. Plus, its lockable function to prevent buzzing in your luggage is amazing.
What's Worth Noting About the LELO SONA 2 Travel
What makes the LELO SONA 2 different than other travel-friendly toys out there? It features an updated version of the technology that the brand has become known for: its sonic waves. When you use the toy, the technology allows you to experience clitoral stimulation without even making direct contact with your body. For example, if you even slightly hover it over your clitoris, you can still feel waves of pleasure. It's nice for people who want to control the intensity of the experience and even change up the way it feels every time you use it. I personally love this.
The LELO SONA 2 Travel is all things compact, light weight, discreet, body safe, and lockable.
Who Is the LELO SONA 2 Travel Best For?
Whether you're always on-the-go or you're someone who likes to bring a sex toy along on your vacation, the LELO SONA 2 Travel is perfect for anyone who wants to be able to access their own pleasure anywhere. Because it is so travel-friendly, you don't have to worry about moving through TSA with this one — regardless of if you're TSA pre-check or not.
Is the LELO SONA 2 Travel Worth the Splurge?
Unlike some of the other LELO toys, the SONA 2 Travel isn't around $150-$200 in price. It's one of the lowest-priced toys of the brand coming in at just $99. In my opinion, it's 100 percent worth it — and once you use it, you'll understand why.
Additional Details About the LELO SONA 2 Travel:
Overall, I'd rate the LELO SONA 2 Travel a 10/10. Some other features to be aware of:
It holds an "extra long-lasting charge."
It comes in two colors: pink and purple.
It's made of body-safe silicone.