10 LGBTQ+-Friendly Dating Apps to Download in 2023
Technology has largely revolutionized the dating game — and mostly for the better. The days of meeting people through mutual friends or at work are long gone, and dating apps have taken over. And although dating-app culture has brought trends like ghosting and fizzling to the forefront, there's been a lot of good that has come from them, too. Not only is it easier to find and make connections, but you can also do it all from the comfort of your own home.
But while there are countless dating apps that cater to straight people, for those in the LGBTQ+ community, finding love online can feel like a never-ending struggle.
Thankfully, it's 2023, and though heteronormativity may still dominate many of the online love avenues out there, there are several dating apps for LGBTQ+ people to take advantage of and find romance in (or whatever else you're looking for). Whether you're trying to casually flirt around or looking to settle down with your one true love, these LGBTQ+ dating apps have your romantic endeavors covered.
01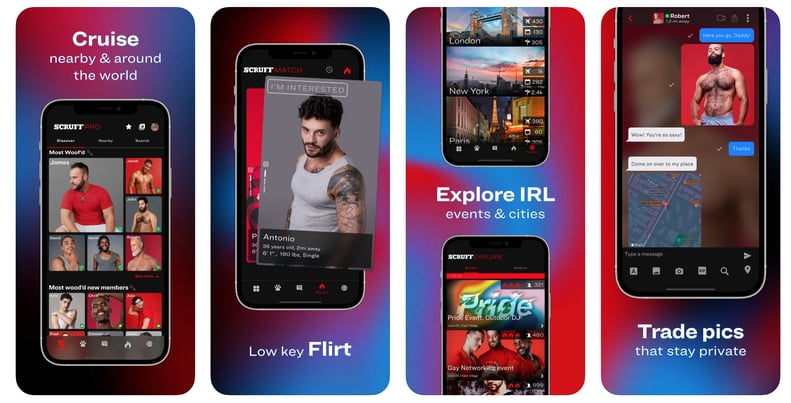 Scruff
Cost: Free; upgrade to Scruff Pro for $20/month
Grindr's better, more demure counterpart, Scruff, is one of the leading dating apps for gay, bi, trans, and queer men to use right now. With 15 million users, the app can be used for anything from serious dating to finding friends. After setting up a profile, you can match with similar people based on location, age range, and more. One great thing about Scruff is its "Ask later" feature, which gives you the freedom to think about matching with someone instead of having to decide at that moment whether to swipe left or right. Also, Scruff keeps your data private and does not share data with third-party networks, so you don't have to worry about any confidential information leaking to other sites.
02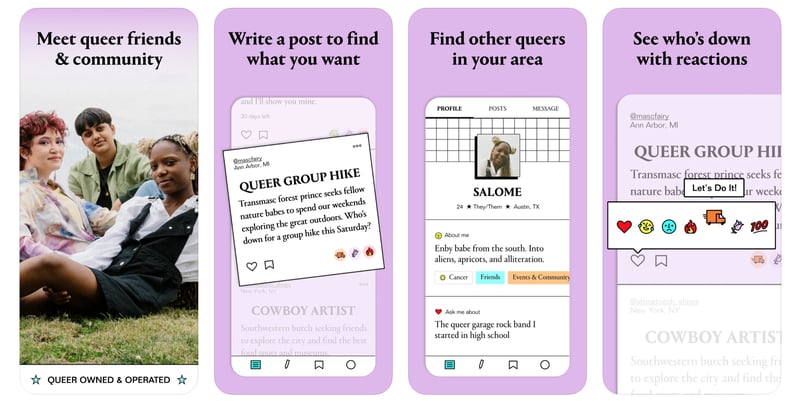 Lex
Cost: Free
Utterly cute in design with a unique approach to dating, Lex is a social dating app that is targeted toward lesbian, bi, nonbinary, trans, and queer people looking for friendship or love. Unlike more superficial apps like Tinder, Lex inspires users to describe themselves in a personal way, with profiles styled like newspaper-style ads and interesting prompts bound to spark a conversation. Users can also react to profiles with different symbols and emoji, which makes the matching process fun!
03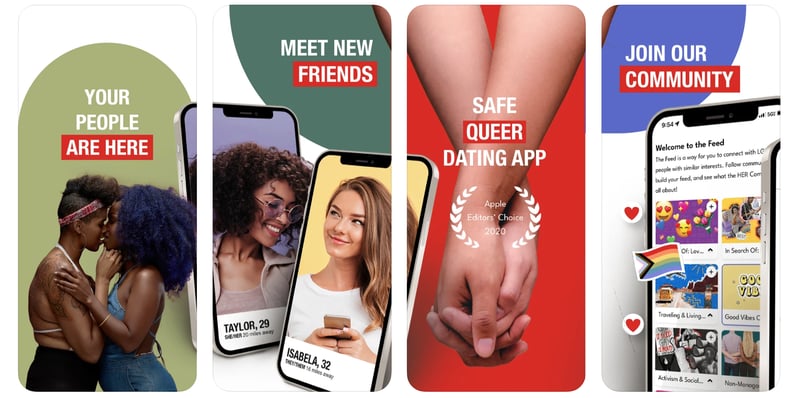 HER
Cost: Free; upgrade to HER Premium for $15/month
Labeled by the Apple App Store as the Editor's Choice, HER is a popular dating app for lesbian, bisexual, and queer women and nonbinary and gender-nonconforming people. With more than 10 million users, the app prioritizes safety for people in the LGBTQ+ community and allows users to build a profile based on sexual orientation, gender identity, values, hobbies, and interests. Users can also join specific groups and communities within the app, which can range from social activism to nonmonogamy and help to match people based on common interests.
04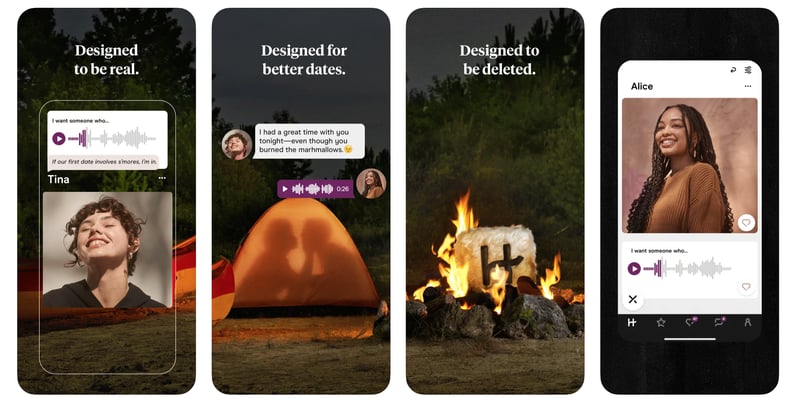 Hinge
Cost: Free; upgrade to Preferred Member for $20/month
Currently ranked No. 6 in Lifestyle Apps by the Apple App Store, Hinge is known as the app that is "designed to be deleted." Using a unique variety of prompts and a combination of text and voice messaging, the app seeks to help people build meaningful romantic connections and avoid the superficiality that often comes with online dating. Prompts on the app can include "My love language is . . ." and "Together we can . . .," which leave room for creativity and thoughtfulness from users. Though Hinge is popular among straight people, it can be used by anyone, including LGBTQ+ individuals.
05
The Bro App
Cost: Free; upgrade to Bro Premium for $30 for three months
Unlike a lot of dating apps, Bro's target audience is bi, gay, and open-minded men. Creators of the social app boast that it is "for guys that are interested in meeting other men — it's as simple as that." With user verification through clear face pictures, phone numbers, and social media pages, Bro is safe for users, whether you're looking for a friend, a hookup, or a long-term relationship. Filters can narrow depending on what type of person you're looking for, which makes it easy to match with someone closer to your preferences. Communication is easy, and once you match with someone, you can get started on messaging them right away.
06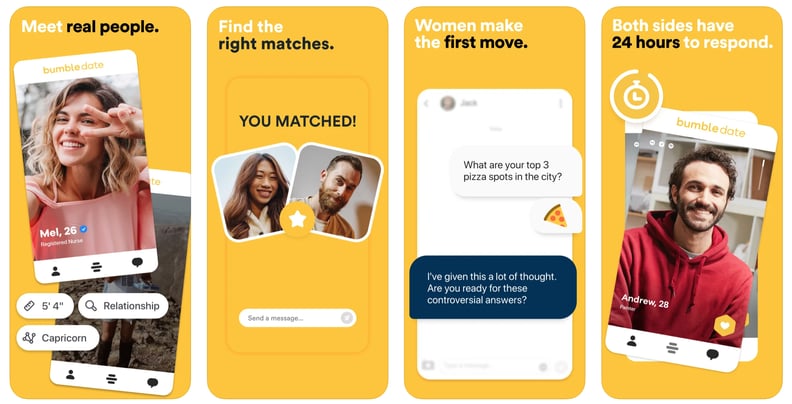 Bumble
Cost: Free; upgrade to Bumble Boost for $17/month or Bumble Premium for $40/month
Though Bumble is not specifically aimed toward LGBTQ+ people, the app did merge with Chappy, an app that was formerly used by mostly gay men, to broaden its pool of users. Bumble seeks to take the negative experiences out of online dating by giving users more control over who they connect with. On top of adding general tidbits of info to your account, you can also link your Spotify and Instagram accounts to beef up your profile. When same-gender users match with someone on the app, each person has 24 hours to make the first move before the connection goes away. Bumble is inclusive to those of any and every background and encourages users to share their sexual orientation, gender identity, and more.
07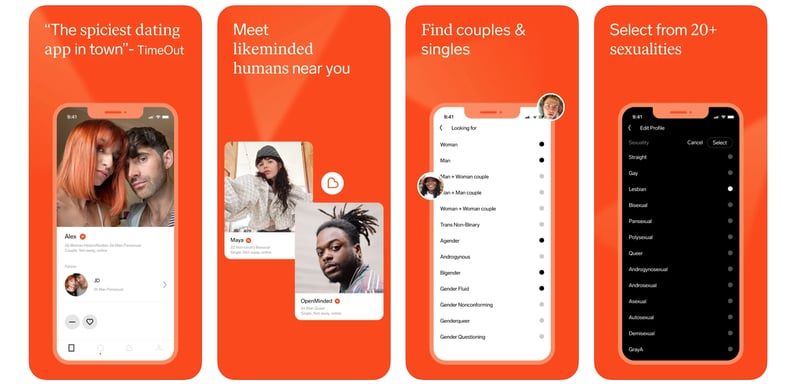 Feeld
Cost: Free; upgrade to Majestic Membership for $11/month
In terms of inclusive dating apps, Feeld definitely takes the cake. The app helps users explore their curiosity, whether it's couples looking for a third person to add to their relationship or singles diving into the dating world. When creating a profile, you can add the usual information like name, age, and sexuality, then begin your search by selecting the type of person, or people, you're looking for. With a variety of gender identities and more than 20 sexualities, you are free and open to find a match.
08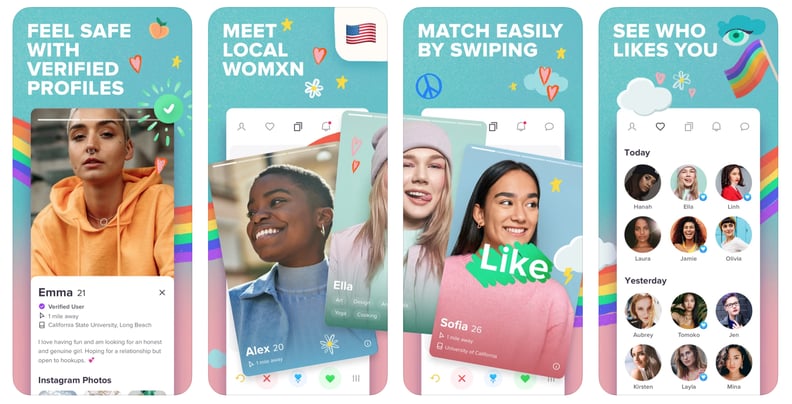 Zoe
Cost: Free; premium options are available in the app
With close to four million users, Zoe is a leading dating app for bi, lesbian, and queer women. Users can create a profile with a short bio, link social media pages like Instagram, and instantly find matches based on preferences and location. There are several different ways to connect with matches on Zoe, whether it be through text messaging or sending photos and videos. Zoe does not allow explicit pictures or videos with nudity or sex, making it a safe space to avoid unsolicited messages.
09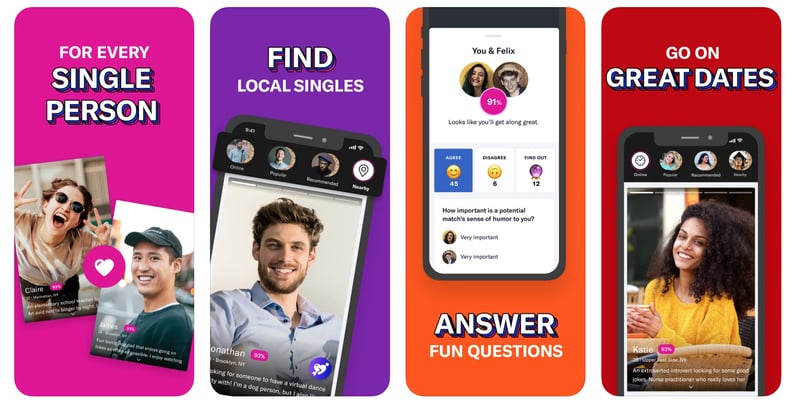 OkCupid
Cost: Free; premium options are available in the app
If you're trying to escape hookup culture, OkCupid is a great place to start. The app is not specially targeted toward the LGBTQ+ community, but the framework of OkCupid allows for anyone to enjoy the app. Through a series of different and lengthy questionnaires, users can present the most vulnerable, detailed versions of themselves on their profile, which can cut out any superficiality. The questions can range from your love of cilantro to your favorite music genre — and even contemplative, philosophical questions about politics, religion, and life in general. Using your answers from the questions, OkCupid connects you to potential matches based on how compatible you are.
10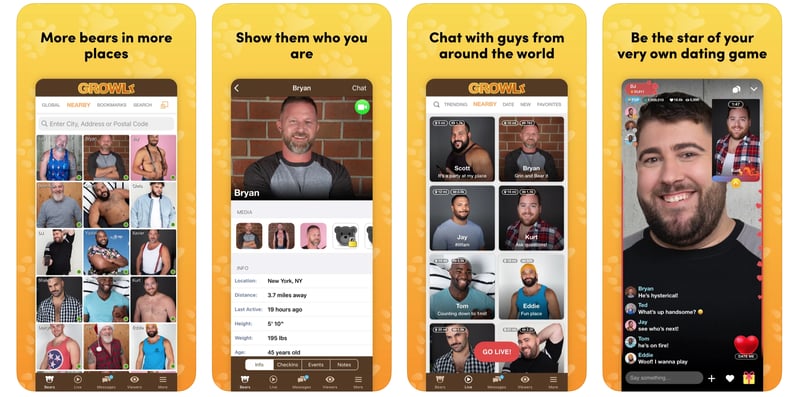 GROWLr
Cost: Free; upgrade to GROWLr Pro for $9.99/month
Exclusively for Bears, GROWLr is great for gay men looking to connect with Bears, whether in a platonic, romantic, or sexual way. Describing Bears, the app notes, "Some are hairy, some are muscular, and some are heavy-set and some are none of those things. Being a bear is about being yourself — we are all amazing no matter how we are labeled." By creating a profile, you can find matches to connect with nearby or even join live streams to get to know others in the community. The app also encourages in-person connection and communication by frequently suggesting Bear bars and Bear runs.