29 Ways to Channel Your Inner Mean Girl This Halloween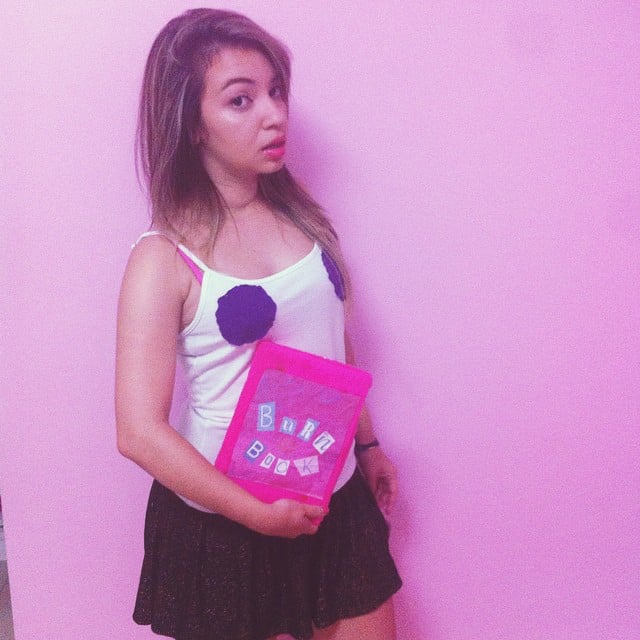 One of the most hilariously accurate depictions of the "girl world" also happens to be an awesome source of inspiration for easy Halloween costumes. Mean Girls will probably go down in history as the most fetch female movie known to womankind, so why not throw together the groolest getup based on your favorite character from the movie? We've got some ideas that hit the nail on the head — from Karen's sexy mouse to Cady's "ex-wife" costume that terrified quite a few innocent partygoers. Here are 29 ideas that will help you get in touch with the mean girl inside of you.
01
Boob Cutouts
"It's been a month, and all we've done is make Regina's face smell like a foot."
02
Ms. Norbury
"I love seeing teachers outside of school. It's like seeing a dog walk on its hind legs."
03
Burn Book
"See, we cut out girls' pictures from the yearbook, and then we wrote comments: 'Trang Pak is a grotsky little byotch.' Still true. 'Dawn Schweitzer is a fat virgin.' Still half true."
04
Spring Fling Winners
"I'm sorry that people are so jealous of me. But I can't help it that I'm popular."
05
Damian
"She doesn't even go here!"
07
Mrs. George
"I'm not like all the other moms — I'm a cool mom!"
08
The Mean Girls
"On Wednesdays we wear pink."
09
"Ex-Wife"
"That's a scary mask, bro."
10
Halloween Trio
"In Girl World, Halloween is the one night a year when a girl can dress like a total slut and no other girls can say anything about it."
11
Sexually Active Band Geek
"Now, where you sit in the cafeteria is crucial because you got everybody there.You got your freshmen, ROTC guys, preps, JV jocks, Asian nerds, cool Asians, varsity jocks, unfriendly black hotties, girls who eat their feelings, girls who don't eat anything, desperate wannabes, burnouts, sexually active band geeks . . . "
12
Gretchen Wieners
"She's totally rich because her dad invented Toaster Strudel."
13
Janis Ian
"Regina George . . . how do I begin to explain Regina George?"
14
Zombie Groupies
"I saw Cady Heron wearing army pants and flip-flops, so I bought army pants and flip-flops."
15
Regina George, Partial Spring Fling Queen
"She fractured her spine, and she still looks like a rock star."
16
Ex-Wife + Sexy Animals
"Why are you dressed so scary?"
17
"Jingle Bell Rock"
"Everybody in the English-speaking world knows that song."
18
Crying Rainbow Girl
"I just wish we could all get along like we used to in middle school. I wish that I could bake a cake made out of rainbows and smiles, and we'd all eat it and be happy."
20
North Shore Mathletes
"You can't join the Mathletes; it's social suicide!"
22
Regina George
"Evil takes a human form in Regina George."
23
Regina George and Her Mom
24
Janis at the Spring Fling
25
Aaron Samuels and Regina George
"Your hair looks sexy pushed back."
27
Janis and Damian
"The greatest people you'll ever meet."
28
A Sexy Mouse
"The hard-core girls just wear lingerie and some form of animal ears."
29
Cady's Party Dress
"Why are my tribal vases under the sink?"