Why One Direction Is Not Who You Think They Are
It all started in late 2011 when I was reading a People column in the newspaper about a young Harry Styles dating an older woman, and I asked myself, "What kind of name is Harry Styles?" I googled him, and the rest, as they say, is history. I swiftly fell down a rabbit hole of videos, starting with their first hit, "What Makes You Beautiful," and got sucked in by the quirky video diaries from The X Factor. I've spent four long years loving the sh*t out of One Direction, and I feel a bit lost now that they've gone on their hiatus. But what actually is it about One Direction that has made them into this crazy phenomenon with legions of fans all over the world? I've spent countless, sleepless nights trying to figure it out (read: countless, sleepless nights watching those old videos and swooning over Louis Tomlinson's quiff), and this is my best analysis. One Direction are what they are, above all else, because of three things: their music, their brotherhood, and social media.
When people ask me why I love One Direction, I give them my stock answer of what gives them the X factor. (Pun fully intended.) Their music is catchy and makes you feel something, their shows have a lot of energy, the boys are witty and kind, and the fandom is made up of the best people ever.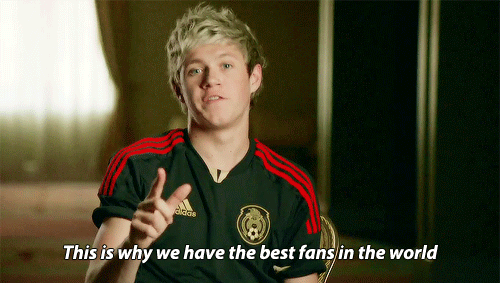 But that can be said about just about any musician. One thing that separates One Direction from other groups is how solid they are as a band. Louis, Harry, Liam Payne, Niall Horan, and Zayn Malik have gone through this crazy experience together, and it's something that no one else on the face of this earth will ever understand. They've lived in this bubble for years and have had to grow up together. They've been there for each other for the good times — parents' weddings, friends' babies' births — and the hard times — deaths, Zayn leaving. And even though Zayn left, he specifically said he left because he didn't like the music and how hard he was being worked; nothing had to do with his relationship with the other boys. It ended up being better for everyone, because it strengthened the four remaining members, and now Zayn is free and happy to do music he really believes in. (And maybe someday they'll all be friends again. My fangirl heart can only hope.)
One Direction burst onto the music scene in 2010 and found near-immediate success, which is just absolutely unheard of. In their movie One Direction: This Is Us, Simon Cowell, who formed the group on The X Factor in 2010, credits a large part of their success to Twitter. He said it started with a few fans in the UK tweeting about One Direction, and they tweeted at their friends, which helped word spread to the US, Australia, and beyond, all in a matter of weeks.
There's such an immediacy to information and a worldwide network of people all connected by one common thread, when it comes to Twitter. It's both amazing and horrifying. It means rumors can spread like wildfire, but it also gives fans an opportunity to meet other fans and even interact with the boys themselves. Having a follow from a member of One Direction is Twitter gold, and if one of them happens to tweet you? Pal, you're gonna tattoo that on your forehead because it is everything.
I have "met" people from all over the world on Twitter and have even gotten to meet some of them in person at shows. There wasn't anything like that when I found my first obsession back in the day — Hanson, naturally — so I never got to make these friends who loved something just as much as I do. By the time my next obsession rolled around — O-Town — Yahoo groups were a thing. Yes, Yahoo groups. Believe it or not, I was in a Yahoo group for O-Town in 1999, and I am still friends with those same five women today. Twitter is just a faster, more condensed version of that. The Internet can be a beautiful thing.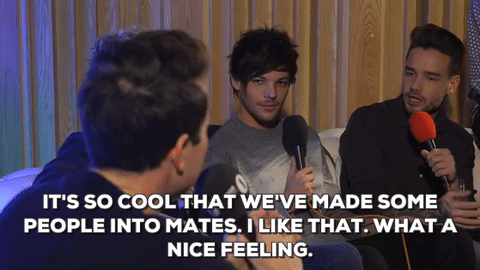 Then there's the music. If I say boy band, you'd probably say *NSYNC (or Backstreet Boys, depending on which team you're loyal to), but the fact of the matter is, boy bands have a typical sound. And that sound is bubblegum pop. I am so not hating on it — O-Town girl, remember? I am a diehard fan of pop music. The boppier, the better, which is why I loved One Direction from the get-go. Their first couple albums were straight-up fun pop music, but as they grew up, so did their music. It transitioned into music that they sat down and wrote themselves, about what they were really feeling and going through. We were blessed with hits like "Happily" (You don't understand, you don't understand // What you do to me when you hold his hand), "No Control" (Waking up beside you I'm a loaded gun // I can't contain this anymore // I'm all yours, I've got no control), and "Temporary Fix" (Feel you on my neck while I'm calling a taxi // Climbing over me while I climb in the backseat // Now we're taking off, now we're taking it off tonight). Also, hello, here's your reminder that the boys are actually men in their 20s singing about manly things like sex.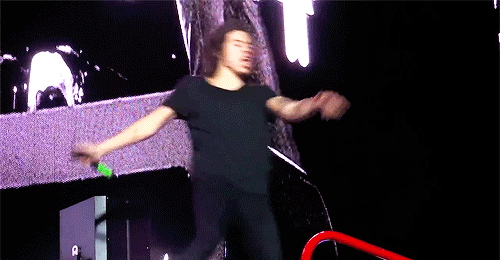 In the end, though, aside from the music, the good looks, the tight bond, and the Twitter craziness, the magic really lies in One Direction's concerts. They all have something special about them that you'll always remember. I'll always remember that my very first concert in San Jose, CA, in 2013 was the first time they sang "Best Song Ever" live and how I may or may not have shed a tear or two when the lights first went down because I was so unbelievably happy to be at my first 1D show. I'll always remember that the show I went to at the Rose Bowl in Pasadena, CA, in 2014 was Niall's 21st birthday and we all sang to him. I'll always remember that someone gave Louis a water gun at the Cleveland, OH, show this past Summer and he squirted my section of the crowd throughout an entire song. And I'll always remember how at the Sheffield, England, show in October, Liam's dad led a conga line of friends and family through the crowd to the stage and danced to "Act My Age" over and over and over while we all screamed and danced along.
There's a good chance I'll never find something I love as much as I love One Direction, because they really are one of a kind. They've given me more than four amazing years of stress and empty bank accounts, but they've also given me friends I'll have forever and some unforgettable memories. It feels weird to want to thank them, because I don't actually know them and will probably never meet them, but I feel like I should thank them for being really, really ridiculously good-looking and fantastic at their jobs. So, you know, thanks, boys, and please keep this break to a minimum number of days, OK? Thanks.