Say "Ta-Ta!" to Boob Sweat — This Towel Is Your New Breast Friend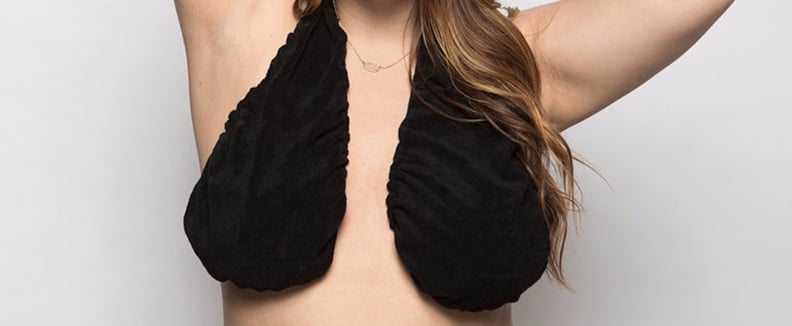 Ta-Ta Towel
Here's something that members of the IBTC ("itty bitty titty committee") might not know: large breasts sometimes get sweaty, and it can be severely uncomfortable. Some big-busted folks even get rashes in their "under-boob" area due to irritation from the moisture! And sometimes you really just want to get ready for a night out or relax bra-free after work without letting them totally hang out, ya know? Well, ladies, prepare for the answer to your prayers . . . the Ta-Ta Towel.
Invented by a crafty woman, Erin Robertson, who was sick of dealing with under-boob sweat, the Ta-Ta Towel is a scarf-like device that ends in two cups which lift and hold each breast without feeling as restrictive as a bra. Because it's made of towel material, the Ta-Ta Towel has earned a devoted following from customers who say it has solved their sweaty boob problems. It's also a favorite of new moms and people with sensitive nipples thanks to a soft internal lining. For breastfeeding mothers, the site assures that the Ta-Ta Towel "absorbs any breast milk that might leak out during feeding."
"As soon as I get home, I take off my bra and put on my Ta-Ta Towel."
While the overall look of the Ta-Ta Towel is somewhat reminiscent of Björk's famous swan dress, reviewers swear by the product.
"I always hated blow-drying my hair because of how sweaty I got in the process — so sweaty that I often had to take ANOTHER shower afterwards. The Ta-Ta Towel has made blow-drying SO MUCH easier and more comfortable for me . . ." writes one reviewer on the site, adding, "I even wear my Ta-Ta Towel around the house when I need a break from bras, sports bras, and camisoles."
"As soon as I get home, I take off my bra and put on my Ta-Ta Towel. The comfort of my boobs being held up without a tight strap around my back is incredible," reviews another customer. "It's also great to wear it after I get out of the shower and rush around to get ready. No more under-boob sweat!"
The Ta-Ta Towel is available in several colors for $45 each and ranges in size from C-cup all the way to H. Check out some photos ahead and decide if you're ready to say "ta-ta!" to boob sweat. And for everybody else, don't worry: here's an alternative boob towel for ya.