The Coolest Wedding Ideas We've Spotted This Year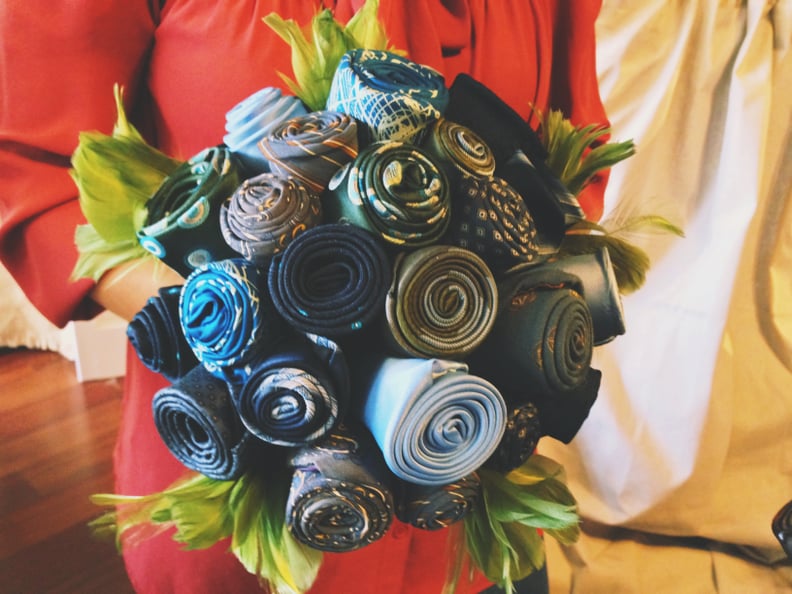 The year has just begun, but wedding season is already kicking off. I've interviewed pros in the know such as catering director David Robinson and wedding planner Allison Silber and attended two wedding events — the San Francisco Wedding Fair and the Lovesick Expo — to give you the scoop on 2014 wedding trends. Along the way, I've seen some unexpected new ways to personalize your wedding and make it a day your loved ones will never forget. See some of my favorites now, and follow POPSUGAR Love on Instagram for your backstage pass to all things wedding!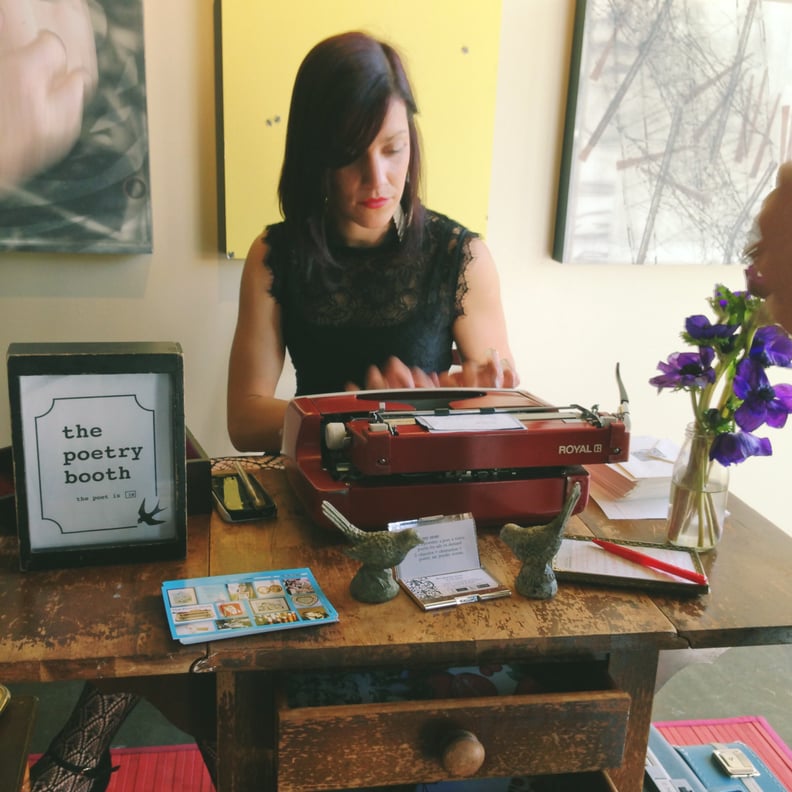 Wedding Poetry Booth
Silvi Alcivar of The Poetry Story has created a memorable alternative to the photo booth with her poetry booth. Set up with her typewriter and desk, she will write on-demand personalized poems in three minutes or less for your guests. You just tell her who the poem is for and a little about your relationship to that person, and she works her wordy magic. Talk about a noteworthy wedding keepsake!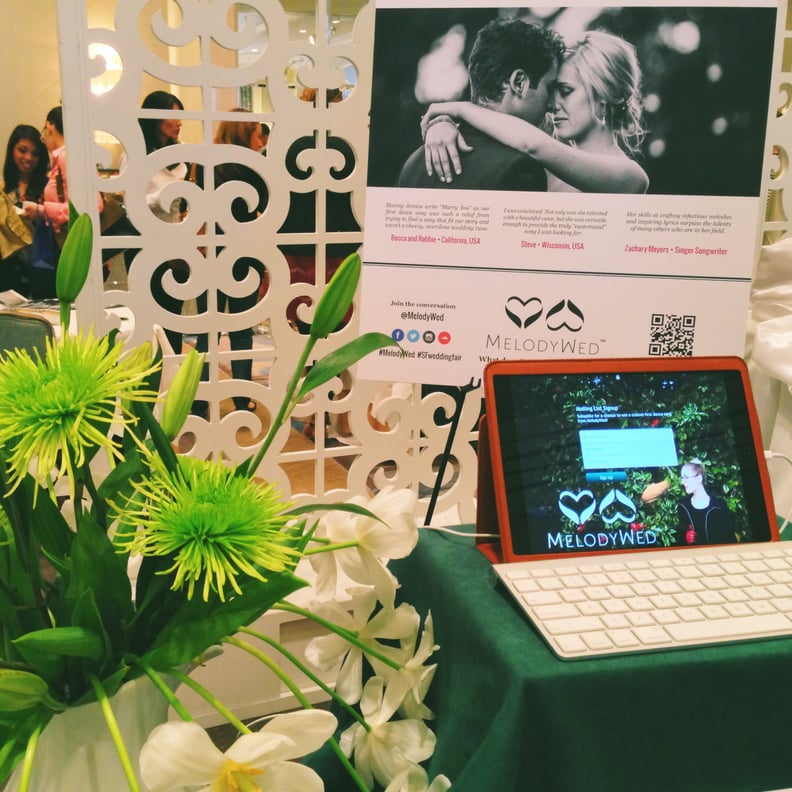 Customized First Dance Song
Selecting a meaningful first dance song can be difficult, especially if you have different taste in music than your significant other. But here's a way to make it completely unique. Jessica Lindsay, founder of MelodyWed, will write and record a personalized first dance song based on your love story. How cool is that? Jessica's been writing songs for more than a decade, but she actually came up with the idea when her little brother wrote her own first dance song.
This is how it works: couples fill out a questionnaire, then they do a video chat so she can get an idea of the couples' personality, and after some back and forth, she sends them an MP3 of the song. She said that usually the response is a lot of crying and people saying they're "blown away" by the finished product.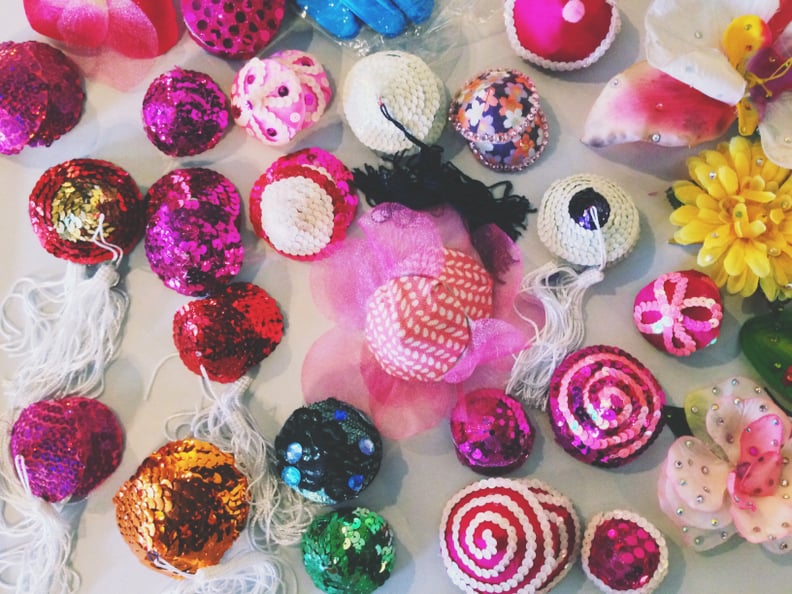 A Burlesque-Choreographed Garter Toss
The glitter-lipped ladies of Red Hots Burlesque filled me in on the sexy side of reception entertainment. Hiring burlesque dancers for a reception performance is one way to titillate your guests, but go the extra mile by having them coordinate your garter toss (especially fun if it's a suprise for your betrothed). They said they're currently working with a bride to coordinate her fan dance garter toss — complete with a sexy outfit change and striptease! But I'd save the sequin nipple tassels for the wedding night . . .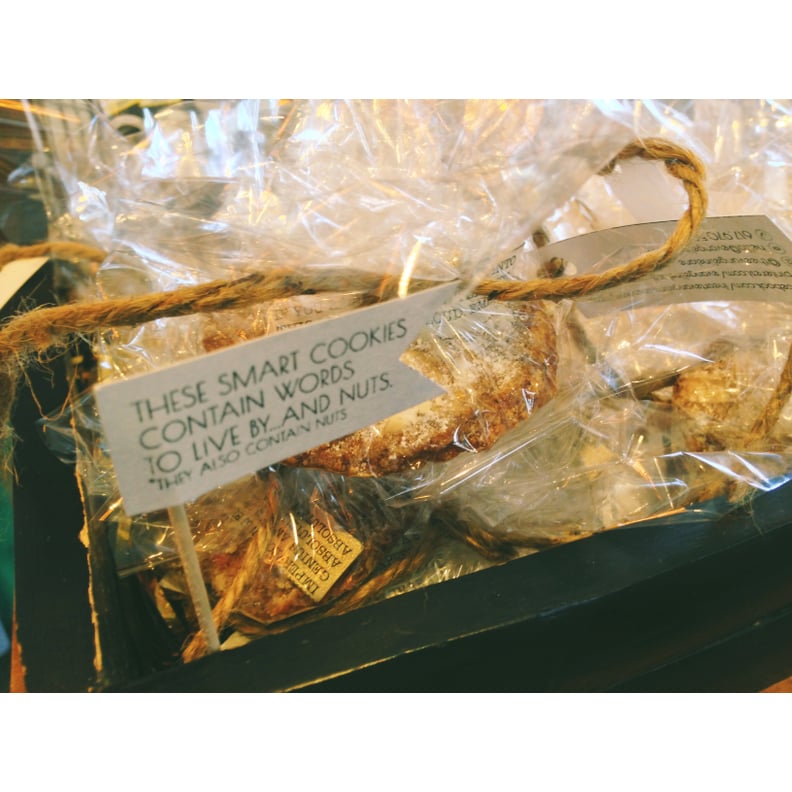 Smart Cookies
Give your guests a favor to remember with these "smart cookies" I saw at Evangeline Lane Photography's booth at the Lovesick Expo. They're like a more homemade, rustic twist on fortune cookies with sweet quotes cooked in them.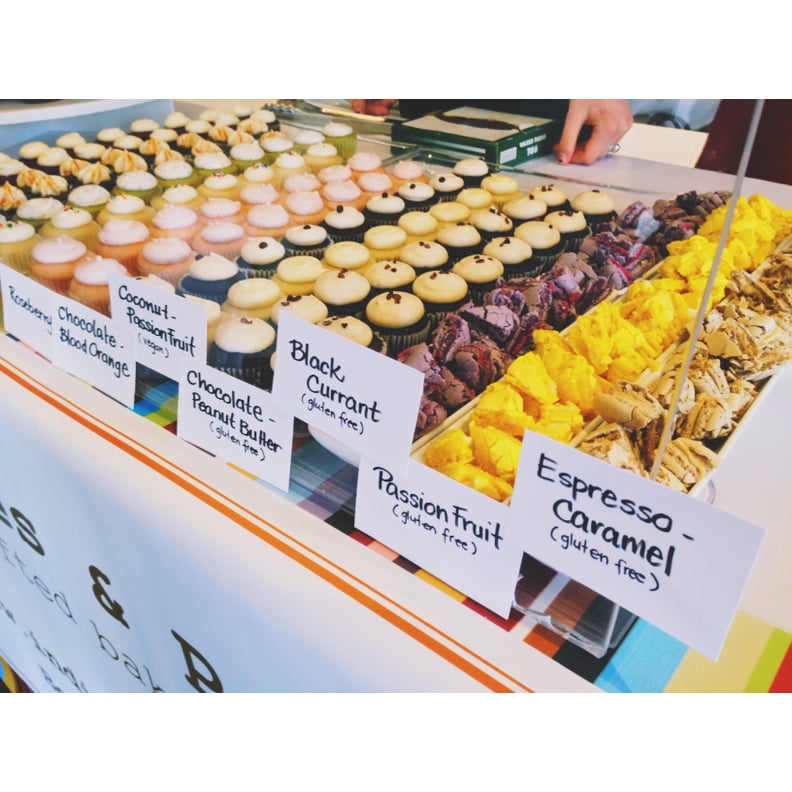 Out-the-Box Cupcake Flavors
Anastasia Widiarsih of Indie Cakes & Pastries not only offers gluten-free and vegan options for her cupcakes and macarons, she's come up with some outlandish and delicious flavor combos. Wow your guests with sweets they've never seen before like roseberry cupcakes (rose-flavored cake with strawberry buttercream frosting), chocolate cupcakes with blood orange frosting, or meyer lemon macarons with black current filling.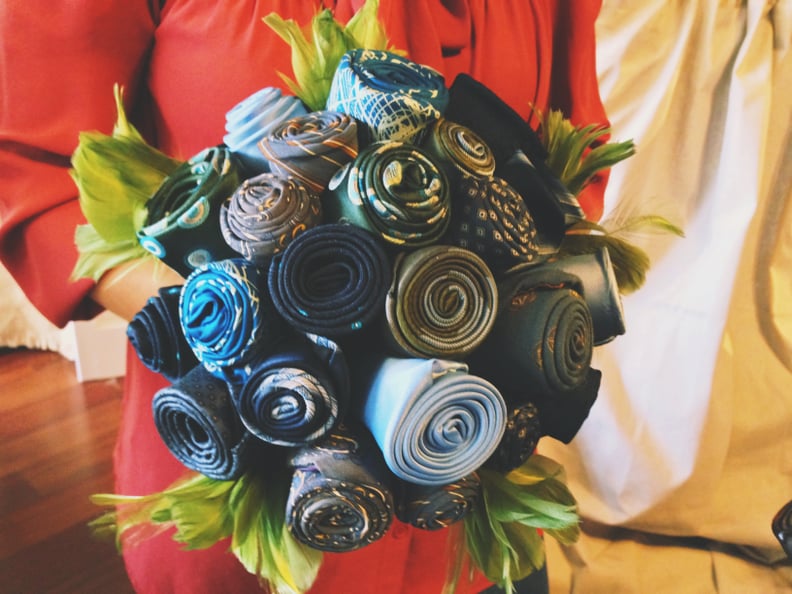 Tie Bouquets
It all started with a Christmas gift exchange, when Wendi Lee wanted to make her mom a unique, handmade gift. Now three years later, she's the owner of Louella Rose (named after her grandmother) where she creates an alternative floral experience for your wedding. Bouquets, centerpieces, corsages, boutonnieres — you name it, she can make it out of ties or scarves. "No water required, and they don't die," Wendi added. She notes that you can also provide vintage articles that used to belong to loved ones as a special tribute.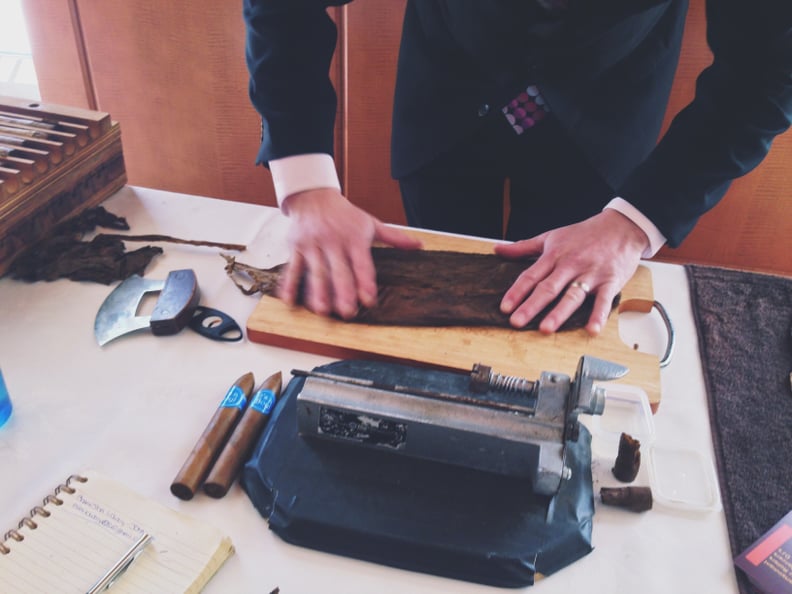 On-Site Cigar Rolling
Treat your groom to a reception activity he's sure to appreciate. Patricio Angulo of Oyé Productions provides on-site cigar rolling for your wedding. He can be set up at a table or bar, in a cigar lounge area of the reception, paired with a postdinner scotch or brandy bar — the sky's the limit.
Graffiti Installations
Bernadette Pisani, an event consultant at Classic Party Rentals, explained that these large silhouette screens can be totally customized. Just send them whatever art or photo you want to display, and they'll use their in-house printer to make an installation that dresses up drab walls.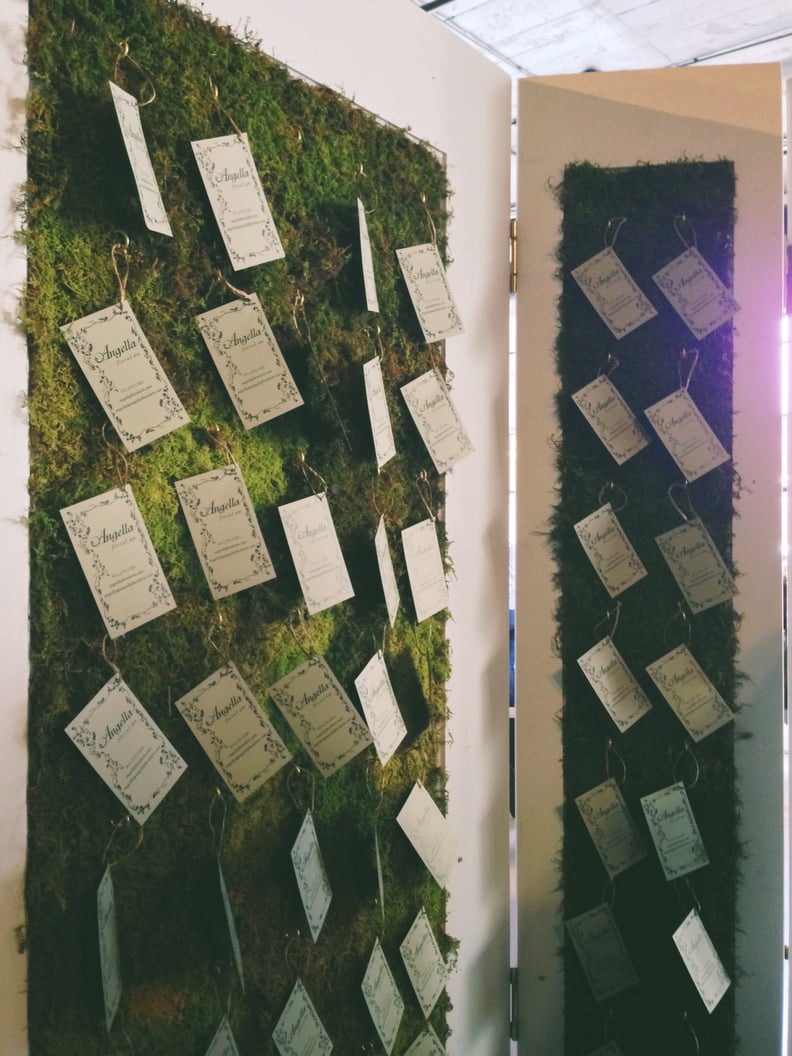 A Multipurpose Living Wall
Angella Garrett of Angella Floral Arts used this moss-covered room divider to display her business cards, but its possibilities for a wedding are endless. She told me this adjustable "living wall" can be dressed up with florals and hold table assignment cards at the start of the day, then be used to display photos of the guests during the party. She's also seen couples use it to divide up a space or block guests from certain rooms.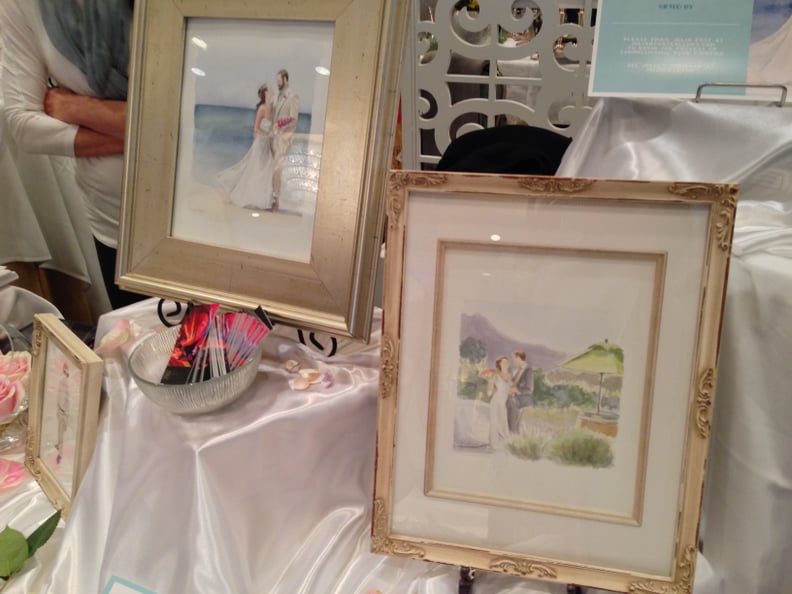 Watercolor Commission
Commissioning a painting by an artist like Julia Cost makes for a meaningful wedding gift to your spouse-to-be. But I also love the idea that you can give a gift certificate to a couple you know tying the knot for them to have a painting of their wedding day.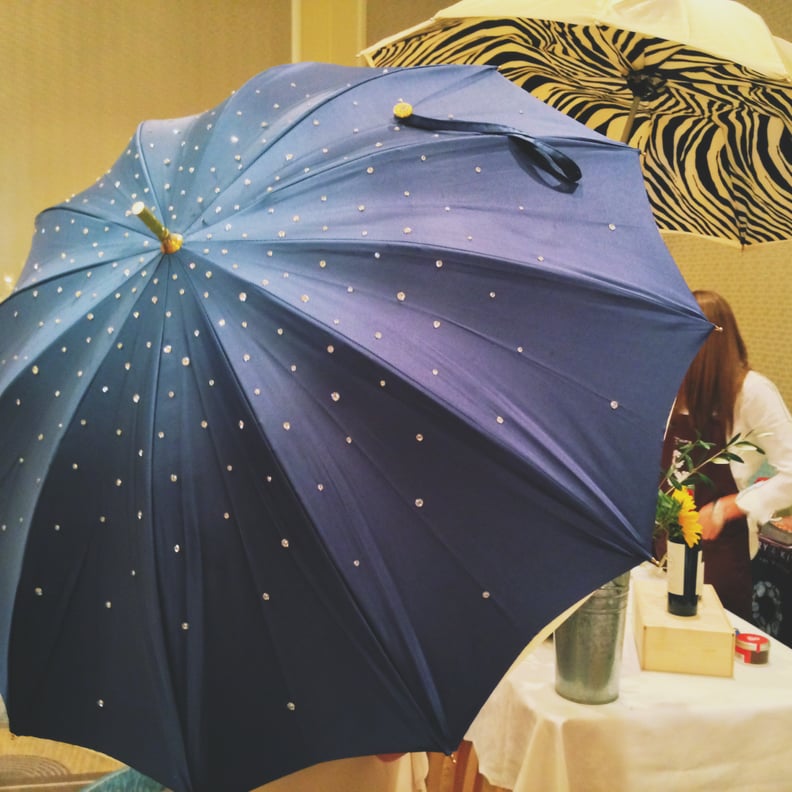 Bedazzled Parasols
Lisa Walsh, founder of Persolé, has created an überglam alternative to the simple parasol. Umbrellas make great photo props for sunny and rainy weddings alike, and these have the added bonus of bracelet closures, scalloped arches, and plenty of bling. In addition to the photo ops, they'd make gorgeous bridesmaid gifts.