Rock the Grill With This Amazing Skirt Steak!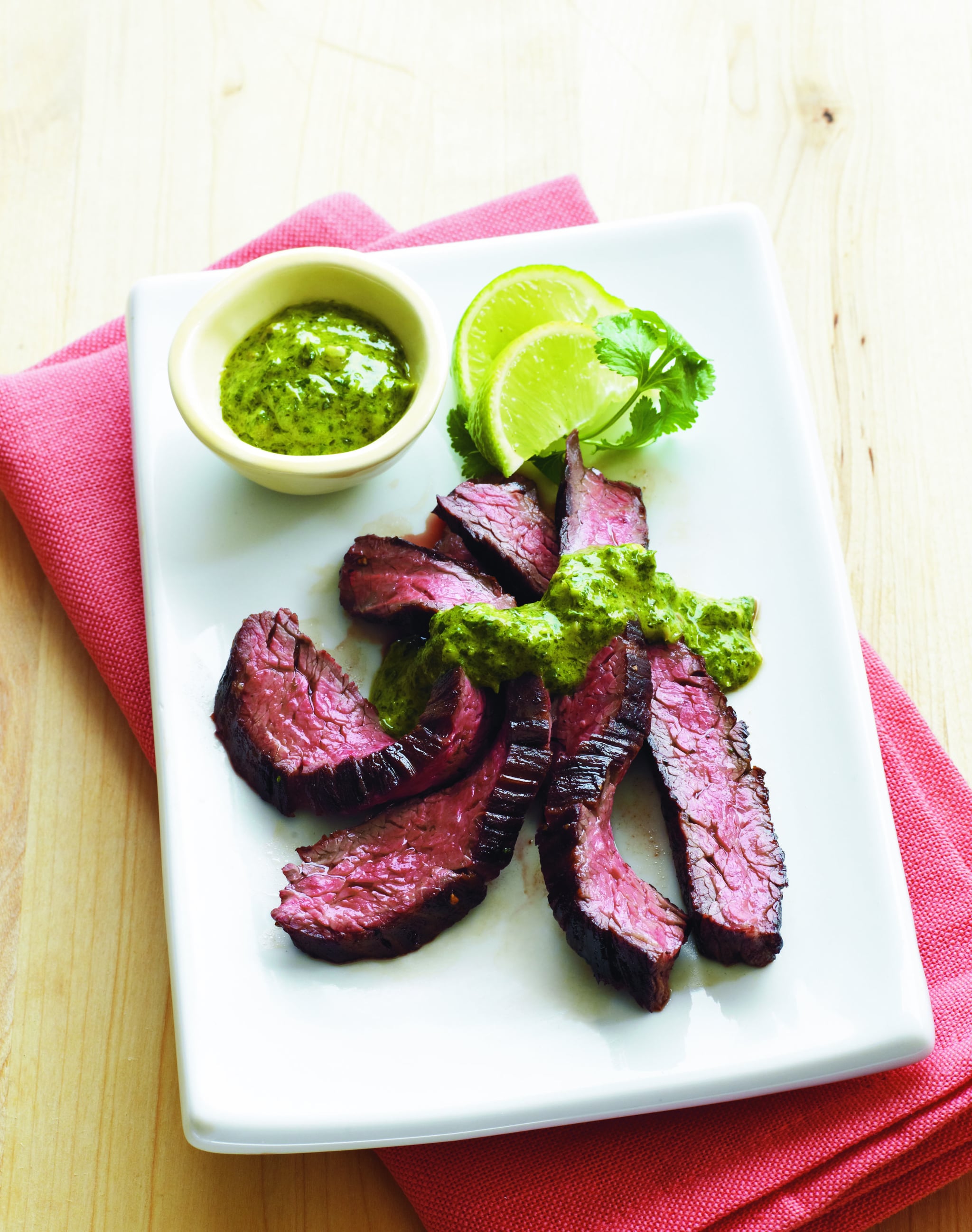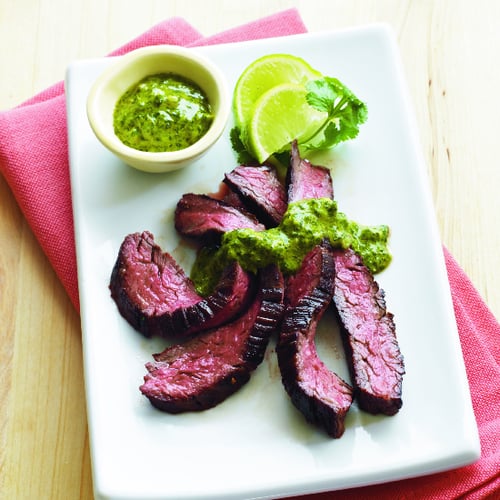 Skirt Steak With Chimichurri Sauce
Amanda Haas
Notes
Skirt steak is packed with flavor and is a great alternative to more expensive cuts. You'll love it in steak tacos or served
on its own with this delicious herb sauce. The most important thing about preparing skirt steak is to slice it against the grain. The grain in the skirt steak is obvious — it looks like big lines running across the meat. Cut the slices perpendicular to those lines and you're left with very tender, flavorful meat.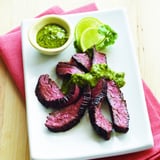 Ingredients
1 1⁄2 pounds skirt steak
1⁄2 teaspoon kosher salt
1 teaspoon freshly ground black pepper, divided
1 garlic clove
1⁄2 cup fresh parsley leaves
1⁄3 cup fresh cilantro leaves
1⁄3 cup fresh mint leaves
2 tablespoons extra-virgin olive oil
1 tablespoon Dijon mustard
1 tablespoon fresh lime juice
1 1⁄2 teaspoons drained capers
Cooking spray
Directions
1. Let steak stand 30 minutes at room temperature. Sprinkle steak with salt and 1⁄2 teaspoon pepper.
2. Preheat grill to high heat.
3. Drop garlic through food chute with processor on. Process until minced. Add parsley, cilantro, and mint; process until coarsely chopped. Add oil, next 3 ingredients, and remaining 1⁄2 teaspoon pepper; process until finely chopped.
4. Place steak on grill rack coated with cooking spray. Grill 2 minutes; turn steak over. Grill 2 to 3 minutes. Let stand 5 minutes. Cut steak across grain into thin slices. Serve with sauce.
Amanda Haas is a cookbook author, cooking video host, and the founder of One Family One Meal, a website that helps families menu plan, grocery shop, and cook on a budget. Her cookbook, Real Family Food, features this and other delicious family-friendly recipes, as well as simple tips for bringing your family together around the table and a strategy for meal planning, budgeting, and shopping.
Information
Category

Main Dishes, Beef

Cuisine

South American

Yield

serves 6