Evenflo SecureKid DLX All-in-One Booster Car Seat Review
Does Evenflo's New SecureKid DLX All-in-One Booster Car Seat Live Up to the Hype?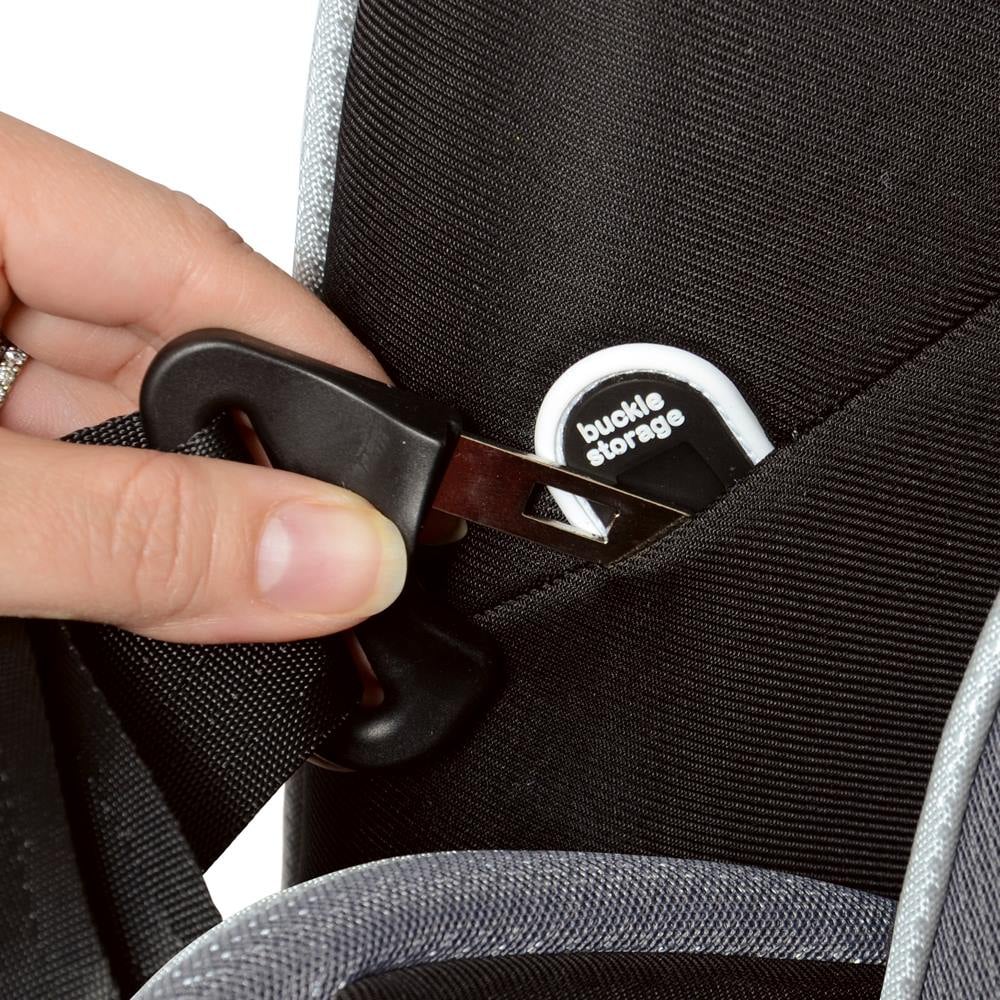 Who is this product designed for? The SecureKid DLX All-in-One is designed for children weighing between 22 and 110 pounds. It can be used as a five-point harness booster for kids between 22 and 65 pounds and as a seat-belt-positioning booster for kids from 40-110 pounds.
What sets it apart? Aside from being one of the lightest-weight full-back boosters I've ever tried to move in and out of a car, the SecureKid DLX All-in-One has several other factors going for it.
Installation was a breeze using the seat's SureLATCH Connectors. With a 38-pound child, we are still in the LATCH and harness stage, and the SureLATCH Connectors' auto tightening feature took much of the guesswork out of the process. We simply hooked in the two connectors, pushed down, and felt as the seat pulled securely into place.
The seat's adjustable headrest, which the company calls e3 Side Impact, is designed to protect kids in the event of a side impact crash, but it also does a wonderful job of keep little heads comfortable during long car rides. And the dual cup holders are not only easily accessible, but they are also designed with a piece of elastic in them to keep narrower cups and bottles secure, which is something this mom (who's had to do that whole backward arm twist from the front to the back seat to pick up fallen bottles one time too many) certainly appreciates.
Evenflo has also been busy touting the seat's NASA-developed fabric technology (called OUTLAST Performance Fabric) that adjusts to your child's body temperature so kids are more comfortable during their ride.
But perhaps the best feature on the seat are the buckle pockets located approximately at shoulder height on both sides of the seat. Designed to keep the metal portion of the seat buckles securely tucked away while no one is in the seat, what they really do is make getting your child into the seat a heck of a lot easier. When the buckles are in the pockets, they get in their seats faster, and there's no fumbling for the buckles once they are seated — not to mention no kids screaming after being seared by the hot metal on a scorching-hot Summer day (yes, I've inadvertently done it to my child, and no, it's not something I EVER want to repeat).