Hotel Tips and Tricks
25 Hotel Hacks From Pro Travelers
Traveling can exhaust you and your bank account. Wise Bread sat down with professional travelers to come up with 25 tips and tricks to use when booking and staying in a hotel.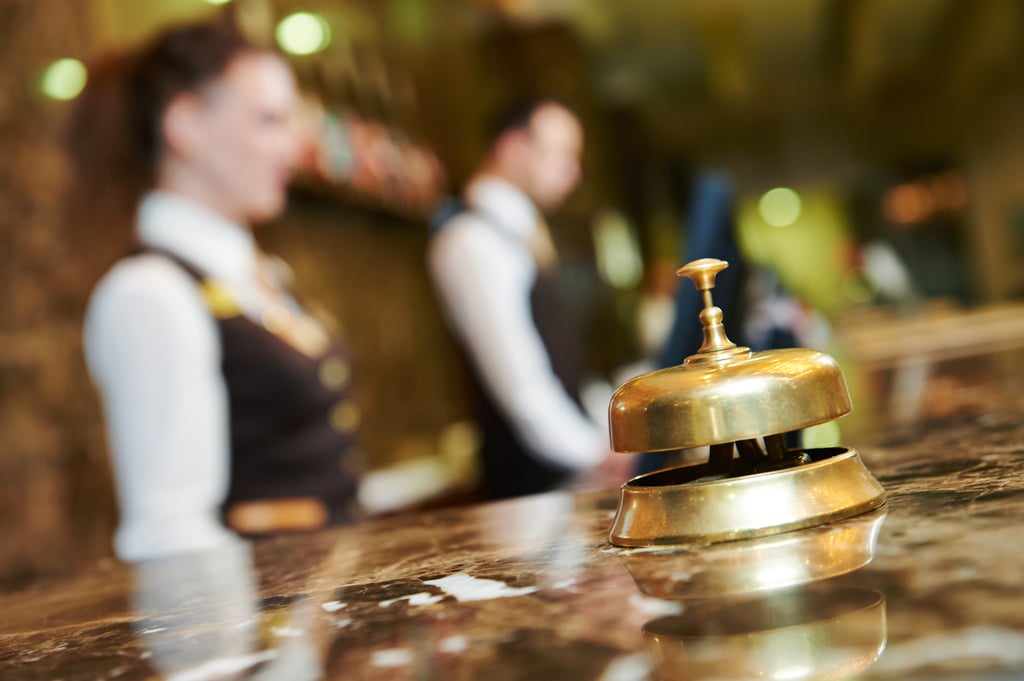 There's nobody better than a professional traveler to know how to get great hotel rates, free upgrades, and tweak their rooms to make their stay as comfortable as possible. In this article, a panel of professional travelers share their 25 best hotel hacks.
Credit Cards, Membership Programs, and Status Hacks
Before even searching for a hotel, some professional travelers start their hotel hacking with credit cards, membership programs, and status hacks to ensure the red carpet is rolled out well before they arrive.
1. AAA Membership
Chris Guillebeau travels the world (all of it — having recently completed his mission to visit every country), and is a New York Times bestselling author, founder of the Travel Hacking Cartel, and writes for a small army of remarkable people at ChrisGuillebeau.com. When he's not staying at a hotel for free with frequent flyer miles, Chris says a simple membership with AAA can go a long way.
"A small investment in AAA membership (which anyone can join, from anywhere in the world) can save an average of 5%-10% on many hotel stays. Even if it doesn't save money, rates booked through AAA are usually cancelable until the day of arrival, which helps a lot with flexibility."
2. Use Hotel Credit Card Sign-Up Bonuses
Matt Kepnes aka Nomadic Matt is author of How to Travel the World on $50 USD Per Day, and has been traveling the world since 2006. Matt advocates applying for hotel credit cards with hefty sign-up bonuses that will afford you up to a week's worth of free accommodation.
3. Transfer Miles From Universal Credit Cards
Although Matt likes the occasional sign-up bonus, his steadfast hotel hack surrounds the use of universal miles, using travel rewards credit cards that allow you to transfer points to any number of airline and hotel programs. "You can transfer those points to hotel loyalty programs and redeem them for free rooms."
4. Get Automatic Status With Your Credit Card
Al-Nawaz Rajan generally pays 2-star prices for 4-star hotels, and shares his travel hacking tips on Credit Walk. He's a fan of using platinum cards that get you upgraded status at hotels just for being a card member. Some of those cards come with a hefty fee, but the upgraded status is worth its weight: "Some of the benefits of higher status include late checkout, free breakfast, Internet, upgrades to suites/better rooms, additional point earning, and welcome gifts."
5. Get Your Status Matched
Once you have status with one hotel or brand, you can get that status matched with other hotels. Elizabeth Houck has flown over a million miles in search of budget premium experiences, and has lots of great advice to share at ElizabethHouck.com. She says getting your status matched is as simple as calling the loyalty line and requesting a Status Match or Challenge.
"Brand Y will want a copy of your most recent status statement from Brand X faxed or emailed (sometimes mailed) to them. Follow Brand Y's requirements and instructions and usually within a couple of weeks you will have status."
6. Earn Status With Cheaper Hotels
If you're still working on getting status to begin with, Elizabeth suggests focusing all your efforts and hotel points on one brand. This doesn't have to cost a fortune either: "Most hotel loyalty programs are based on nights, not dollars spent. If you need X number of nights for status in a particular program, consider short one-night stays in a 'lesser' property to achieve status for less bucks. Think Park Hyatt vs. Hyatt House or Hyatt Place."
Hotel Hacks for Booking
The trick to hacking your way into booking hotel bliss is to know where to find the deals, and how to book them. Here are some creative ideas.
7. Email the General Manager
Elizabeth Houck is now consistently upgraded to the king suite at one particular hotel, because she emailed the general manager after having a mediocre experience at their hotel. "I wrote the GM about the experience and he was happy to extend a fantastic rate for me to give the hotel another chance. Needless to say, the upgrade to the king suite on my next visit was well worth the few minutes it took to write the email."
Once she had a relationship with the GM, Elizabeth wasn't afraid to ask for more. "In a follow up phone call before my next arrival, I asked for exactly what I wanted — a good rate, no resort fee, and a king room. I then emailed him confirming my stay."
8. Use Bidding Sites
Dalene and Pete Heck of HeckticTravels.com sold everything in 2009 to travel the world, and have been named 2014 National Geographic Travelers of the Year. They enjoy the deep discounts offered by using hotel bidding sites.
"We are recent converts to Priceline.com and Hotwire.com — two sites that have allowed us to save big money on hotel rooms. While we never know the exact hotel we will be staying at before we book it — we only choose by location and "star" rating — their prices are deeply discounted we have never been disappointed."
9. Call the Hotel
If it's your first stay at a given hotel, and you don't have a reason to contact the general manager, you can still negotiate a good deal. Mike Richard has been a professional traveler since 2006, and is the founder of Vagabondish.com. His advice is decidedly low-tech but effective: Simply call the hotel and ask them for a deal.
"This works especially well with mom-and-pop hotels or smaller chains. Find the best possible deal online, then call the hotel and see if they'll do better. I find better deals more than 75% of the time."
Mike adds that the hotel has incentive to give you a deal, since by calling them directly to book, they won't have to pay commissions to a third party booking site.
10. Go Last-Minute With Groupon
If you have some flexibility (and nerves of steel), wait until the last minute and use sites like Groupon to nab a deal. This tip comes from Kristin Addis, a former investment banker who quit her job to travel full-time, and now blogs about her nomadic adventures at Be My Travel Muse.
"You can get a room somewhere like Las Vegas the day of or the day before for much, much less, but of course you must be very flexible!"
11. Use Country/Currency Arbitrage
A few professional travelers polled use country/currency arbitrage to nab a hotel deal. Kristin says, "Sometimes looking at booking engines specifically geared towards Australia, for example, can result in savings if booking in Australian Dollars. If I'm using a travel credit card that doesn't charge fees for foreign transactions and has fair rates for currency conversion, it can be a great way to save some money on a room."
Erin Bender of Travel With Bender concurs. "Search in different country-specific versions of the same website and also try an incognito browser window. For instance Expedia.com can be cheaper than expedia.com.au even when you take the currency exchange rate difference into consideration." Erin has traveled the world since 2012 with her husband and two young children.
12. Go Long
Erin also suggests if you are staying somewhere for more than a week, contact the hotel directly to negotiate a lower rate. It's less work for the hotel to keep one customer than to turn over the room constantly; "we have saved up to 75% on nightly rates by negotiating a better monthly rate with the owner."
13. Use Price Guarantees
When she's not actually traveling, Deia Bong spends her time figuring out how to travel more, and then writes all about it on Nomad Wallet (and on Wise Bread). She benefits from price guarantees offered by major hotel chains.
"Some hotel chains like Marriott and Hilton will match the lowest price you can find and give you freebies or further discounts on top of it." As an added bonus, by contacting the hotel for their price guarantee and booking directly with them (as opposed to using the third party site where you may have found the lowest rate), you'll earn loyalty points for your stay. "Each hotel chain has a different system for handling price-matching requests, so check their website before making a claim. If your claim is approved, the extra discounts are added automatically."
14. Use Booking Sites With Low-Price Guarantees and Loyalty Benefits
"If you don't like the idea of sticking with one hotel chain's loyalty program, use booking sites with lowest-price guarantees instead. I personally like the loyalty program at Hotels.com, which gives you one free night for every 10 nights you book through the website — this goes for the 100,000 eligible hotels on the website," offers Deia.
15. Advise of a Special Occasion in Advance
Although you can always mention a special occasion at check-in and hope for an upgrade if it's available, Nicole Connolly does it in advance.
"If you are visiting a hotel for a special occasion like a honeymoon or anniversary, let the property know when you make your booking as many hotels will give you a complimentary upgrade to help you celebrate. You might be lucky enough to find yourself in a Deluxe Spa Suite with champagne and chocolates awaiting your arrival."
Nicole and her husband Michael have been full-time travelers since 2012. They are travel writers, bloggers, and travel consultants, and they share travel tips and destination guides at Suitcase Stories.
Hotel Hacks at Check-In
Even if you've booked your hotel without points, status, or a special occasion to celebrate, you can hack your way into a decent room with these tips.
16. Slip 'Em a $20
Elizabeth Houck once read that the easiest way to get an upgrade in Las Vegas is with a $20 tip at check-in.
"I tried it and jackpot! I've literally done this dozens of times and only once was I not upgraded. At check-in, you always provide ID and a credit card. I simply pull out a $20 bill, fold it, and place it under my cupped hand at the counter; reception always notices. If I get a special view, or upgrade, or some other perk, they get the money; if nothing is available I've not committed myself. One time I asked for an upgrade and only had a $5 on me, but it was enough to get a king corner room."
17. Offer a Review
Sabrina Lovino of JustOneWayTicket.com has been traveling almost non-stop since 2008 and spends a lot of time in hotels and resorts around the world. If she doesn't book a good hotel deal in advance, she tries to get a deal on the spot.
"It helps to mention something like 'are you also on Tripadvisor? I'd love to write a review . . .' — sometimes it leads to an upgrade, better rooms, or a free breakfast."
18. Ask to See a Few Different Rooms
Nick and Dariece are the nomadic couple behind Goats On The Road, which inspires others to turn their travels into a lifestyle. During their many years of sleeping in foreign beds, they've learned a few tricks to make their stay comfortable.
"We recommend asking to see a few different rooms when you arrive. Why? Because more often than not, the owner or manager will try to get rid of the least desirable rooms first. You may find yourself sleeping in a dark damp room with a view of the neighboring building, when there's a lovely bright room with an amazing view of the city right next to you! Rooms in hotels can vary greatly. Ask to see a few — it can't hurt."
In-Room Hotel Hacks
Once you've checked in and are pleased with your digs, here are a few hacks to make your stay even more comfortable.
19. Ask for Dishes
Rhoni Speed of Living Our Life and her son have been traveling on a budget for over 16 months, enjoying culture, language, food, and helping others. Instead of spending a small fortune eating all meals out, she keeps some meals simple.
"I will always ask for some dishes in our room even if we do not have a fridge, in order to have breakfast or snacks on our own to save money and time and for just relaxing."
20. Towel Heaters Are Clothes Dryers
Hotel laundry services are ridiculously expensive, and a little hand laundry is a necessity when you travel full-time as Rhoni and her son do. "If they have towel heat racks in the bathroom I will do some hand-washing of clothing and use the racks for dryers."
21. Stream Shows to the Hotel's Big-Screen TV
Matt Gibson is a Canadian travel writer and photographer who has lived in Taiwan, Guatemala, Mexico, the USA, and traveled extensively on four continents in the past decade. He always carries a Google Chromecast with him.
22. Use the "Do Not Disturb" Sign for Security
Matthew Karsten of ExpertVagabond.com has been exploring the world as a professional travel blogger and photographer for four years. "If you're staying in a cheap or sketchy hotel somewhere and don't want to leave your expensive stuff alone with housekeeping, just keep the "Do Not Disturb" sign outside your door for the length of the trip. They won't know if you are in there or not, and who really needs the room cleaned every single day?"
23. Don't Use the "Clean Room" Sign
As an addendum to Matthew's tip, don't use the "Clean Room" sign. It not only tells housekeeping that you would like your room cleaned, but it also tells everybody — including potential people up to no good — that you're not in the room.
24. Override Thermostat Motion Sensors
Being on the road three to four days each week as a flight attendant, Glenn Ward appreciates a comfortable (and cold!) hotel room. He uses this trick from Lifehacker to override the thermostat. "Now when I go to bed at night I don't have to worry about not moving enough to engage the sensors and keep the room cold," says Glenn.
25. Keep the Power On With a Spare Card
Many hotels use key card systems that are rigged so the power is only on in your room when you stick your room key/card into the slot by the door. This means when you're out, there's no air conditioning and no power to charge your electronics. Override this by sticking an old credit card or membership card (in some cases a simple business card will work) into the slot.
Check out more great articles from Wise Bread: