Advertiser Content From

Chef Fany Gerson Credits Her Latinx Roots For Her Resilience As an Entrepreneur
Advertiser Content From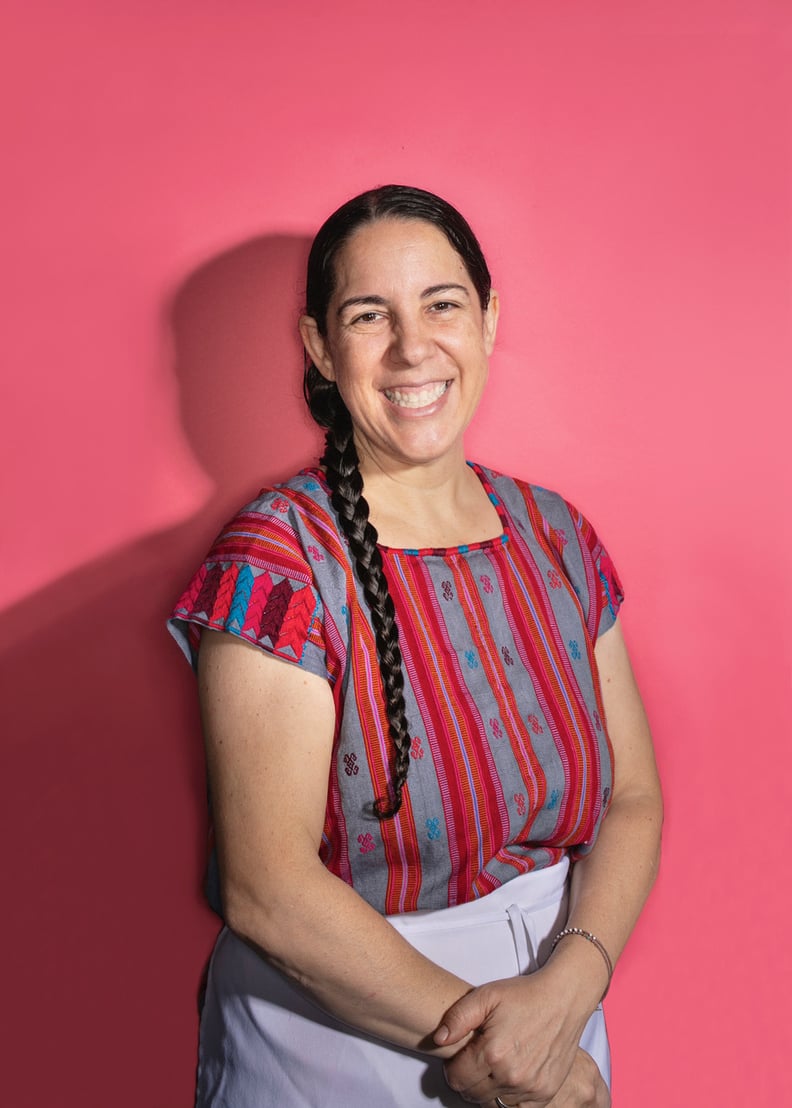 Fany Gerson
Fany Gerson
Growing up in traditional Latinx families, many of us don't quite grasp all the possibilities there are for our futures. We know how important it is to work hard and we prioritize the things that will help us put food on the table, but it can be difficult to equate work with passion — even if putting food on the table is literally your passion. Mexican-born, New York-based chef, Fany Gerson didn't even know cooking professionally was an option for her growing up, and now she's made an indelible mark on the global food scene.
While living in Israel for a year after high school, she found out about a cooking school back in Mexico and decided to pivot from her original plan to go to art school and attend culinary school instead. Now, she's a graduate of the Culinary Institute of America, has been nominated for a James Beard Award, worked in Michelin-starred kitchens like Eleven Madison Park, and has authored three cookbooks. Gerson is also the chef and founder of La Newyorkina, an artisanal Mexican frozen treats and sweets business, as well as Fan-Fan Doughnuts, a gourmet doughnut shop, and is the co-founder of Mijo Mexican Kitchen.
Despite a slew of obstacles and challenges along the way, Gerson has always remained true to herself and to heritage, and in doing so, she's achieved what most chefs can only dream of. "These businesses are all very personal and close to the heart the same way my culture and heritage are and I am very proud of that," Gerson says. "I also feel the resilience and grit you need to overcome things as an entrepreneur, at least for me, comes from being Mexican."
Keep reading to learn more about Gerson's journey to entrepreneurship and how her Mexican roots have inspired her both as a chef and a businesswoman.
POPSUGAR: Did you always know that you wanted to be in the culinary industry?
Gerson: In Mexico we knew very little about the professional culinary world, or at least I didn't. Once I knew it existed I dove into it. My parents told me to study in Mexico to see if I still wanted to pursue it so I did a two year Associate's program. They thought I was going to get it out of my system but it was quite the opposite.
PS: What was your journey to entrepreneurship like?
FG: I had spent a year traveling around Mexico doing research for my first cookbook, "My Sweet Mexico," and when I returned, I knew I wanted to start my own business, not so much because of an entrepreneurial spirit or drive, but rather because I wanted creative freedom. The truth is that I had many ideas but one day, I literally had a dream that I was going to open a Mexican ice cream shop in New York. I decided to start with paletas, Mexican style ice pops, as it was less costly and risky than doing ice cream to test the idea. I had two part-time jobs and rented a pastry kitchen in their off hours. My friend Hannah helped me out that summer. She would start out and when I was done with my second job I'd arrive to the kitchen around midnight to wait for the molds to freeze enough for the sticks to be put in, and then many more hours to be able to hopefully unmold some. It was crazy!
PS: Were there any specific obstacles or bumps in the road?
FG: Hurricane Sandy destroyed my kitchen and I lost everything. In another doughnut business I signed a contract I should've never signed. I trusted the lawyer and while I'm fluent in English, I did not understand legal terms well. That partnership was not a fair one and it cost me a lot of energy, time, money, and health. The separation took almost three years. Lastly, the pandemic, which is of course worldwide. Yes, I am an entrepreneur and have figured a lot of things out, but I don't have a business mind and hate to be involved in that aspect. But it's necessary and it has taken a lot of bad decisions on my part and tough learning to understand. It is not my strength so I always feel vulnerable to it.
PS: Besides inspiring your food and flavors, what kind of influence do you think your heritage and culture has had on your career and the way you run your businesses?
FG: The cores of the different businesses are rooted in where I come from: a warm, colorful, kind, and playful culture. I think it has influenced how we work in the kitchens and try to have a real sense of family. This is further echoed in the design, the locations, and the service. These businesses are all very personal and close to the heart the same way my culture and heritage are and I am very proud of that. I also feel the resilience and grit you need to overcome things as an entrepreneur, at least for me, comes from being Mexican.
PS: Why do you think it's important for you to represent Latinx culture through your work?
FG: There are a lot of misconceptions about the different cultures. People tend to group everything and everyone together and it is so much richer than that. My purpose is to share the sweetness of Mexico and that's not just in the literal sense, but to also highlight the incredibly diverse, rich, colorful, and warm culture. I always say that being away from home is what in many ways brought me closer to it. You see things through a different lens and to be able to highlight a part of my heritage and upbringing in a positive and beautiful way is very special and meaningful. My hope is that it inspires curiosity and appreciation.
Do you think your family's immigration story and experience in the US had an impact on the goals you set for yourself and how you went about achieving them?
FG: I was the first person to immigrate but I think my family's background — my grandparents on my father's side immigrating to Mexico from Eastern Europe and my mother coming from a different socioeconomic background — has had an impact on goals, but more so on work ethic and never ever taking anything for granted. I came to this country legally with an education and that is privileged. Not with endless resources but privileged. I know my parents worked very very hard for that education and the older I get, the more appreciation I have of everything they gave us growing up — the security, the love, the foundation. My mother always told me to work hard, whether it was as a musician or a person who sweeps or a teacher, to try to be the best you can be. That background also creates a lot of frustration because I am aware of the inequities and the stereotypes, the limitations and the hurdles that a lot of immigrants have.
PS: What inspires and motivates you the most to succeed in your career, as well as in your personal life?
FG: On a very personal note, my son and my father are the biggest inspirations in my life. My son inspires me in the way that I hope that he feels proud of what we do, that he understands the value of work, and that while there are many layers to why and how we do things, at the end of the day, we get to make people happy for a living. We hope his life and whatever he does also spreads happiness. When I wrote my first book I dedicated it to my father and simply wrote "por las alas" for the wings. It is because of him that I have been able to dream. He is someone that has gone through so much in a personal way and his attitude towards life is incredible. He is the kind of person you meet once and it stays with you. He is also brilliant, so choosing a career that he didn't approve of at first and that we couldn't connect on (he is an intellectual ) was not easy, so I always strive to make him proud.
PS: How are you giving back to the next generation of Latinx folks?
FG: I hope that the work the we do inspires the next generation into celebrating their roots and using what they do as a connector and a way to educate and celebrate our heritage.
PS: What is your best advice for Latinx individuals dreaming of entrepreneurship?
FG: Dig deep and find something you are passionate about and believe in. Think of what inspires you and not what's going to "sell well" — it has to matter to you and be authentic. The road will for sure be bumpy and hard so surround yourself with people who will be there with you and don't be so hard on yourself. I am grateful for the achievements, yes, but also for all the mistakes. The things that happened have allowed me to learn a lot about myself and life. I hope that my story helps someone somewhere even in a small way to dream big.