11 Companies That Let You Bring Your Dog to Work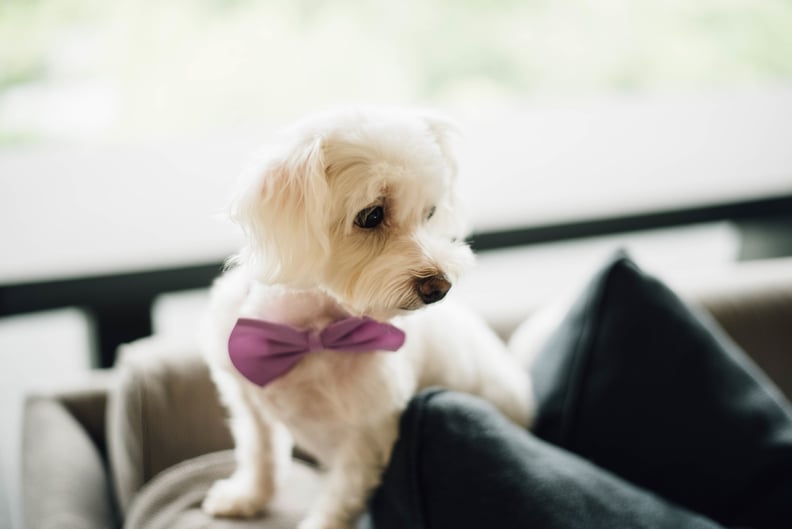 Are you a devoted dog mom who wishes your job respected little Fido's needs more? If your dog's needs are truly of paramount importance to you, consider seeking a position at one of these 11 companies. You could bring your dog to work every day, which is sure to set both your tails metaphorically — and literally! — wagging.
1. Amazon
Working for Amazon is honestly a dog owner's dream. On any given day, you can find hundreds of dogs roaming the company's campus, where they happily enjoy doggie water fountains, a dog park, and treats at the reception desk.
Fun fact: Amazon's dog-friendly legacy began with a pooch named Rufus, who now has a whole building named after him. You can meet the a few of the other dogs of Amazon here!
2. Kimpton
This hotel chain's pet-friendly reputation goes back to the company's roots; founder Bill Kimpton was a dog-lover who would often greet guests with his collie, Chianti. Today, the chain still has particularly dog-friendly practices, and employees are allowed to bring their fur babies to work. Some locations even have a special job for dogs as "Directors of Pet Relations;" they get to camp out at the front desk with their owners and help greet guests.
3. Ben & Jerry's
The ice cream's company Vermont headquarters boasts some rather fluffy employees — K-9 to 5'ers. Their salary? Dog biscuits at the reception desk, of course!
4. Zynga
Zynga is a gaming company in Silicon Valley where both women and their furry pals thrive. That's because beyond being a top destination for women in gaming, dogs are also allowed each and every day, and the office even features a rooftop dog park. Talk about ritzy! An added bonus? Zynga employees are offered partially subsidized pet insurance, too.
5. Build-A-Bear Workshop
Dog-owning employees at Build-A-Bear will particularly love the company's birthday perks. Besides getting to bring their dog to work on any ol' day, employees love that their doggos' birthdays get special attention with an office birthday party — birthday cake and dog treats included!
6. Atlantic Health
This hospital chain believes in the therapeutic power of pooches. That's why they established "Soothing Paws" to help their patients, a volunteer program of trained dogs that includes employees' pets, too. And get this — the company also regularly sponsors pet therapy conferences.
7. Etsy
You won't find puppy love at Etsy — instead, you'll find a full-blown love affair. The company has been letting employees bring their pups to work since 2005, and they even attribute the policy to creating a more inspiring work environment.
8. Google
Google is equally serious about their canine addiction, as its even written to their Code of Conduct. But cat owners, be warned: "We like cats, but we're a dog company," the code reads, "so as a general rule we feel cats visiting our offices would be fairly stressed out."
9. Activision Blizzard
On any given day at the "World of Warcraft" creators' California office, one can expect to find nearly 400 dogs in attendance (we're guessing there are enough chew toys to go around). The gaming company offers a pretty sweet Pet Parents Day, too, where vets and pet insurance providers visit the office to provide free health services.
10. Mars
The candy-making king (which also produces pet food) includes some special benefits for its dog-lovin' employees, particularly those who travel. Some offices offer pet feeding and boarding programs for while doggo's mom or dad is away. But if you do join the team at Mars, try not to make plans to travel over Halloween — the company's office-wide costume contest includes a category for dogs!
11. Salesforce
We can't get over how very cool it would be to be a pup at Salesforce, thanks to their "Puppyforce" pet policy that enables employees to reserve a desk in a special, soundproof room where dogs are always welcome. The room is fully decked out with water bowls and dog beds, and employees also get discounted pet insurance, vet house calls (um, fancy much?), and dog walking services.